Have you heard of Meal Prep Monday? Here it is in a nutshell: spend a morning in the kitchen one day a week and knock out a lot of prep work for the coming week. This normally happens on Monday for me, hence the name, Meal Prep Monday. It's a great habit to get into that saves a lots of time the rest of the week. It also puts healthy options right in front of my face which makes making smart food choices ten times easier.
I tend to prep snacks because snacks are what are the easiest for me to make poor choices on. I plan my meals well, so I know what to expect. Having snacks prepped and ready takes the guess-work out of what to eat when you are hungry!
Here's what I prepped last week: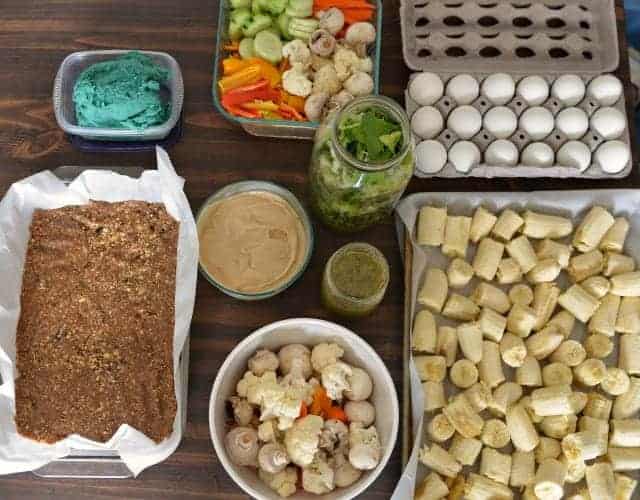 Starting in the top left corner-
1. Play dough: it's not food, but we needed a new batch 🙂 I always use the recipe from Instructables, and it always turns out well. Instead of dying the dough after it is cooked, I just drop the food coloring in right in the beginning and make the batch all one color. It's a lot easier and cleaners than trying to knead the color in.
2. Chopped veggies: vegetables that are washed and cut are so very easy to grab and eat. If the kids are super hungry and dinner is still 30 minutes from being done I'll just pop the lid off of these and set them on the table. If they are truly hungry they'll munch on these until dinner is ready. These are also easy to get out for snacks.
3. Boiled Eggs: Here's a little secret for you. Even though I have my own hens and eggs I always buy eggs from the store to boil. The eggs are older and that makes them ten times easier to peel. The membrane in between the shell and the egg deteriorates as it oxidizes (which is a process that happens naturally over time). Fresh eggs are a nightmare to peel no mater what tricks and tips you try during cooking.
4. Peanut Date Bars - these are the simple version of my healthy snack bars. Here's a general recipe: 2-3 cups pitted dates plus about 2 cups unsalted roasted peanuts (plus salt to taste). I process them in a food processor until everything is chopped up and sticky. Then I press them into a pan lined with parchment, stick them in the fridge until hardened a bit, then I take the paper out of the pan, slice into little pieces, and store them in the freezer. These are a very sweet treat that taste a whole lot like peanut butter cookie dough. They are awesome for a quick sweet tooth fix! My kids love them too.
5. Healthy Fruit Dip: because apples are so much tastier with something to dip them in! This dip has lots of fat and protein too so it helps to keep you full. I love it!
6. Chopped Romaine Lettuce in a ½ gallon glass jar: I opted out of making salad in jars this week. I made a bunch of the same kind last week and was tired of them. Instead I decided to wash and chop just the Romaine lettuce and store it all in one jar, nothing else added. Storing it like this, in the jar, makes it last forever! This won't start to get mushy until 7-10 days after cutting (as long as you dried the lettuce well before cutting. Moisture is the enemy. I highly recommend using a salad spinner to help dry your greens after washing). Just chop your washed and dried lettuce/greens and stick them in a large glass jar. Store it with the lid on in the fridge. The prep is done so it's easy to get out lettuce for salads, wraps, sandwiches, and tacos.
7. Homemade Dressing: salad is all about the dressing! Having good dressing in the fridge encourages salad eating. I made an Orange Poppy Seed dressing and it's great. Here's what I used:
Orange Poppy Seed Dressing:
½ cup olive oil
2 teaspoons orange zest
Fresh orange juice from one orange
Fresh lemon juice from ½ of a lemon
2 tablespoons honey
2 teaspoons Dijon mustard
¼ teaspoons salt
1 tablespoon poppy seeds
Add everything to a mason jar, add the lid, shake to combine. Shake well before using , store in the fridge (and I have to let it sit on the counter while I make dinner because my oil gets thick in the fridge). Excellent on spinach salads.
8. More chopped veggies that were roasted for dinner that night. I already had everything out so I just prepped a bit of dinner (which was going in the slow cooker!).
9. Banana chunks headed to the freezer: frozen bananas are the best thing that ever happened to my smoothies. I love to have them in the freezer at all times! I bought 3 extra bunches of bananas last week and stuck them in my pantry to ripen. You can read all about how to freeze bananas here.
I planned on grinding whole wheat flour and making granola too but my wheat grinder had weevils! Eeeww! I'll do those another time.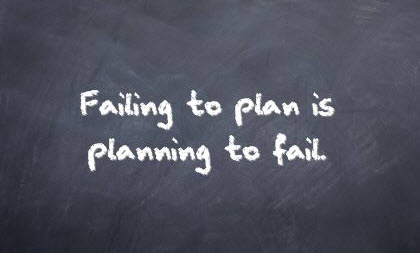 This little quote is always true for me when it comes to healthy eating. It takes more time, effort, and thought on my part and it's not the easy default. BUT when I plan it is easy and pretty painless.
This took me two or three hours on Monday morning. I cleaned up the kitchen before lunch and was done for the day! Now I have lots of options when I'm not sure what I want to eat. I normally pick 5-10 things that I want to make over the weekend, shop on Saturday, and then make them all on Monday. Other things that I often cycle through making are fruit on the bottom yogurt cups, homemade yogurt, wheat bread, salad in a jar, and easy healthy black bean dip.
What I make changes from week to week, but the idea is always the same- take one morning to fill the fridge with good things to eat and enjoy all week long.
My friend Cassie from Wholefully is great about prepping ahead of time too. She makes things like black bean burgers, herbed turkey and egg cups, and cold quinoa salad (on my to try list!). You can see her post about meal prep here; it also has her recipes which are always excellent.
I hope this helps! It's such a great habit! I'd love to hear what you are making. I'm always looking for new ideas and things to enjoy.
Thanks so much for stopping in and Happy Meal Prep Monday! You know where to find me if you need me this morning.