This free Meal Planner includes an enchilada bake, cheddar broccoli soup, linguine rosa, and more!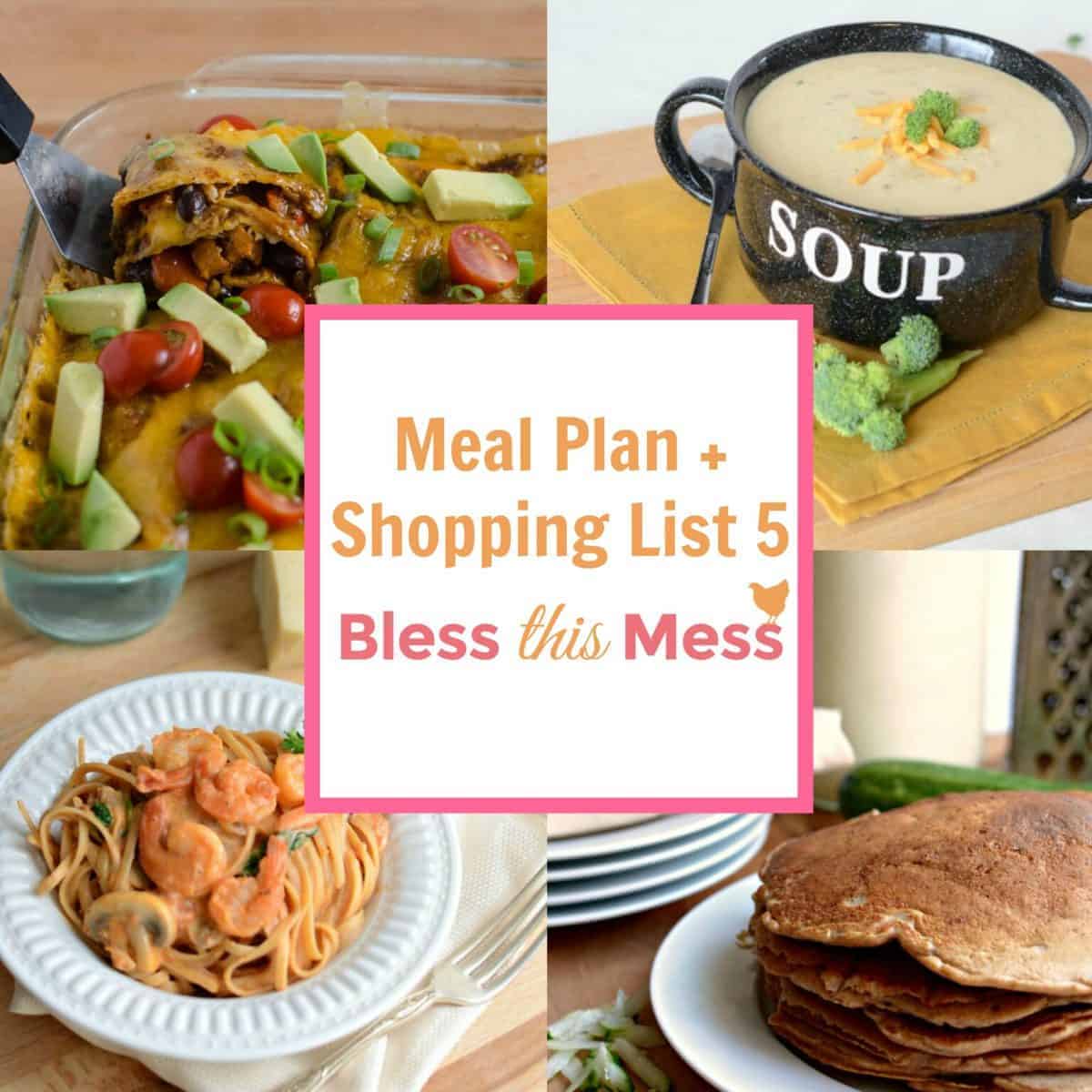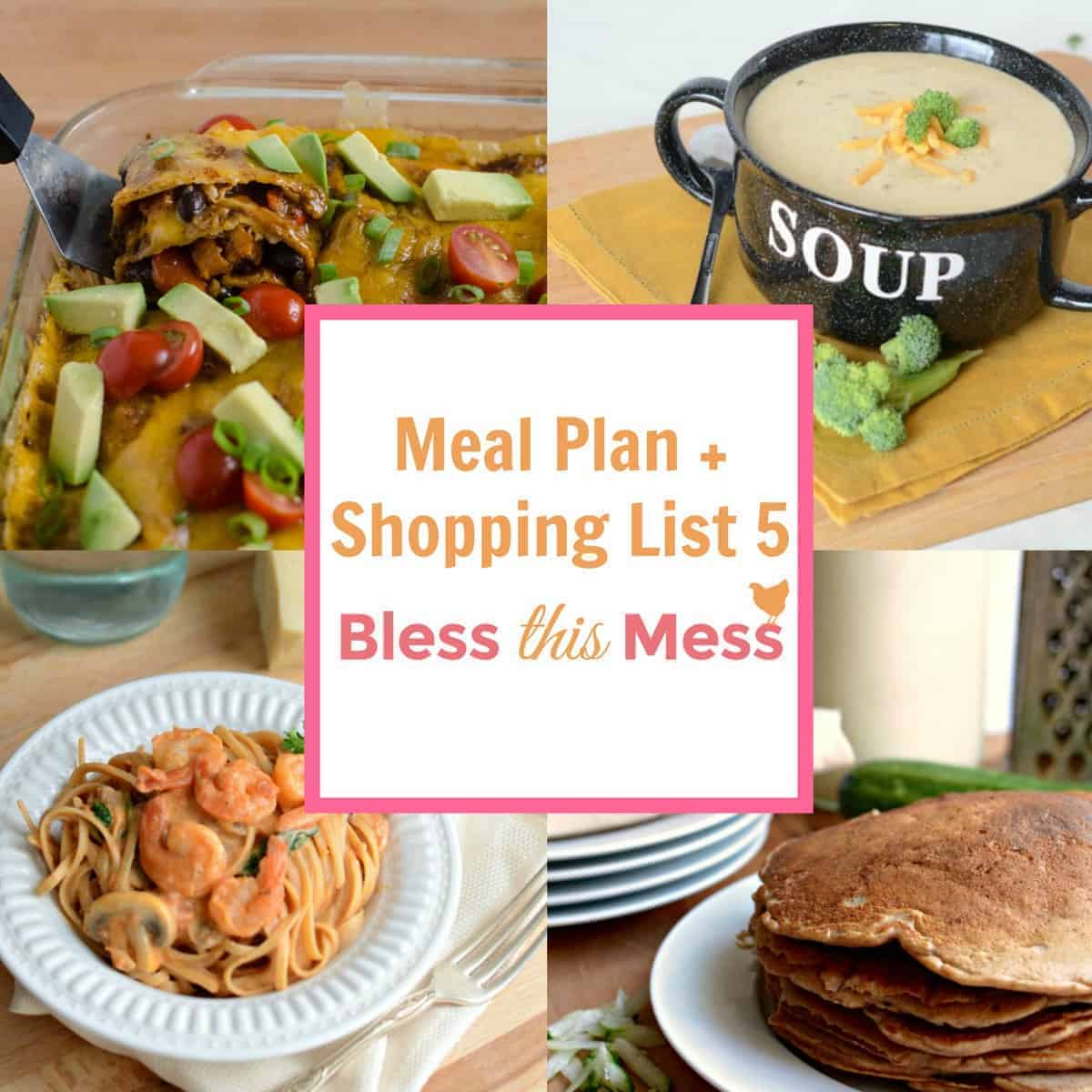 Welcome to our fifth weekly free meal planner that includes a free printable shopping list! You can see the first four here: 1 | 2 | 3 | 4
I have come up with 5 recipes for the week + one sweet treat and made a PDF printable shopping list. All you'll have to do is collect the recipes (just visit the link under each picture and hit print), print off the shopping list, and you know what you are going to make all week long. I thought 5 recipes was ideal, because that leaves a night for eating out in the week (or going to Grandma's for dinner) and a leftover night. I know you don't have a lot of time when it comes to getting a healthy, family-friendly meal on the table; this free meal plan is going to help! So really, you have a whole week squared away! YAY!
This easy free meal plan is full of healthy, real food dinner ideas that don't have exotic or expensive ingredients. These recipes are quick and easy to make and the whole family will love them. I hope this is a game-changer for you!
Let's take a look at this week's free meal planner. Under each recipe are some tips and tricks on how you can prep the meals or part of the meals in advance if you are into "Food Prep Monday," as well as other useful information, tips, and serving suggestions.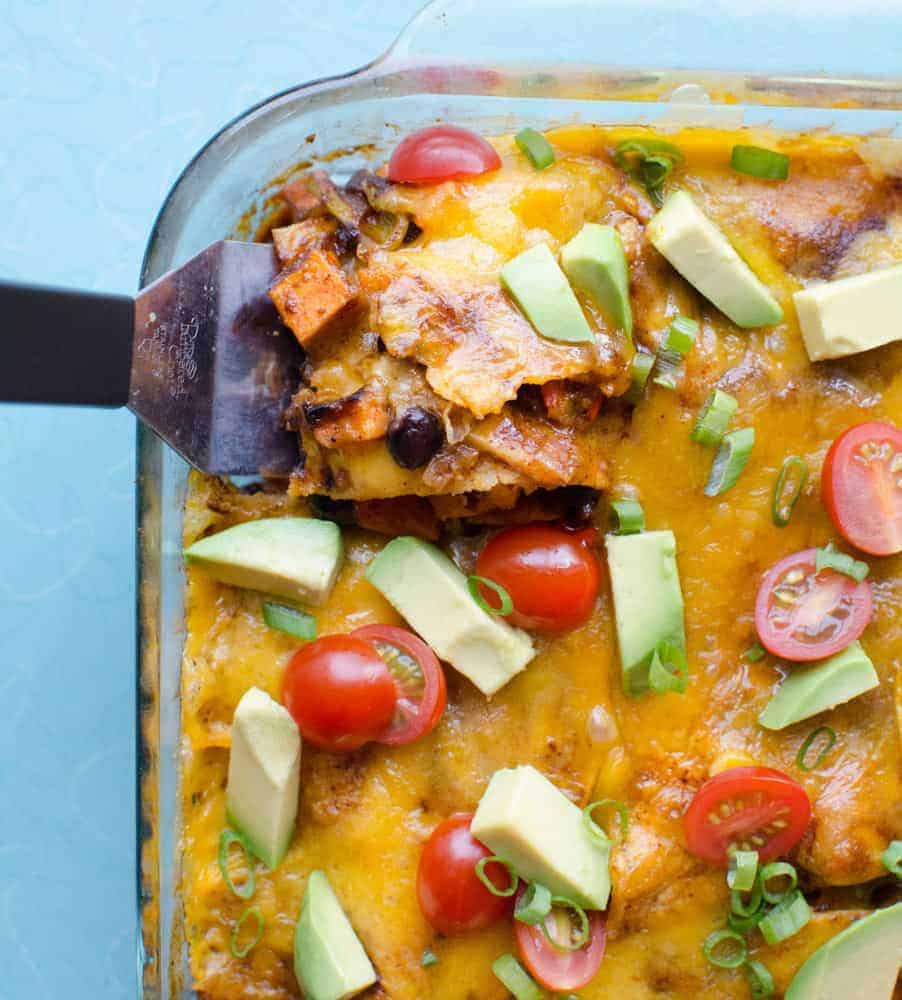 Long live Meatless Monday that tastes so good! I love this dish because it's bold and rich with cheese, but it's full of vegetables too. You can prep the red sauce for this meal ahead of time, as well as chop and even roast the vegetables. Just assemble and bake the day you plan to serve.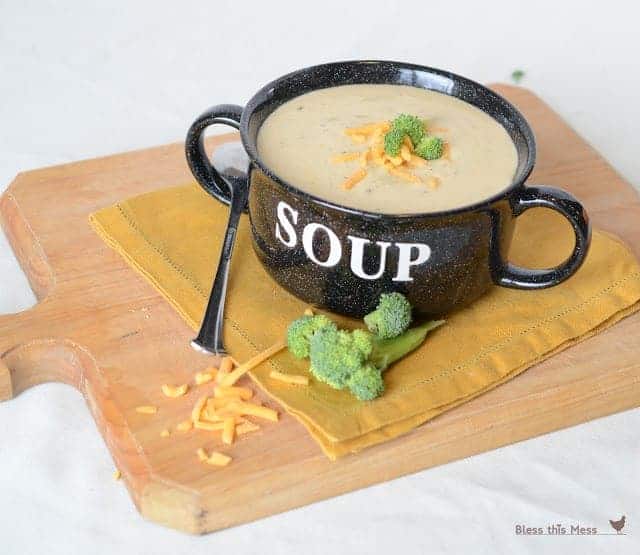 This is one of our favorite slow cooker soups. Plan on serving this with a side of crusty bread or even some fun homemade soft pretzels. When the slow cooker is working all afternoon for me, I feel like I have a little more time to do a fun project like pretzel-making with my kids. You can chop the broccoli and onion in advance to save time on the day you make the soup.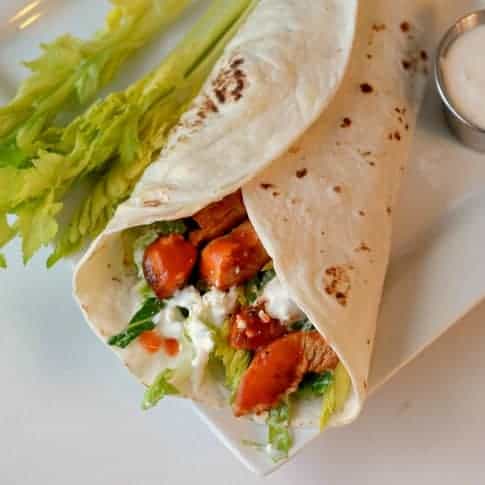 I normally make half of this chicken cooked up without any sauce for the kids, and then sauce the other half for my husband and I. My kids also won't like the blue cheese dressing, so I'll just stick their chicken in a wrap with some lettuce and grated cheddar cheese. This is a fast meal that goes great with some homemade oven fries on the side. You can prep the blue cheese sauce ahead of time. You can also make the chicken ahead of time and just reheat it a bit before serving.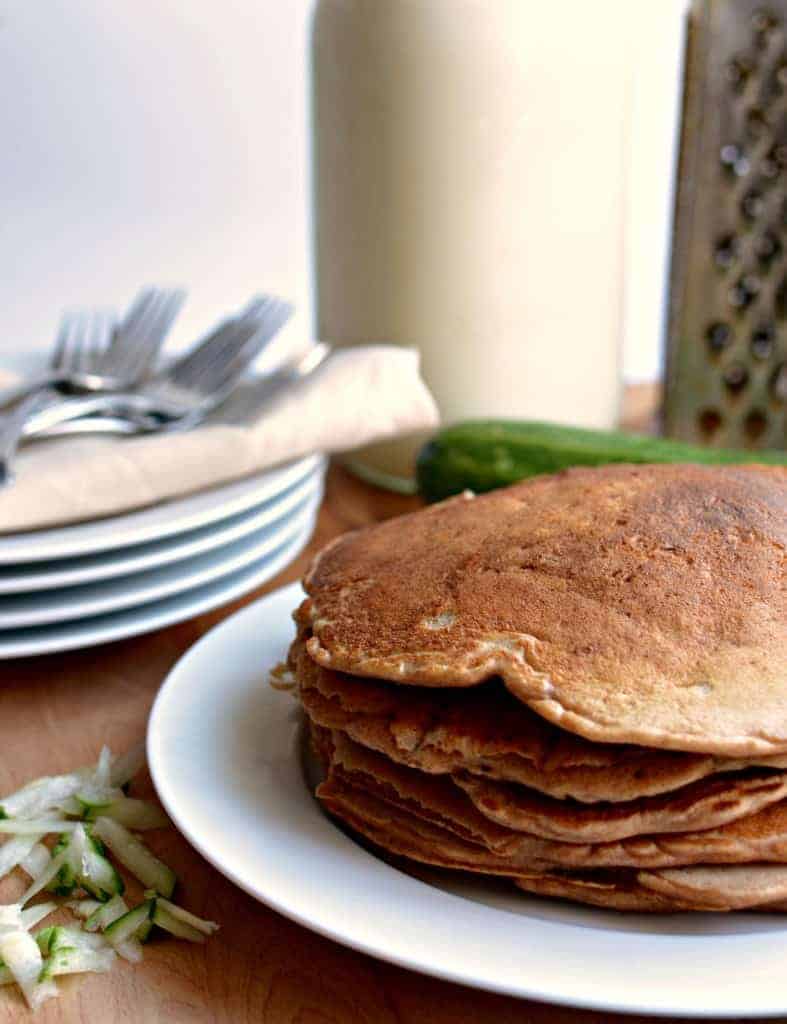 These are a fun twist on a classic breakfast-for-dinner meal. If I'm making pancakes for dinner, I'll often make a smoothie and some kind of protein like sausage or bacon to go with it so that it feels a bit more like a full meal.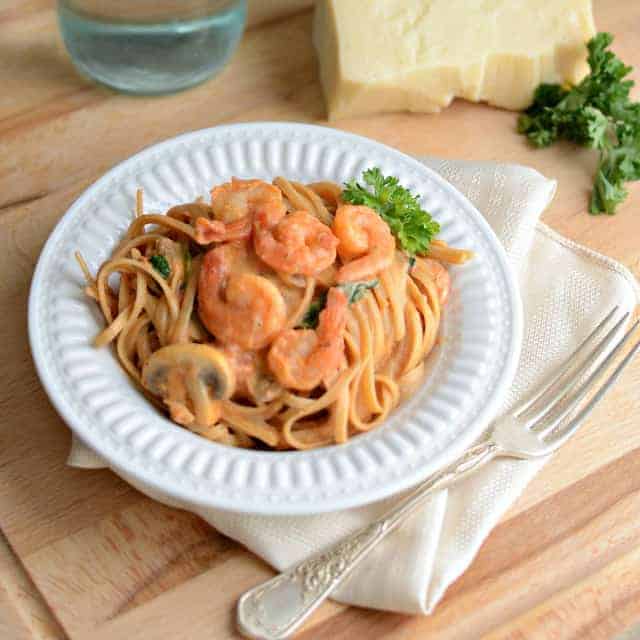 Have you tried this recipe yet? It's one of our very favorites and I make it again and again. If shrimp isn't your thing, you can also sub in some cooked or grilled chicken, or leave it out all together for a meatless meal; I've done both of those often. You can slice your onion and mushroom up ahead of time to save time on cooking day. If you are using chicken you can precook it and just toss it in to reheat it, but I don't like to precook my shrimp. It tends to overcook when I'm reheating it and it's best just to cook it when you are making the pasta.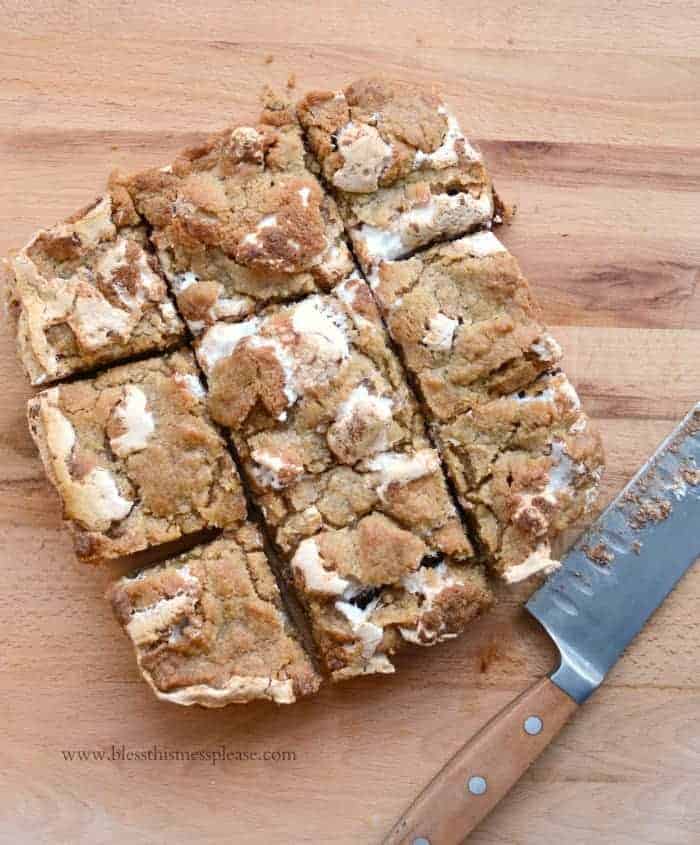 All the joys of a s'more, without the smoke, PLUS Nutella. What's not to love? These are rich and delicious and the perfect treat to have when friends are coming over. Your friends can oooh and aah over the goodness of these amazing treats, and you won't eat them all yourself (which you might if you don't have someone to share them with).
If you plan on making all of these recipes, you can get the FREE PRINTABLE MEAL PLANNER SHOPPING LIST FOR WEEK 5 here (just click and open the PDF to print).
I'm a big fan of getting some of the meal washed, chopped, and ready to roll before the day of because it saves me time on cooking day. It also motivates to me stay on my meal plan. It's a "I've already done some of the work, I don't want to waste that effort" kind of thing.
I'm so excited to offer this free meal planner for you and I hope that you will use these often. Please let me know if you have any questions or have thoughts on what would make these better/more helpful/more user-friendly.
Thank you so much for being here, and enjoy! I have so many weeks of meal plans coming. Let me help you feed your family well, but easily! ENJOY!