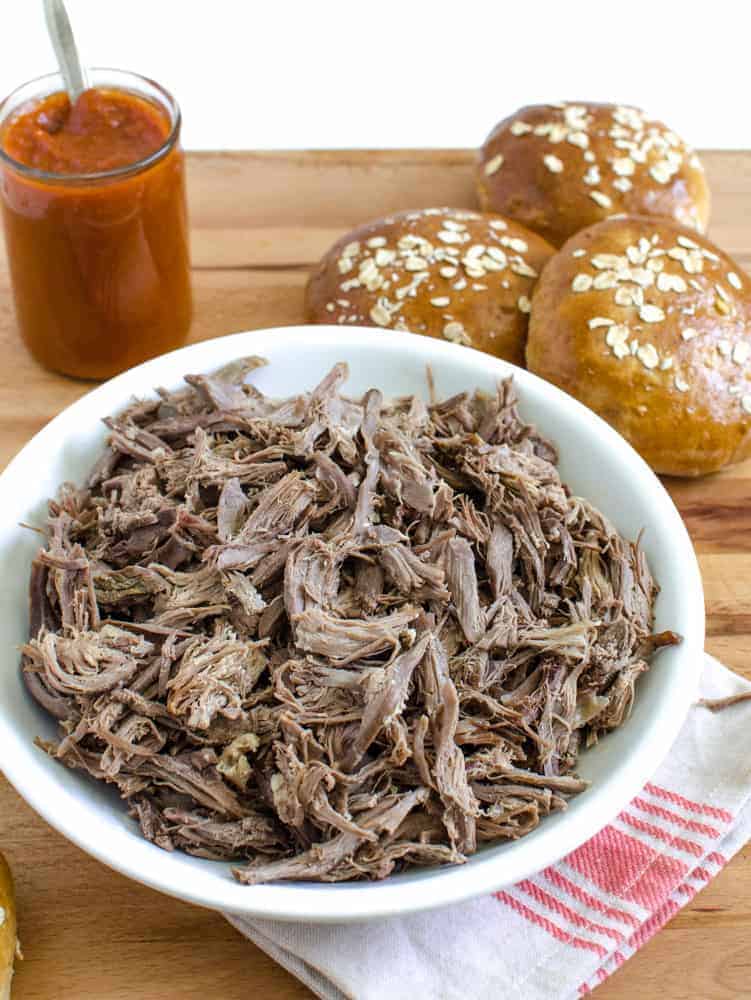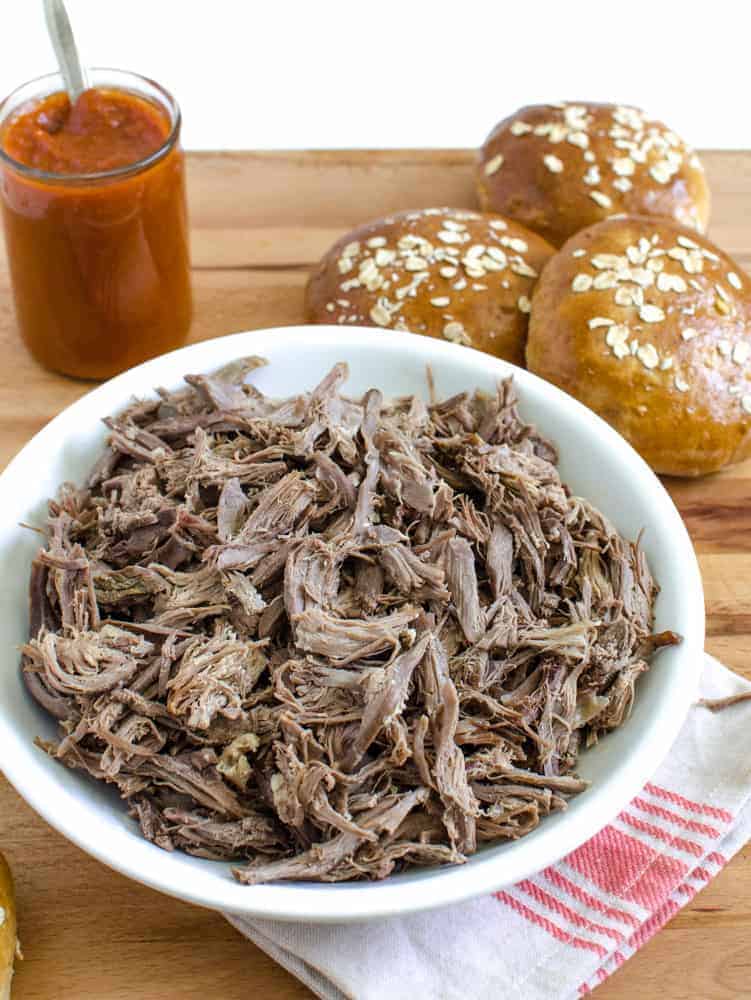 I have made "pulled ________" no less than a million times in the crock pot. I have thrown in everything from pork and lamb, to beef and elk, and I love it every single time. This is one of my all-time favorite ways to cook a chunk of meat. It takes no skill and very little hands-on time, and it comes out perfect every single time.
I have done a ton of reading in preparation for writing this because I swear that I'm the only one cooking hunks of meat in the slow cooker without adding much more than some salt and pepper. I don't add water. I don't add sauces. I don't add much of anything, and it's always awesome. When it comes to cooking meat in the slow cooker, I'm going to share my method, even if it isn't what everyone else is doing. I've been making it this way for at least 10 years, and I know that it works.
I like to prepare my meat in the slow cooker because then it's a really nice basic meat that you can use in just about anything. I can add things to it later (like homemade barbecue sauce) for sandwiches, or I can throw it in casseroles, tacos, or enchiladas. I can put it on salads or in a sandwich (super delicious with some cheese and pepper and onions for a mock cheesesteak sandwich). It's so versatile and no one complains because there's a sauce or onions or something in the meat that they don't like.
I don't add water because the meat tends to make its own juice while cooking, and having it cook in its own juice is the best. I also just stick to simple seasonings because that's what's good and most versatile in the end.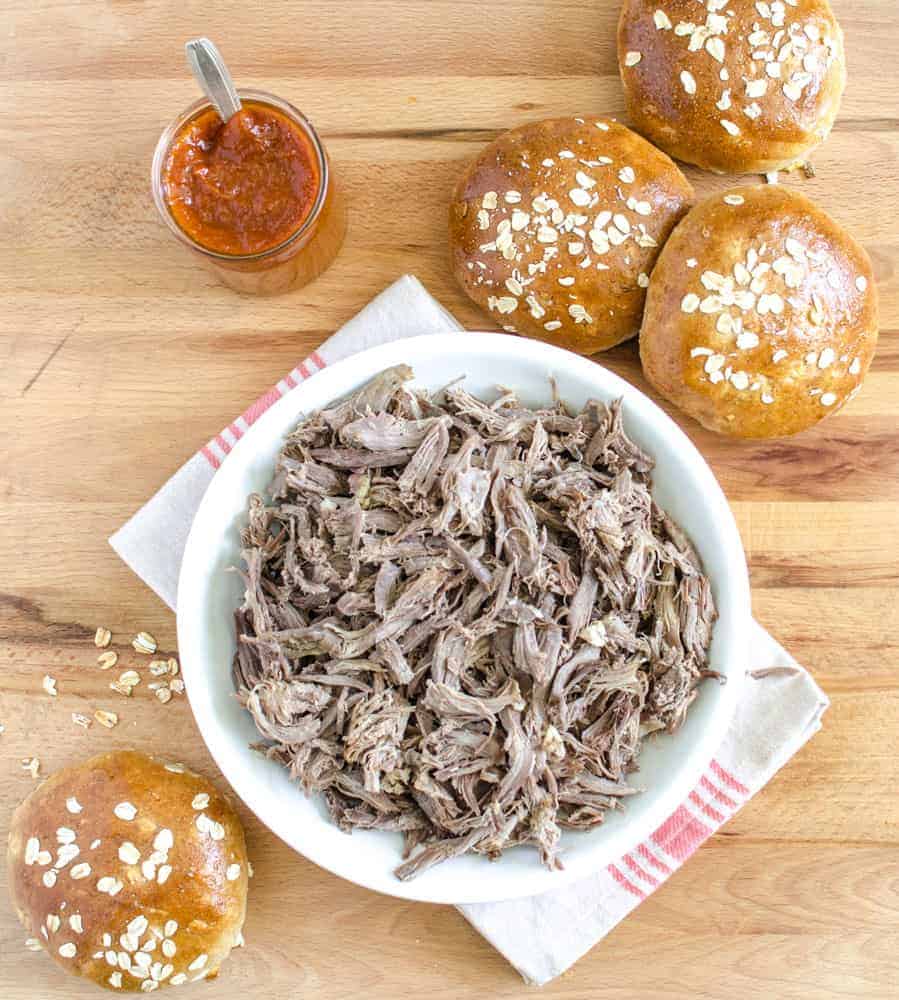 Print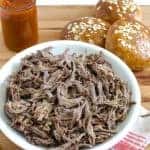 How to make any pulled meat in the slow cooker (beef, pork, lamb)
---
Author:

Prep Time:

5 mins

Cook Time:

10 hours

Total Time:

10 hours 5 minutes

Yield:

10

1

x
Scale
Ingredients
4

–

5

pounds of bone-in meat (see post for more details on cuts) or 3-4 pounds boneless

1 tablespoon

kosher salt

1 teaspoon

garlic powder

1 teaspoon

freshly cracked black pepper

1 teaspoon

paprika
---
Instructions
In a small bowl combine all of the spices. Rub the spices all over the meat. Add the meat to the slow cooker. Slow cook on LOW until the meat is very tender and falling apart, 8-12 hours.
Before you are ready to serve, remove the meat from the slow cooker and set it in a bowl or a rimmed baking sheet (it's juicy, so just a plate sometimes makes a mess). Then pour the liquid from the slow cooker into a clear container (like a big mason jar or a large glass measuring cup).
Shred the meat using two forks. Remove anything you don't want to eat (bones, fat, gristle), and return the shredded meat to the slow cooker.
Use a spoon to remove most of the fat from the liquid you have in the glass container (the fat will be floating on the top by the time you have shredded the meat). Add enough liquid back to the slow cooker so that the meat looks moist and there's a little on the bottom of the slow cooker (this might be all of the liquid and it might just be part, you aren't going to ruin it, just play it by ear). Taste the meat and add enough salt so that it tastes a little salty. You don't want it to be too salty, but you want to taste the salt if that makes sense. Salt is going to heighten the flavor in the meat that already exists so don't under salt. Stir well and add a little more liquid if needed. Serve hot.
I like to keep the reserved liquid if I have any left to use when reheating the meat later.
Extra meat can be used in all kinds of recipe or store in the freezer for later use.
---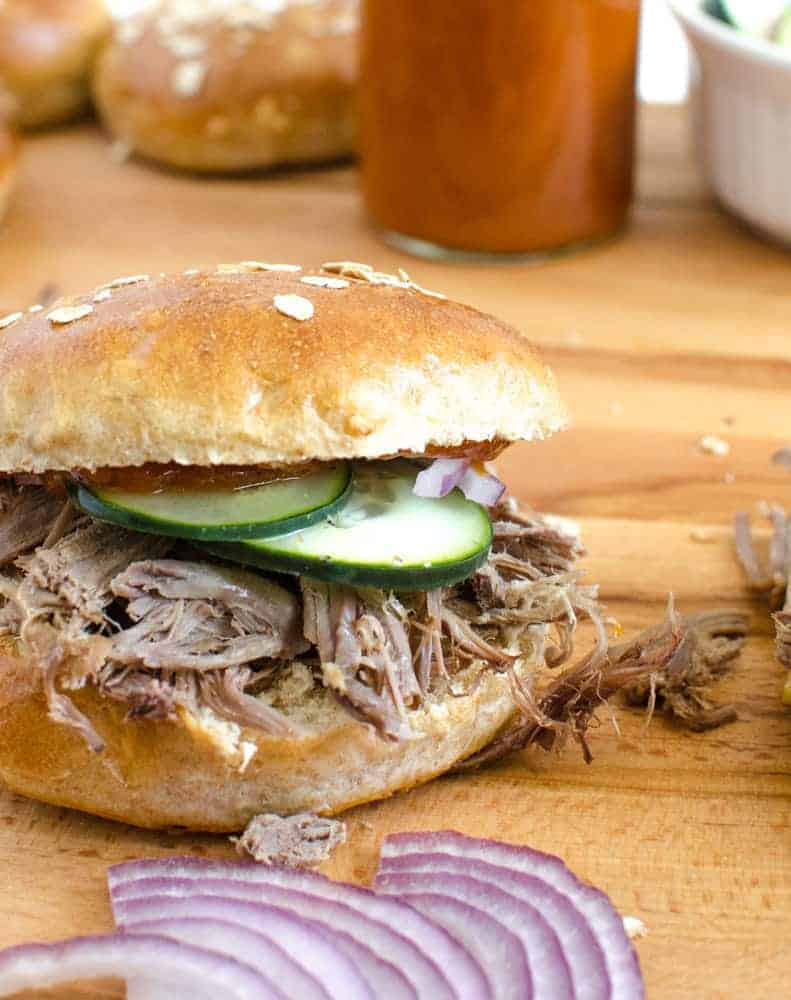 Here's my two cents on what kinds of meat to use. You can really use any kind of meat because the slow cooker is magic (I have this one, and this one is the #1 best seller on Amazon if you are in the market). We raise our own lambs and pork and get elk from friends, so I'm not picky about the cuts of meat because I'm just using what is in my freezer.
That being said, if you are purchasing meat, I have a few pointers. When it comes to pork, most people will buy butt, picnic, or shoulder roast. When it comes to beef, you'll want to look for a rump/bottom round, chuck, or pot roast. I don't have opinions on lamb or elk because I've never purchased either at a store, but I have cooked "roasts" of both with great success. I have had pretty equal results with both bone-in and boneless cuts. Choosing meat with some fat marbling as well as fat on the outside is a great option because fat equals flavor. Don't remove extra fat before cooking — you can remove it afterwards.
If you happen to have a cut of meat that looks particularly lean, then you might want to consider adding some moisture to the slow cooker, since it won't be making much on its own. I like to add apple juice (maybe just a cup) in this case. Or after a few hours, if there isn't any liquid on the bottom of the slow cooker, then I might add some juice at that point. It's nice to kind of wait and see what the cut of meat is going to do before making changes.
You can get added depth of flavor by searing the outside of the roast in a very hot pan (with a good drizzle of olive oil in the bottom) on all sides before adding it to the slow cooker. I don't do this often, but it is an option.
I don't cook chicken breast or pieces like this just FYI. They are always too dry when I try.  They need more going on (like barbecue sauce or salsa).

There you have it: my very tried and true, but not textbook, directions to cooking just about any kind of meat in the slow cooker. This is a great option when it comes to doing a big prep batch of cooking one day of the week, and it is my favorite to serve at big family parties, picnics, and gatherings. You can't beat delicious meat that pretty much cooks itself.
Am I crazy? Have you ever cooked pulled meat in the slow cooker without additional liquid? I'd love to hear how you make pulled meats in the slow cooker!