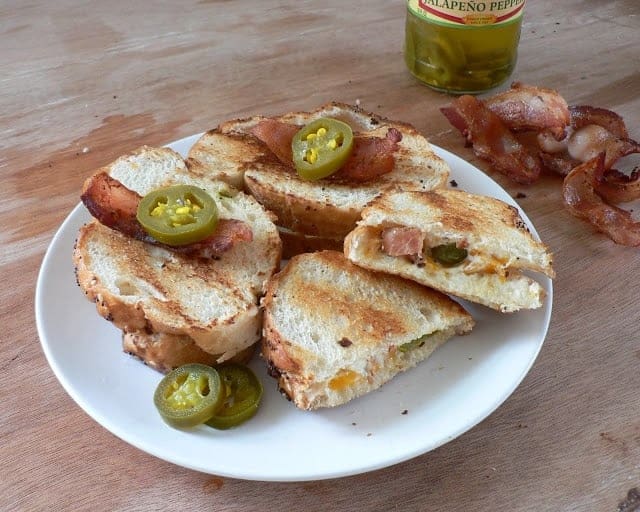 Jalapeno Popper Grilled Cheese Sandwich with Bacon
Printable Recipe
Makes 6-8 small sandwiches
1/3 pound bacon, cooked crisp and roughly chopped
1/4 cup pickled jalapenos, roughly chopped
4 ounces cream cheese, at room temperature
1 cup shredded sharp cheddar cheese
scant 1/2 tsp. garlic powder
scant 1/2 tsp. onion powder
12-16 slices of bakery-style french bread, cut 1/2 to 3/4 inch thick
room temperature butter
Heat a griddle or skillet over medium heat. While the griddle is warming combine the bacon, jalapenos, cream cheese, cheddar, garlic powder, and onion powder in a medium bowl and mix to combine well. Butter one side of each piece of bread and then spread a thin layer of the filling mixture on the unbuttered side of half of the slices. Top the filling with a second piece of bread, butter side up, to make a sandwich. Cook the sandwich on the hot griddle for 4-7 minutes per side, until the middle is hot and bubbly and each side of the bread is toasted. Repeat with the remaining sandwiches. Serve immediately.
Notes:
I used Mazzetta's tamed jalapenos, but regular heat would work great too if you like thing hot.
I thought these sandwiches were very rich, so even though they were small, I was satisfied with one and Thomas ate two. A little goes a long way here.
I told a friend about this recipe and he tried it. He used reserved bacon fat instead of butter to toast the sandwiches in! He said it was amazing…artery clogging, but amazing!