Ingredient spotlights are some of my favorite posts. I love a little trivia and new information and this is a quick and easy way to learn a little something today. I love that! Pomegranates are one of those fruits and might take you a minute to try (people seem to feel nervous about how to open them, don't worry that issue is addressed in the post) but once you give them a go you'll never regret it. I bought my first pomegranate maybe 5 years ago when Macey was a toddler and we loved them right away. We look forward to them every year around the holidays! No need to have a recipe to put them in, they are perfect just how they are. Emily from One Lovely Life and I worked together on this post. It's always such a treat for me to get to work on projects with my friends. Enjoy and learn something new about this delicious winter fruit!
And do tell... Are you a pomegranate eater? If yes, when did you first try them? If no, what's holding you back?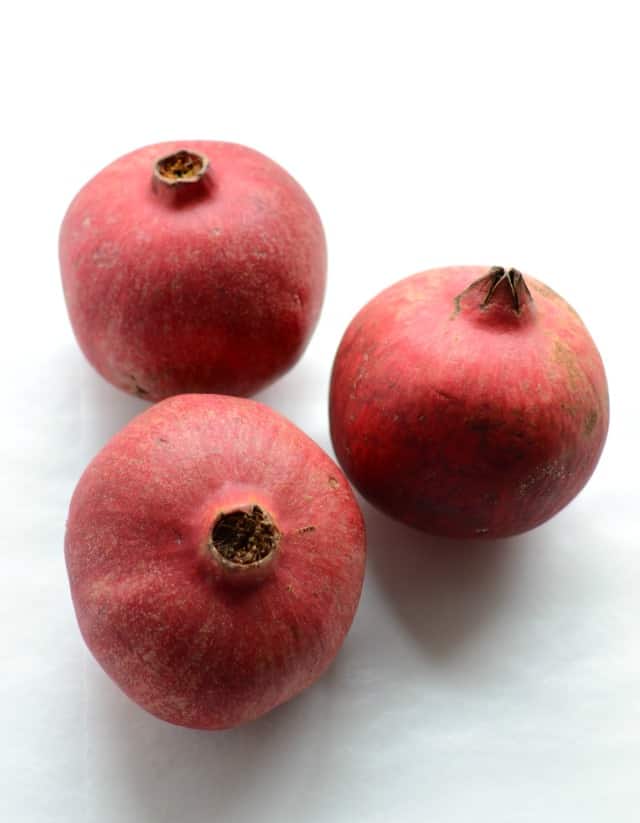 Health Benefits
Pomegranates are on many superfood lists. They're known as antioxidant powerhouses. And they aren't joking. Besides containing fiber, vitamin C, vitamin K, and other nutrients...
Pomegranate contains a higher concentration of antioxidants than cranberry juice, red wine, blueberries, or green tea.
Packed in the tiny little seeds (known as arils) are polyphenols, flavonoids, and phytochemical compounds that protect against heart disease, cancer, and stroke.
They also contain a compound called punicalagin that lowers blood pressure and helps fight plaque in the arteries.
Chinese medicine uses pomegranate juice as an anti-aging and longevity treatment. Western science agrees with the wrinkle- and age-fighting properties of pomegranate, and you can count on pomegranate to help protect you from the sun, slow the wrinkling and aging process, and improve your skin quality and tone.
Pomegranate juice can also improve some symptoms of depression by stimulating serotonin receptors.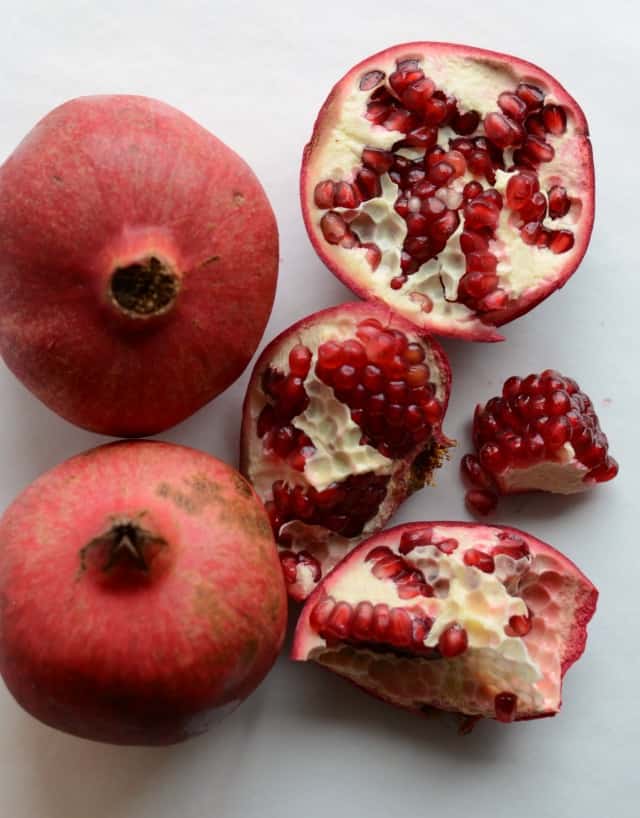 How to Choose a Good One
The height of pomegranate season is from October to January. It's a short, but tangy-sweet season. Don't miss it!
Look for fruit that has smooth, firm skin and feels heavy for its size. This means it's full of delicious juice. Scuffs and scratches are okay, but the skin itself should be nice and tight. Wrinkling suggests it's drying out.
The little seeds (arils) inside are completely edible. Don't just suck on them and spit them out!
To store, whole pomegranates keep at room temperature for a few days, and up to 3 months when refrigerated in a plastic bag. Once you've removed the seeds, the arils will keep for about 3 days. Fresh juice also keeps about 3 days.
Both the seeds and juice can be frozen up to six months. The seeds will lose their firm texture when thawed, so frozen arils are best for smoothies or sauces.
Random Facts/History:
The name "pomegranate" comes from the French term "pomme garnete," meaning "seeded apple." They're sometimes referred to as Chinese apples, though they originated in Persia.
Pomegranates are one of the oldest known fruits and have appeared in histories, mythologies, legends, and religious traditions. In Greek mythology, Hades tricked Persephone into eating the "fruit of the dead" in order to keep her as his wife. In Christianity, they're often used to represent hope, spiritual fruitfulness and growth, chastity, and plenty. In Judaism, they symbolize fruitfulness and are even thought by some to be the fruit that Moses was brought to show the fertility of the promised land. In Hinduism, pomegranate represents prosperity and fertility. Ancient Egyptians thought pomegranate a symbol of both prosperity and ambition.
Pomegranates are thought to be a cure for stomach upset, high blood pressure, and even hot flashes during menopause. The white membrane was even thought to cure mouth ulcers and diarrhea.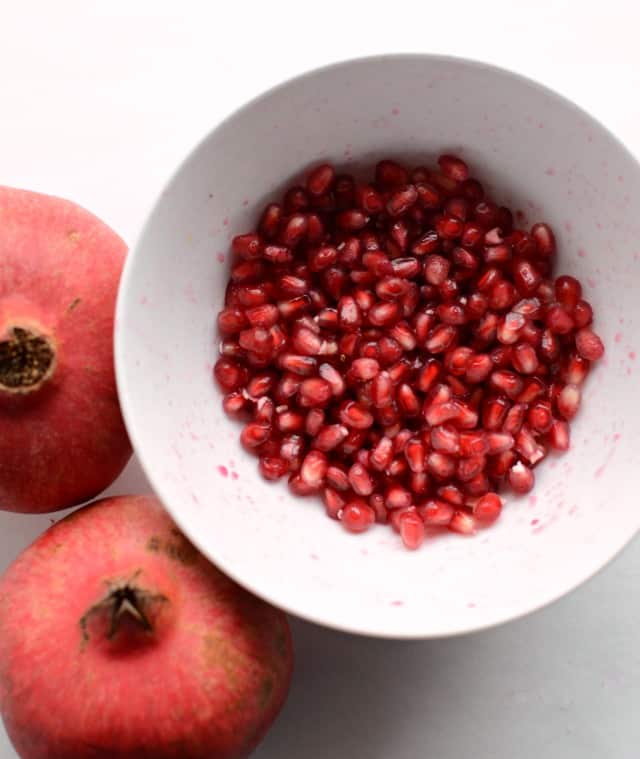 Recipes + Helpful Links:
How to seed a Pomegranate - One Lovely Life
Sweet and Sticky Pomegranate Chicken - How Sweet Eats
Asian Pear and Pomegranate Salad - One Lovely Life
5-Ingredient Pear Pomegranate Salsa - Gimme Some Oven
Pomegranate, Kale, and Wild Rice Salad - Pinch of Yum
Strawberry Pomegranate Sauce - Lindsey Johnson
Orange Pom-Berry Smoothie - Wholefully
Pomegranates throughout history--in art, religion, culture, and tradition. - Pom Wonderful