This week is full of carrot love and I thought you might as well know a little more about this lovely orange root. Everything You Ever Wanted to Know About Carrots.
You are going to want to try a few of my favorite carrot recipes: Healthy Carrot Cake Muffins, Whole Grain Carrot Cake Pancakes and a huge list of Carrot Cakes.

All About Carrots

It's funny to me that we think of carrots with spring because they are definitely late summer and fall vegetables, it must be all the bunnies on the brain. That being said, they are such an easy and cheap crop to find all year long and store very well in home root cellars. Enjoy this fun little post that I worked on with Emily from One Lovely Life and go eat some carrots (did you see my 12 carrot cake recipes and healthy carrot cake pancakes from early in the week)!
History & Trivia:
February 3rd is National Carrot Day (who knew!?)
Carrots were originally a rainbow of colors ranging from a pale white (like a parsnip) to a deep blue-purple, with purple being the most common color. The standard orange carrots we see today most frequently weren't botanically mainstreamed until the late 16th century by Dutch farmers.
Some people consider the standardization of orange carrots a political move, honoring the House of Orange/William of Orange during the Dutch battle for independence. Others say they standardized orange carrots because they're sweeter and better-textured than the other varieties.
These days, you can find "rainbow carrots" at many health-food stores, like Trader Joe's, Sprouts, and Whole Foods, though they're appearing more and more frequently in neighborhood grocery stores too.
Eating high volumes of orange vegetables (rich in beta carotene) can truly turn your skin orange (carotenosis). This is a common, harmless occurrence for babies who tend to love orange purees better than green ones, but can just as easily happen to adults who focus most of their vegetable consumption on orange veggies, like carrots.
A botanical relative of dill, parsley, cumin, and fennel, carrots were originally grown for their leaves and seeds.
Grated carrot salad is one of the go-to methods for introducing children to vegetables in France. It's a dish ubiquitous in the country, and is delicious and light. (See below for a recipe, though there are dozens of variations)
There is a World Carrot Museum. Seriously.
Nutrition & Health Benefits:
That beautiful orange color is a dead giveaway for their high beta carotene (Vitamin A) content. One medium-sized carrot contains over 200% of your recommended vitamin A, so it's not hard to get enough!
Carrots really do help your eyesight! Vitamin A (retinol) helps eyes adjust to changes in light and keeps them from drying out. They also protect against macular degeneration and cataracts!
They're also high in vitamin C (an immune system booster), fiber (aiding digestion), and contain Vitamin K and potassium (regulating blood pressure).
Carrots (and other vitamin-A rich veggies) contain antioxidants that protect skin from sun damage, including dry skin, wrinkles, acne, and uneven skin tones.
Carrots can even help your teeth. They stimulate the release of plenty of saliva which alkalizes (neutralizes the acidity in) the mouth and balances out cavity-forming bacteria.
In some ways, carrots are even healthier when cooked or juiced, as the processes break down the protein sacs inside and make the carotenoids more available for the body to use.
It's a good idea to eat your carrots with a little fat (butter, olive oil, etc.). Fat helps with the absorption of vitamins and nutrients, since carotenoids are fat soluble.
Season & Growing:
Carrots are a great vegetable to grow since they can grow in sandy soil and are resistant to most bugs and plant diseases. Because of this, they're fairly available year-round, and tend to be one of the more inexpensive vegetables. It's one of the reasons they're the most popular vegetable (after potatoes). Buy them any time!
How to choose a good one:
The best time to pick the sweetest carrots is summer and fall, when they're freshest.
Carrots should be smooth, fairly straight, smooth, and bright in color (whatever color you're buying). If buying carrots with tops attached, look for the most vibrant greens to indicate freshness.
Carrots keep for a few weeks to a few months if kept safe from moisture. Keep them in the coolest part of your refrigerator in a plastic bag or with a paper towel to absorb any moisture.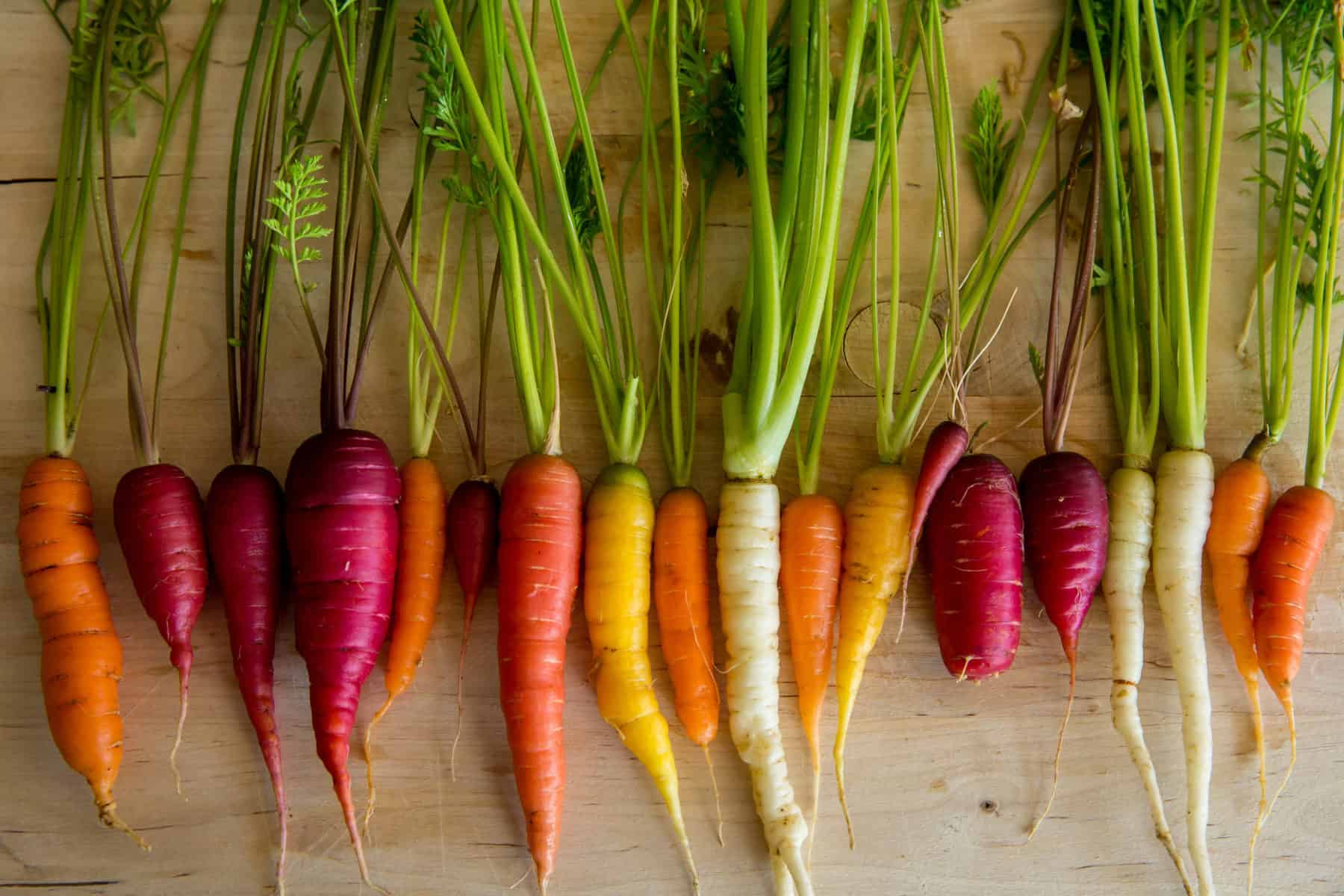 Helpful tips, tricks, and recipes:
I hope you enjoyed Everything You Ever Wanted to Know About Carrots. Now go and eat some!