Let's talk chocolate! I'm talking All About Cacao today so you can learn the difference between cacao nibs, cacao powder, cocoa powder, and dutch-processed cocoa.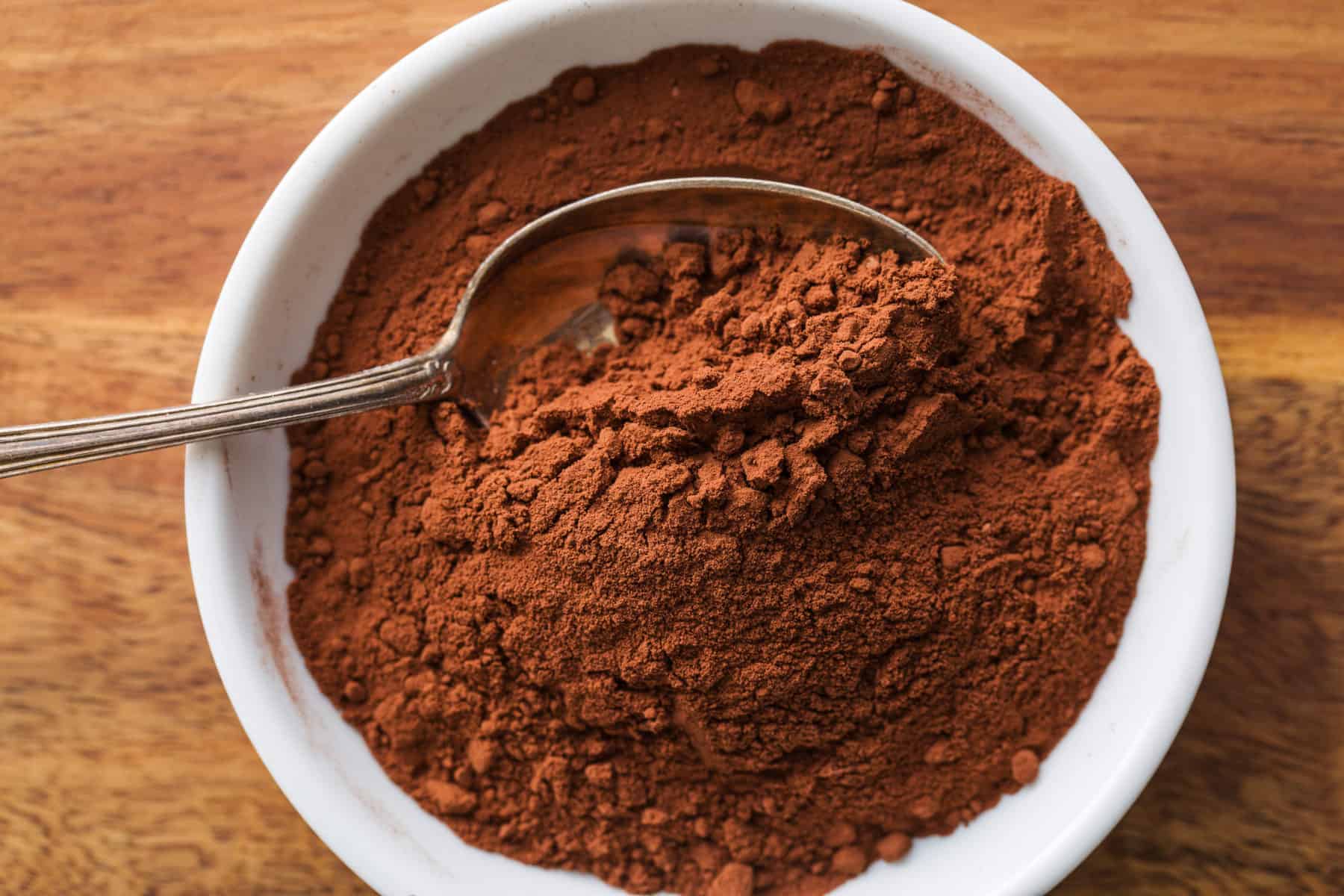 Ingredient Spotlight: Cacao
Could there BE a better time to talk about chocolate? (Well, let's be honest, is there a bad time to talk about chocolate?) There are so many gorgeous confections to be made, and it seemed like the perfect time to talk about all the different kinds of cocoa.
While I could go on for days about actual chocolate, today we're just going to cover the kinds of cocoa that are most often used in baking, smoothie making, etc. Some of the terms may be new to you, some may be old hat. Either way, there's something for everyone, so let's press on!
A few starter facts:
Cocoa comes from the beans of the Theobroma Cacao tree. Cocoa has two main components--cocoa solids and cocoa butter. Cocoa butter is what gives chocolate its richness. When the majority of the cocoa butter has been removed, the cocoa solids are what's used to create cocoa powders.
Cacao itself has no dairy, gluten, soy, corn, wheat, or any other of the top 8 allergens. When cacao is added to something else (cocoa butter, milk fat, or stabilizers, etc.), it becomes actual chocolate. If you've been put on a dairy-free diet, you CAN have various forms of cacao and cocoa, unless they've had dairy added to them.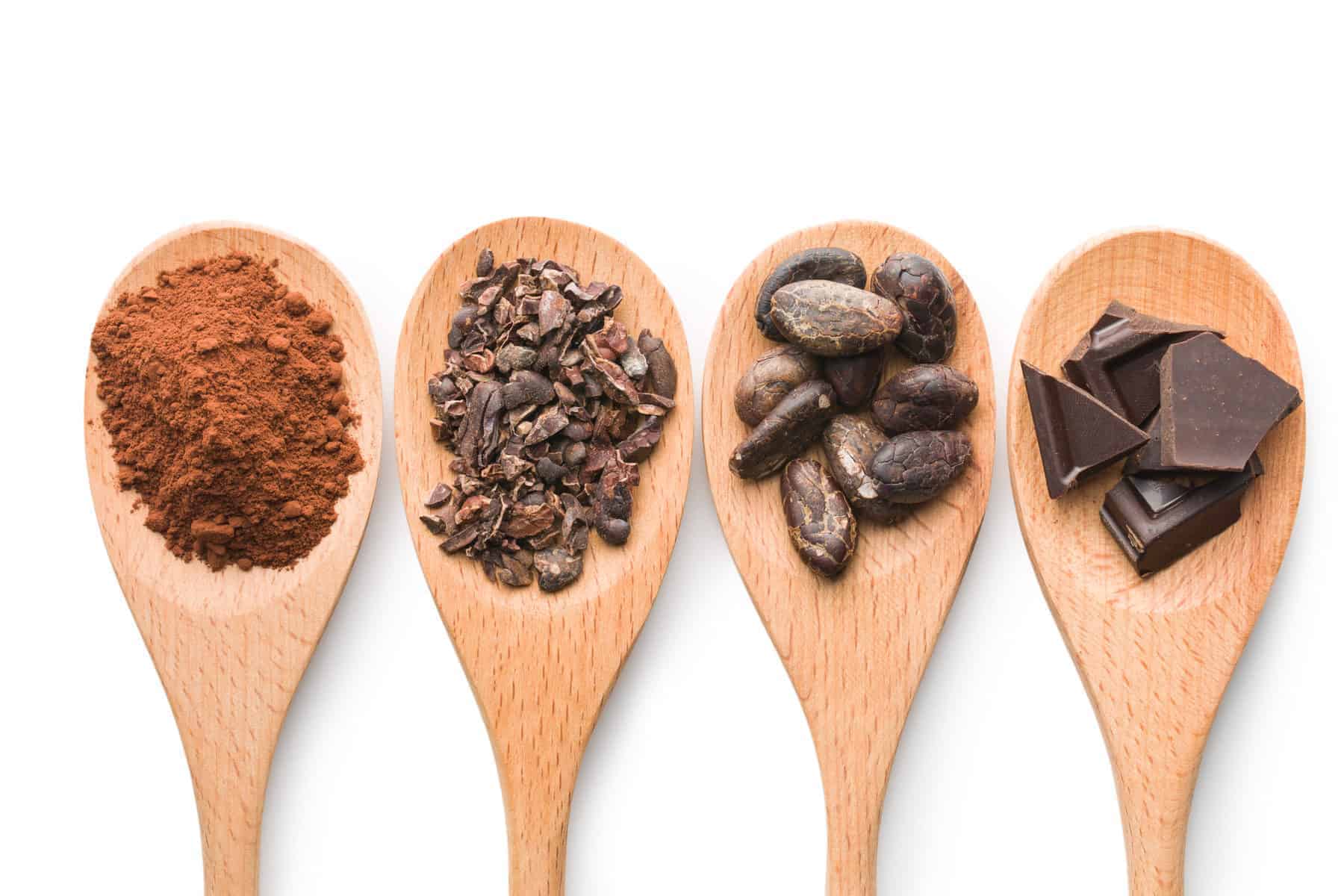 Raw Cacao Nibs:
This is the least processed form of cocoa you're likely to find in grocery stores. Cacao nibs are merely cacao beans that have been crunched up into bits, or "nibs." They're typically raw, though roasted cacao nibs are available. They are the second ones from the left in the picture above!
There is no natural sweetness, but cacao nibs are basically nature's super-healthy chocolate chips. They have a mood-boosting effect on your neurotransmitters and naturally make you feel a little better! On top of that perk, they contain plenty of antioxidants, magnesium, and even fiber.
They work very well in trail mix, granola, raw cookie dough bites, and energy bars, but you can also add them to smoothies or sprinkle them over yogurt or oatmeal.
Recipes to try:
Raw Cacao Powder:
The next level up from cacao nibs is raw cacao powder. This is made from dehydrated cocoa beans that have been pulverized and pressed to remove any extra fat/moisture. You're left with a lighter-colored powder.
A favorite among raw foodies, vegans, and health nuts, raw cacao is very high in antioxidants and flavonoids, and contains even more resveratrol than red grapes or wine. These act to protect the nervous system, and help shield you against cardiovascular disease, stroke, and high blood pressure.
So, what I'm telling you is that it's essentially a health food. A really delicious health food. I have a healthy homemade vegan chocolate recipe coming your way soon. I love this recipe because while it's chocolate, it's health food chocolate. Perfect for the New Year!
Recipes to try:
Natural Cocoa:
Natural Cocoa is what most of us are most familiar with in the U.S. If you're looking at unsweetened baking cocoa, this is most likely what you're coming across. In most US recipes, if the recipe author hasn't specified what kind of baking cocoa to use, this is the default and most likely what they mean.
It's unsweetened cocoa beans that have been roasted, crushed, and pressed between hydraulic plates to remove most of the cocoa butter, leaving a dry powder behind.
It's naturally acidic, with a pH around 5 or 6 (water is a neutral 7), so it's often paired with baking soda in baking recipes to help neutralize the acid.
Some cocoa powder has a natural redness to it, which is where the Devil's Food Cake name came up with (the reddish cocoa looked devilishly good).
Common brands: Hershey's, Scharffen Berger, Ghirardelli, Guittard.
Recipes to try:
Dutch Processed Cocoa:
More common in Europe and abroad, Dutch processed cocoa refers to cocoa that has been washed in a potassium solution to neutralize the naturally occurring acid before undergoing the roasting/pulverizing process. The "dutching" process creates a darker color, so baked goods made with Dutch processed cocoa tend to look deeper and richer.
Because the acid has been neutralized, Dutch process cocoa has a neutral pH (around 7), which means it needs to be paired with baking powder for baked goods to raise properly. In baking recipes, it shouldn't be substituted for natural cocoa unless some adjustments are made to the leavening.
One especially dark form of Dutch processed cocoa you can keep an eye out for is Black Onyx, or "ultra dutched." This cocoa is nearly black and is the kind of cocoa used in Oreo cookies and the like. King Arthur sells one, as do a few other brands.
Common Brands: Hershey's Special Dark, Droste, Penzey's
Recipes to try:
Tips & Tricks:
This post was originally published in 2016 and has been updated in November 2019.
That's it for facts about Cacao and Cocoa! There's cacao nibs, cacao powder, natural cocoa, and Dutch-processed cocoa! They are all delicious and have tons of ways to use them!