Your simple guide on How to Save Green Bell Peppers.
How to Save Green Peppers
Sometimes life gives you lemons and so you make lemonade. And other times life gives you way too many bell peppers, and then what do you do?!
We had a HUGE garden this year and before I knew it, it froze! Most of my plants died last week in the freeze and so that meant I had lots and lots of things that needed picking right away. We picked about 10 gallons of green peppers which turned into about 4 gallons of chopped green peppers in the freezer! That's a lot of green peppers.
No garden you say, no worries! This time of year most people have way to much in their garden, including the cute farmers at the farmer's market. I used to go down to the farmer's market an hour or a half hour before it was scheduled to end and make deals with the farmers on their remaining produce. They don't want to cart extras home and so they were always willing to make a deal. I'd normally pay $1 for 6 bell peppers this time of year from the farmer's market which is a great deal.
It makes a lot of sense to use what is in season when it's available because the quality and price are at their best. And if you save a little for the cold winter months you are ever smarter. Bell peppers are SO easy to preserve and here's how I do it!
How to save green peppers:
1. Acquire some extra peppers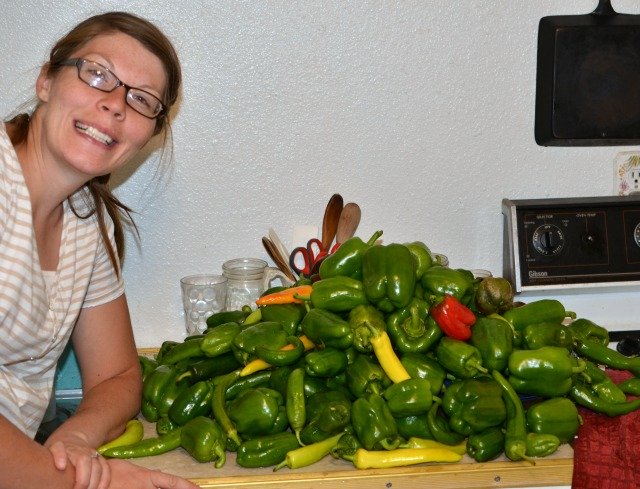 2. Remove stems and seeds, wash, and chop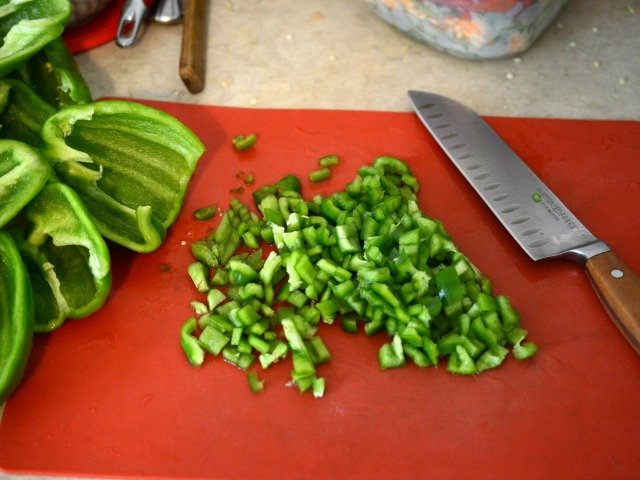 3. Throw them in a freezer bag, mark the date, and freeze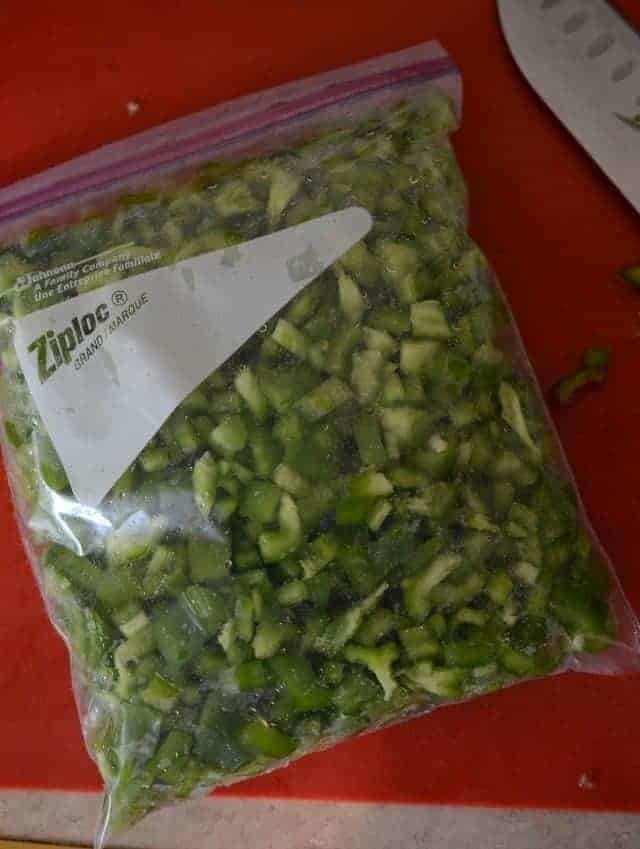 Really! It's that easy. I don't lay them on a pan to freeze in a single layer, you don't have to blanch them first, just chop and freeze. If they get stuck together in the bag (because they are a bit wet when you put them in) just smack the bag down on the counter like you would a bag of ice that melted together.
I have a little over 4 GALLONS of frozen bell peppers in the freezer as we speak! Just call me the crazy pepper lady.
Have I convinced you to pick up a few extra peppers this week at the farmer's market?
What does the "Dirty Dozen" refer to?
The top 12 contaminated fruits or vegetables. I don't go crazy with organic stuff but I do try to avoid those 12 things.
How much frozen green pepper do you put in when a recipe calls for 1 green pepper?
I normally plan on about a half cup chopped frozen green pepper for every fresh pepper the recipe calls for.
These are great used in dishes that are cooked and I don't recommend them for things like a green salad.
Plan on throwing them in some of these:
Your simple guide on How to Save Green Bell Peppers.