Who knew that one day canning supplies would be so hard to come by! They are out of stock in many grocery stores across the country right now. However, I am going to show how to freeze green beans the easy way.
You all know that I love to preserve the harvest. One perfect way to do so is to freeze green beans. Freezing green beans is quick, easy and they will last in your freezer for up to 6 months.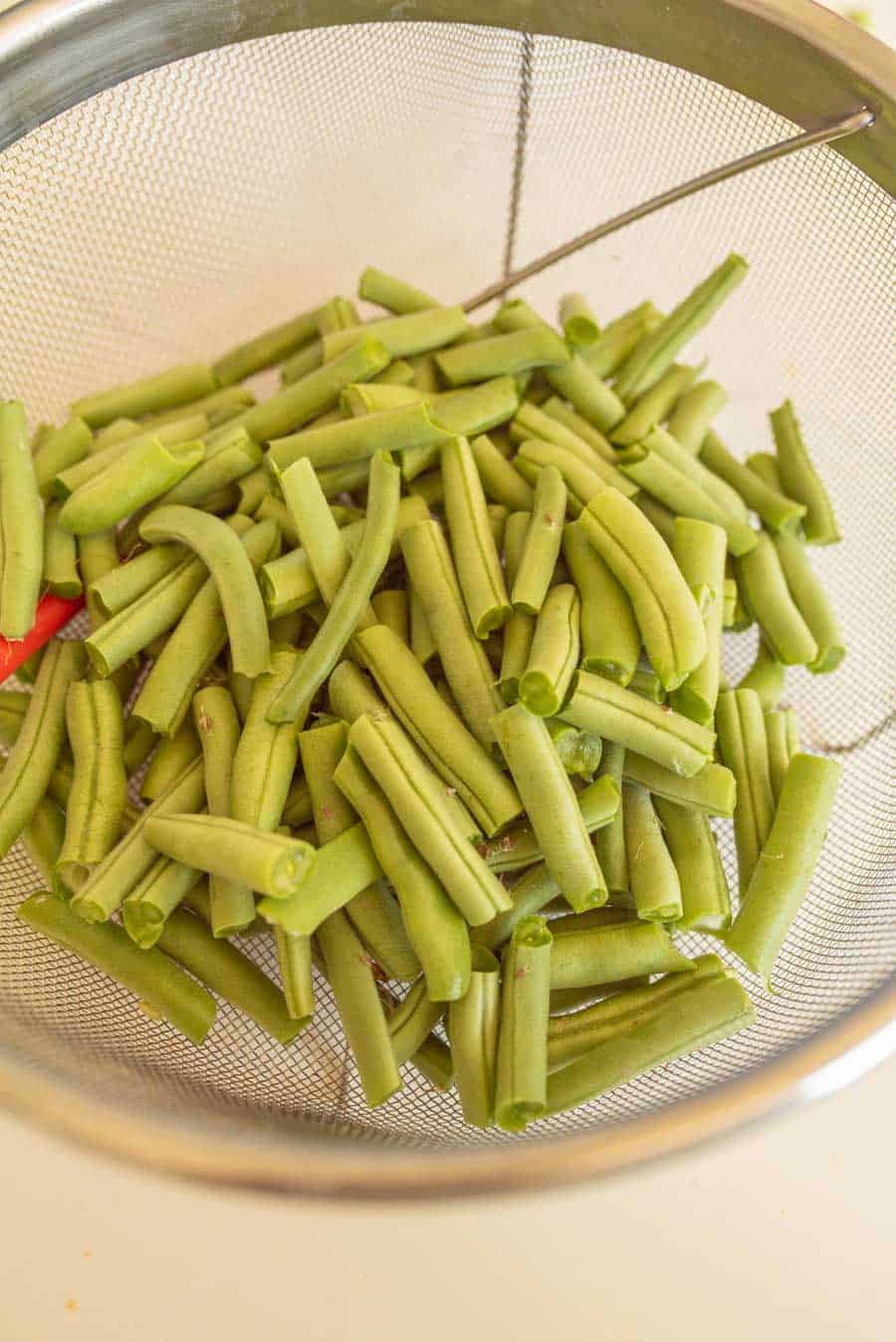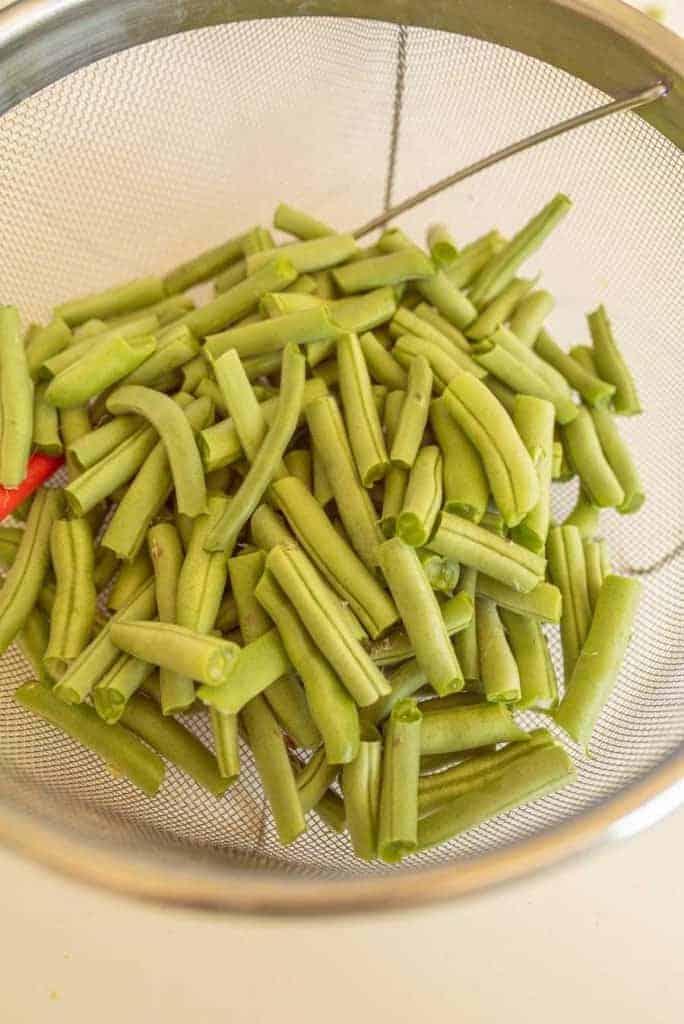 How to Freeze Green Beans
Green beans are great to freeze because they keep their taste and texture well. It is really convenient to pull out beans from the freezer and add them to soups, casseroles or side dishes throughout the winter.
Don't let freezing green beans scare you because it is seriously such an easy process. Get the kids in the kitchen with you and stock that freezer!
After you have picked the green beans or have acquired them from the store, here are the simple steps to follow to freeze them.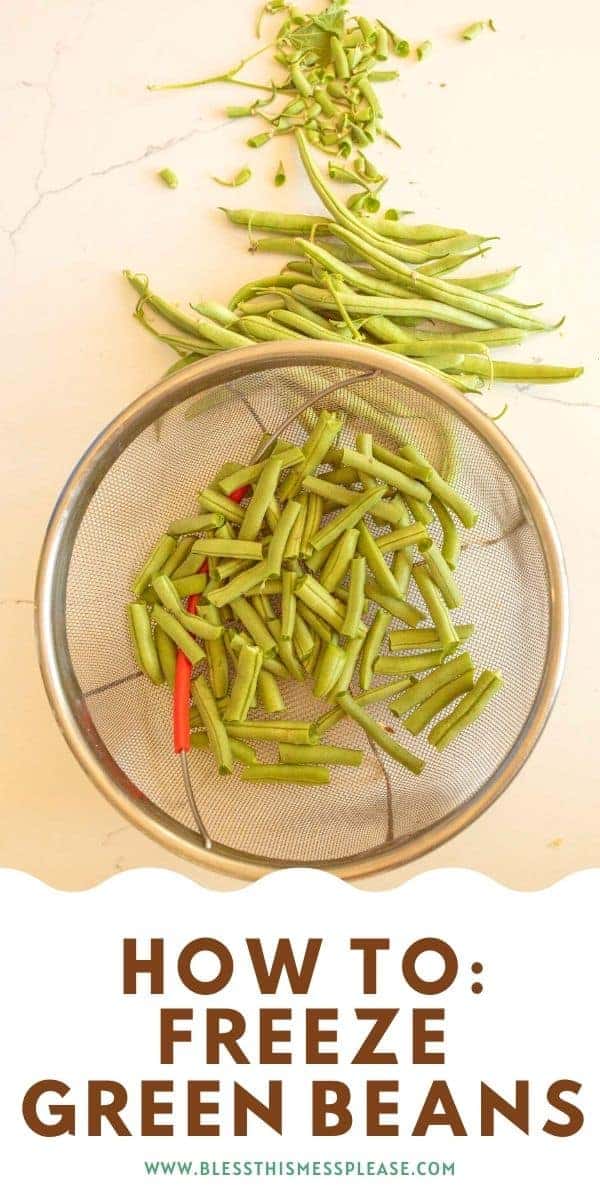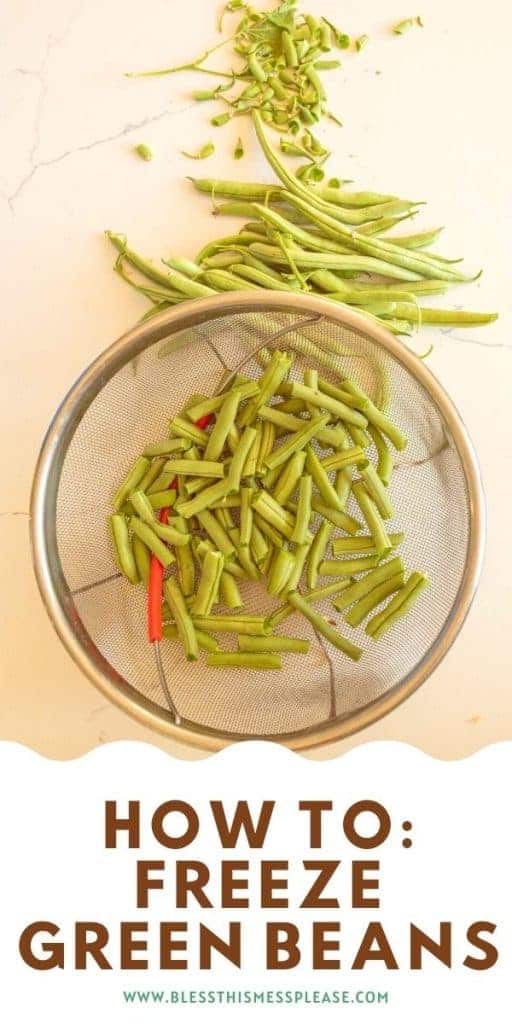 How to freeze green beans in 6 easy steps:
Trim: You can use a knife or simply break the yucky ends off.
Snap the beans into bite sized pieces: Break or cut the beans into smaller pieces. I like to have mine about 1- 2 inches per piece. This would be a perfect job for a little kitchen helper.
Rinse: Wash the beans to get rid of all the dirt. I like to put a bowl in the sink and swish the beans around until they look clean.
Boil: Next step is to place the beans in boiling water for 3 minutes. When then time is up, drain and cool the beans.
Transfer Beans: Place the green beans in a freezer bag. I normally put about 2 cups of beans per bag.
Freeze: Place in freezer for up to 3 months.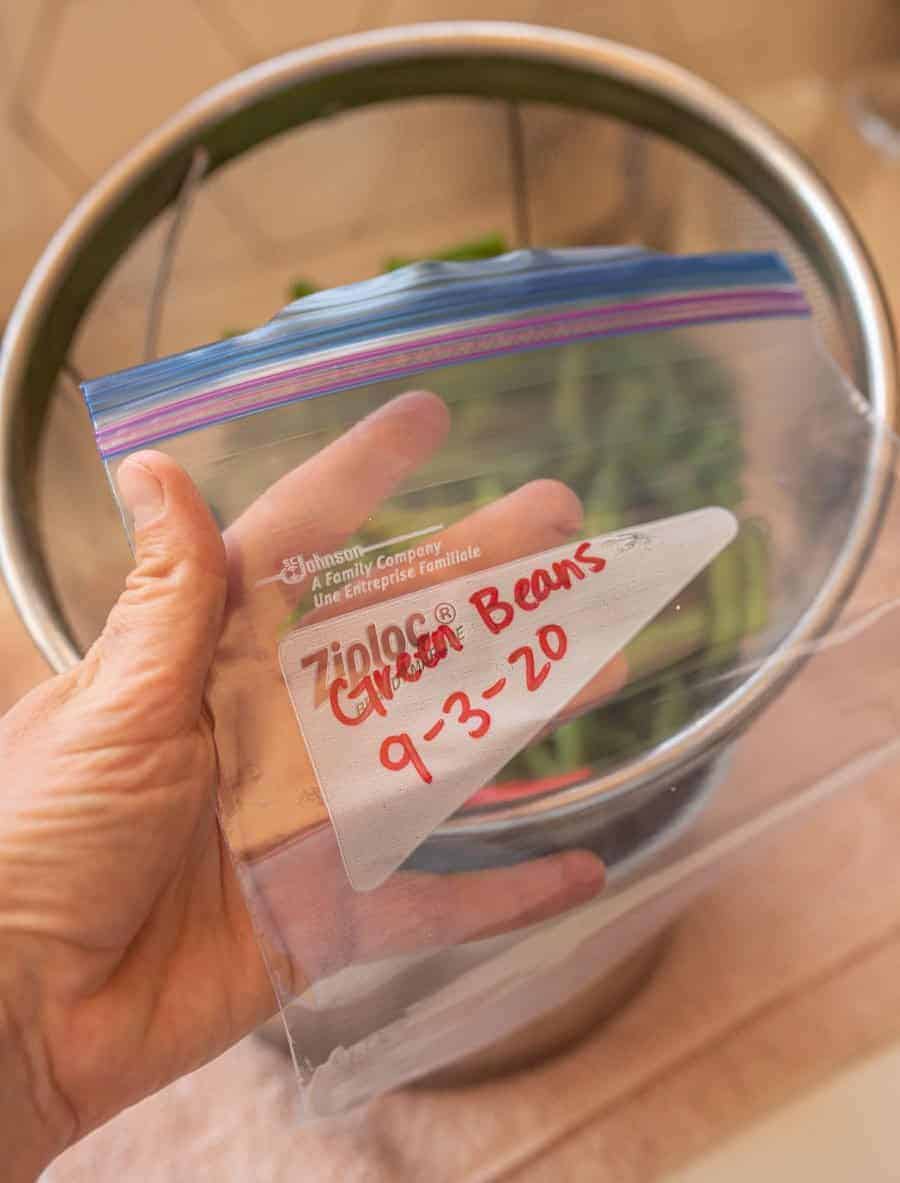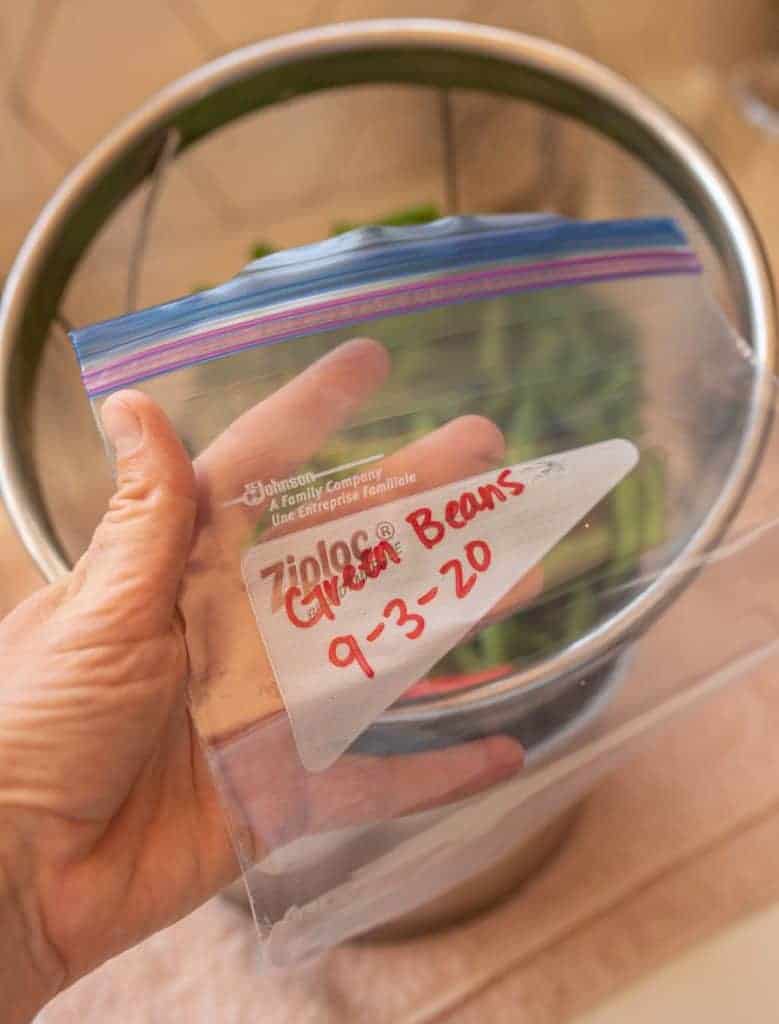 When you are ready to use the frozen green beans, simply boil for 10-20 minuets until the desired texture is reached.
Why do you have to blanch green beans before freezing?
Blanching helps retain the taste, color and texture of the green bean. It's a pretty basic food preservation practice and one that you'll do often when you start canning the freezing more fruits and vegetables.
How do you know when green beans are bad?
If you notice that your green beans are limp and dry, they are going bad and will not have optimal taste. Other obvious signs are if the green beans great too long on the plant, they'll get large and woody. Pick green beans while they are about as round as a pencil.
If your green beans are slimy or moldy, they should also be used as chicken food or compost instead of being put in the freezer.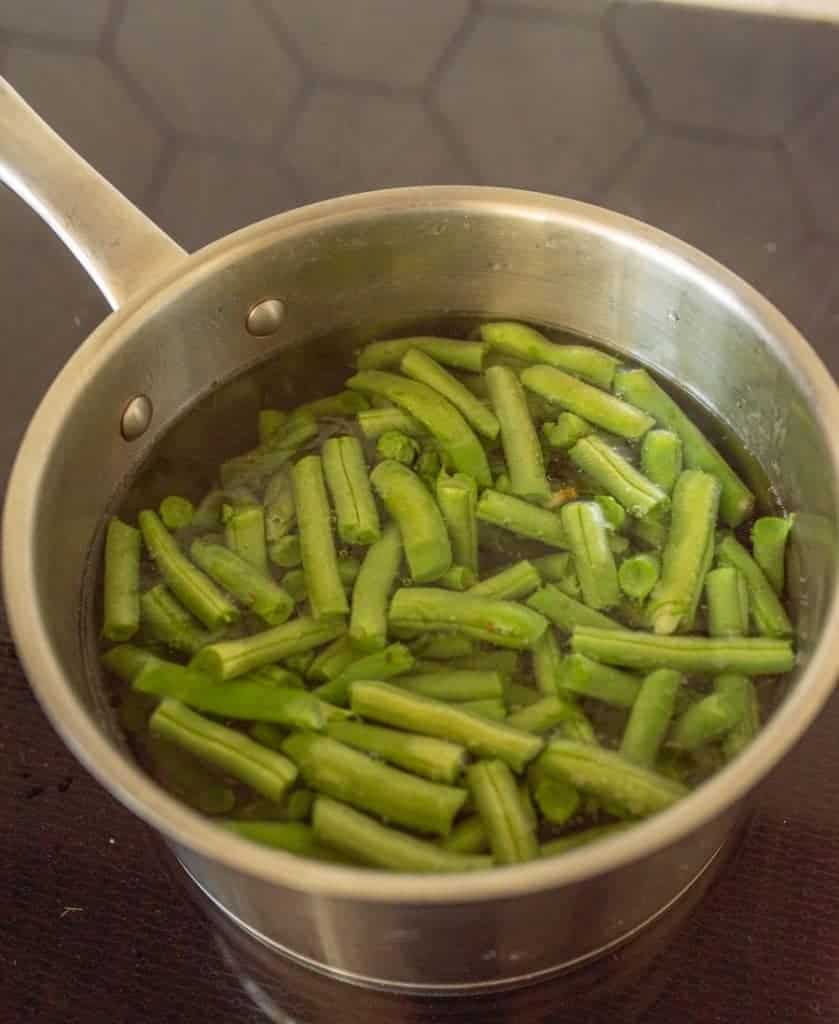 Is canning or freezing better?
There is definitely a need for both. Canning is a good cost effective way to preserve food but is more time consuming. Freezing helps keep the flavors as true to fresh as possible and is a very fast process. I do both and recommend both!
I choose to freeze my green beans this year because I didn't even have a lot. I just froze a bag here and there. Canning is generally easier when you have a lot of green beans to work with so that you can process a full canner load.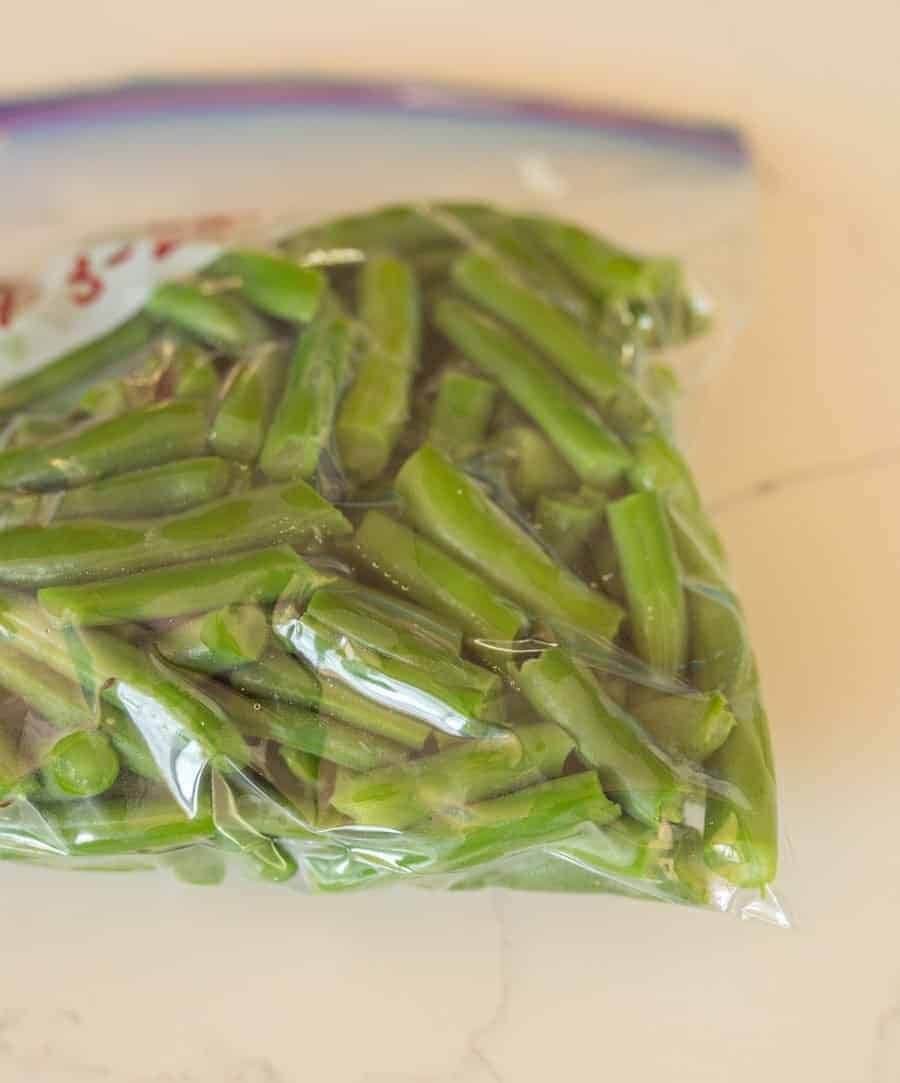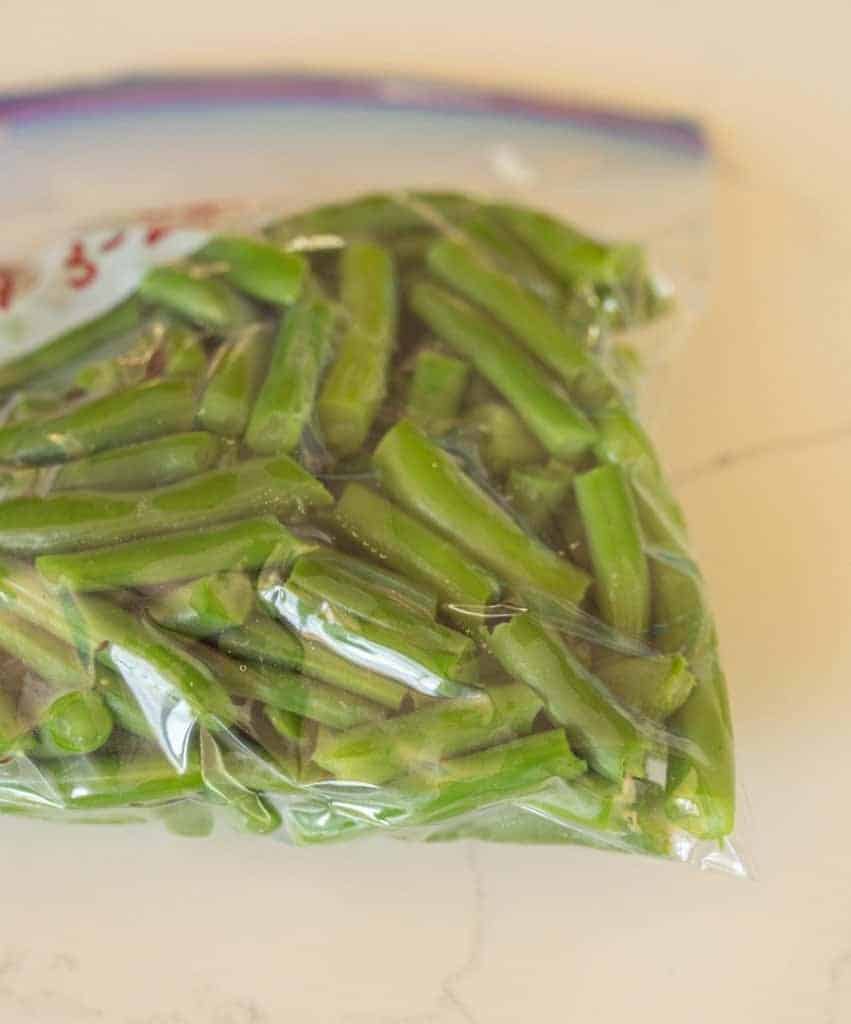 More freezing and canning recipes:
Print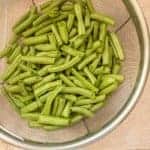 How to Freeze Green Beans
---
Author:

Total Time:

18 minutes
Description
These 6 simple steps for how to freeze green beans are quick, easy and the green beans will last in your freezer for up to 6 months.
---
---
Instructions
You can freeze as many or as few green beans as you like. Don't think you have to bulk process them, if you only have a handful from the garden you'd like to save, do a handful at a time. Every little bit adds to the freezer for later!
Wash your green beans.
Trim the ends from the green beans and break them into bite sized pieces.
Bring a pot of water to boil (enough to cover the green beans, if you have a lot it's fine to work in batches).
Add the green beans to the boiling water, working in batches if needed, and boil for 3 minutes.
Use a slotted spoon to remove the green beans from the pot and rinse them in cold water or place them in an ice bath to help stop cooking.
Remove the green beans from water if you need.
Label your freezer bags with the date and what's inside (green beans).
Place cooled green beans in a plastic freezer bag, press out as much as you can, and close the bag. I typically do 2 cups per bag because that's a good amount for a meal or recipe at my house. You can do whatever amount makes sense for you.
Freeze your bags for up to 6 months.
To eat place the frozen green beans in enough boiling water to cover them and boil for 10-20 minutes or until your preferred texture is reached.
Notes
Blanching the beans (boiling them for a short period of time) before freezing helps to preserve their texture.
My mom always adds a few tablespoons of dehydrated onion to her green beans when she's boiling them and I do too (when cooking to eat, not getting them ready for the freezer). It's a little thing but it tastes great.
If you'd like to spread your blanched beans out on a cookie sheet, freeze over night, and then store in a freezer bag you can. This individual flash freezing method is good if you want to store a lot of green beans together and just pull out a cup here or there to use.
Prep Time:

15 min

Cook Time:

3 min
Keywords: how to freeze green beans, frozen green beans recipe, how to store green beans, how to save fresh green beans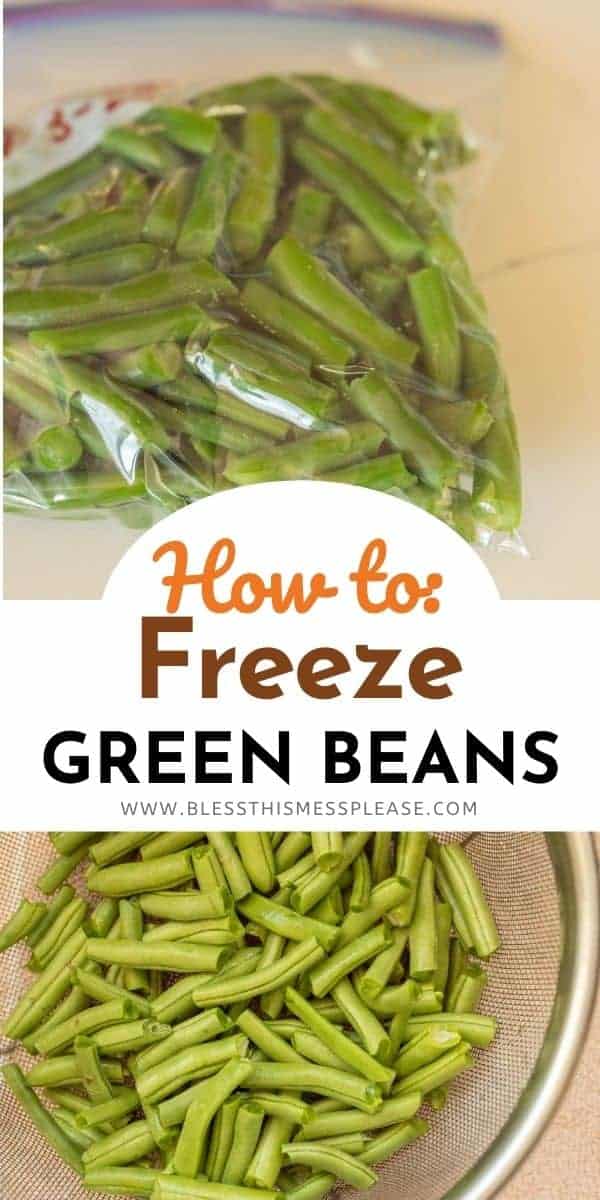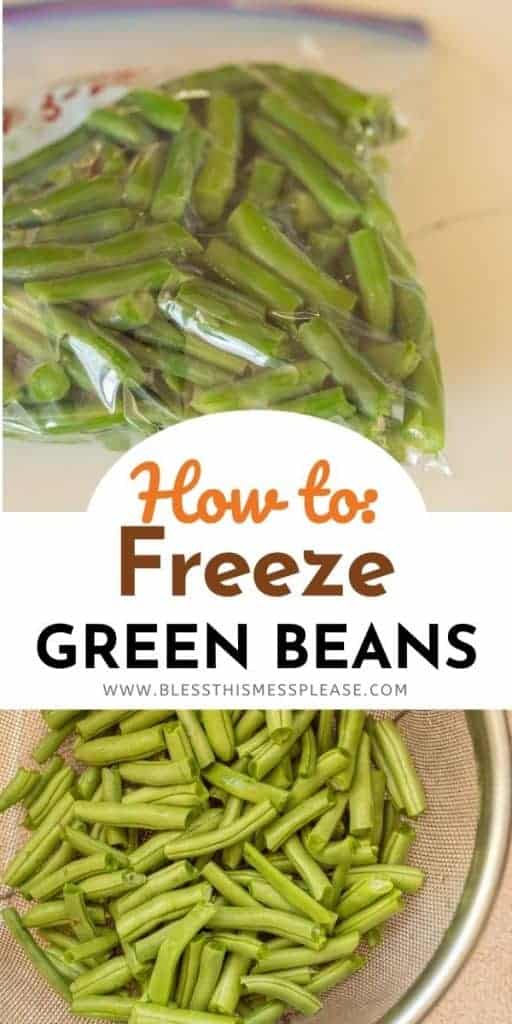 I love teaching people how to preserve food. Give how to freeze green beans a try and enjoy the fruit of your labor all winter long.