Bring on all the grilled things! You will love these Honey Glazed Chicken Skewers, and your family will cheer your name when they hit the table. Fire up the grill!
I love a grilled chicken. Here are a few of my favorite recipes: Barbecue Ranch Grilled Chicken Salad, Weeknight Grilled Chicken Sandwiches with Pineapple Salsa (30 Minute Meal) and Grilled Brown Sugar Bacon Wrapped Chicken Skewers.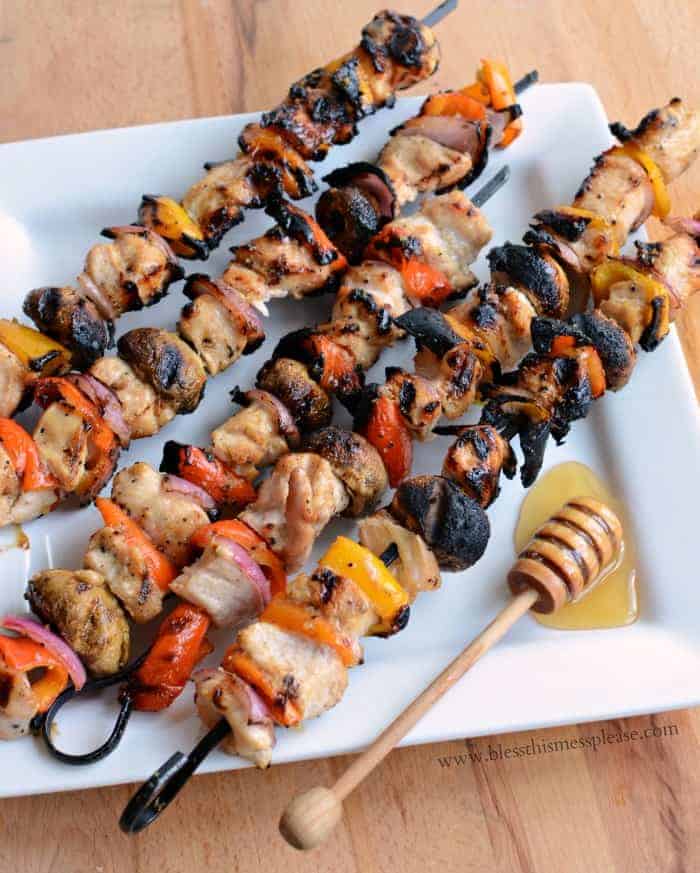 Honey Glazed Chicken Skewers
Southern Utah is HOT right now, and I don't even live in the hottest part of this region. The thermometer has been breaking 100 degrees plus every day and this very pregnant mom is hot. We have a swamp cooler, but it can only cool a house down by about 20 degrees (which is still so much better than no cooler!) but by the time dinner rolls around, I'm a toasty mess with no desire to turn on the oven or stand over the stove. We spend almost every afternoon at the pool and the evenings cool off so nicely here since the elevation is high, but man alive are things warm in my house right at dinner time.
I bought myself a used gas grill a few years ago at a garage sale and have been learning how to grill since. Such a great investment! I'm not an expert at the grill, but I'm learning and I really enjoy it. Here's my biggest tip for grilling - invest in a simple digital meat thermometer
.
I have this exact thermometer in black (which is cheaper than the colored ones...) and it works great. Totally worth the $10 or $12 I spent on it. And the pictures doesn't show it, but mine has all of the minimum temperatures for different kinds of meat printed right on the side, which is really handy. As someone who errs on the side of caution, especially when it comes to food safety and food handling, having a thermometer has saved us from over-cooked meats many times. Instead of cooking things to death "just to be safe," I now know what the temperature is and cook accordingly. It's wonderful! If you have the ninja skills of my dad or other master grillers, this might not be for you, but if you are newer to grilling, this might just take your pork chops from chewy to divine.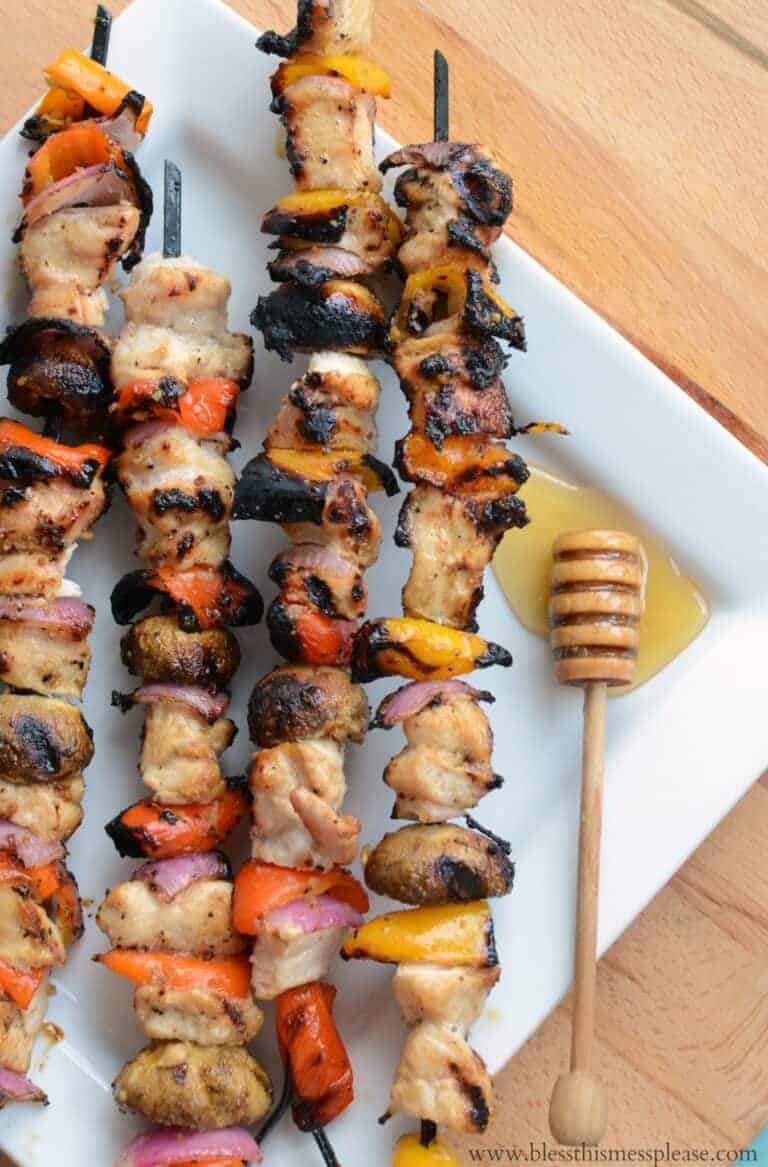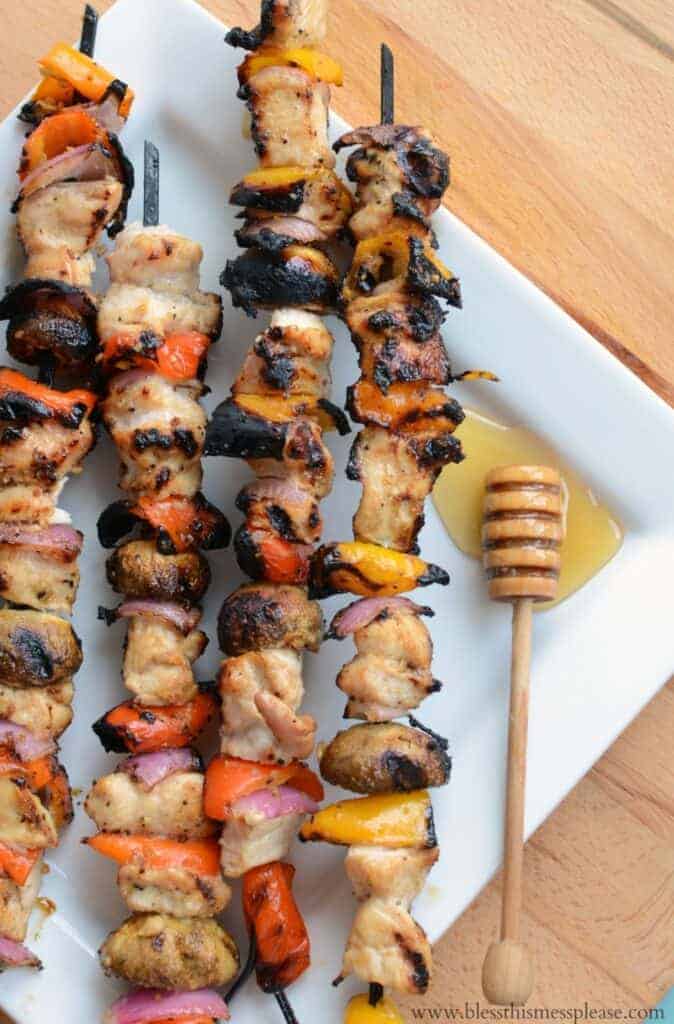 See, even my grilling isn't perfect... I let these glazed chicken skewers get too done because I wasn't watching them like I should have. Distractions and burnt dinner go together don't they? They still tasted amazing!
I worked at a resort ranch, in the kitchen no less, after my sophomore year of college for an internship for my major in Recreational Management. The ranch was just a few miles from where I now live and that summer was the magical months when I met and started dating my husband! I used to cook for crowds and crowds of people who came to the ranch for vacations, family reunions, and church groups. It. Was. Awesome! One night was grill night and we'd marinade the chicken in lemon-lime soda all day and the steaks in cola. I'm not much of a pop drinker, but it sure does something magical to meat.
And then there's that glaze! Making a little sauce to add the meat and vegetables while they grill really kicks them up a notch. You will love these honey glazed chicken skewers, and your family will cheer your name... just don't burn it like I did 🙂
For this recipe, I recommend:
[asa_collection btmp]grill[/asa_collection]
The thermometer recommended above is the one that America's Test Kitchen recommends... if I ever buy another I'll probably try that; they are never wrong 🙂
Why is soda a good marinade?
The acid (or whatever is in pop) breaks down toughness in the meat and it adds just a touch of sweetness that caramelizes well on the grill.
How can you tell when grilled chicken is done?
If using a thermometer (which I recommend) the internal temperature should be 165 degrees. If you don't have a thermometer, just cut through the thickest section of the meat to check that it's about opaque in the center. The juices should also run clear and not be pink in color.

How long does it take to grill chicken?
Chicken breast will take between 8 to 12 minutes to grill.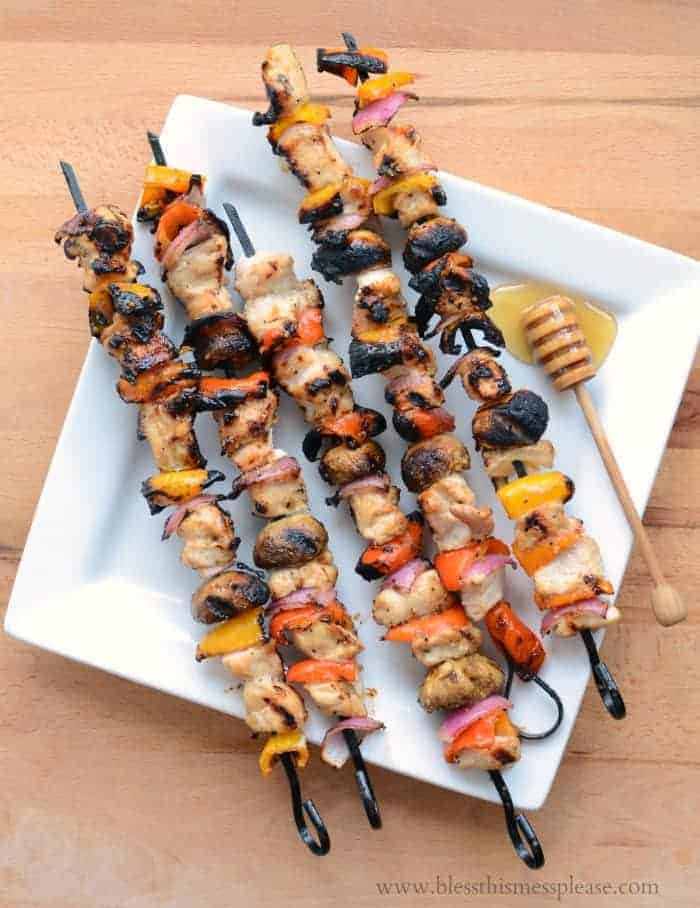 Print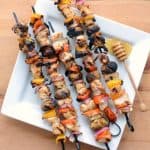 Honey Glazed Chicken Skewers
---
Author:

Total Time:

2 ½ hours
Description
You will love this 30 minute meal of Honey Glazed Chicken Skewers. Fire up the grill!
---
For the Chicken Skewers
1

can of lemon-lime soda

1

-

2

pounds of chicken breast

1

small red onion, cut into

1

inch chunks

1

red bell pepper, cut into

1

inch chunks

1

yellow bell pepper, cut into

1

inch chunks

1

orange bell pepper, cut into

1

inch chunks

8 ounces

button mushrooms, washed and stems removed
For the Glaze
½ cup

honey

¼ cup

olive oil
Juice of

1

lemon

2 teaspoons

steak seasoning (I like the Montreal Steak Seasoning)

1 teaspoon

salt

1 teaspoon

garlic powder
---
Instructions
In a shallow bowl or pan with a lid, add the chicken. Cover the chicken with the lemon-lime soda and stick it in the fridge to marinade for 2 to 8 hours.
Prep the vegetables. When you are ready to make your skewers remove the chicken from the fridge and cut it into 1 inch chunks. Assemble the skewers by threading the chicken and vegetables onto metal or soaked wooden skewers. Lay them on a plate or cookie sheet with sides while you make the rest of the skewers
To make the honey glaze, add everything to a pint mason jar, add the lid, and shake to combine.
Preheat the grill to high and let it warm up for 2 or 3 minutes. Brush the first coat of the glaze on to the skewers while the are sitting on the pan or plate. Flip them over and brush the other side with the glaze so they are totally covered in glaze before they even get to the grill.
Add the skewers to the grill and grill on each side for about 6 minutes, cooking 12 minutes total, or until the chicken is cooked through and reaches 165 degrees on an instant-read thermometer. Brush the skewers with more glaze every 2 or 3 minutes.
When the chicken is cooked through remove the skewers from the grill and place them on a clean plate. Let them rest for 2-3 minutes before serving hot.
Prep Time:

2 Hours

Cook Time:

20-30 minutes

Category:

Dinner

Method:

Grill

Cuisine:

American
Nutrition
Serving Size:

4

Calories:

457

Sugar:

43.2g

Sodium:

643.6mg

Fat:

17.6g

Carbohydrates:

51g

Protein:

29g

Cholesterol:

82.7mg
Keywords: Grill, Chicken, Honey Glazed, Skewers, Summer Meal, 30 minute meal
Here's a few of my other favorite summery grill recipes:
Thank you so much for stopping in and enjoy this recipe for Honey Glazed Chicken Skewers!