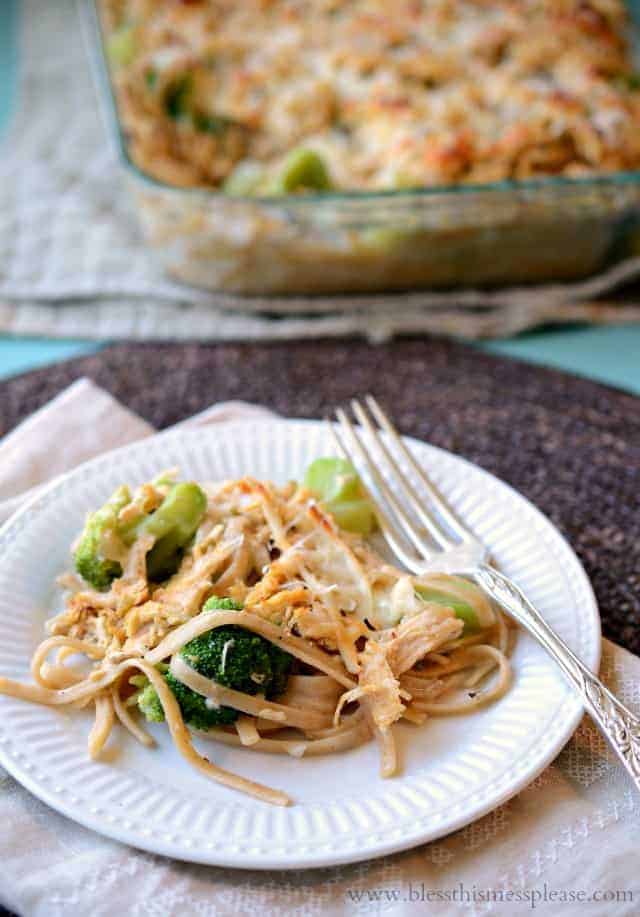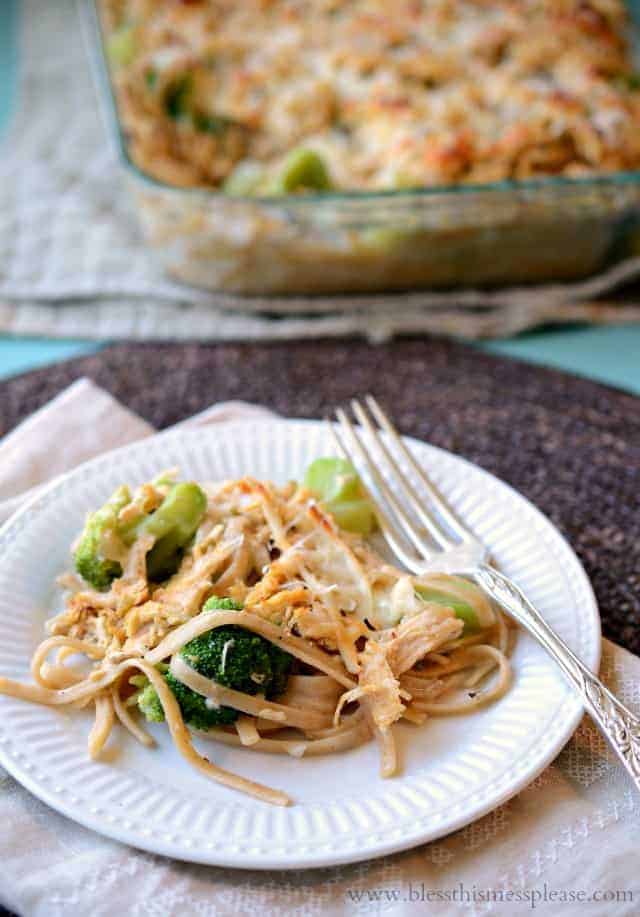 Hello all!
After a long holiday weekend filled with family reunions, swimming parties, and a birthday party, I'm feeling super ready to eat well again. I love to enjoy party food but I also love to get back into a healthier routine once the parties are over. And there's no better time to start than today. Here's a great recipe for healthy tetrazzini with chicken and broccoli for you to make tonight. It's quick, easy, delicious, and healthy!
The bones of this healthy tetrazzini recipe come from my Aunt RaNae out of our family cookbook that my sister and I printed a few years ago. I loved when she made her version when I was a kid! In the picture I used a fettuccine noodle even though the recipe calls for thin spaghetti (it's the only kind of whole wheat noodle the store has here!). I would recommend finding the thin spaghetti; the texture is just better with it. Add a quick homemade sauce, some chicken, and broccoli, and you've got yourself a meal in a dish.
I served this healthy tetrazzini with some cantaloupe and a spinach salad for a complete meal that we all loved. Plus it made enough that I had enough leftovers for lunch the next day. Gotta love that!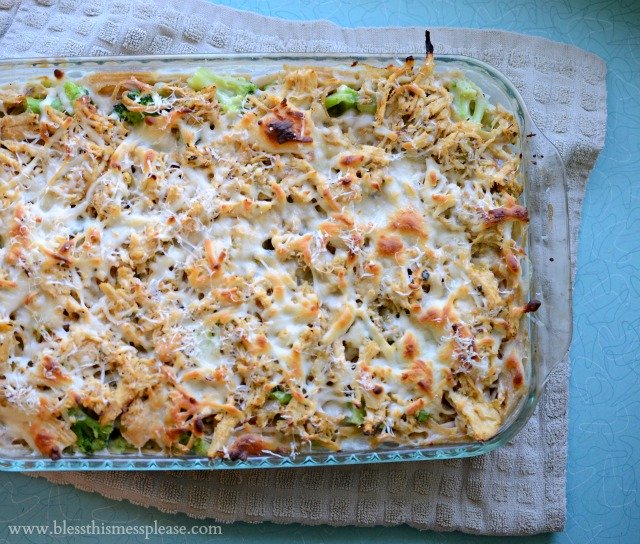 If you try this recipe, let me know what you think! Leave a comment, pin it, and don't forget to tag a picture #blessthismesseat on Instagram. I love to see your kitchen skills in action!
Print
Healthy Chicken and Broccoli Tetrazinni
---
Scale
Ingredients
1

pound whole wheat thin spaghetti, broken in half and then cooked al dente

1

package frozen broccoli

2 cup

s cooked chicken

2 tablespoon

s butter

7 tablespoon

s whole wheat flour

1 teaspoon

salt

2 cup

s chicken broth

1 cup

milk

1/2 cup

Parmesan cheese

1 cup

mozzarella cheese
---
Instructions
Preheat the oven to 400 degrees. In a large saucepan melt the butter over medium heat. Add the flour and salt and stir to combine. Cook the butter and flour mixture for 1 to 2 minutes. Gradually whisk in the chicken broth to the butter mixture. Stirring constantly, gradually bring the mixture up to a boil, turn down the heat, and then simmer for an addition 2 minutes until the mixture thickens. Remove from the heat and stir in the milk and Parmesan until the cheese melts.
When the noodles are done cooking, put the frozen broccoli in the bottom of the colander before you drain the water. Pour the hot water and noodles over the top of the broccoli and stir to combine.
Spread the cooked spaghetti and broccoli mixture in the bottom of a greased 9 by 13-inch baking dish and then pour half of the sauce over it. Top with the chicken or turkey pieces and then drizzle the remaining sauce over the top. Top with mozzerella.
Cover and bake until hot and bubbly, about 25 minutes. Remove the foil and bake for an additional 5 minutes until the cheese is slightly browned. Let the tetrazzini cool in the pan for 10 minutes before serving.
---
For this recipe, I recommend:
[asa_collection btmp]tetrazinni[/asa_collection]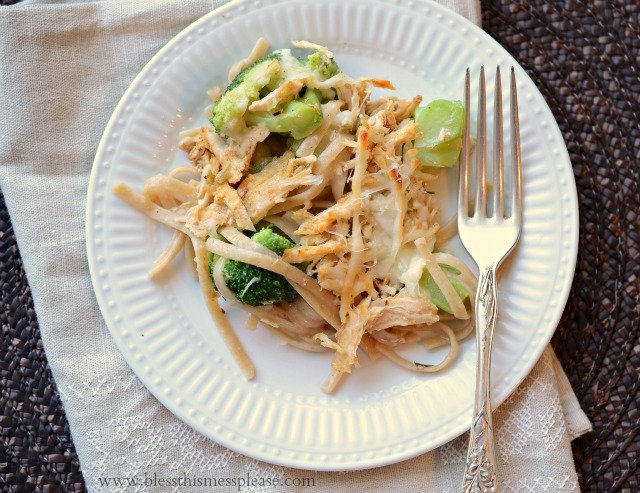 I'm still working on an eating clean meal plan for spring/summer and this healthy tetrazzini recipe is going to be part of it. It's a keeper!
I'm still looking for a few more recipe to try though. Do you have any quick and easy healthy favorites for me? Links welcome!
Thanks for reading and here's to a healthy Monday!