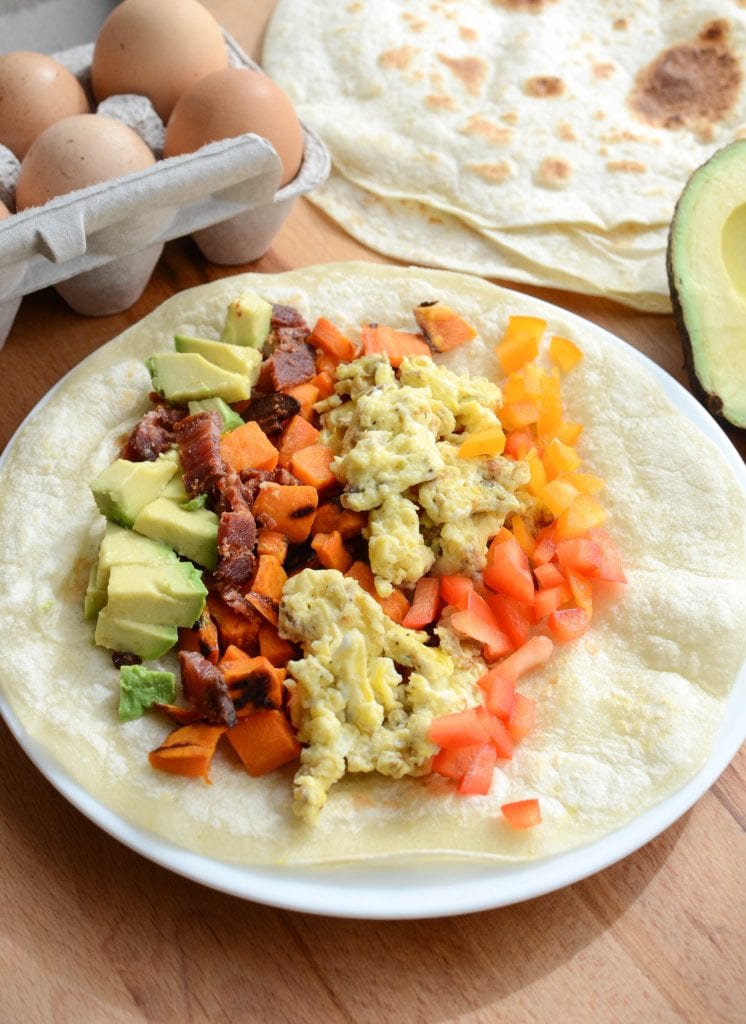 Breakfast for dinner is such a great option, but truth be told, if I try to pass pancakes, waffles, or french toast off as dinner my kids give me the side-eye. I guess I've set them up for too high of dinner expectations because they don't consider "breakfast foods" to be legitimate dinner fare. The few times I tried to tell them that cold cereal was dinner I had a full riot on my hand. There were literal tears being shed for my lack of a proper dinner. What's wrong with them?! Who doesn't love pancakes for dinner? That being said, I can get away with serving this awesome breakfast burrito recipe without complaint; it must be the tortilla!
I love this recipe because it's easy and inexpensive to make. It takes about 30 minutes to put together, I generally have all of the ingredients on hand, it's full of vegetables, and it costs just over a dollar per burrito (!!!). Seriously, real food for a buck, sign me up! I used organic eggs and tortillas too which count for something in my book.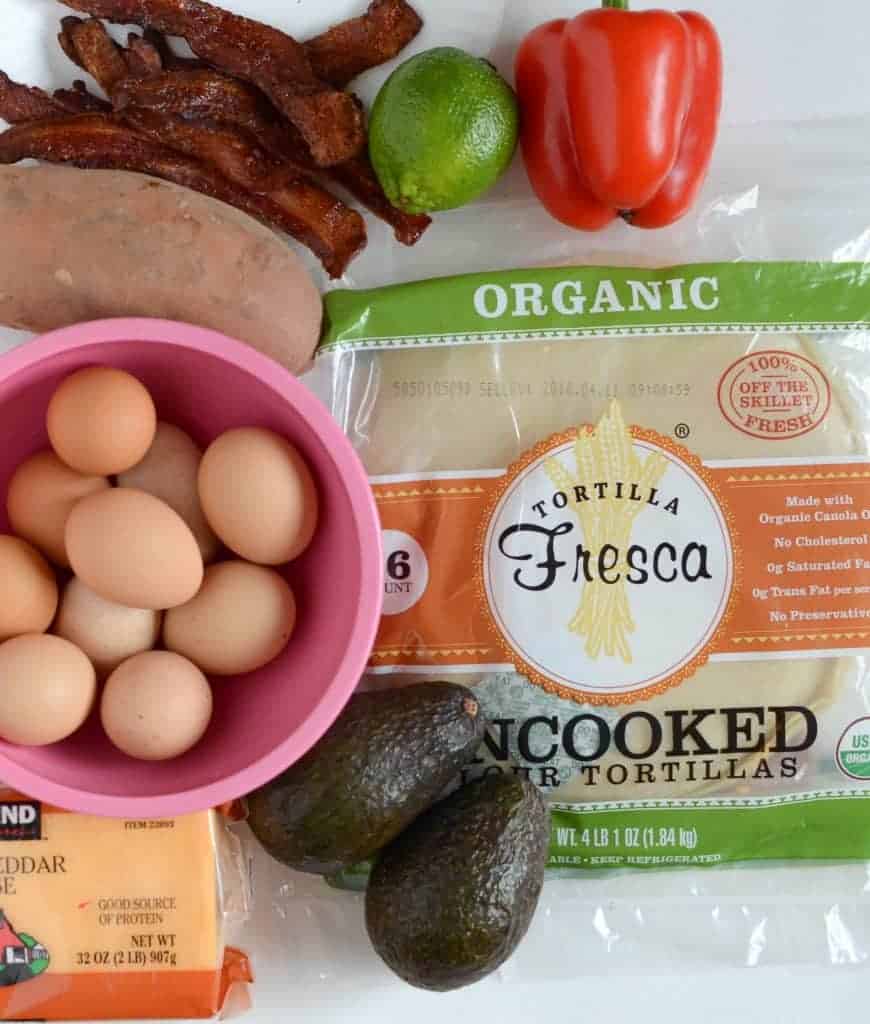 Breakfast Burrito Recipe
Print
Healthy Simple Breakfast Burritos
---
Author:

Prep Time:

15 mins

Cook Time:

10 mins

Total Time:

25 minutes

Yield:

4-6
Description
Break out of your breakfast for dinner rut with these healthy and delicious breakfast burritos.
---
Ingredients
1 large sweet potato, peeled and cubed
Olive oil
Salt
8 eggs
Chopped bell peppers
Grated cheese (I used sharp cheddar)
Diced avocado
Freshly cooked tortillas
---
Instructions
Preheat the oven to 425 degrees. Put the chopped sweet potato on a rimmed baking sheet and drizzle it with olive oil (about a tablespoon). Use your hands to toss the sweet potatoes a bit so that they get coated with the oil. Sprinkle well with salt. Bake until the potatoes are tender and starting to brown on the bottom, about 25 minutes.
While the potatoes are cooking, scramble and cook the eggs. Season with salt and pepper to taste.
To make your breakfast burritos add some roasted sweet potatoes, scrambled eggs, bell pepper, cheese, and avocado to a warm cooked tortilla and enjoy. This is also excellent with a salsa verde. My kids like ketchup in their breakfast burrito.
Notes
If you are going to roast one sweet potato, you might as well roast a second on the same pan… I like to throw the roasted sweet potato in salads later or in eggs in the morning. It's always nice to have some already cooked in the fridge.
This is also delicious with some crumbled cooked bacon in it.
For this recipe, I recommend:
[asa_collection btmp]skillet_nachos[/asa_collection]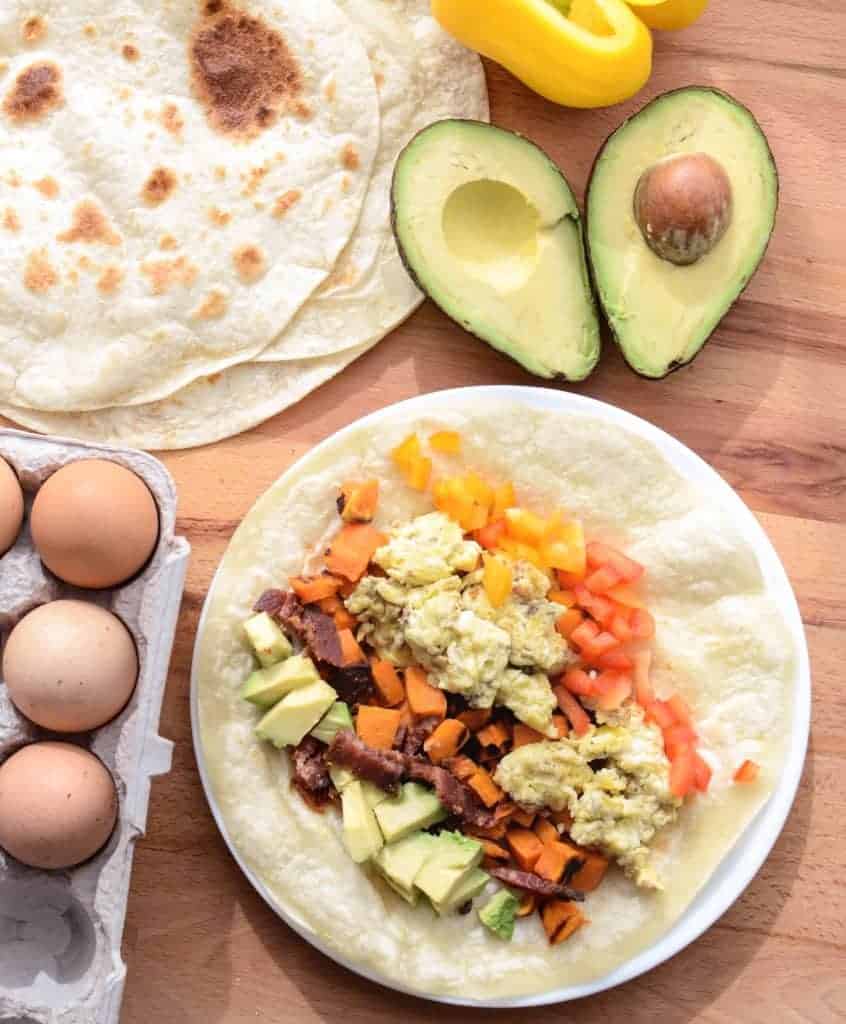 I love just about anything in a tortilla but these are perfect for a few reason. The roasted sweet potato are sweet and creamy and go so nicely with a little bit of smoky salty bacon. I love all things eggs (thank you backyard chickens!). Avocado is its own food group and anything that you can put a little salsa on is my jam.
Did I mention these are quick, easy, and cheap?
Dinner is served! Or brunch. Or Breakfast.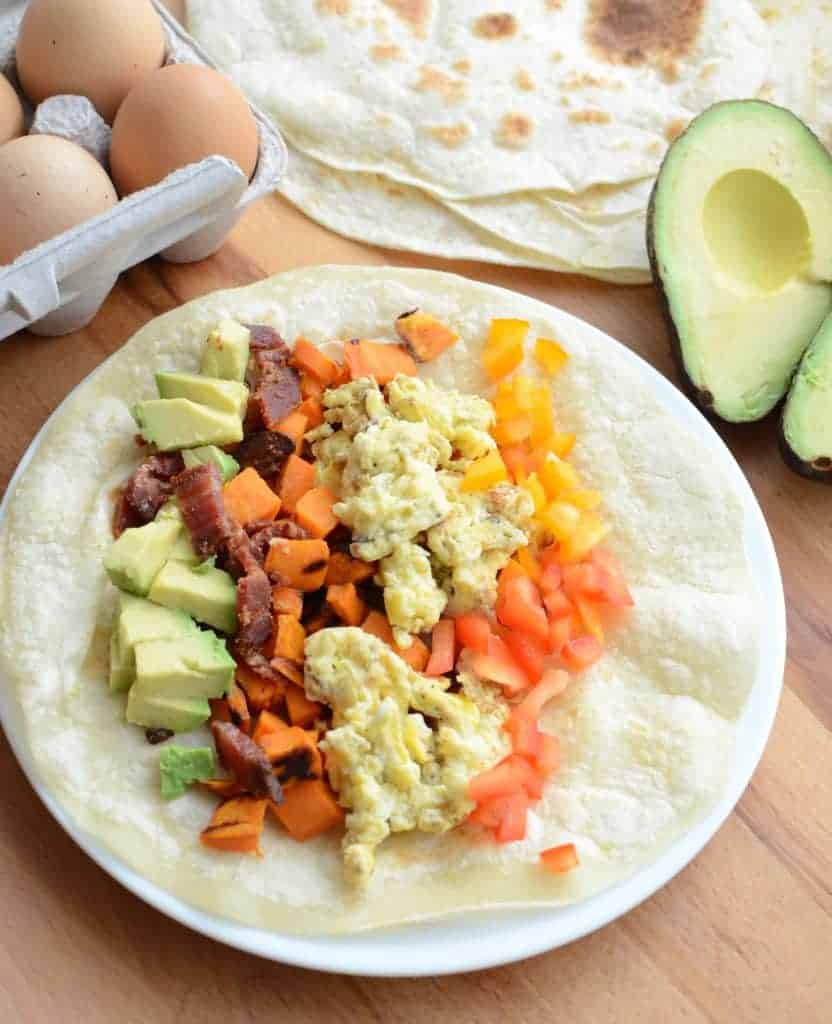 I just started editing my photos in Adobe Lightroom and I love it. These are the very first photos I've put on the blog after using Lightroom. There's room to improve but I'm pretty pleased with them at the same time. Learning a new skill is always fun!
Hope you have an awesome weekend and enjoy these burritos from my house to yours.