These Healthy Road Trip Snacks that you don't have to make provide you and your kids with good, wholesome food and lots of choices to find something you like!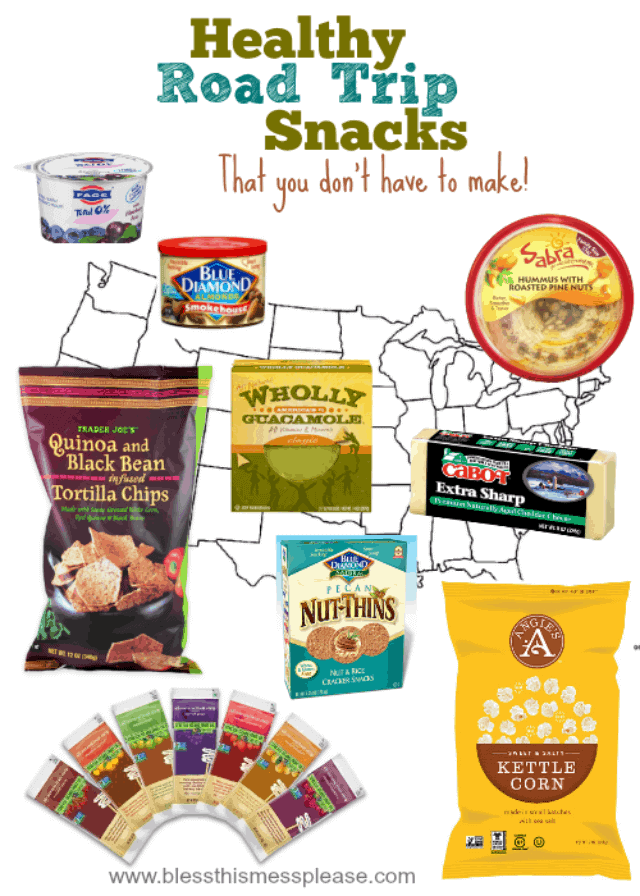 Healthy Road Trip Snacks- that you don't have to make!
Remember that one time we went on a crazy road trip to visit my family in Indiana and Kentucky? It was a great adventure and I thought I'd share our favorite healthy road trip snack with you all today.
With that long in the car, we had LOTS of time to snack. I'm normally the type of person who will make a lot of what we are taking, but I was at a conference for 4 days before the trip with only one day at home before we left to get things packed and laundry done. I decided to cut down on stress and went for store-bought snacks for the trip. It was a great decision! We enjoyed treats that we don't normally and I didn't worry about handcrafting granola bars or fruit on the bottom yogurt cups.
So these are some of the purchased items that we really like. I would consider all of these pretty healthy. They are high on fiber, fat, or protein which are all things that keep you full and happy. Some of these are going to have to go into our normal snack rotation because they are so good! These paired with some fresh fruit (bananas, apples, and plums) and raw vegetables really felt like we were eating like king. Guilt free road trip snacks are the best.
1. Fage Yogurt
Fage yogurt is a Greek-style yogurt that is thick and creamy. I picked up the Fage 0% Totals and the flavors have Superfoods in them (like blueberry acai or strawberry goji), next time we'll go for the 2% and see if they are even creamier. The packaging is really fun, the yogurt and the flavoring are separate and you just tip the sweet fruit mixture into the plain yogurt and stir. My kids really like this little detail. These were a big hit for the whole family and made for an easy breakfast on the move.
2. Trader Joe's Quinoa and Black Bean Tortilla Chips
I love all things tortilla chips, but these are one of my favorite breaks from the usual organic tortilla chips that I get from Costco. They are lightly seasoned (just a hint of garlic and cumin) and have a great crunch. When I'm in the mood for something a little different I go for these. They are also full of fiber which isn't a bad thing when traveling.
Plain tortilla chips are fine but a little something to dip them in makes for an even better snack. I picked up some Wholly Guacamole and was so glad I did. I love guacamole and make it at home all of the time. I was a little nervous that I wouldn't like this as well as fresh homemade guac but I was not disappointed. It's perfect! The ingredient list is simple and doesn't include any preservatives or ingredients that I haven't heard of. You can also find it in individual servings, perfect for traveling or lunch at the park (and a good way to keep from eating the whole package! Easy portion control.).
4. Sabra Hummus (Roasted Pine Nut is my favorite)
My other favorite thing to dip tortilla chips in is Sabra Hummus. It's just so good! I'm in love with the roasted pine nut flavor right now. Hummus is so full of flavor. It's also a perfect and portable dip for fresh veggies!
Another crunchy favorite is these crackers made from nuts (they are gluten-free if you are in the market). I'm not sure that I would call them a cracker, but I'm not sure what else you'd call them. Don't expect a cracker but do expect a crunchy little snack that has a lot of flavor.
7. Cabot Seriously Sharp Cheddar
And what better to go with crackers than delicious cheddar cheese from Cabot Creamery? This cheddar will change your life. The texture is delicious and the flavor is just so yummy. I like that it's strong because it satisfies my hankerin' for cheese without me eating a whole pound. They also make a really good Chipotle cheddar and a fun "Everything Bagel" cheddar that are excellent. Good cheese makes any day better. I presliced the pound and stuck it in the little cooler up by my seat. Best idea ever.
6. Stretch Island Fruit Co. Fruit Leather
This was our sweet treat. You can't beat a good fruit leather and this is indeed a really good fruit leather. The ingredient list is short and the flavors are great. These are a favorite with the kids.
8. Blue Diamond Smokehouse Almonds
Have you had the Smokehouse almonds from Blue Diamond? I don't know what they do to them but they are addicting! These are a great salty snack that really satisfies.
9. Angie's Sweet and Salty Kettle Corn
Hi. My name is Melissa and I'm addicted to popcorn. I was honestly saddened/worried that I wouldn't be able to enjoy popcorn while on our trip. Then my cousin recommended Angie's Sweet and Salty Kettle Corn. She had picked up a huge bag at Costco for a couple of dollars and loved it. I did the same and was over the moon about it. I don't like old popcorn (the chickens get any popcorn left overnight in this house), so I was super excited when it tasted really fresh. The sweet and salty were just right too, just a little of both. This was my favorite snack of the trip. I ate 80% of that huge Costco bag all by myself and wished I had bought a second. Highly recommended!
Some tasty snack recipes to try:
This post was originally published in 2014 and has been updated in August 2019.
These Road Trip Snacks that you don't have to make are delicious and easy since you just buy them at the store! Go enjoy your vacation without the fuss!