This free healthy meal plan features avocado egg salad, homemade sloppy joes, bacon and corn quesadillas, and more!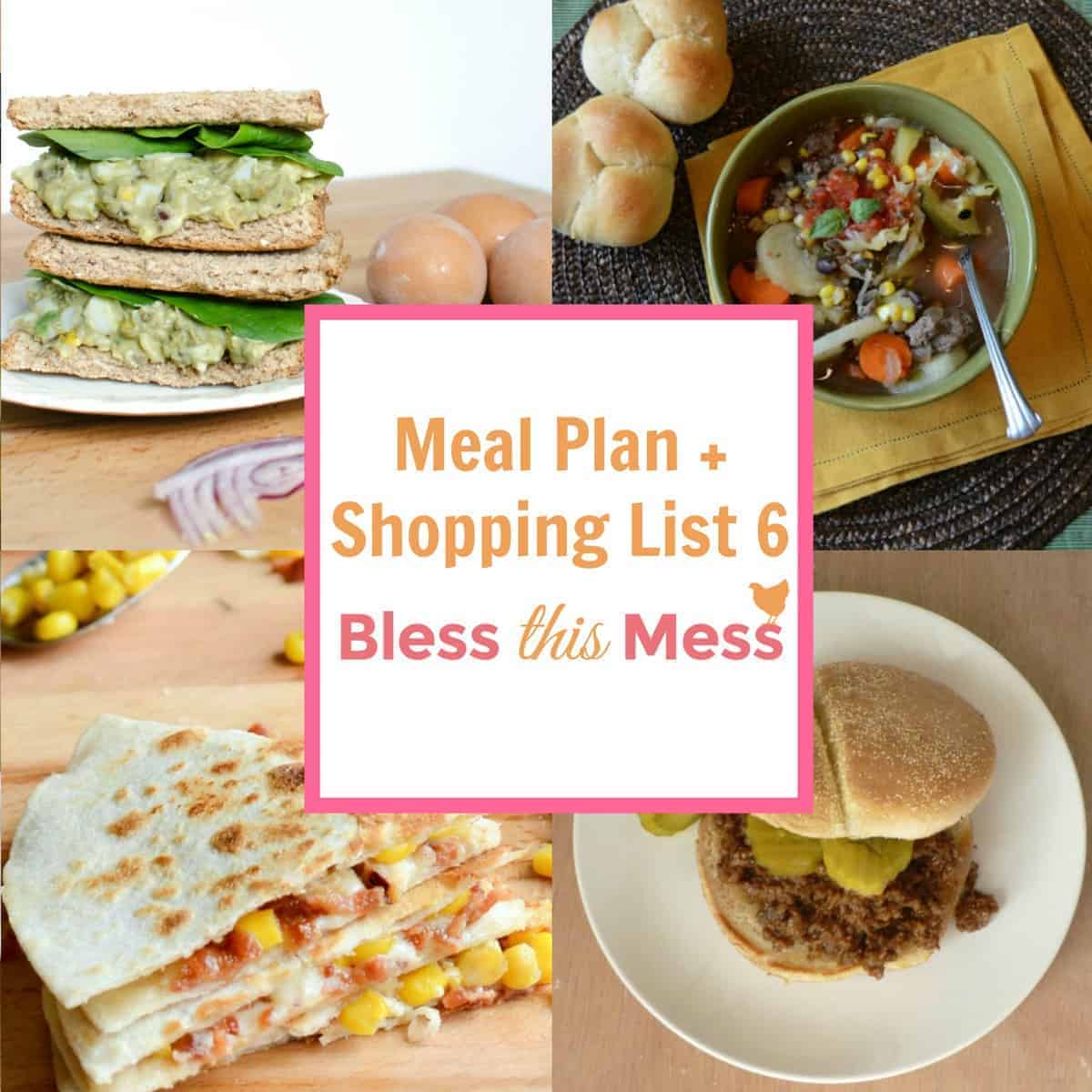 Welcome to my weekly healthy meal plan that includes free printable shopping list - this is number 6! You can find the first five meal plans here:
The number one thing that I hear from you all is that you don't have a lot of time when it comes to getting a healthy family-friendly meal on the table. This is going to help! I have come up with 5 recipes for the week + one sweet treat and made a PDF printable shopping list. All you have to do is collect the recipes (just visit the link under each picture and hit print), print off the shopping list, and you know what you are going to make all week long. I thought 5 recipes was ideal because that leaves a night for eating out in the week (or going to Grandma's for dinner) and a leftover night. So really, you have a whole weeks worth of dinners squared away! YAY!
This healthy meal plan is full of easy, healthy, real food dinner ideas that don't have exotic or expensive ingredients. These recipes are quick and easy to make and the whole family will love them. I hope this is a game-changer for you!
Let's take a look at this week's recipes. Under each recipe is some tips and tricks on how you can prep the meals or parts of the meals in advance if you are into "Food Prep Monday," as well as other useful information.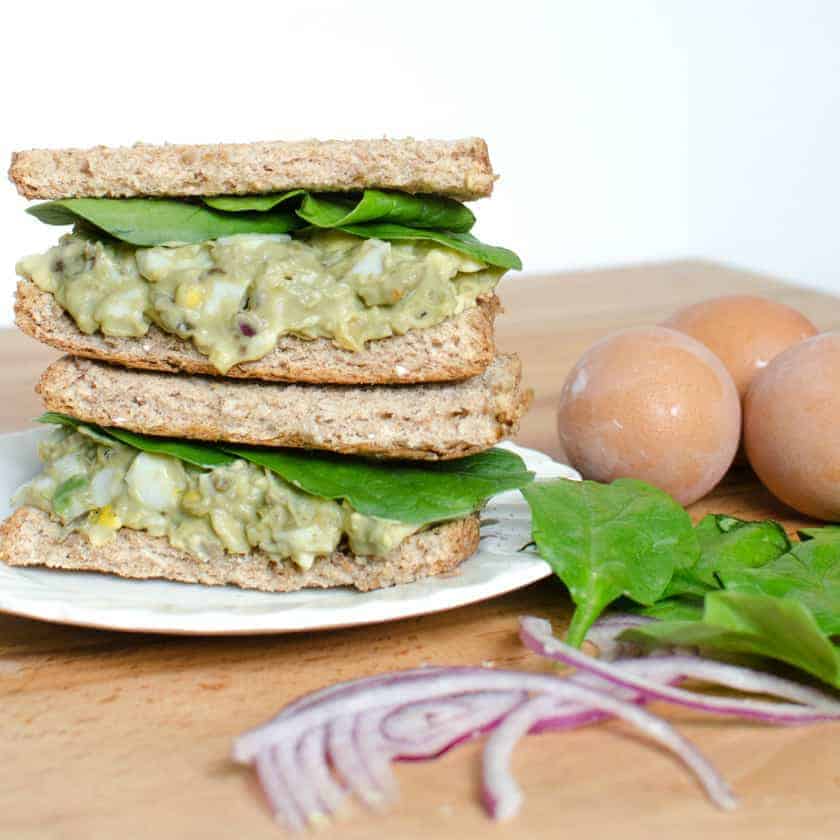 This week, I'm highlighting super fast meals. We all spent plenty of time in the kitchen over Thanksgiving and now it's time to bake cookies. So dinners should be simple and easy to make in December. Avocado Egg Salad is one of my favorite easy meals because it's so full of healthy fats and protein, it will keep the kids full though bedtime! When I make this for dinner, I like to make some sweet potato fries or tots and a fruit salad to go with it. You can prep the eggs ahead of time (you can boil, peel, and chop them) and then add your avocado right before dinner. If you add it too early, it turns the whole thing brown; while it'll still taste great, it won't look great. This is great on bread, toast, buns, or even lettuce wraps. I like pickles on mine, too.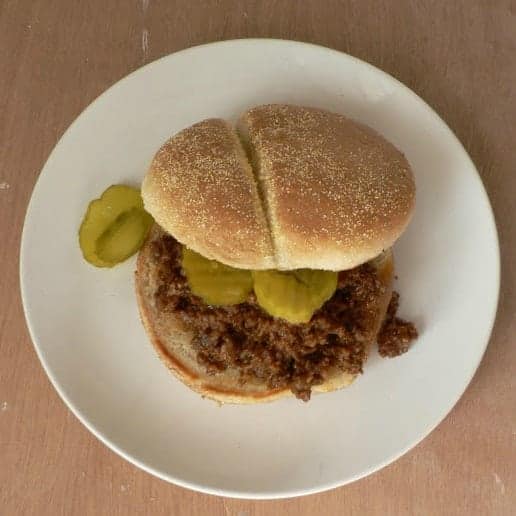 Long live the sloppy joe! This is my go-to sloppy joe recipe and I love it. You can prepare all of the meat ahead of time and simply warm it up and toast your buns the night you plan on serving it. My family prefers this on buns, but sometimes I'll make myself a baked potato or baked sweet potato and put all of my sloppy joe toppings on the potato. A little chopped red onion and some good pickles are great on this! This only takes about 15 minutes to put together, so it's a great option for busy weeks. I like to serve this with oven fries and a green salad on the side.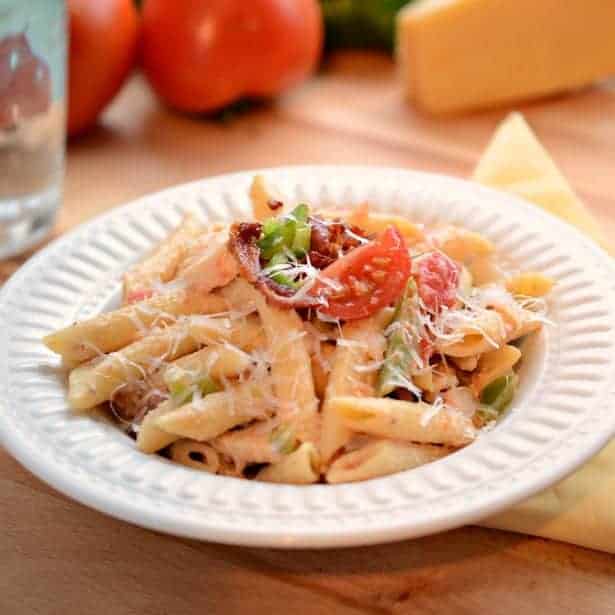 This is one of my favorite "cheater" meals, as it uses a jar of store-bought alfredo sauce. I like this recipe because it's quick and easy. And because you add bacon, chicken, peppers, and tomatoes, you can't tell you used a store-bought sauce. This meal comes together really quickly and is always a big hit with the family. You can prep all of the meat and chop the veggies ahead of time. On cooking day, just cook the noodles and get everything hot. This is great with a green salad and some simple breadsticks on the side.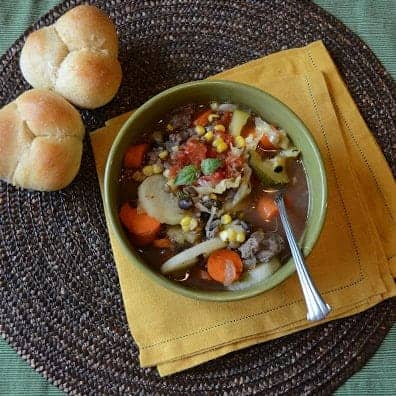 Easy, healthy, and protein packed! I love this soup because it has a little bit of everything in it. It's a great "clean out the fridge" kind of soup too, because you can add just about any vegetables that you have/like/need to use up. This simple hearty soup is a great one to make a double batch of and enjoy the leftovers all week long. I like to serve this with whole wheat clover rolls on the side. Those are a fun bread to make with your kids.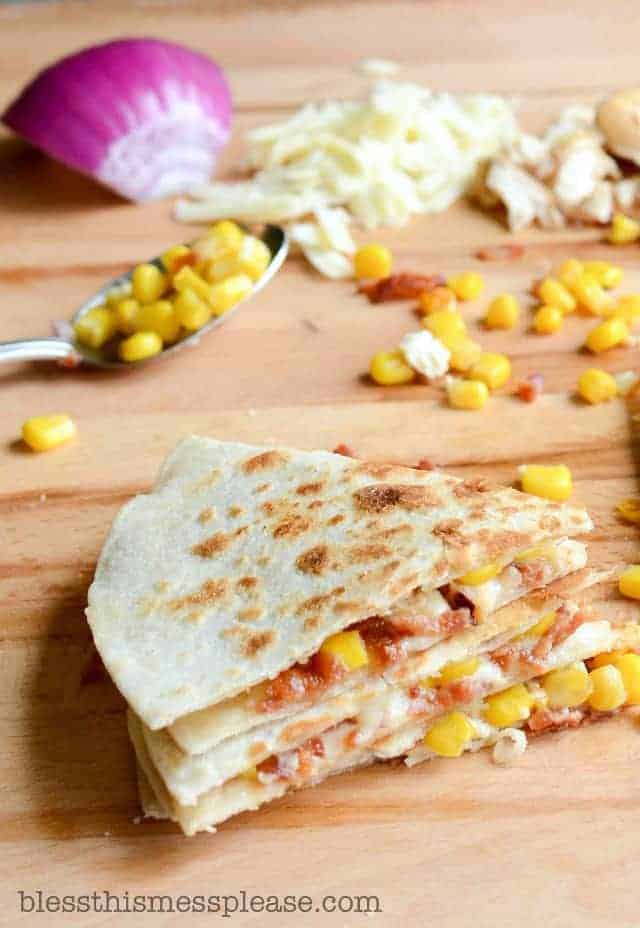 Quesadillas are always an easy dinner option, but when you add a little corn and bacon to your typical quesadilla, it really makes them delicious and a break from your normal. We love these! I like to mix up a spicy creamy BBQ sauce to dip these in. This easy meal goes great with some sliced fruit on the side. You can prep the bacon ahead of time (cooking it on the day you make the pasta would be easy!) and everything should come together for this meal in about 15 minutes.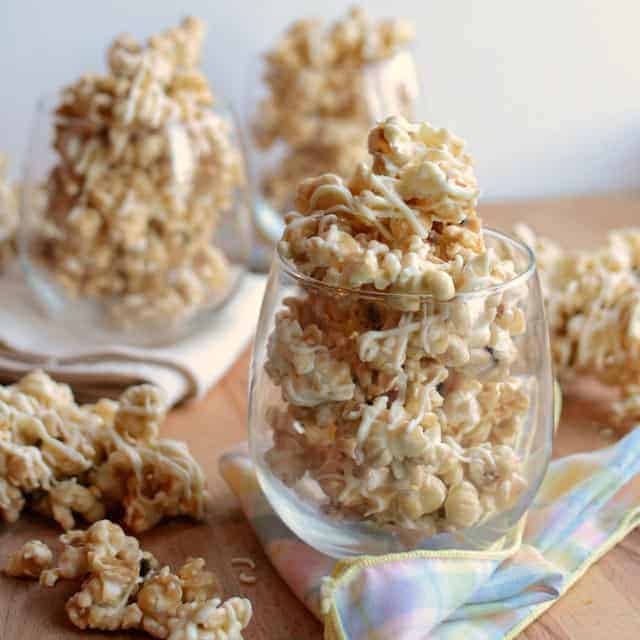 This is my all-time favorite caramel corn to make this time of year. I make it for movie nights and to take to parties all December long. It's easy, it makes a big batch, it makes a great gift, and it's just so good! I can't wait for you to try this week's sweet treat because it's going to become a family favorite in no time.
There you have it! One easy healthy meal plan so that you can enjoy your busy days instead of worrying about what's for dinner.
If you plan on making all of these recipes, you can get the FREE PRINTABLE HEALTHY MEAL PLAN SHOPPING LIST FOR WEEK 6 here (just click and open the PDF to print).
I'm a big fan of getting some of the meal washed, chopped, and ready to roll before the day of because it saves me time on cooking day. It also motivates to me stay on my meal plan. It's a "I've already done some of the work, I don't want to waste that effort" kind of thing.
I'm so excited to offer this free healthy meal plan for you and I hope that you will use these often. Please let me know if you have any questions or have thoughts on what would make these better/more helpful/more user-friendly.
Thank you so much for being here, and enjoy! I have so many weeks of meal plans coming. Let me help you feed your family well, but easily! ENJOY!