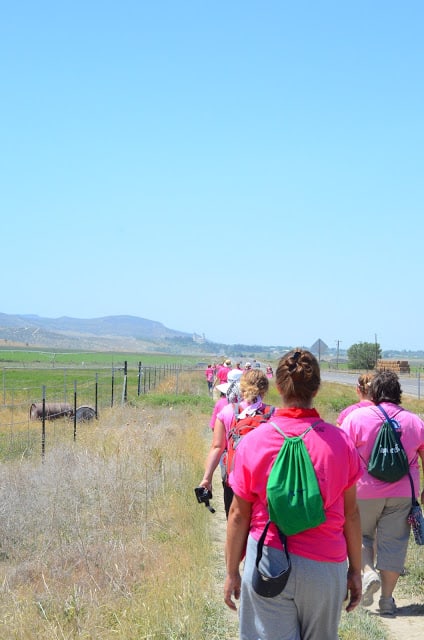 Remember a million years ago when I went to Girls Camp? Well I'm finally ready to share a more personal side to the week's adventure in the mountain. This blog is by no means a "life style" blog or anything close to a personal blog. It's a food blog with some extras (remodeling, parties, and crafties) throw in. I'll be the first to admit that I get super nervous when posting anything personal, especially things pertaining to my faith. My faith is who I am, but it is a very personal part of who I am. I felt very impressed to share my week in a more public forum than I normally would, and that is what this post is. Enjoy and know this is truly from my heart.
Girl's Camp was phenomenal for many reasons. I think the most significant reason though, was because it was prayerfully prepared for. The leaders delivered what the girls needed, when they needed it.
The ideas and concepts are just too great not to share. I came home telling Thomas that if I ever get to be camp director, I will recreate this entire camp. I wish this experience on everyone!
Part of camp was a fifteen mile hike. We started from our camp and hiked to the Manti temple. Before camp, the girls were asked to provide a picture of someone they would be dedicating their walk to. This personal touch really helped to make the day special to each girl. Girls dedicated their walks to loved ones, here and gone, future families, current families, ancestors, and friends. The sea of pink shirts we all wore was dotted with smiling faces of photos cheering us on. One of my favorite parts of the day was to ask each new girl I met who she had dedicated her walk to and why. I heard such inspiring and heartbreaking stories every time I asked.
The length of the hike was significant for the impact that it had. Fifteen miles is no small feat. Many of these girls are high school athletes, but many are not. The first leg, to our lunch spot, was downhill in the morning before the sun came over the mountain. Most of us arrived at lunch with smiles and laughs. The second half of the hike was in the hot sun on an ATV trail next to the highway. It was flat, straight, and dusty. As the temperatures rose, morale weakened. Just finishing the hike was an accomplishment for many.
The hike worked because it was well planned. Water, snacks, and porta-potties all had to be arranged. Men on bikes, on ATVs, and in cars were there to help with injuries and those who couldn't physically walk to the end. Police escorts were used the entire way. So many people thought about this experience and helped make it possible.
I talked to my friend CJ as we walked the last miles on our trek. We talked of hard things in our lives that we had accomplished. Pregnancy and birth were high on our list of hard things that we had accomplished. We realized and verbalized that through the hardest things in our life have come the greatest blessings, joy, and increase of knowledge. We thought of this hike and our girls. This would easily make it onto the list of the hardest things some of them have ever done. They were given the chance to grow, learn, and gain confidence in themselves by doing this physically hard thing.
The Manti temple sits on a hill. That hill was the very last leg of our hike. Girls started commenting on how they would never be able to make it up long before they could see the climb. What the girls did not know, though, was that members of our stake and congregations had all been busy working together in the temple that morning. They all planned and scheduled so that they would be on the edges of the road on the hill leading up to the temple. Familiar faces were there to cheer us on. They were earthly angels buoying us up when we needed them most.
The walk up the road to the temple was a very spiritual time for me and many around me. The Spirit was there and strongly testified to my heart that what I was doing was right and true. My journal accounts this wonderful time which I feel isn't for this blog, but just know that truths were learned and testified of. The tears in the eyes of those around leads me to believe that I wasn't alone in feeling the Spirit.
When we arrived at the temple the girls were asked to place their hand somewhere on the temple and commit to live a life worthy to enter and then to enter when the time was right to be sealed to their love for time and all eternity.
After taking a few pictures outside the temple we all went to a devotional on the grass across the street. Sister Elaine S. Dalton (General Young Women President) wasn't able to be there with us but she did call. We listened to her talk to us over the phone. She congratulated us on a hard thing well done. She was the one who originally encouraged the girls to place their hand on the temple that day and covenant to be worthy to go in. Her words were read to us from a letter before we went on the hike. Now that it was over she encouraged the girls, when the time came, to take their new husbands, who they had been sealed to, to that same spot and tell him of this day and the life that they chose to live. She then encouraged them to take their children back to that spot one day and tell them of the things they learned, felt, and promised. It was a beautiful devotional.
We returned home from the hike and were asked to write down our personal testimony on a small piece of paper. It was a great chance to reflect on the day and put into words all that we had done.
Here's what I want to relate to you:
The hardest things in life can bring us the greatest joys and opportunities to learn if we are willing to let the experience strengthen us instead of break us.
The youth (and myself) will remember this day for a long time because there were very physical things involved. We physically carried ourselves all the way to our destination. When we arrived, we physically laid our hands on the temple and made personal promises with our Lord. And at the end of the day we wrote out what we thought and felt that day on a physical piece of paper. There are wonderful talks to listen to and things to watch but actively participating on so many levels really gave us a chance to feel in our hearts as much as we were feeling in our hands, tired feet, and blessed minds.
Are we providing our youth/children/loved ones opportunities to experience hard things? Are we letting them grow through hard things accomplished?
Thanks for letting me share.
Here's a picture recap of the day.
Morning leg of the hike down the mountain: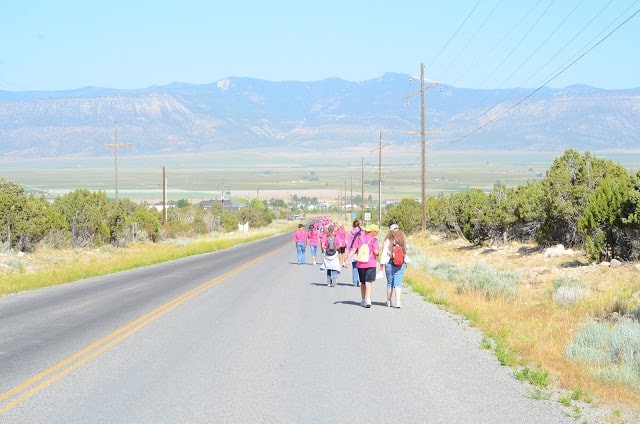 Lunch: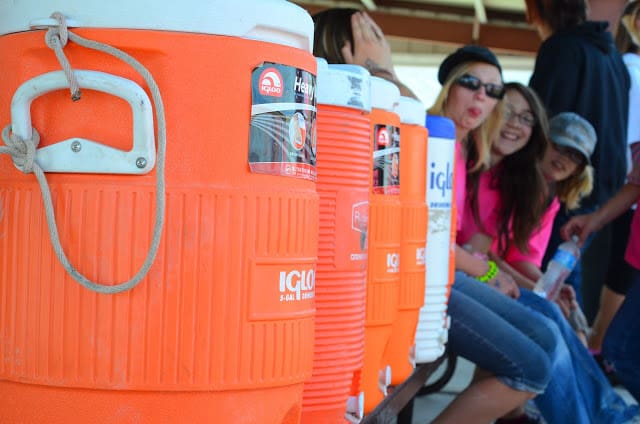 The temple is in the very middle of this picture, it's a little white dot: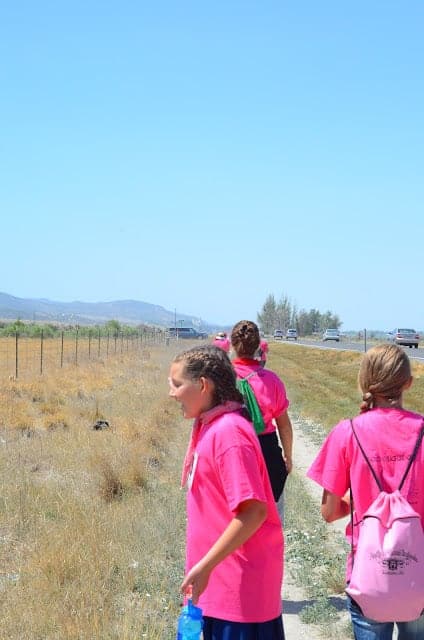 Again the temple is in the very center: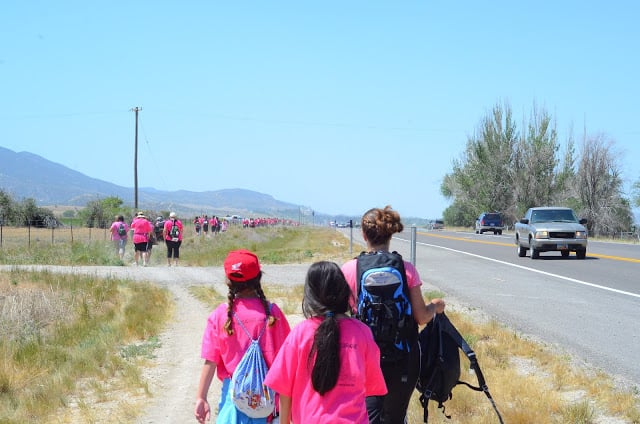 Our wonderful escorts:
As I mentioned before we each dedicated our hike to someone. I dedicated my to my Grandma Shoaf. She took her 13 children to church every Sunday alone, my grandpa has never been. She righteously raised all of those kids, without much support from her husband, and 11 or the 13 were boys. My dad was one of those boys that she raised into a righteous young man. I am thankful to her and the Lord everyday for her strength and how much it has blessed my life. This same woman also taught me early morning seminary at her home all four years of high school. She fed us sheet cake for breakfast on our Birthday. That's all I'll tell you about her now because the rest is too sappy. Just know that I love her with all my heart and that she is one of the strongest examples of faith in my life.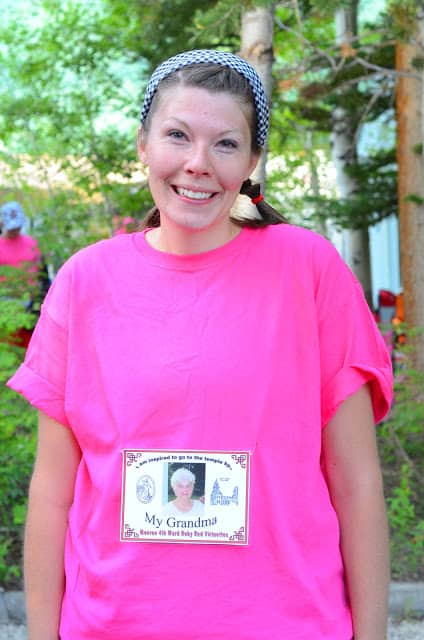 Our goal getting closer: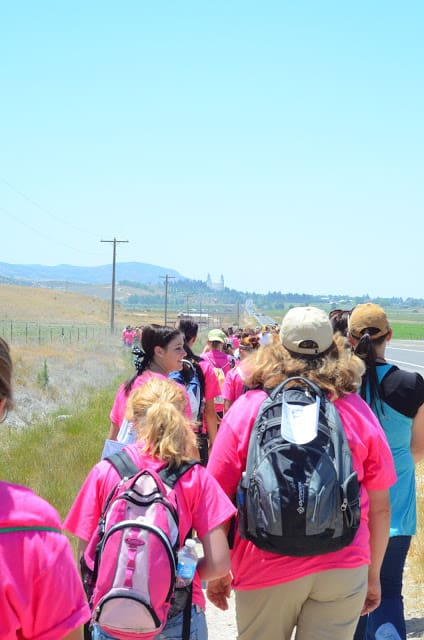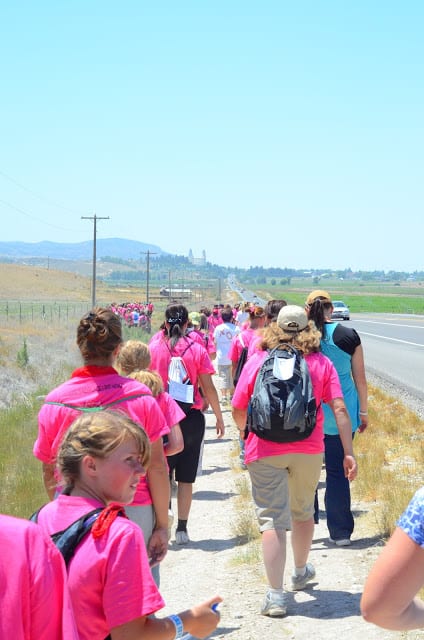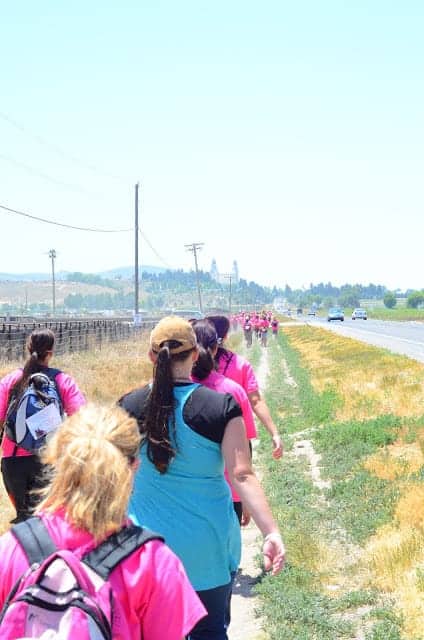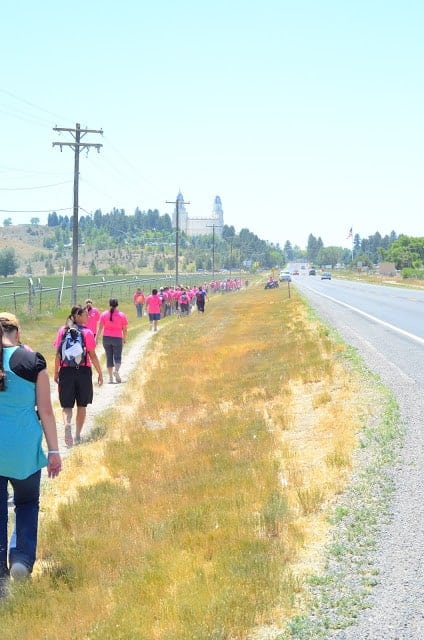 Friends and family along the road up the hill, bring on the tears.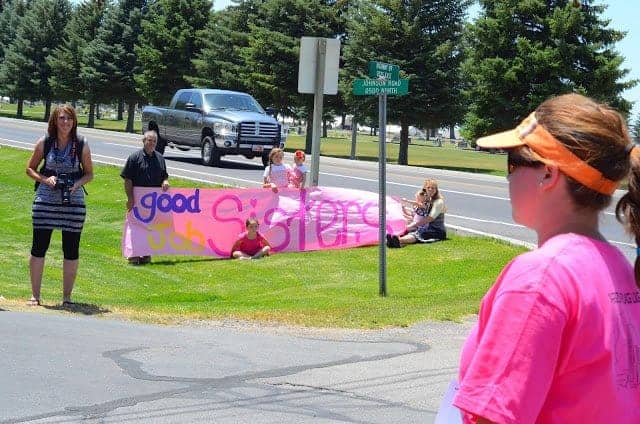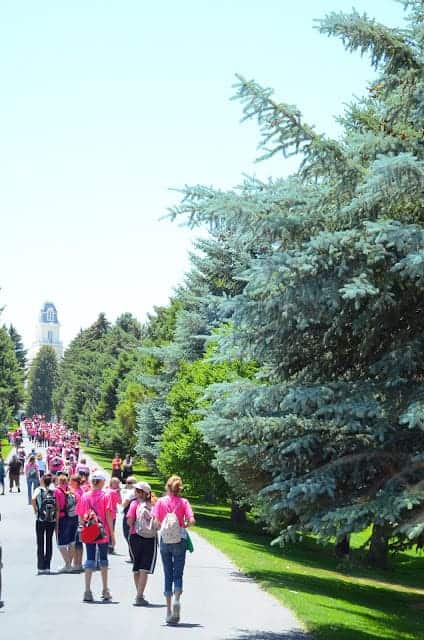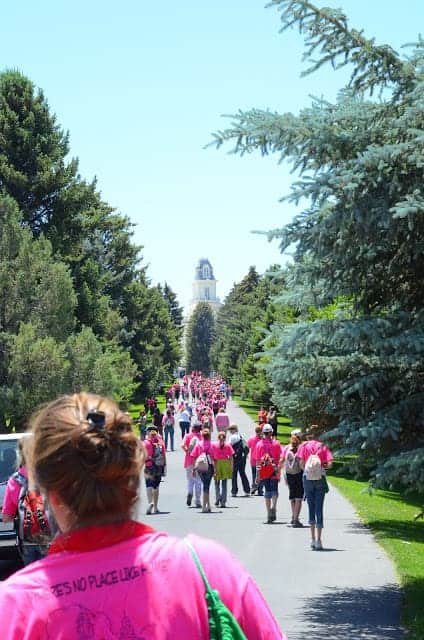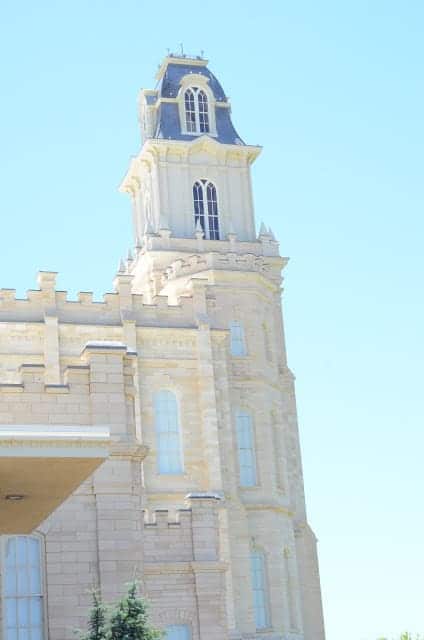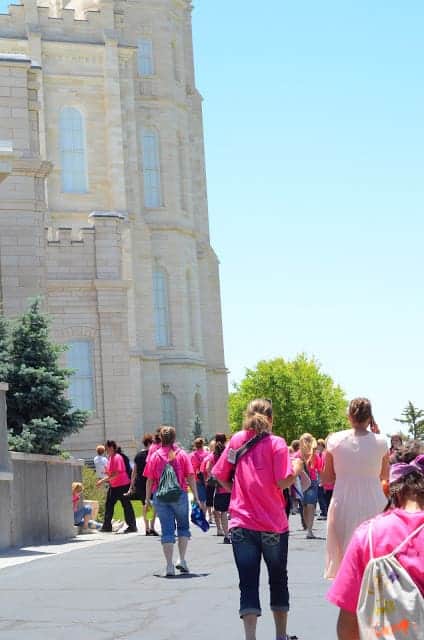 It took up about six hours to get there, but we did it!