Grilled honey lime chicken breast is bright, sweet, and smoky, and is just as delicious on its own as a main dish as it is on top of salads, tacos, or anything else!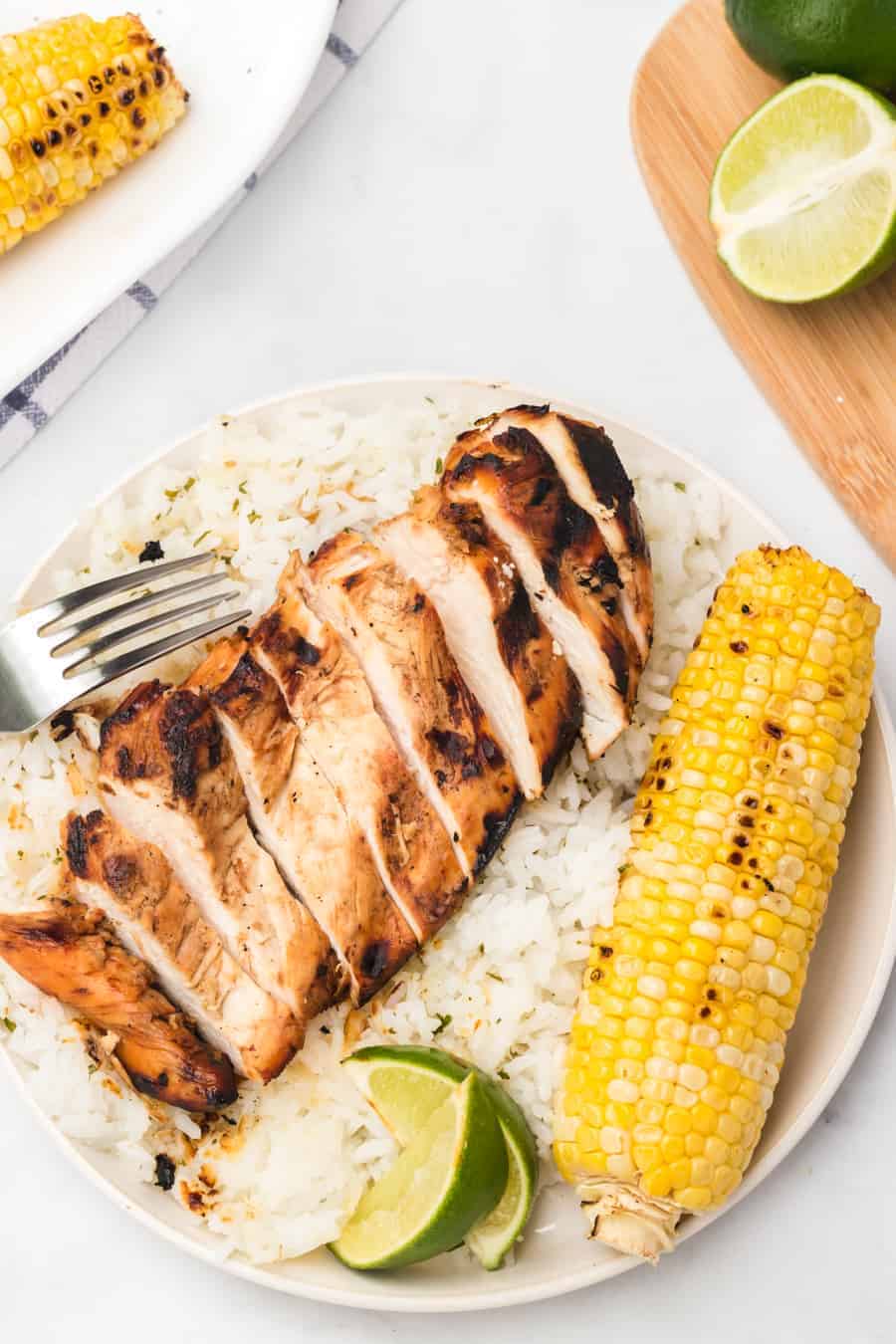 Grilled Honey Lime Chicken Breast
There are probably a million-and-a-half ways to cook chicken breast, but y'all, I think this might be in my top three favorites of all time. With the simple ingredients of lime, honey, Worcestershire, and a little cumin, salt, and pepper, these chicken breasts come alive. Okay, maybe not alive -- wrong phrase -- but they are so flavorful, tangy, and bright while at the same time sweet and smoky. I mean, c'mon, just thinking and writing about them has got me feeling hungry!
Grilling up these flavors adds another element of smokiness, but these would do just fine in the oven or on the stove if you're not much of a griller. Just cook them how you normally cook chicken breast, and make sure they have an internal temperature of 160 degrees F. to be sure they're cooked all the way through, but not overcooked.
If you've never used an instant-read thermometer, I cannot recommend it enough. You can snag one for less then 10 bucks, and it ensures your meat is done based on the numbers, not just guesswork. I can't tell you how much I used to overcook meat, "just to be safe," but this allows you to get juicy, tender meat every single time!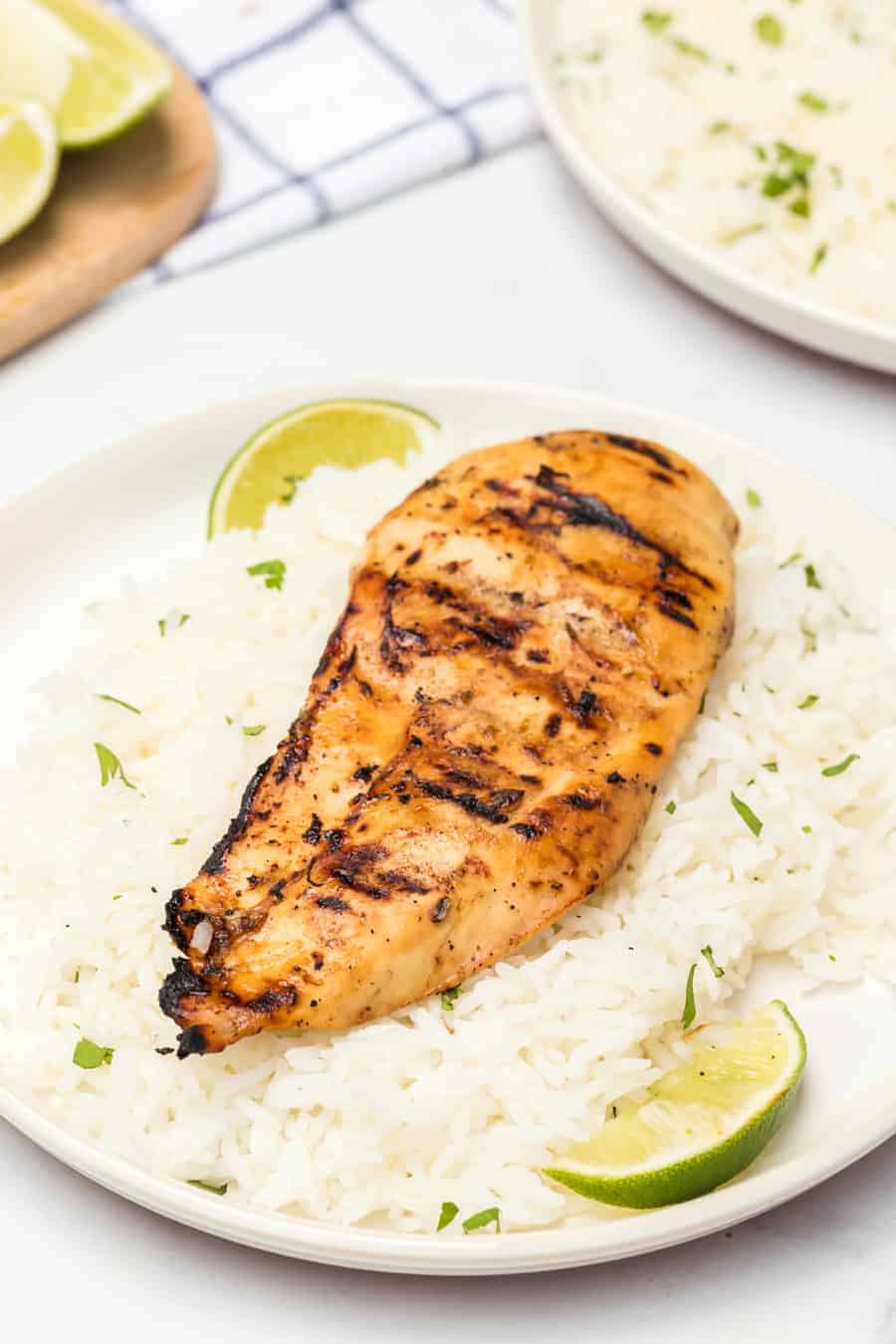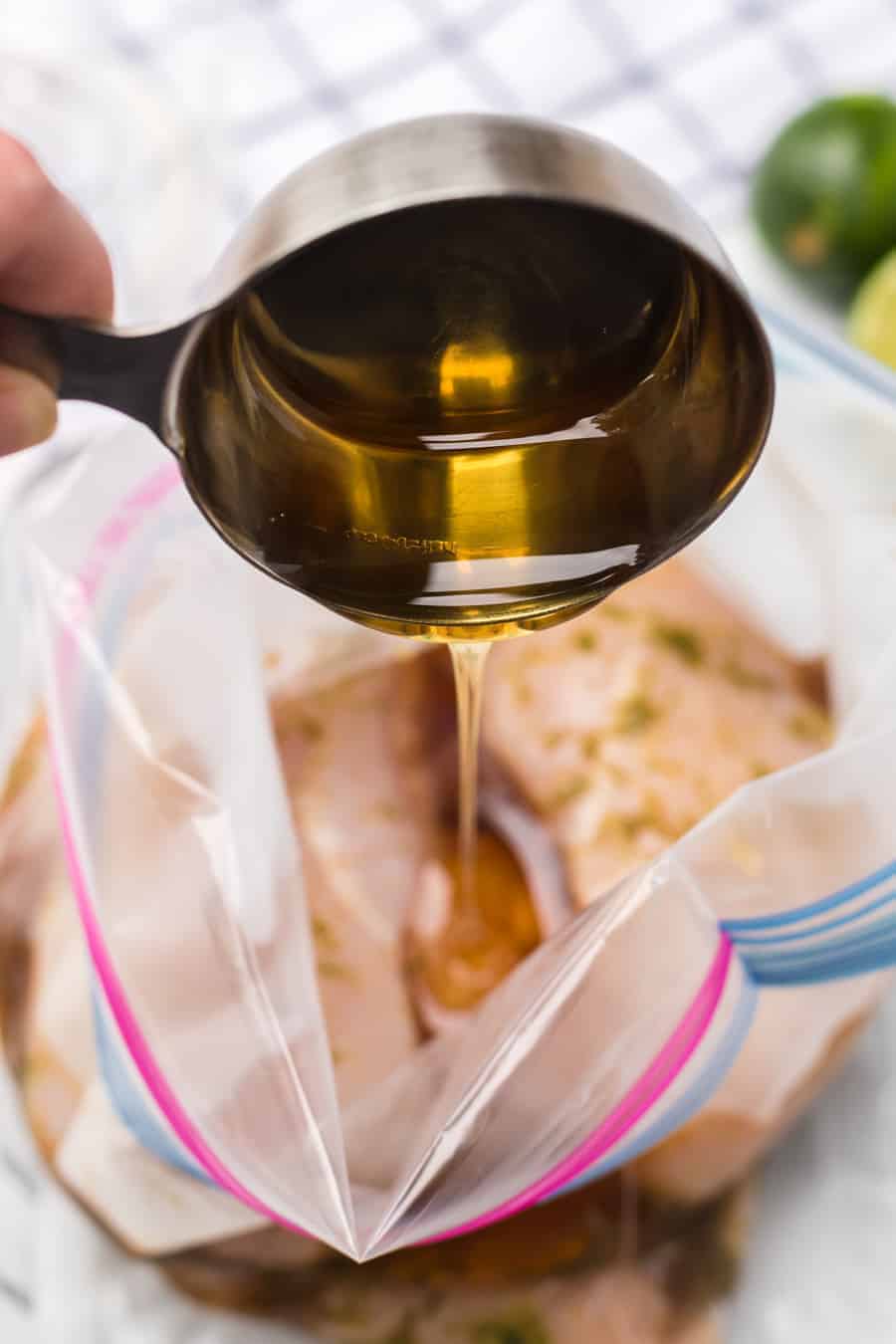 How do I grill the perfect chicken breast?
You want to heat up your grill to a medium heat for about 10 minutes before turning the heat to medium-low and placing the chicken breasts on the grill grate. Close the lid, and grill the first side for 5 to 8 minutes, depending on the size of the breasts. Flip the chicken breasts over once, and close the lid again, grilling the second side for another 5 to 8 minutes. Only flip the meat once, and make sure you keep the lid closed as you wait for it to cook.
How long does it take to grill a chicken breast?
It depends on how large the chicken breasts are, but generally you want to grill them for 5 to 8 minutes per side, and then let it sit for 5 minutes before serving it.

How do you keep chicken from sticking to the grill?
By cooking the chicken breast on a considerably lower heat, you shouldn't experience any sticking. The higher the heat, the higher the chances it sticks!
How do you keep chicken from drying out on the grill?
Overcooking chicken is the quickest way to dry it out and make it lose its juicy tenderness. Use a heat thermometer and watch for it to get to 160 degrees F. to make sure it's done, but not overdone and dried out!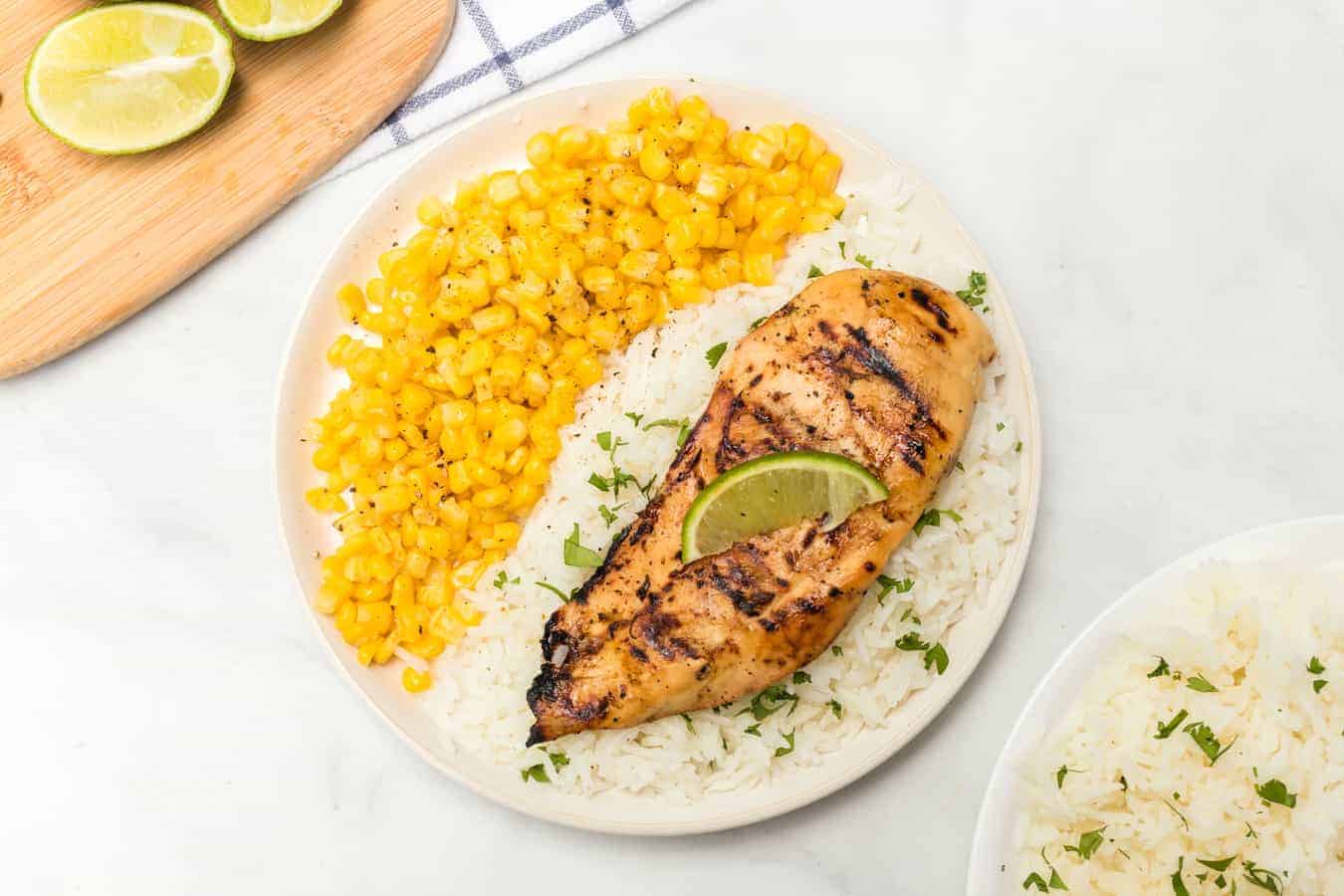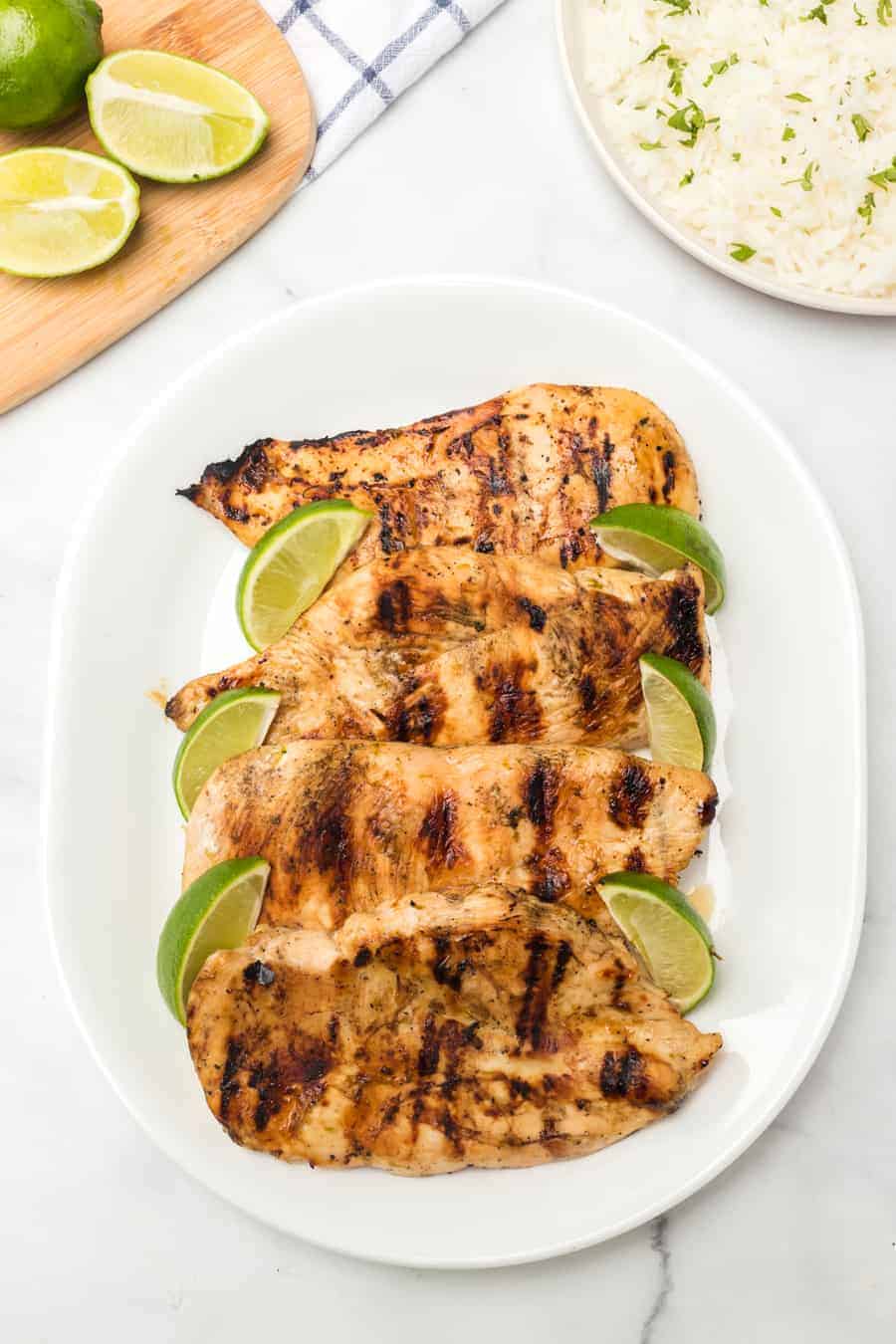 Print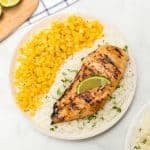 Grilled Honey Lime Chicken Breast
---
Author:

Total Time:

4 hours 30 min

Yield:

Serves

4

-6

1

x
Description
Grilled honey lime chicken breast is bright, sweet, and smoky, and is just as delicious on its own as a main dish as it is on top of salads, tacos, or anything else!
---
Juice and zest from 2 limes

½ cup

honey

2 tablespoons

Worcestershire sauce

1 teaspoon

sea salt

½ teaspoon

fresh black pepper

½ teaspoon

cumin

4

large or

6

medium boneless, skinless chicken breasts
---
Instructions
Add all the ingredients to a large sealable plastic bag, close the top, and turn it over in your hands until the marinade is well-blended and all of the chicken is evenly covered.
Lay the bag in the bottom of a rectangular baking dish, and put it in your fridge. Let the chicken marinade in the fridge for anywhere between 4 hours to overnight.
When you are ready to cook the chicken, preheat the grill to medium for 10 minutes. Drop the temperature down to medium-low, place the chicken on grill, and cook with lid closed for 5 to 8 minutes per side, until internal temperature reaches 160 degrees F.
Remove from the grill, and let the chicken rest for 5 minutes before serving.
Notes
Tips for grilling: Keeping the grill lid shut while cooking at a lower temperature is a must, and don't keep flipping the meat. Plan on flipping once while cooking, and leave it alone in between.
I HIGHLY recommend using a meat thermometer, too, because numbers don't lie. I overcook my meat a lot less when I get it up to the right temperature, and just take it off. No need to keep cooking because you want to be on the safe side when you know what's happening inside that piece of meat!
This chicken is great on it's own as a main, on top of salads, and even chopped up and used in tacos.
Prep Time:

10 min

Cook Time:

15 min

Category:

main dish

Method:

grill

Cuisine:

American
Keywords: grilled chicken, chicken recipe, easy dinner recipe, chicken dinner, chicken breast, grilling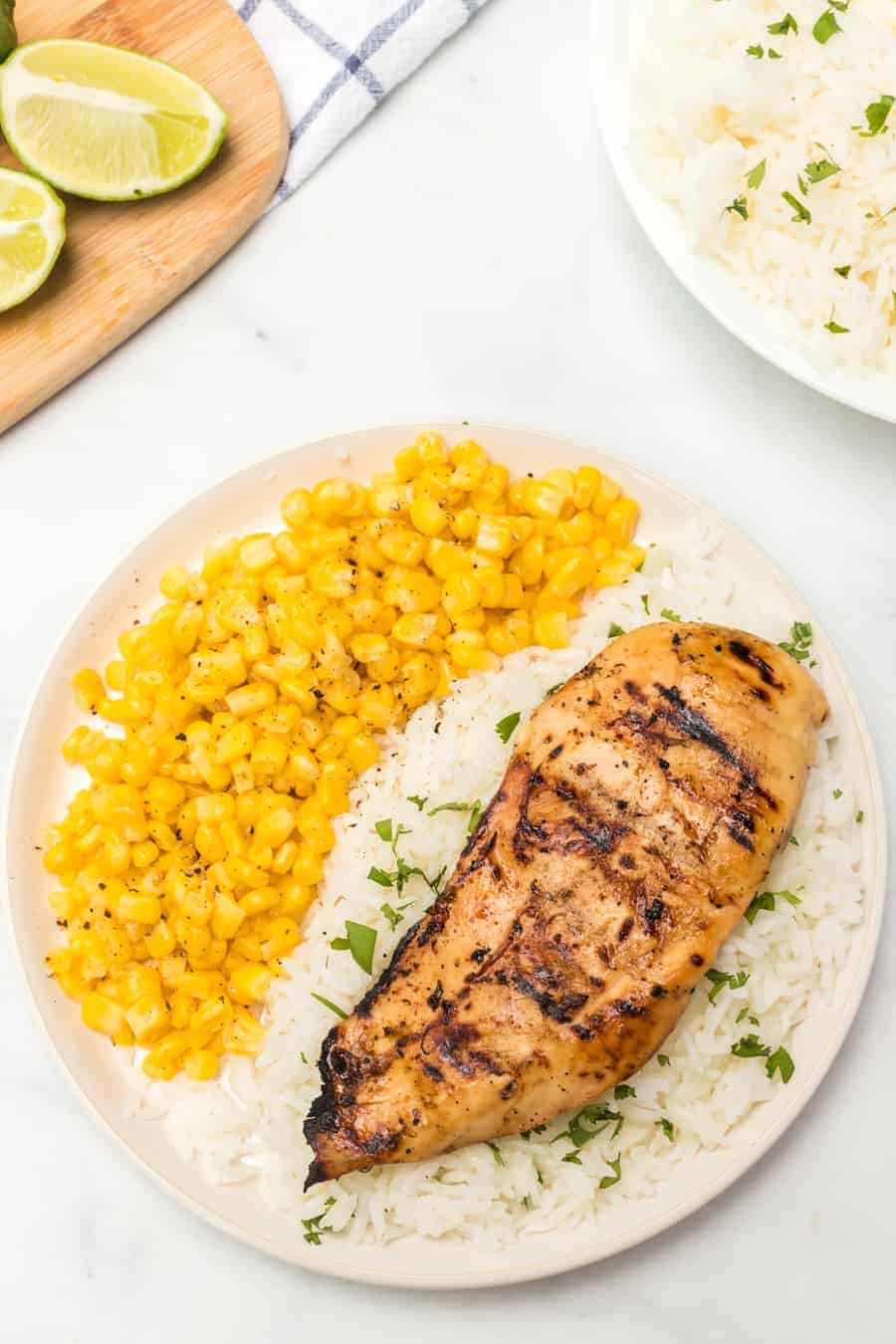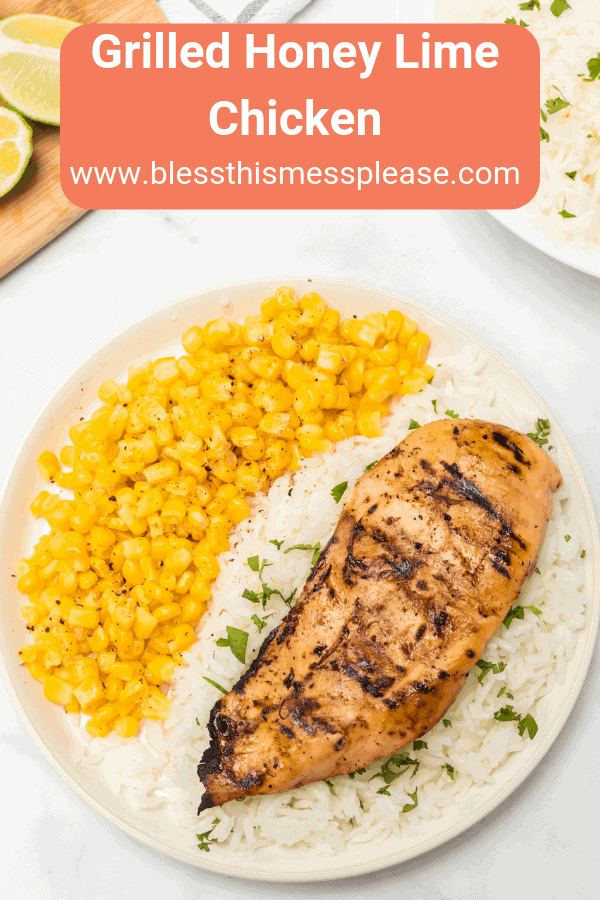 Round out this meal with some of these side dishes:
This post was originally published in 2012 and has been updated and rephotographed in July 2019.
This Grilled honey lime chicken recipe is so tender and juicy and flavorful -- you're going to love it for its simplicity and bright flavors alone and on top of salads or tacos!