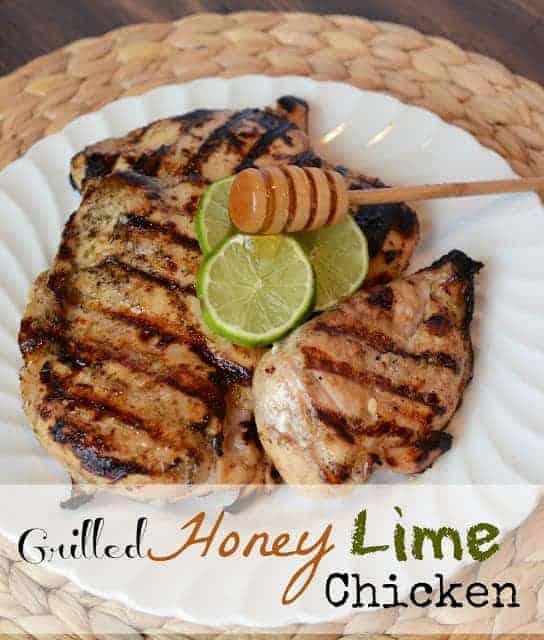 Remember that
washi tape giveaway
? I feel like it was ages ago. Well, the original winner hasn't contacted me, so it's time to pick another. Donna O'Neil, you are the new woman of the hour! Please email me so that I can get a mailing address from you; ten rolls of washi tape are on the way. Congrats to you. And again, a big thank you to everyone who entered.
The last days of summer are here, and I'm clinging to my grill for dear life. Oh how sad I'll be to put it away for winter. Here is my favorite grilled chicken recipe from the summer.
I'm not amazing at cooking meat: I just don't do it much. I got a grill in the spring and have been working on mastering a piece of grilled chicken all summer long. Well, I'm finally ready to share one of my favorites. Honey and lime are a natural combo. The flavors were delicious on the chicken, but weren't so strong that I couldn't use the leftover chicken for something else. I like versatility. I planned on a few extra pieces of grilled chicken to use in a
barbecue ranch chicken salad
the next night. Cook once, eat twice, yes please. Enjoy!
Print
Grilled Honey Lime Chicken Breast
---
Scale
Ingredients
Juice and zest from 2 limes

1/2 cup

honey

2

T. Worcestershire sauce

1

t. sea salt

1/2

t. fresh black pepper

1/2

t. cumin

4

large or

6

medium boneless, skinless chicken breasts
---
Instructions
Add all the ingredients to a large zipper-top plastic bag, close the top and turn it over in your hands until the marinade is well-blended and all of the chicken is evenly covered. Lay the bag in the bottom of a rectangular baking dish and put it in your fridge. Let the chicken marinade in the fridge for any where between 4 hours to overnight.
 
When you are ready to cook the chicken, preheat the grill to medium for 10 minutes. Drop the temperature down to medium-low and place chicken on grill and cook, with lid closed, for 5-8 minutes per side, until internal temperature reaches 160 degrees. Remove from the grill and let the chicken rest for 5 minutes before serving.
---
Notes
I'm sure grilling is easy for some, but it has taken me a few months to get the hang of it. A few things that I've learned is that slow and low is always better than hot. Keeping the grill lid shut while cooking at a lower temperature is a must and don't keep flipping the meat. Plan on flipping once while cooking and leave it alone in between. I HIGHLY recommend using a meat thermometer too because numbers don't lie. I over cook my meat a lot less when I get it up to the right temperature and just take it off. No need to keep cooking because you want to be on the safe side when you know what's happening inside that piece of meat!
For this recipe, I recommend:
[asa_collection btmp]grill[/asa_collection]
I think an indoor grill like a George Foreman would work well too, but I haven't used one myself.