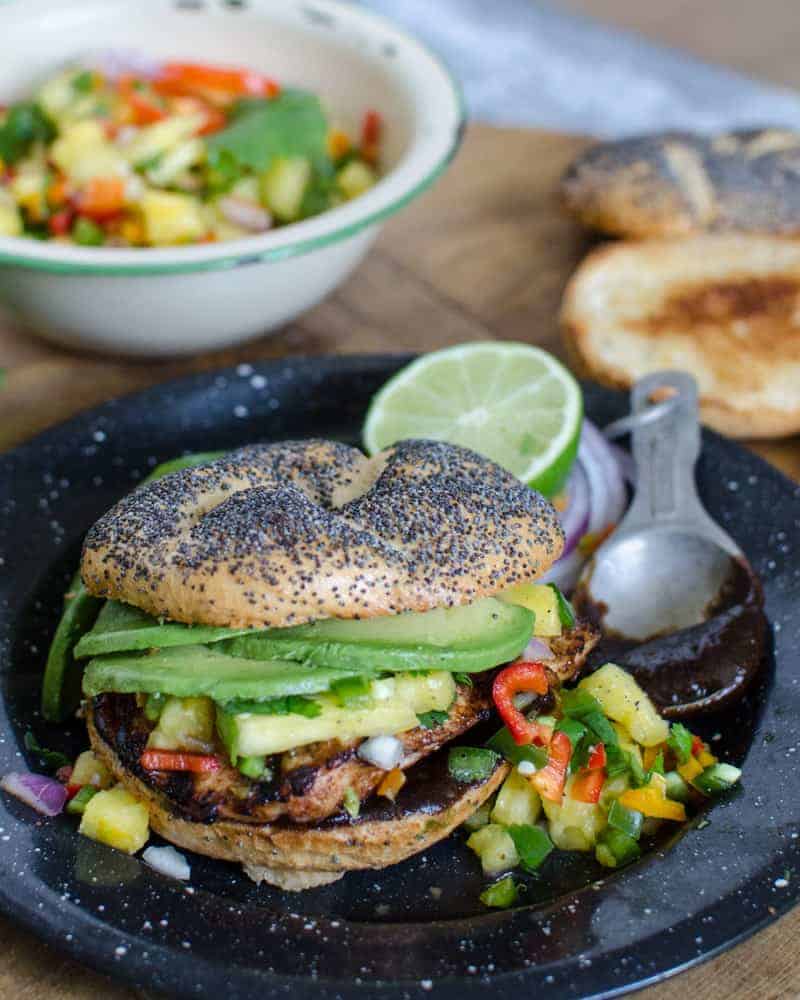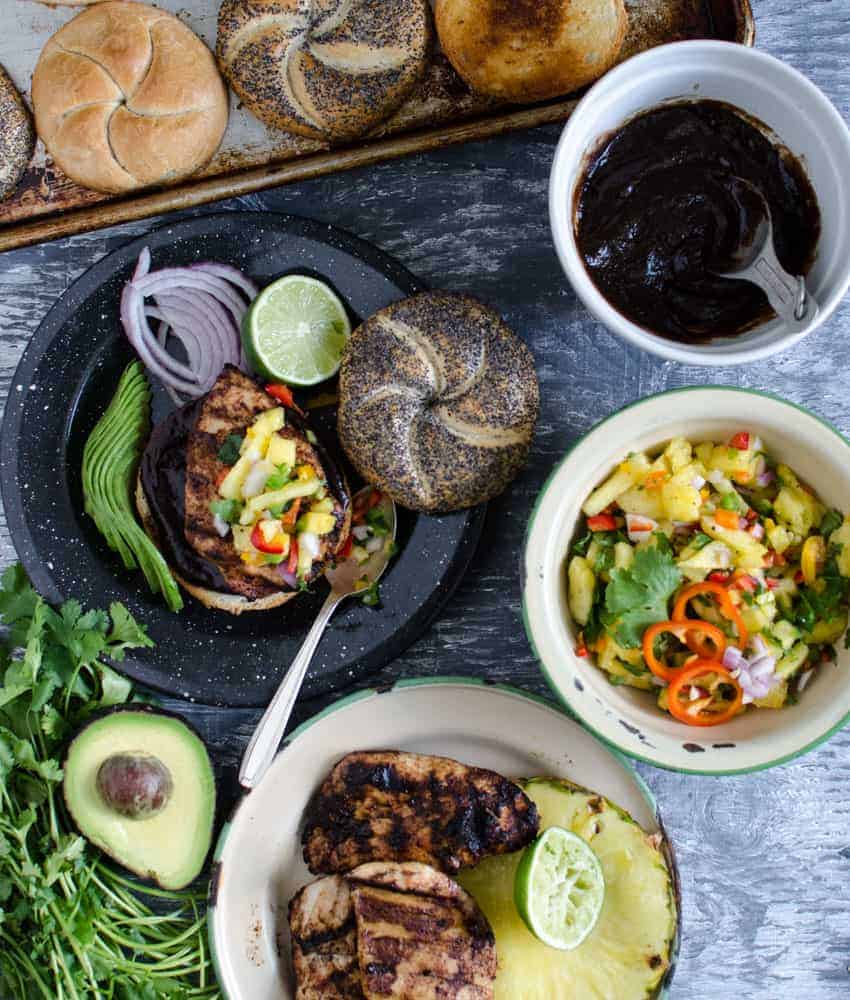 The busyness of the end of the school year has got me running around like a mad woman most days and only continues on through the evening. May is a crazy month because everything is wrapping up or just beginning. We have baseball, t-ball, recitals, field trips, parties, practices, plays, dances, and more. I know that I'm not alone in all the going and coming either. I have a delicious quick and easy dinner for you today that will be on the table in less than 30 minutes. Skip the drive-through one night this week and enjoy this amazing weeknight chicken sandwich at home. Here's the best part, most of the components to the sandwich can be prepped ahead of time! So no matter how busy your day is, you'll be able to enjoy a meal with your family.
Today I'm working with KC Masterpiece and I'm really excited to tell you about a new product they have. KC Masterpiece BBQ Sauce Mix & Dry Rubs is a really neat idea and one that I wanted to share with you. This product is essentially two packages for seasoning mix. Here's the cool part though, one pouch of KC Masterpiece BBQ Sauce Mix & Dry Rub can be mixed with 3/4 to 1 cup of liquid. You can mix it with water, soda, beer, bourbon, juice, vinegar or a combo or those to create a dish that's uniquely your own (and the box came with some great serving suggestions)! You can also rub the mix directly on your protein to dial up the flavor before cooking.
So you buy the seasoning mix and use it as a dry rub, marinade, and/or BBQ sauce and when it comes to the sauce or the marinade you can add just about any liquid you'd like to make different flavors. How cool is that? I thought it was a really great idea. My dad loves to grill and I remember him using KC Masterpiece a lot when I was a kid. So not only did I want to try the product because it sounded fun but also because it's very nostalgic for me. I'm so glad I did and I just know you are going to love it too. This is a recipe my dad would be totally proud of.
Today I'm sharing an amazing grilled chicken sandwich recipe with Pineapple Salsa that comes together even on a busy weeknight that the whole family will love.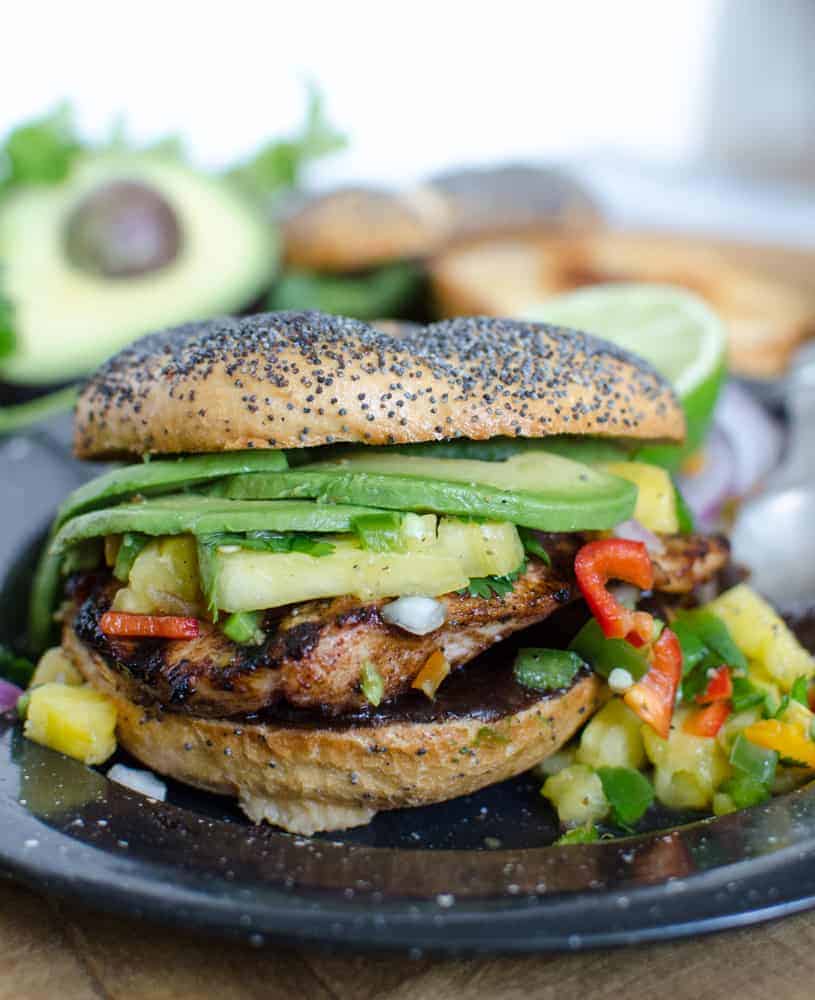 Print
Weeknight Grilled Chicken Sandwiches with Pineapple Salsa (30 Minute Meal)
---
Author:

Prep Time:

15 mins

Cook Time:

15 mins

Total Time:

30 minutes

Yield:

4-6
Description
Weeknight Grilled Chicken Sandwiches with Pineapple Salsa Author: Melissa Griffiths Prep time: 15 mins Cook time: 15 mins Total time: 30 mins Serves: 4-6
---
Ingredients
For the chicken
1-2 pounds chicken breast
2 tablespoons olive oil
KC Masterpiece BBQ Sauce Mix (original)
For the Pineapple BBQ Sauce
1 package KC Masterpiece BBQ Sauce Mix (original)
3/4 cup pineapple juice
3 tablespoons white vinegar
For the Pineapple Salsa
3 cups chopped fresh pineapple (core and outside removed)
1/4 cup finely diced red onion
1/2 cup finely chopped red or yellow or orange bell pepper
1 japelano finely chopped, optional
1/4 cup chopped cilantro
juice of one lime
salt and pepper to taste
Toasted buns
Sliced avocado
---
Instructions
To prepare the chicken, use a meat mallet or a rolling pin to flatten the chicken so that it is uniformly a 1/2 inch thick. You can also cut very large chicken breast in half (like you would to butter fly it, but cut all the way through making two pieces). Your pieces of chicken should be about 5 inches long and 1/2 inch thick. Cut accordingly so that they are pretty uniform in size and will fit on a bun nicely once cooked. You'll want as many pieces of chicken as you plan to make sandwiches. Pat the chicken dry with a paper towel. Brush both sides with olive oil. Rub some of the dry KC Masterpiece BBQ Sauce Mix (original) on each side of the chicken (You'll use a few teaspoons of the mix total). Prepare a charcoal grill. Place chicken on grill and cook, with lid closed, for 5-8 minutes per side, until internal temperature reaches 160 degrees. Remove from the grill and let the chicken rest for 5 minutes. You can brush the chicken with the prepared Pineapple BBQ sauce the last minute or so of cooking if you desire.
To make the Pineapple BBQ sauce simple stir together the KC Masterpiece BBQ Sauce Mix, pineapple juice, and vinegar in a small bowl. Let the sauce sit for at least 10 minutes to thicken up.
To make the Pineapple Salsa mix together all of the ingredients (pineapple through salt and pepper) in a small bowl. Taste and adjust the salt and pepper accordingly.
To assemble the sandwiches add some BBQ sauce to both sides of a toasted bun. Add a piece of cooked chicken breast, some pineapple salsa, sliced avocado, and the top of the bun. Enjoy right away.
Notes
You can prep the chicken, the salsa, and the BBC sauce ahead of time (up to 3 days in advance). Then the day of the meal all you would have to do is heat the chicken, toast the buns, and assemble the sandwiches. The chicken and pineapple salsa are AMAZING on a bed or romaine lettuce for a delicious healthy simple salad.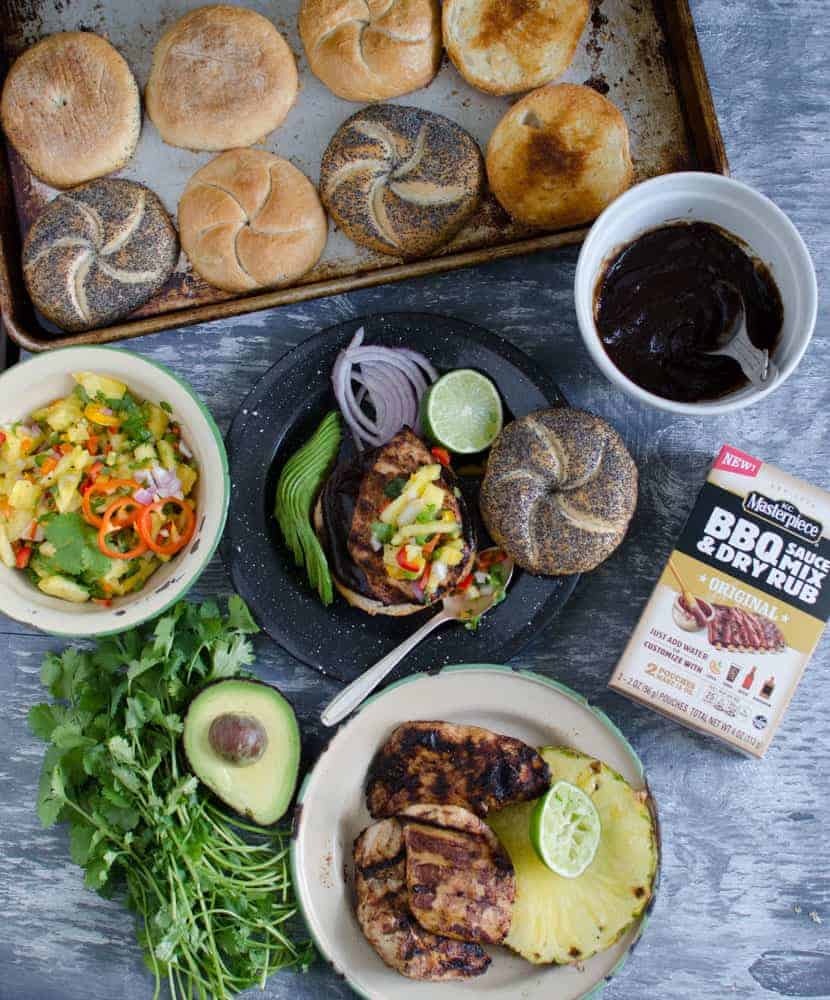 The chicken + pineapple BBQ sauce + pineapple salsa = grilled chicken sandwich perfection. If a sandwich isn't your jam you can serve your chicken and pineapple salsa over a bed of romaine lettuce for one epic salad too (or a great use for any leftovers, make a double batch!).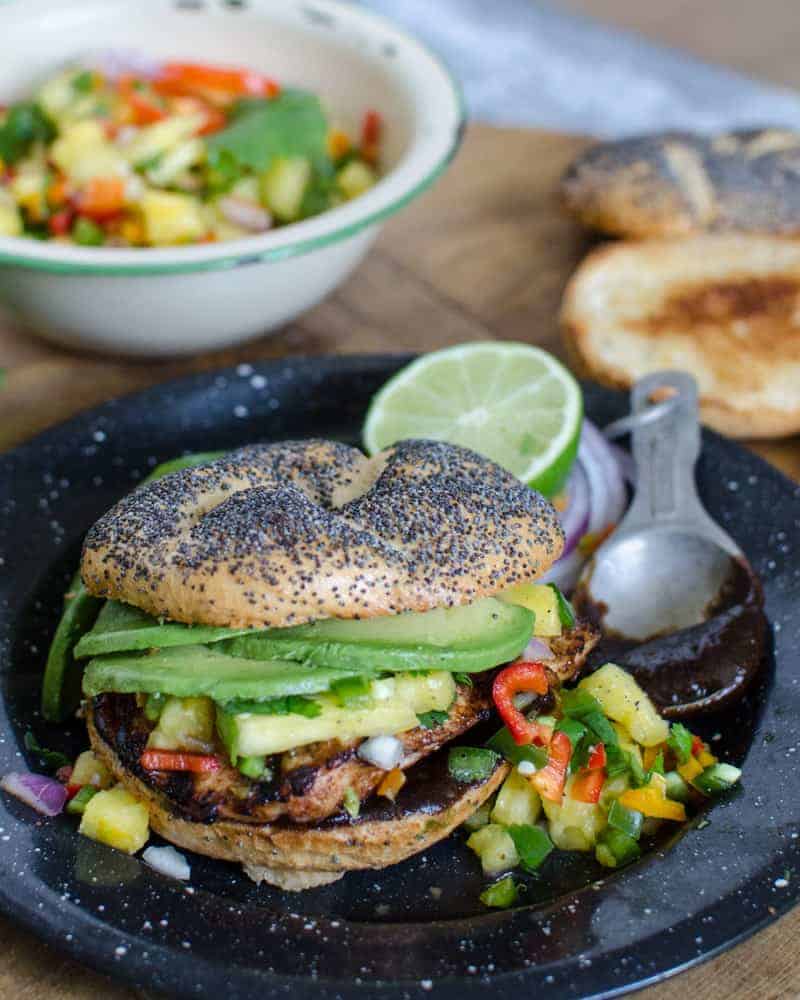 I can't wait for you to try these and to come up with some of your own creations for that KC Masterpiece BBQ Sauce Mix. My sister says she wants to add Dr. Pepper to it and I was wondering how apple cider would be (and then to put it on pork chops!). The possibilities are endless! Thanks so much for supporting the sponsors that continue to make Bless this Mess possible. That means so much to me.
This is a sponsored conversation written by me on behalf of KC Masterpiece. The opinions and text are all mine.