Some time this year I got on a magical email list. What kind of magical list you might ask? Well, it's one that sends out opportunities to review new books before their official release! I know this is a food blog but I love books. I've received two dozen or so emails this year with press releases for books that I could review here, but none of them were books that I thought you all would enjoy so I passed. Then September rolled around and Christmas books started to find their way into my inbox. Not just any Christmas books mind you, children's Christmas book! I just could not pass on the chance to check out a few new Christmas books and so I have a three book reviews scheduled for this month. I really think you'll enjoy the posts, or I wouldn't have said I would do them. They aren't paid or anything, but I do get a copy of the book (payment enough!).
My first review was for the enchanting book God Bless Us, Every One! by John Rhys-Davies and Brandon Dorman.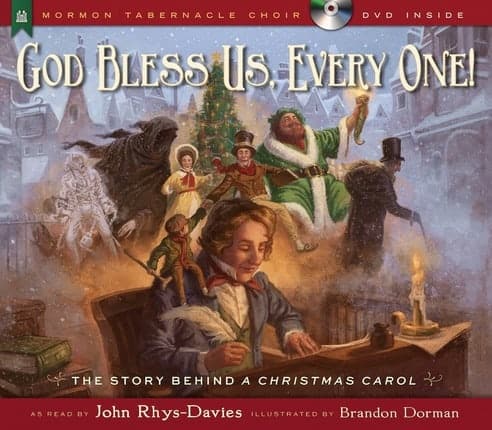 Here's the book description that caught my eye:
In creating stories for others, we sometimes end up revealing truths to ourselves. Such was the experience of the beloved Charles Dickens, master storyteller and honorary champion of Christmas. But Dickens was not always the purveyor of yuletide wisdom we know today—he too had to discover for himself the true spirit of Christmas and how best to keep it all the year through.

It was 1843, and winter was fast approaching. Times were tough for Charles Dickens and his family. He needed to publish something that would earn enough money to meet his many obligations. Pondering his predicament, Dickens set out to write a quick Christmas story that would be sure to sell. Little did he know that his writing—and the genial ghost he would bring to life—would take him on an incredible journey of the heart.

This beautifully illustrated volume tells the story behind the writing of Dickens's most famous work and reveals how he discovered the spirit of Christmas for himself—with a little help from his own literary characters. Originally presented by acclaimed British actor Joh Rhys-Davies at the Mormon Tabernacle Choir's 2013 Christmas concert, the book also includes a DVD with footage from the event.
Here's my book rating scale:
1- Avoid at all costs
2- Didn't like it, but had one redeeming quality (such as great illustrations)
3- Meh, just ok
4- Take it or Leave it
5- Check it out at the library for a one time read
6- Pretty Good
7- Good read with a few reservations
8- Great book, highly recommend
9- Love it and everyone should own it
10- Best. Book. Ever! Must give as a gift to everyone
Our score for God Bless Us, Every One! : solid 8
I love back stories and historical context information, and this book had just those things surrounding Charles Dickins' writing of A Christmas Carol. We really liked the story, it was beautifully illustrated, and the bonus DVD sealed the deal. It was a little long for a bedtime story or for reading to small children, but that doesn't mean you couldn't read it in sessions. I love stories that illustrate a point, and this, like A Christmas Carol, embodies the true meaning of Christmas… service, love, and thinking of others. I'm so pleased to have added it to your ever growing Christmas story collection and I highly recommend you add it to yours.
You can purchase it on amazon:
It is also for sale at Deseret Book.
Thank you so much for joining me on this book review. It was a keeper! Are you a Christmas story book collector too?