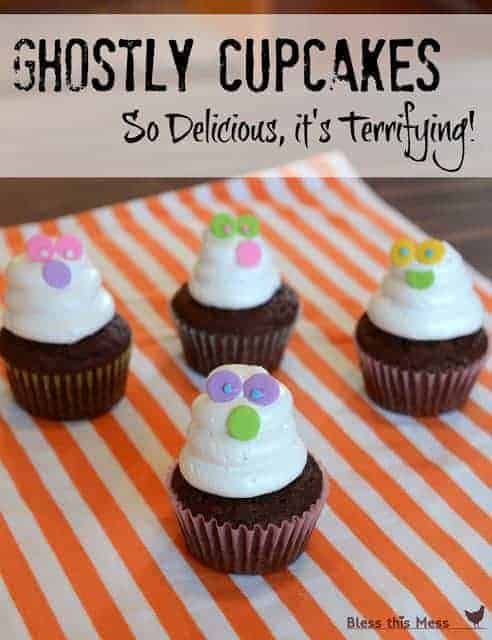 Easy Halloween treats for a party, you ask? Why yes, I have some of those up my sleeve.
These ghosts are super simple and oh so cute. Enjoy and thanks for reading, you guys are great.
Easy Ghostly Cupcakes
Makes 12-18 cupcakes
1 box of your favorite chocolate cake mix or from-scratch cake made into cupcakes
1 recipe White Cloud Icing
Sprinkles or chocolate chips of eyes
Plan on decorating 12-18 cupcakes; if you are making 24 I'd double the icing recipe. Once the cupcakes are cool and the icing is prepared, it's time decorate.
Make eyes by "gluing" small round sprinkles to large round sprinkles with corn syrup. Just pour a little corn syrup into the bottle cap and use a toothpick to dab it on the large sprinkles. Easy!
Use an icing bag with a 2A tip or a plastic freezer bag with one corner tip cut off (cut so that the opening is about a half inch wide). Pipe the icing onto the cupcakes. Start by making a slow round circle and slowly build up the icing in a circle until the ghost is about three inches tall. You want to pipe the icing on slowly so that it has time to get round and fat as it comes out of the bag. That is what will make the ghost big and tall in the end.
Add the eyes and a mouth.
Notes:
Be sure to add the sprinkles right after pipping on the icing. The icing sets after a few minutes and then the sprinkles don't stick to it.
Tips on sprucing up a box of cake mix:
When using a cake mix, replace the water called for on the box with 1 cup of buttermilk, use 4 eggs instead of the number called for, and use the same amount of oil called for on the box. Just stir those 4 ingredients together and then bake as you would any other cupcake for 12 minutes. 12 minutes does seem short, but that's all they needed! The box made slightly less than the standard 24 cupcakes. I got 18-20 cupcakes per box.