Hello friends
2014 is going to be a good one for the blog. I have lots of goals and dreams one of which is to post 5 days a week as often as life allows. I have so much to share so why not work a little harder and get the goods out there for you to enjoy too?! I have a semi-structured idea of what I plan on sharing each day of the week and Fridays are going to be a bit different than the other days of the week.
This is not a journal blog... but it is a lifestyle blog of sorts. I love sharing food, hobby farming, and healthy habits with you. One thing that I want to share more of with you though is motherhood. I don't want to record what my kids do day to day, but I do want to share stories and little bits of information and feelings that you might enjoy. I spend so much of my day mothering and learning from the small people in my house. I want to share some of the joy that this job, my real true job in life, brings me. The world (especially the internet) needs more light and joy.
I shared my 4th babies birth story this month and your kind words have filled me up. I am a woman who needs other women in my life. I need you to talk to and work things out with. I trust you enough to tell you my failings and I want you to share in my joys. So a few times a month I plan on sharing little gems from this fun and happy life that I work so diligently to make just that for my kids - happy.
When I write a blog post I write it to be useful to you. I want you to try a new recipe, learn a new hobby farm trick, etc. I want these motherhood posts to put a smile on your face, to give you new ideas that you might try in your own home or with your grand babies, or to simply encourage you. I do not want you to think that I'm a perfect mom. I'm far from that, but I'm trying. I want to be an intentional mother who make a conscious effort every day to do my best.
So without further explanation here's a little bright spot in my rather hard week. I hope you enjoy it as much as I did.
Henry.
He's a kind hearted four year old who has a show-stopping dimple in his left cheek, loves all things ninja, and has stolen his mama's heart since day one.
Henry asks, on a regular basis, when he can have a pet. I often tell him that he haaaaas pets. Twelve of them, with feathers, in our coop. But Henry wants a different kind of pet. The kind that wants to play with little boys and be their best friend.
Last Saturday while he and his sister we downstairs attempting to clean up their room they found a beetle. And not just any beetle mind you, but a perfect little stink bug. If you are unfamiliar with these fun little bugs I'll fill you in. They are rather oblivious creatures that crawl around constantly until they get spooked. When given a good scare they stop walking, stick their bums up in the air, and give off a little puff of stink that smells a bit sulphur-y like boiled eggs. Just the kind of thing that little boys love!
Henry came bounding up the stairs to show me the beetle and then asked if he could keep him. I saw no reason why he couldn't and so I said yes. Little did I know just how much love one little boy could put into caring for a stink bug.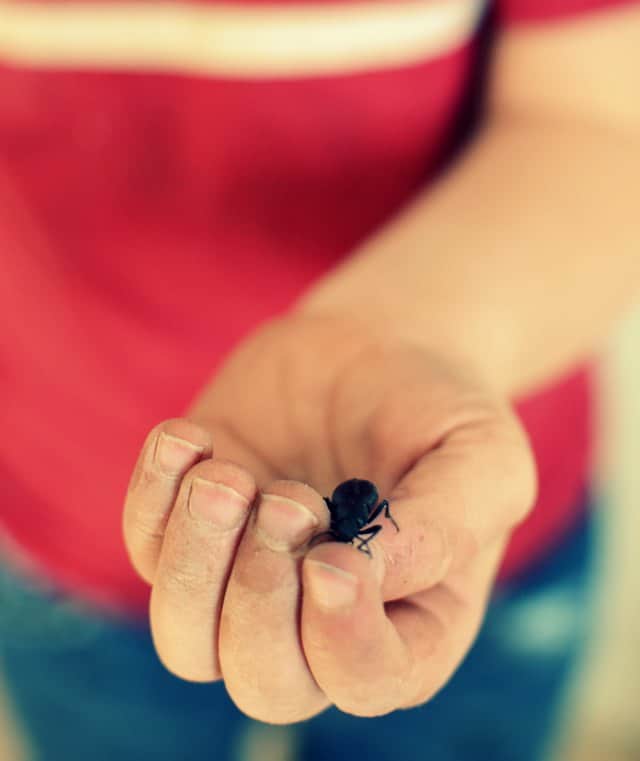 First came the name. Stinky was a logical fit 🙂
And then came Stinky's home hand crafted with love, an apple chunk (which the internet told us they ate), and a Polly Pocket suitcase for water trough. Plus a few little touches to make it homey. I provided the container and Henry did the rest. He was so thoughtful (a rock to play on, grass to make his bed with) and so meticulous.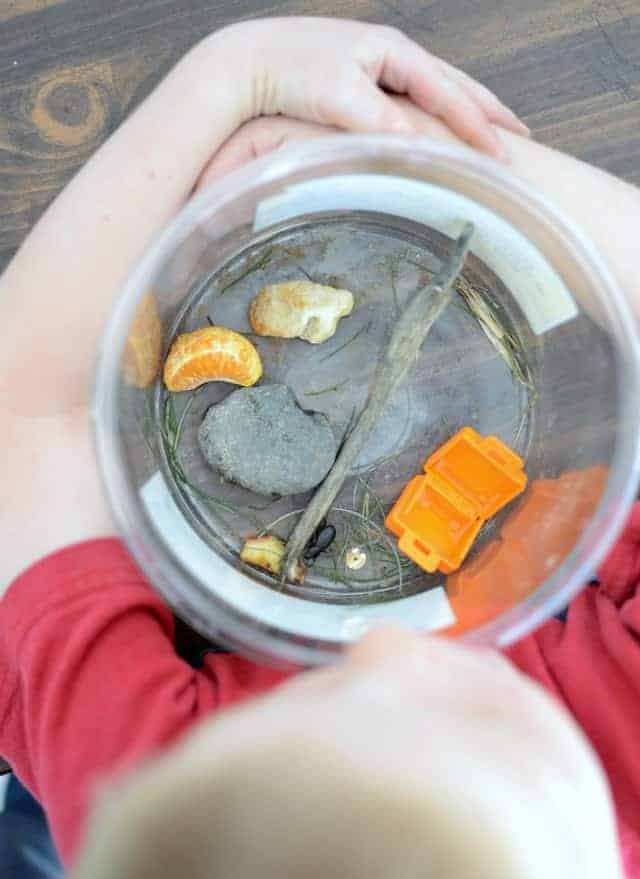 And then came the fun!
Stinky took rides in all kinds of trains and cars. He jumped, very unsuccessfully on the trampoline (he actually fell out of his house, Henry started bawling, we found Stinky before he got stepped on... phew. No more little Stink Bugs jumping on the bed!). And he slept peacefully on his dresser at night.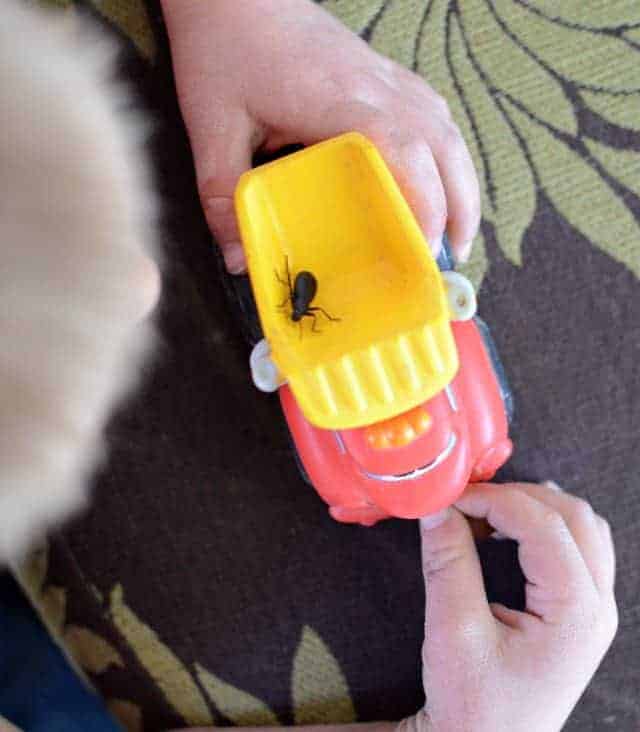 Henry carried stinky everywhere for days.
And then one day he came to me as I was sitting on the couch feeding the baby with a serious look on his face. I asked him what was going on and he said that Stinky was outside.
Ok... do you need me to open the door so that you can get him?
No. I want Stinky outside.
Ok then, he can play outside and we'll get him after lunch.
No Mom. He's not in his house.
Oh no! Do you want me to help you look for him?
No. I let him go. He wanted to live outside and find his family.
You let Stinky go?
Yes.
And then the tears came.
Henry curled up in a ball next to me on the couch and told me all of the reason he let him go. He knew that Stinky wanted to be free. But he was already missing his friend terribly.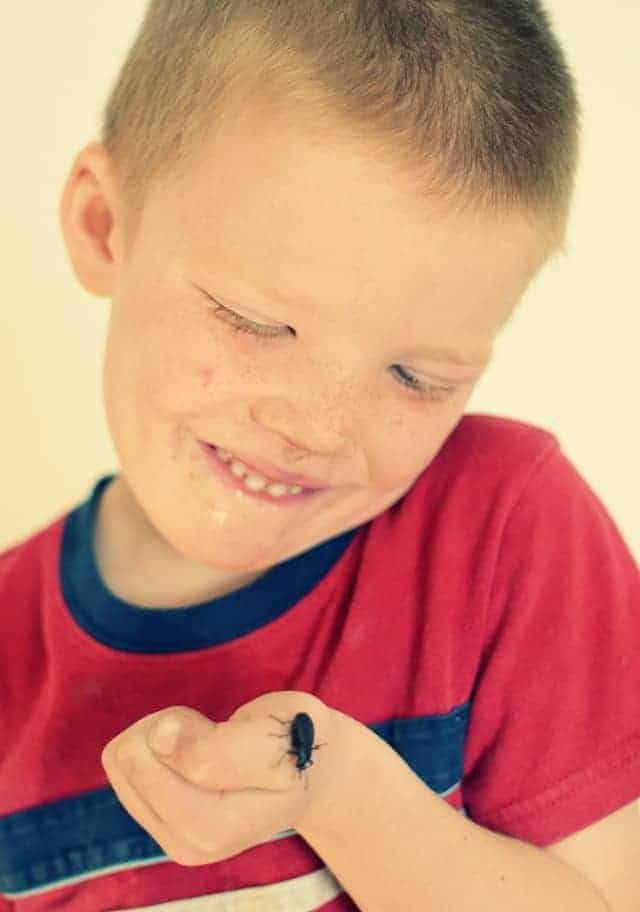 That, my friends, is true love. I watched my four-year-old choose to put the needs of someone(thing) else in front of his own that afternoon. It may seem small to you and I, but his sacrifice was personal and great.
And here's my challenge to you for this weekend.
Don't discount the small sacrifices that YOU make for others.
No matter how small or how grand, a personal sacrifice for someone else matters. Wiping noses and tears is small and quiet. Giving up time to do the things you'd like to do to play trains, make cookies, or read a book for the millionth time counts more than you know. You are doing a good job women. Keep it up, people need you.
And if you have a minute, you might like this too.