Freezing Fresh Asparagus is one of the best ways to store it. All you have to do is blanch your asparagus in boiling water, cool it in an ice bath, then freeze!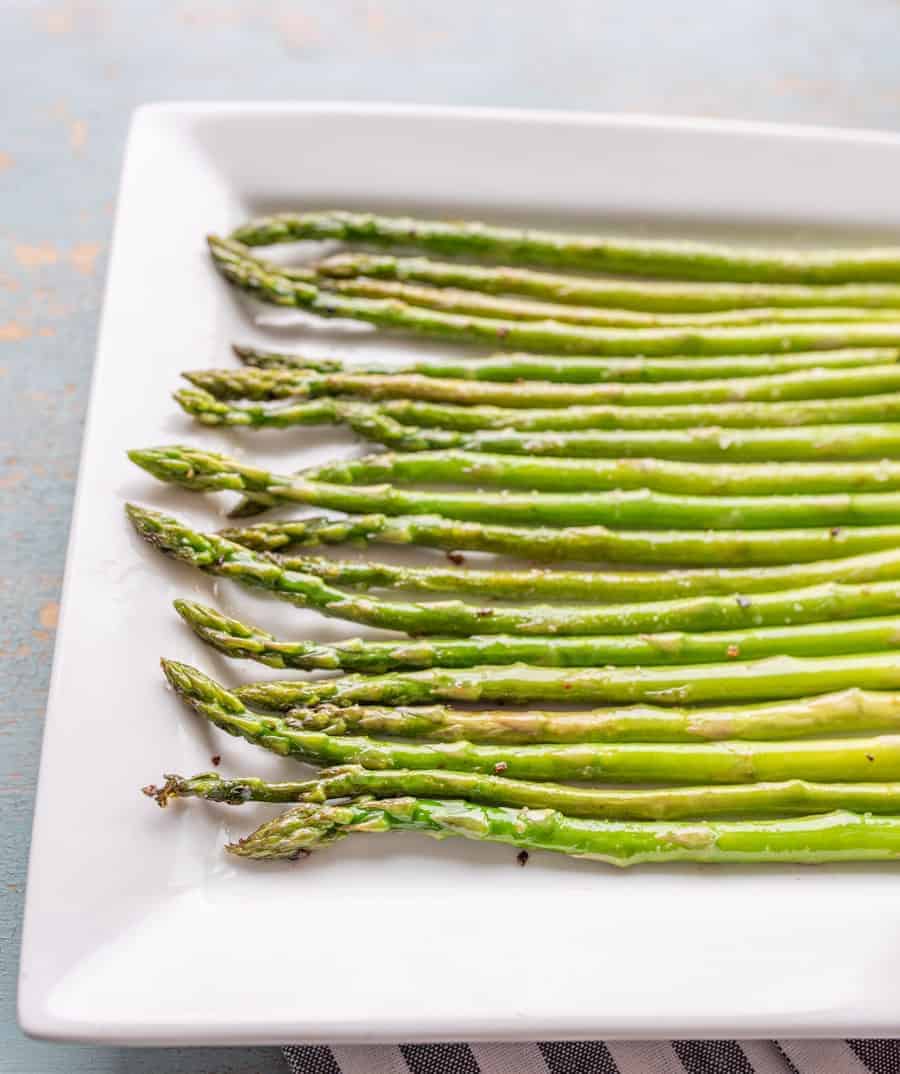 Freezing Fresh Asparagus
A few weeks ago. Bountiful Baskets (a food co-op group and I participate in sometimes) had a great deal on asparagus - 28 pounds for $27. I split the case with a friend, gave a few pounds away, and ended up with around 10 pounds of fresh tender asparagus to use myself. I knew I would only cook and eat a few pounds during the pre-moving week so I opted to freeze the rest.
Freezing asparagus is a really great option. The texture stays tender-crisp, the prep to get the asparagus freezer ready isn't too much, and you'll be able to have fresh asparagus in the months to come. I pulled out my trusty Ball Blue Book and it told me just what I needed to know. My mom got me this book from the Ball canning company a few years ago and it's a no-nonsense guide to canning, freezing, and dehydrating. It's a great resource and the info is straight forward. You don't have to read a chapter on canning... it just tells you what you need to know. Here's how to freeze asparagus according to the Ball Blue Book Guide to Preserving
.

1. Select young and slender asparagus (think no larger than a pencil if you can!). If your asparagus varies widely in size then sort them into groups according to how thick they are.
2. Cut the tough ends off. (You can tell how far to cut by holding one spear up and bending it near the bottom until the woody end snaps off. Use that woody end as a guide on how much to cut off of the rest. I tend to cut around 2 inches off the bottom.)
3. Wash in cold, clean water
4. Working in batches place the asparagus in boiling water. Blanch small spears for 1 ½ minutes, medium spears for 2 minutes, and large spears for 3 minutes.
5. Place the blanched asparagus in a bowl of ice water.
6. Drain water and place the amount you'd like in freezer bags. (I put a little over a pound in each freezer bag. That is a good amount for one meal for my family). I also chopped some of the blanched and cooled asparagus into one inch pieces before putting it in the bags. I'll used the chopped asparagus in stir-fry and pasta dishes.
7. Label and date your bags and freeze. You're done!
To use this you can steam, boil, or stir-fry the frozen asparagus until heated through and as tender as you like them. Now you are all set to enjoy Spring's bounty throughout the coming months.
Recipes with Asparagus:
More help with storing foods:
This post was originally published in 2013 and has been updated in July 2019.
Don't let your asparagus go to waste and learn how to Freeze Fresh Asparagus with this simple guide, so you can enjoy this vegetable whenever you want!