Last year I did two rounds of Feel Great in 8 and I loved it. Feel Great in 8 is not your typical diet or sugar cleanse, it is so much more. Tiffany, who I have now met and really enjoy supporting, has created a health challenge that goes way beyond food. You get points for eating well, service, journaling, exercise, and a whole slew of things that help to make you more healthy, not just physically, but emotionally, spiritually, and mentally too. I keep coming back to the challenge and I like it more every time I do it. I'm so excited to be motivated to eat well again and a little challenge is just what I need. You pay $20 to participate and the winners get cash prizes. I've never won money, but spending a little to participate means I'm more motivated to keep up with it. I don't like to waste my dollars!
Speaking of wasting dollars. You have to set a goal for the challenge and mine is to spend no extra money! So not only is it going to be a healthy cleanse, but a budget cleanse too! No eating out, no buying books or entertainment, no buying anything extra (which to me is just about anything besides food). I can't wait to see what I save.
I wasn't sure I wanted to do it this January. I've been sick. I'm tired. I have a million things to do. But it's January! It's such a natural time to reset, restart, and try again. So I decided last minute (last night actually) that I was going to sign up. I would love love love for you to join me. The last round we had a close little group of 5 people who all supported and helped each other and it was a lot of fun. If you are interested let me know.
Whether you are going to do Feel Great in 8 with me or not, there's a good chance you have made some goals to eat better this month. So I thought I would post my meal plans to help you out.
Here's what I'm planning on for January 5-11.

Breakfast:
Monday- Oatmeal
Tuesday- Eggs
Wednesday- Smoothie (+ toast for the kids)
Thursday- Oatmeal (probably steel-cut oats)
Friday- Eggs
Saturday- Whole Wheat Pancakes or Waffles
Sunday- Granola (cold cereal for the kids, we have early church this year so quick and easy is the go to!)
Lunches:
Leftovers
Salad in a Jar (I'll make 4 or 5 on Monday and eat them all week)
Tuna wrap with pickles and lettuce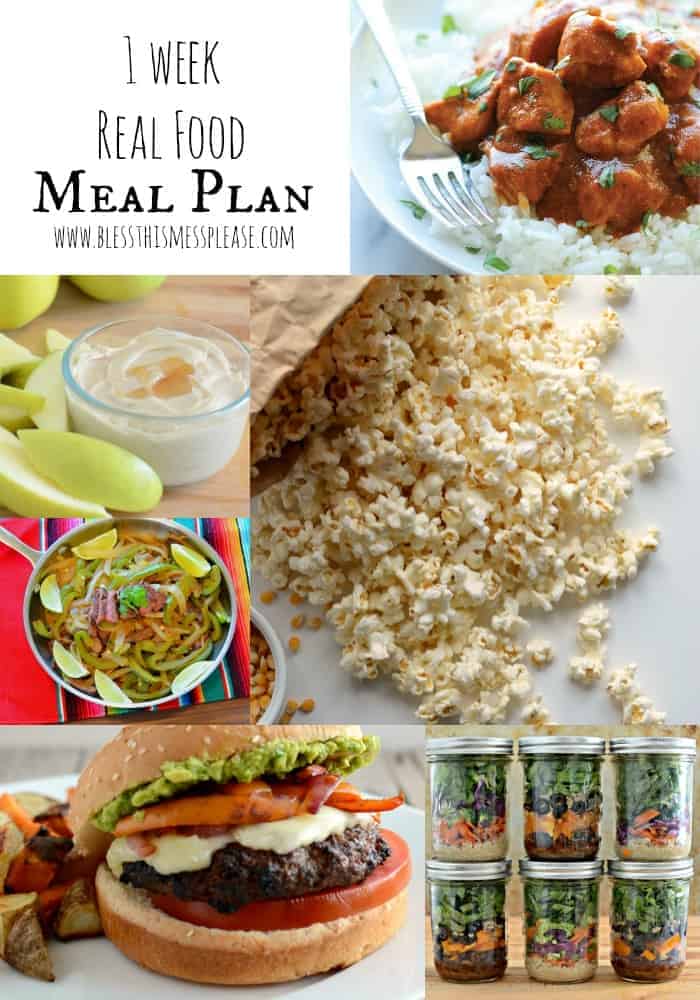 Dinners:
Monday- Butter Chicken in the Slow Cooker (this recipe from Damn Delicious is great). I'll roast vegetables to go with it, including a lot of cauliflower as well as make rice. The family will eat the Butter Chicken over the rice with some veggies on the side. I'll eat the chicken over the veggies and skip the rice.
Tuesday- It's my birthday (the big 3-0 no less!), so I picked steak fajitas because Mexican is my favorite. I'll use lamb steak and peppers and onions I threw in the freezer from the garden (really low prep!). I'm planning on serving the fajitas in corn tortillas. I like to spray the tortilla with a bit of cooking spray, put it in a really hot dry skillet (sprayed side down), spray the other side with cooking oil, then flip it over. I prefer them fried, but this a nice middle that still satisfies. I like lots of salsa and I'll probably make some beans for the side. The kids want to make homemade waffle cones for my dessert, so I'll let them do that and probably just have a taste (this treat will count as my one freebie for the week in the Feel Great in 8 Challenge, yes, you get freebies!)
Wednesday- Tin Foil Dinners – I love this easy meal! I'll just chop up some onions, carrots, potatoes, and mushrooms, and make a tin foil packet with some kind of meat (chicken is easy to use but my freezer is full of pork and lamb so I'll probably use one of those). I like to make a quick white sauce with butter, whole wheat flour, garlic, and milk (plus lots of salt and pepper) that we add the packets to make them creamier. Throw everything in the foil, fold it well in 2 layers of foil, and then bake them for at least 45 minutes, until the meat and veggies are cooked through. I serve them right out of the foil which means little to no dishes for me. I'll add a side of fruit to this meal. Sometimes I let the kids make their own foil dinner which they love and if I'm in a hurry I just make them all the same.
Thursday– Tomato Soup (maybe with spinach? I'm still looking for a recipe, suggestions more than welcome!). I'm thinking some kind of hearty delicious tomato soup. I'll serve it with oven grilled cheese sandwiches on whole wheat bread for the family. If I have enough calories left I'll enjoy a half sandwich too.
Friday- Grilled Hamburgers (lamb burger in our case) – I'll make homemade baked fries and sweet potato fries to go with it. I'll eat my burger without a bun (which I like anyways, I don't love buns) and load up on the veggies (lettuce, tomato, onion, pickles), and serve it with grapes or sliced apples.
Saturday– Bean Burritos – I'm planning one meatless meal every week and this is it for the week. Bean burritos are the best and so easy. I've seen a few recipes where people prepare the burritos then toast them in a skillet to make them crispy. I think I'll try that this week! You can't beat beans, cheese, and salsa served with a heavy hand of lettuce, tomatoes, and olive on top. If the kids are feeling fussy about beans (they are hit and miss) I'll just make them quesadillas.
Sunday– Leftovers! With all that cooking there is sure to be leftovers. I like to take Sundays off as much as possible, so leftovers are great today. If the kids don't want what I have they can make themselves a jam sandwich. Easy!
If you can't tell, I'm a huge believer in making normal food that is good for you but not necessarily carrying a giant "healthy" label. I'm not going to cook more than one meal so making family favorites and just adjusting them to be a bit healthier or less calories for me is the best way to go. My family has never complained about me doing a Feel Great in 8 Challenge. If anything, they like it because I do a better job planning and cooking. It really is a good thing for the whole family!
Snack Ideas:
Snacks are always where I feel bored the fastest. So I try to have a few really great things ready so that I want to eat them.
3 ingredient healthy fruit dip is awesome. I love to make a big batch and eat it all week with apples.
Healthy Snack Bars are like dessert when you really need a treat. They are very dessert like. I like to cut them up in small pieces and keep them in the freezer. They are really easy to pull out when the sugar cravings hit.
Popcorn! I just got a stove-top popper for Christmas and I love it. You can also pop popcorn in the microwave!
And of course your normal fruit, nuts, vegetables, maybe a little cheese…
I'm not great about buying premade snacks because I never know what is good or what is very healthy, plus my options are really limited in the middle of no where. Do you buy any snacks that you feel are a good choice. I've heard of Lara Bars but never had them (and I think those healthy snack bars are pretty much the same thing). I want to buy hummus or gauc but I just want to eat it with tortilla chips, so I don't… any suggestions?
So on Monday I'll make the fruit dip, snack bars, granola, and a few salad in a jar and that will get a lot of the prep out of the way for the rest of the week! If your Sunday is more open you could get those made then and still be very ready for the challenge on Monday. Are you in!?
And is this helpful? Do you like the meal plans? I was thinking about posting them each week then you'd have 8 weeks of meals to glean from! What say ye?
Thanks for being here and wish me luck!