Merry Christmas!
I'm a little behind on this giveaway (I blame having a newborn plus 3 other kids plus the holiday season in general!), but I just couldn't let the month pass without posting it.
You all are the very best readers around and I wouldn't be here without all that you do. I adore your comments and thoughts and all of your sharing, pinning, tweeting, and liking on social media is so very helpful. THANK YOU!
This giveaway is my little way of giving something back to you. It's not sponsored or anything like that… just some fun stuff that I've been loving and using this past year that I know you'll like too.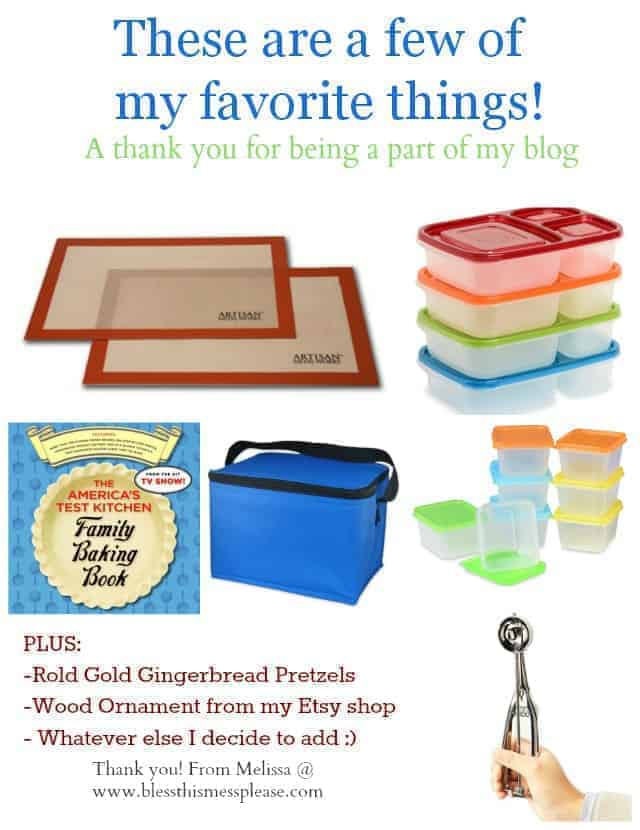 Here's what is included:
My favorite cookbook ever – America's Test Kitchen Family Baking Book
Artisan Metal Works Silicone Non-Stick Baking Mats (2 of them!) – I got my first baking mat last Christmas and I am in LOVE with them. It's like washable parchment paper! I use them daily.
A whole bunch of lunch box love! I bought a big set of Easy Lunch Box stuff for my daughter who started Kindergarten this year and I love them. We use them often! They are prefect for picnics, lunches, or just packing snacks in the fridge so that the little boys can help themselves to healthy snacks without needing me so much. You'll get a lunch box cooler, 4 lunch containers, and a set of little containers that fit right inside the big one (for sauces and yogurt).
A stainless steel cookie scoop (everyone one needs this!)
Rold Gold Gingerbread Pretzels because they are awesome
A wood ornament from my Etsy shop
Anything else I decide to add!
My friends over at America's Test Kitchen provided the cookbook for you and Kelly from easylunchbox.com also provided the lunch box goods. I asked them both if they wanted to help out and both were quick to agree. The rest of the treasures I purchased myself.
And let's be honest, this is supposed to be a Christmas gift of sorts to you but the chances are not good that you'll get the box before Christmas. I have the giveaway ending on Friday in hopes that I can hear back from the winner and mail the goodies on Saturday. In a perfect world you'll get the box before Christmas, but I say there's only a 50/50 chance. So this will be some post-holiday fun mail!
Again, thank you so much for being here. I just adore you all.
Good luck and Merry Christmas.