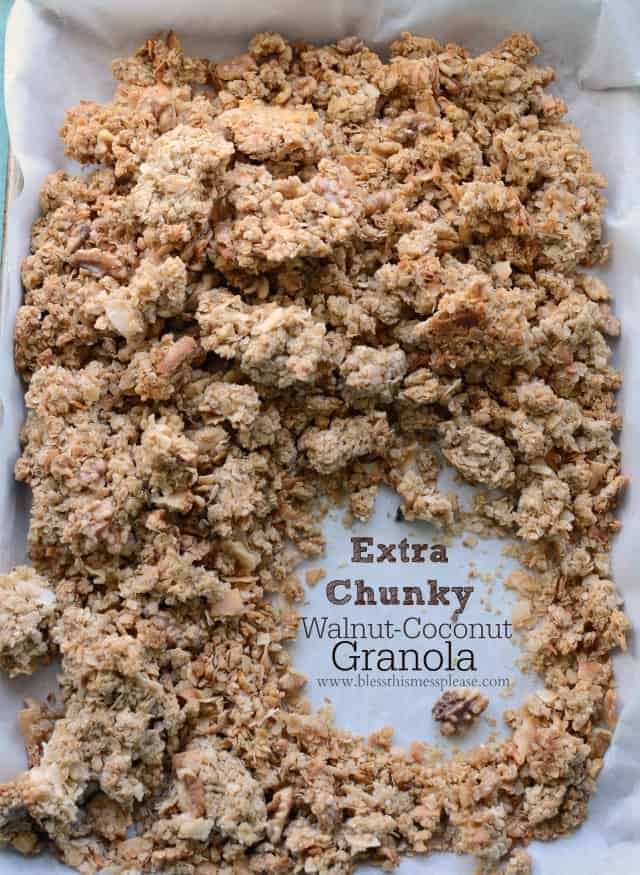 Just over seven years ago I remember stepping on the scale in the doctor's office and seeing what it read. 201 pounds. I didn't say anything at the appointment but I came home and cried later that day. Hitting the 200-pound mark, even at 38 weeks pregnant was a total self-esteem crusher. I was so upset and disappointed to weigh that much. I weighed 203 pounds the morning she was delivered one week later.
Fast forward to today. I stepped on the scale and it read 199.6. I did a happy dance and resisted the urge to call my husband to tell him the good news. You see, I've been steadily working to get under the 200-pound mark since January.
Isn't it funny how time and perspective change everything. Four babies in seven years has blessed me beyond measure. I'll take the soft middle in exchange for the title they've given me. So to you, fellow fluffy-middled mamma's, take joy in the journey, even if it's heavier (in more ways than physical) than you planned on.
And because food is my love language, I have a special treat for you today to celebrate with me! I'm sitting her munching on it with a fresh Utah nectarine as I type and the babies play with blocks.
What's better than homemade granola? Extra chunky and naturally sweetened granola with lots of walnuts. So delicious! My kids can't keep their hands out of it. I was planning on taking some to the farmer's market to sell tomorrow but I don't know if it'll last that long.
My husband fixed computer for a lady in town this spring and she paid him with homemade granola. It was tasty and so very chunky. Big ol' granola chunks are just perfect for snacking on, no milk needed. She kindly brought the recipe she's been making her whole life and I feel like she's shared a magical secret with me. Ila Mae is around 85 years old and this is her Aunt Vivian's granola recipe, so this recipe is very very tried and true. You will love it and I dare say it's healthy. Naturally sweetened with whole grains and nuts… perfect snacking in my world.
So enjoy this recipe, celebrate my milestone, and embrace your own beautiful messy life today.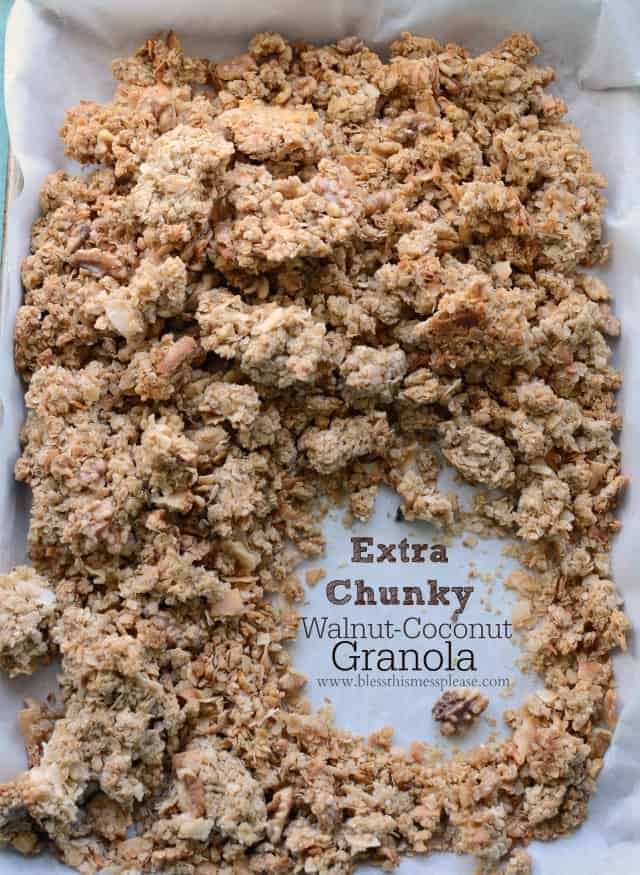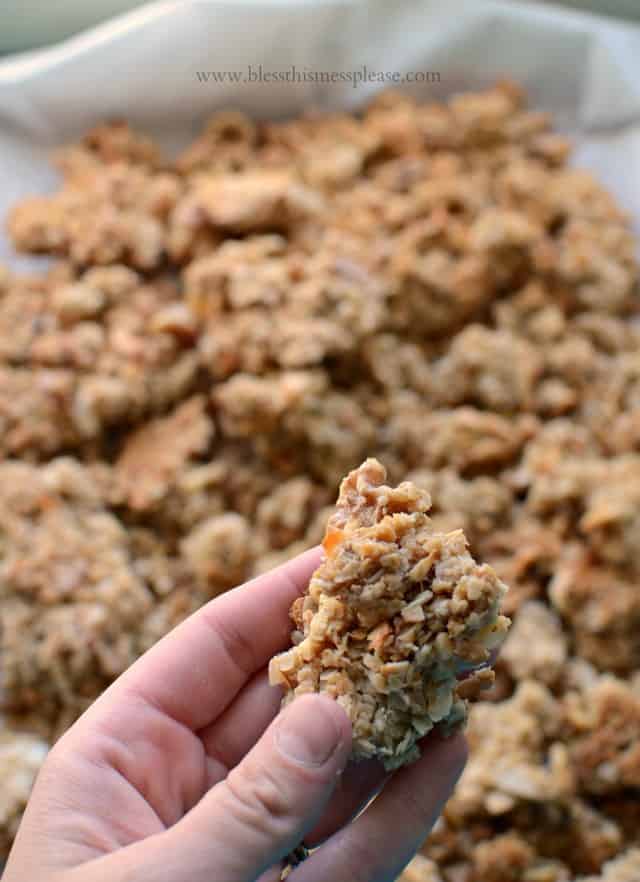 Print
Extra Chunky and Naturally Sweetened Granola with Walnuts
---
Scale
Ingredients
3 cup

s old-fashioned oats

3 cup

s quick oats

3/4 cup

whole wheat flour

1 cup

coconut oil

1 cup

honey

2 cup

s unsweetened coconut flakes

2 cup

s walnut pieces
---
Instructions
Preheat the oven to 275 degrees and line a baking sheet with parchment paper.
In a large bowl combine the oats and flour and stir to combine. Warm the coconut oil and honey in the microwave or stove top until the oil is melted and the honey is thin. Just warm it, no need to boil. Add the honey and oil to the oat mixture and stir well to combine. Add the coconut flakes and walnuts and stir to combine well, making sure there are no dry spots.
Dump the oat mixture onto the lined baking sheet and use the spoon to spread it into an even layer. Bake for about an hour, WITHOUT stirring, until the granola is a deep honey color. Remove from the oven and let the granola cool on the pan,
---
Notes
Store in an air tight container for up to 2 weeks.
Ila Mae's recipe called for 1 cup of canola oil instead of coconut oil. I've made it with both and they work equally well. I feel like coconut oil is a healthier option, but use what you have.
You can also sub the walnuts for 1 cup of sunflower seeds and 1 cup of slivered almonds. Yum!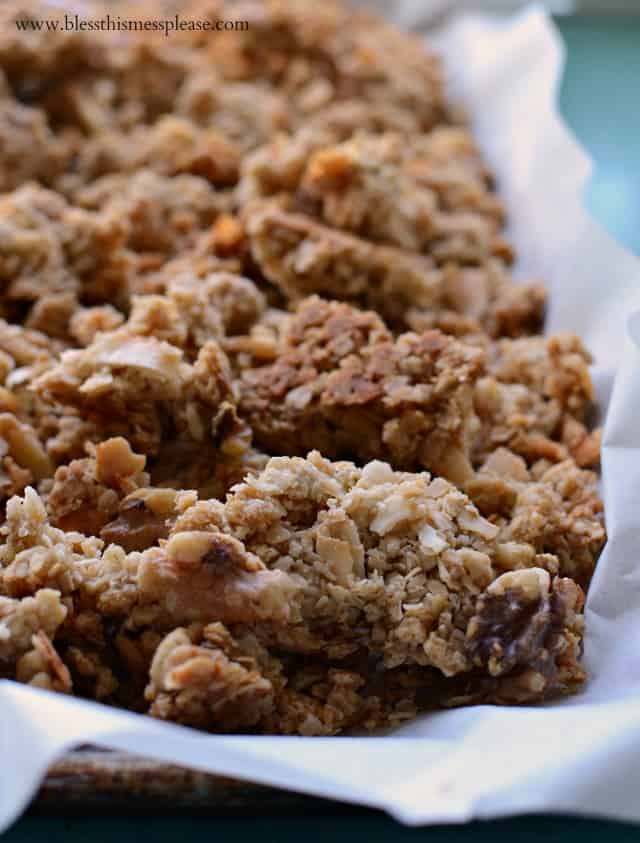 And if you like this extra chunky and naturally sweetened granola you might also like these recipes:
Oat-free Granola from Wholefully (super healthy, has quinoa in it!)
Healthy Honey Coconut Granola from Bless this Mess
Oatmeal Cookie Granola from One Lovely Life
And my favorite not healthy granola bar – Chocolate, Pretzel, Peanut Butter Granola Bars (SO delicious!)
Thanks so much for celebrating with me. Have a great weekend friends.