It's no secret that I love broccoli. I love all vegetables really! Thomas on the other hand doesn't quiet share the passion. So to encourage the veggie intake from the other members of my family I often make this quick cheesy sauce.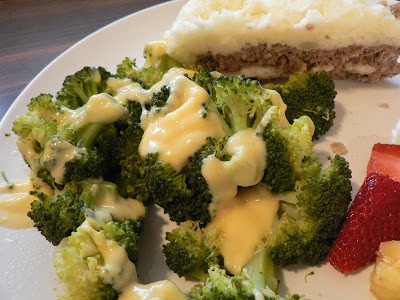 Cheesy Sauce
4 T. butter
3 T. flour
¼ t. garlic salt
¼ t. onion powder
¼ t. pepper
1 cup milk
1 cup grated cheese (the sharper the better)
In a small saucepan over medium heat melt the butter. When it is all melted, sprinkle the flour and the spices over the butter and whisk to combine. Allow flour and butter to bubble and cook for about 1 minute (this helps to cook the floury taste out). Slowly add the milk while whisking and continue whisking until the mixture starts to bubble again. Add the cheese and whisk until it is all melted and incorporated. Return to a light bubble and let it bubble until it thickens slightly. Serve hot.