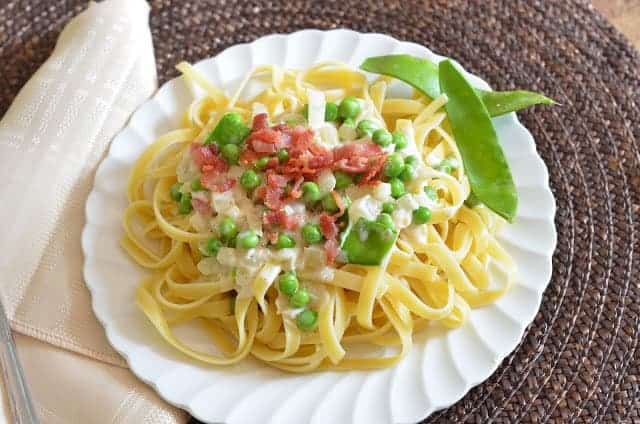 Our garden has been severely ravaged by wandering chickens. The little buggers ignored it for weeks and then one day just discovered that it existed. I walked outside to find all of my beet tops, spinach, and lettuce eaten to the ground and some serious pecking to the cabbage and pea plants. I've been leaving the birds in their coop unless I'm outside to chase them out of the garden. The kids have been pretty sad about not having the chickens out and my oldest asked me the other day when they will "be out of time-out." I decided their time-out will end when the peas are done producing. I just love garden peas and can't sacrifice them to the chickens. They can have their run over the garden after I can eat some peas.
Fresh peas are nothing like you've ever eaten. They are sweet as peaches and just as soft. They are so delicious. I rarely have enough peas to cook with because we eat them raw, straight off the vine. In my future garden life I hope to plant lots and lots of peas.
Here is a fantastic recipe using both round green peas and snow peas. I loved how well this recipe came together. The rich cream, sweet pop of peas, with pieces of crunchy salty bacon dripping over hot pasta is the kind of thing Foodie-dreams are made of. This was so very good. Please make it. Tonight. Pasta with peas and bacon was just meant to be.
Double Cream Double Pea Pasta with Bacon
Printable Recipe
1/2 pound bacon
1 large onion, diced
2 or 3 cloves garlic, minced
4 ounces cream cheese
2 cup heavy cream
1/4 cup shredded Parmesan
1/4 cup shredded Romano cheese
1 cup roughly chopped snow peas
1 cup freshly shelled green peas
1 tsp. salt
1/2 tsp. pepper
1 pound pasta, cooked according to directions
salt and pepper to taste
Finely chop the raw bacon on a cutting board with a sharp knife. After the bacon is chopped add it to a large skillet and cook over medium-high heat until crispy. Remove the bacon with a slotted spoon onto a paper towel lined plate. Leave the bacon drippings in the pan.
Add the onion and garlic to the bacon grease and cook over medium heat until soft, 4 to 5 minutes. Whisk in the cream cheese, cream, and cheeses, scraping up any browned bits on the bottom of the pan. Add the chopped snow peas, green peas, salt, and pepper. Let the mixture reach a simmer and then let it cook for 10 minutes. Serve the hot cream mixture on top of hot cooked noodles. Sprinkle some of the cooked bacon on top of each serving and salt and pepper to taste.
Notes:
You can use frozen peas in place of the fresh green peas, no need to thaw.
When cooking the final mixture, be sure to let it gently simmer, not boil. The cream cheese could curdle if you cook it too high.
If you don't have any snow peas, you could double the normal peas, but if you can, try to get them. They have a different crunch and sweetness then the other type of pea and the combo of the two peas was really good.