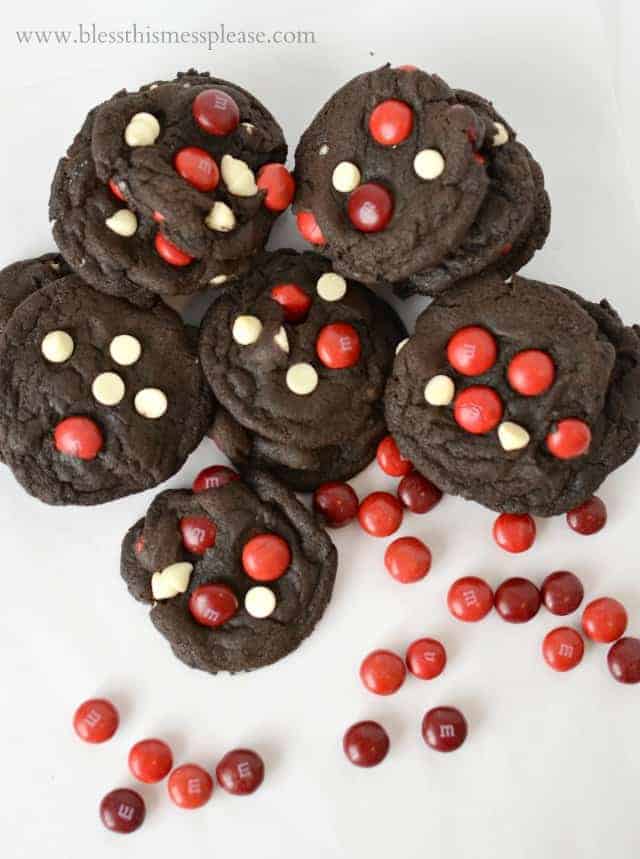 I love enjoying foods in their proper season. The kids begged my to buy a watermelon last week at the grocery store and I told them no. Watermelon is not meant to be eaten in February. I explained to them that it is a "summer food" and things taste even better when you have to wait a little while to enjoy them in their proper season.
Candy follows a similar pattern in my life. I love Cadbury Mini Eggs at Easter, candy corn at Halloween, English toffee at Christmas, and cinnamon lips at Valentine's. Having to wait all year to enjoy a seasonal treat just makes it that much more delicious.
The folks who make M&M's have really gotten into seasonal flavors and I think it's super fun. I saw gingerbread flavored M&M's at Christmas and candy corn flavored at Halloween. I don't normally indulge in the seasonal M&M flavors because I know I'll be the one eating the whole bag, but when I saw Cherry Cordial M&M's at my little store in town I just couldn't say no.
I love cherry cordials but I know lots of people don't. I think my mom and I are the only ones in our family who do. These cherry cordial M&M's are perfect for the cordial love and hater alike. They have the sweetness of chocolate, the light cherry flavor, and non of the texture issues lots of people have with cherry cordials. Even if you aren't a cordial fan I think you should give these a try. They are delicious! And if you find you don't love them, just send me the rest of the bag 😉
And because everything, even chocolate, is better surrounded by more chocolate I made you all some amazing Double Chocolate Cherry Cordial M&M cookies.
I'm pretty obsessed with this dark chocolate cookie dough. It just makes a perfectly chocolatly cookie (and it's gorgeous in color) and the addition of those lovely red hued M&M's really make for a great looking treat.
Your Valentine will thank you for making these. Trust me!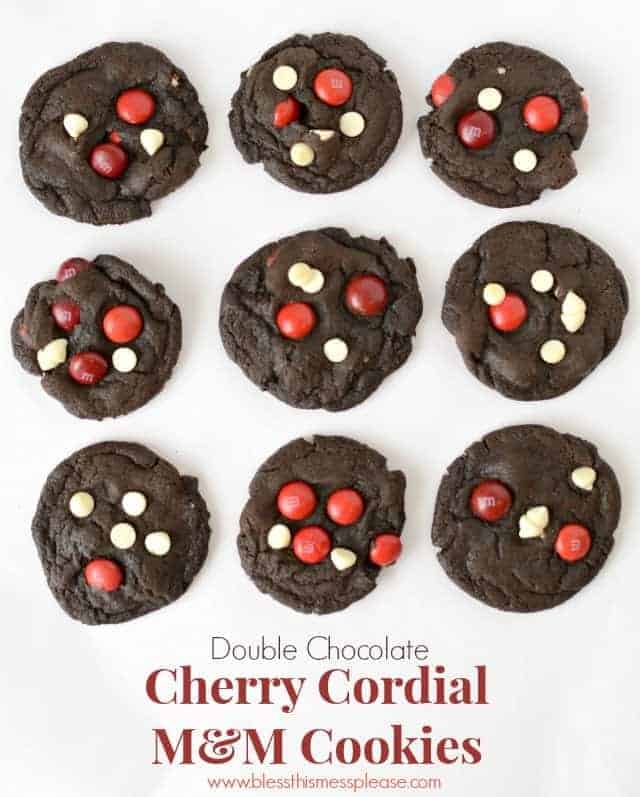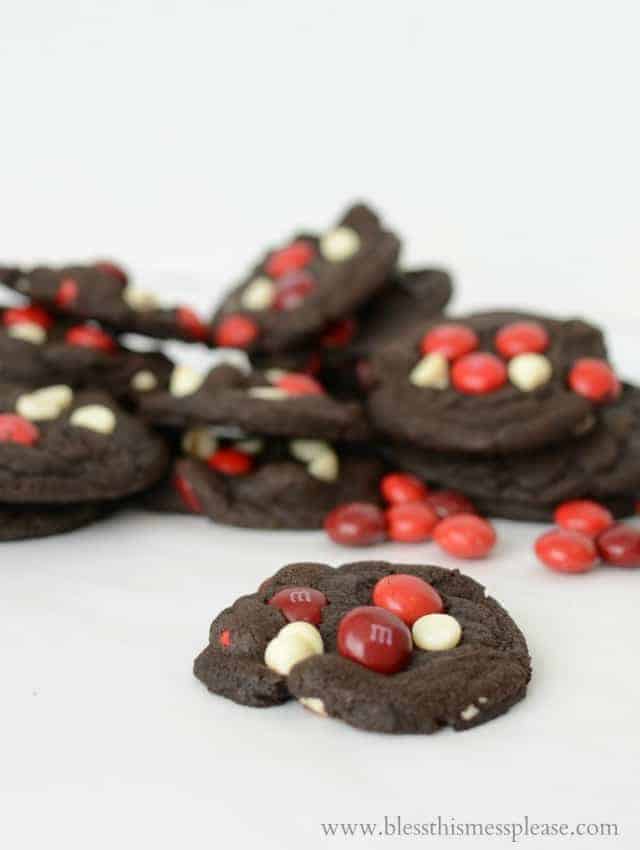 Print
Double Chocolate Cherry Cordial M&M Cookies
---
Yield:

3 dozen cookies
Ingredients
1 cup butter, softened
1 cup granulated sugar
1/2 cup brown sugar
1 teaspoon vanilla extract
2 eggs
2 1/4 cups flour
2/3 cups cocoa
1 teaspoon baking soda
1/4 teaspoon salt
1 cup white chocolate chips
1 cup Cherry Cordial M&M's
Additional chips and M&M's to make things pretty, optional
---
Instructions
Preheat the oven to 350 degrees and line a baking sheet with parchment paper or a baking mat.
In a large bowl or the bowl of your stand mixer beat together the butter and sugars until light and fluffy, about 3 minutes. Add the vanilla and eggs and beat to combine well. Add the flour, cocoa, soda, and salt and stir to combine. Fold in the white chocolate chips and the M&M's.
Scoop on to the sheet in rounded 1 tablespoon scoops. If you'd like a few more M&M's and white chips to be seen, poke them on the top of the cookie dough ball by hand. This isn't necessary but it makes them prettier. Bake for 9 to 11 minutes until the centers are set. Let the cookies cool on the pan for 2 or 3 minutes and then let them finish cooling on a wire rack. Enjoy!
Notes
It's a little hard to tell when these dark cookies are done, so set a timer!
Store left-overs in an air-tight container.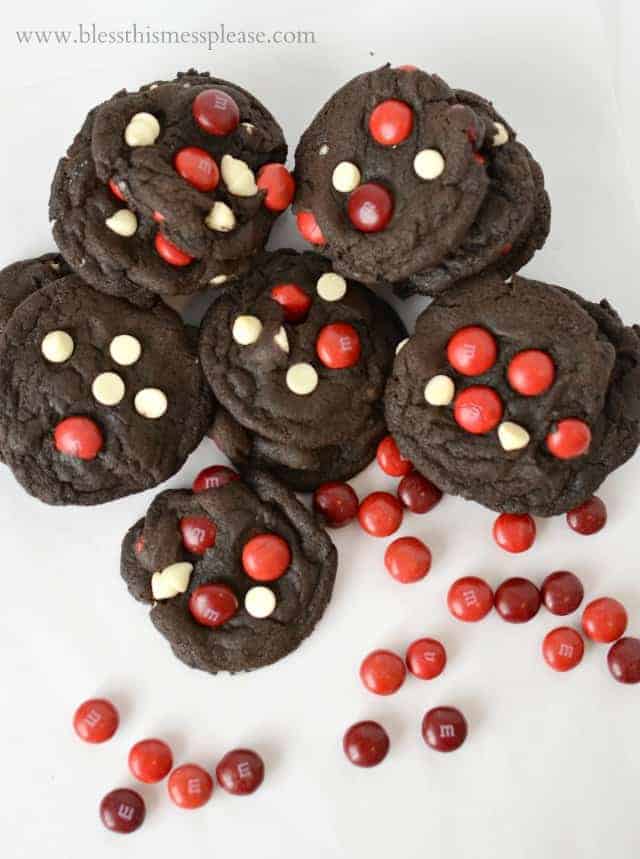 If Cherry Cordial M&M Cookies aren't your thing, no worries. But I promise you'll like one of these:
Red Velvet Cheesecake Bars
Heart Funnel Cakes by One Sweet Appetite
Brownie Cheese Cake Bars
Pretty in Pink Valentine's Popcorn