For New Year's Eve we like to have lots of appetizers for dinner. If you do the same, you have got to try these. My kids ask for these all the time. They love them and love eating them off of the toothpicks. Things just seem to taste better when eaten off a toothpick! I have no idea where the name came from. The man who introduced them to me called them that, and so will I.
I know that these don't sound or look like much, but trust me, they are amazing. The key to this fun recipe is quality pickles. Buying Claussen dill pickles from the refrigerated section at the store makes all the difference - they're amazing. You'll have a hard time buying the ho-hum pickles after you try the refrigerated ones. A good quality deli ham and full fat cream cheese are also must haves.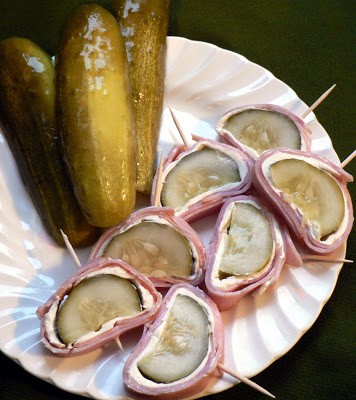 Doobers: Pickle, Ham, and Cream Cheese Appetizer
Claussen dill pickles, refrigerated kind (large whole are best, halves work when you can't find whole pickles)
Cream cheese, room temperature
Deli ham, cut thick
Place the ham on a cutting board and press both sides with a paper towel to remove extra moisture. Spread a layer of cream cheese over the ham. Place a pickle in the middle and roll up. Cut off the end with a sharp knife. Cut into ½ inch slices and poke through with a toothpick to keep everything together. I had better luck with pushing the toothpick into the ham roll and then cutting off the piece, but do what is easiest for you. Serve cold.