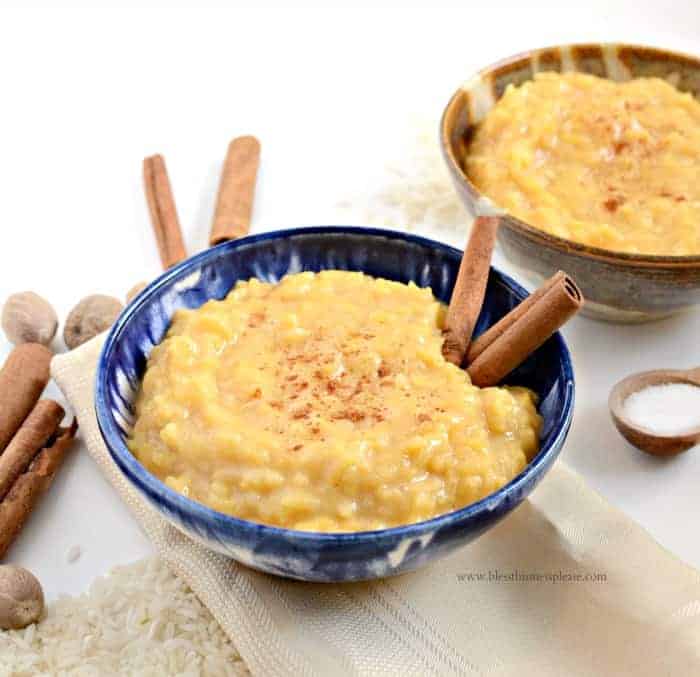 My husband has been begging me to make rice pudding ever since the weather turned cold last month, and I finally made his wish come true. He and I have different dreams when it comes to rice pudding. I like mine warm and thick; he likes his cold and saucy. When it came to tasting this recipe though, we both agreed it was a keeper. 3 Ingredient Pumpkin Spice Rice Pudding (dairy and egg free) is not only easy to make and has minimal ingredients, it's dairy free too. What's not to love?
Let's chat about those three ingredients for a minute.
Today I'm working with Silk on promoting their line of Dairy Free "Nogs". I use Silk in my kitchen daily and always enjoy working with them on the blog; thank you for enjoying right along with me. I use Silk Almondmilk and Cashewmilk often, but their nogs were new to me. I'm a huge eggnog fan and was excited to try these dairy free options. I tried three different products- Silk Soy Nog Original, Silk Almond Nog Pumpkin Spice (new), and Silk Almond Nog Original (new). I know lots of people don't like eggnog, but hear me out on this one. My bestie doesn't drink eggnog because she's freaked out by the idea of raw eggs (commercial eggnog doesn't have raw eggs, she just has a mental image of eggnog and eggs). The Silk brand nogs are not only dairy free, but they are egg free too! Now she has no reason not to try them. This stuff is delicious!
The Silk Soy Nog Original was my favorite to just drink. It has a great flavor, is sweet, and I really really liked it. I normally mix traditional eggnog with milk to dilute it a bit, but the Silk Soy Nog Original was perfect just as it was. Not so rich that you have to dilute it, but still really creamy and full of flavor; my kids had no idea it wasn't normal old eggnog. The almond nogs tasted a lot more like almond milk to me. I liked them but I would be able to tell the difference between them and a traditional eggnog in a taste test. They have a great flavor though, and I loved cooking with them. I made some Almond Nog pancakes using the original Almond Nog in place of the milk in my go-to pancake recipe and it was awesome. The Silk Almond Nog Pumpkin Spice was just perfect for this rice pudding too. It had great flavor, a nice color, and thickened on the stove top with the rice just perfectly.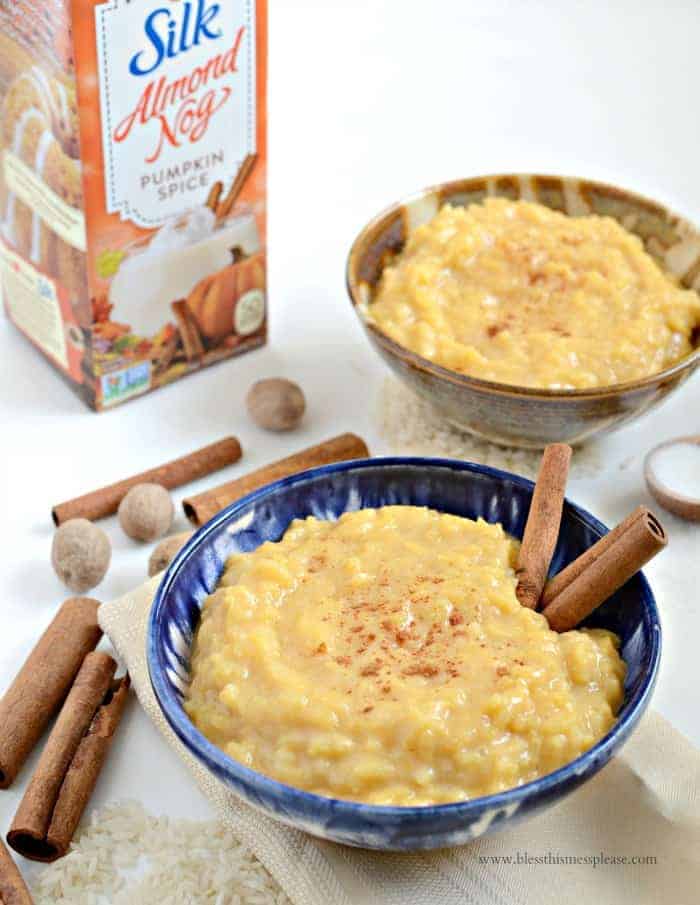 My sister was excited to hear about these nogs over the phone because she recently found out she's diabetic. She's been having a hard time lately feeling like she's missing out on all of her seasonal favorites. The nogs have fewer carbs than traditional eggnogs and if she's mindful, she feels like she can enjoy them in moderation. I'm all about the fewer calories right now too (hello baby weight); 80 calories or less per serving means that you can just enjoy more right?! If eggnog isn't your jam, you might find you really love these. They are just different enough from traditional eggnog that I think you eggnog haters will become Nog lovers. Smooth, spiced, creamy drinks are delicious and feel so fancy and festive this time of year. I'm on team give 'em a try!
When it comes to rice for rice pudding, you can use just about any kind you want (expect for brown, it's hard to get it to cook through). Arborio, sushi, jasmine, and short grain rice work best though. They are traditionally "stickier" rices and cook up nice and creamy.
I added some traditional granulated sugar to make this dish a bit sweeter and more dessert-like. I wanted to play with maple syrup but I didn't make the time. I think that you could cook the rice in the Almond Nog until it was cooked through and then stir in a natural sweetener like honey or maple syrup to taste at the end of the cooking instead of white sugar if you'd like.
Rice pudding takes a little while to cook, about 40 minutes. You need to be available and stir it often (this makes it creamy). I like to make rice pudding at lunch time or while I'm cooking dinner. I can tend to it while getting other things done, and it's fine to sit off of the heat to rest while we eat dinner. It's also a great make-ahead dessert because I feel the flavor and texture only improve with time. Just reheat it slowly on the stove before serving (or eat it cold, that's how my husband likes it). If it's thicker than you'd like, just add a splash of Almond Nog while reheating to thin it out a bit, taste for sweetness, and serve with a dash of ground cinnamon.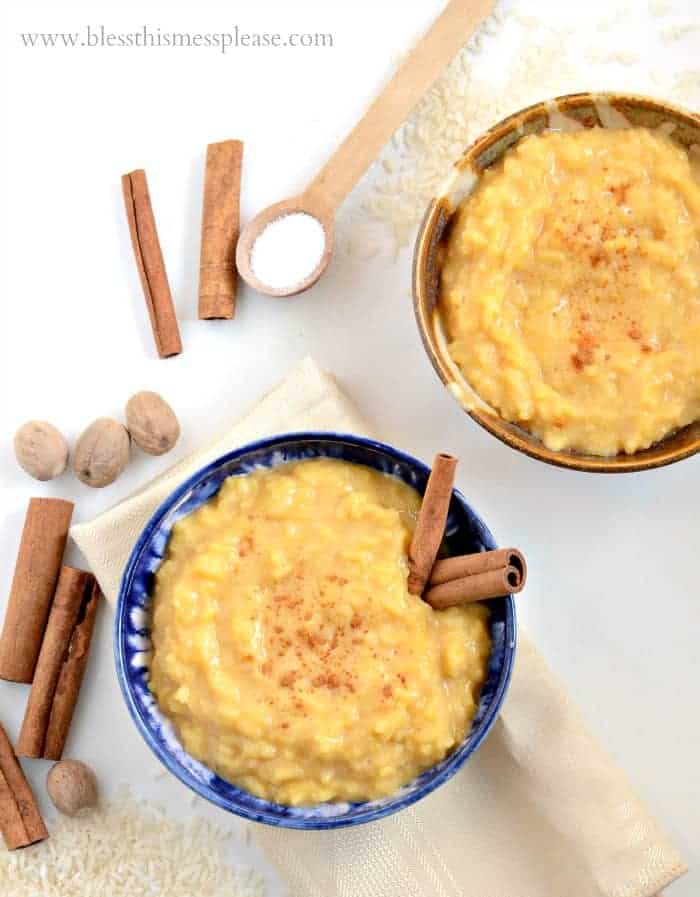 3 Ingredient Pumpkin Spice Rice Pudding (dairy and egg free)
Craving more? Subscribe to Bless this Mess to get new recipes, meal plans, and a newsletter delivered straight to your inbox! If you try this recipe, let me know what you think! Leave a comment, pin it, and don't forget to tag a picture #blessthismesseat on Instagram. I love to see your kitchen skills in action!
Print
3 Ingredient Pumpkin Pie Spice Rice Pudding
---
1 cup

rice (short grain, sushi, and Arborio work best)

5 cups

Silk Almond Nog Pumpkin Spice

⅓

to

½

cup granulated sugar
---
Instructions
In a large sauce pan add the rice and Silk Almond Nog Pumpkin Spice . Bring to a slow boil over medium heat, stirring often. When the rice starts to simmer, add the lesser amount of sugar, stir to combine, and reduce to medium-low and continue to gently simmer.
Let the mixture cook, uncovered, for 30-45 minutes, stirring often, until the liquid is absorbed and the rice is tender. Do a little taste test and see if you'd like to add a little more sugar or not. If yes, add the sugar and stir to combine.
Remove from the heat, add a lid to the pan, and let the rice rest for 10 minutes before serving. You can serve this with a dash of cinnamon if you like.
Notes
If your liquid evaporates and cooks into the rice faster than the rice cooks, just add a splash (about a ½ cup) more of the Silk Almond Nog Pumpkin Spice and continue cooking.
Stirring often not only keeps the rice from sticking but it aids the thickening and adds creaminess to the texture. Stir lots.
If you like a thinner rice pudding, add another splash of the Silk Pumpkin Pie Spice Almond Nog after the resting period and stir to combine. If you like it nice and thick, it should be just perfect for you.
Pumpkin Spice not your thing? I think that using any of the Silk Nogs would work really well in this recipe.
I think eggnog lovers and haters alike will really enjoy having some Silk Almond or Soy Nog on the table (or at the party) to help celebrate the season. Let me know if you try them! I'd love to hear your thoughts.
This is a sponsored conversation written by me on behalf of Silk . The opinions and text are all mine.