I know it doesn't sound like rocket science, but I'll be the first to admit that I didn't cut apples like this until about a year ago. In my previous life apples were cut from top to bottom through the core into quarters and then you use a knife to carefully cut out the core from each section. Then you chop or slice as needed. Who's with me on this?! This was the normal way for me to cut up apples for eating or cooking.
Well people, I'm here to tell you there is a better way. A much, much, MUCH better way. So I watched Master Chef and I actually learned how to cut an apple from that show! Gordon Ramsey did a little demo and then the contestants had to cut apples "the right way" until they were told they had made it through to the next round. Some contestants cut for HOURS. It was so crazy to watch, but after that I started cutting apples like they taught on the show. I know that this is trivial but it really saves so much time and effort; it is a skill you want to know. Just think of how many apples you have cut in your life and how many more you will cut. You might as well be doing it right!
How to cut an apple... the RIGHT way. (Because if it is how Gordon does it, it is the right way!)
Step 1: Slice a little portion off the bottom of the apple so that the apple sits flat (the apples don't have to be peeled obviously... this one just is because I was using it in an apple cake recipe).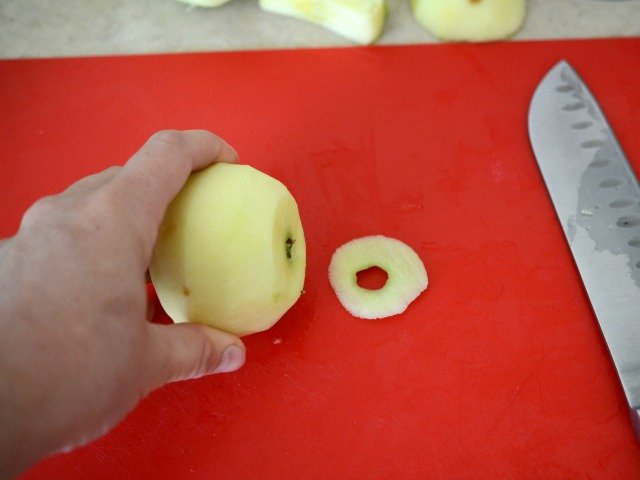 Step 2: Slice one side off the apple, staying about ¼ of an inch away from the center (so that you miss the core).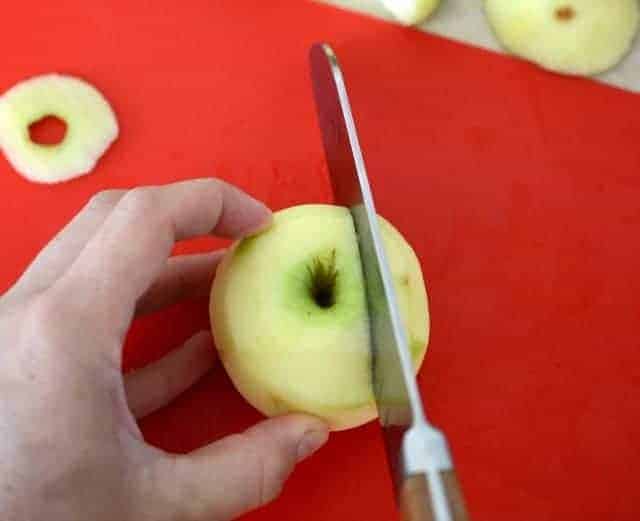 Step 3: Put the side you just cut down and again slice one side off the apple, staying about ¼ of an inch away from the center.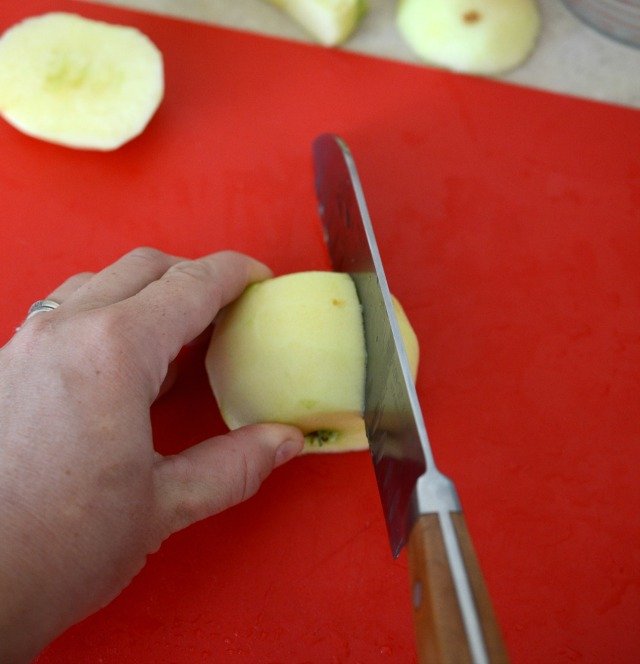 Step 4: Rotate the apple again so that the side you just cut is down and again slice one side off the apple, staying about ¼ of an inch away from the center. Repeat this step until you've cut all 4 sides of the apple away from the core.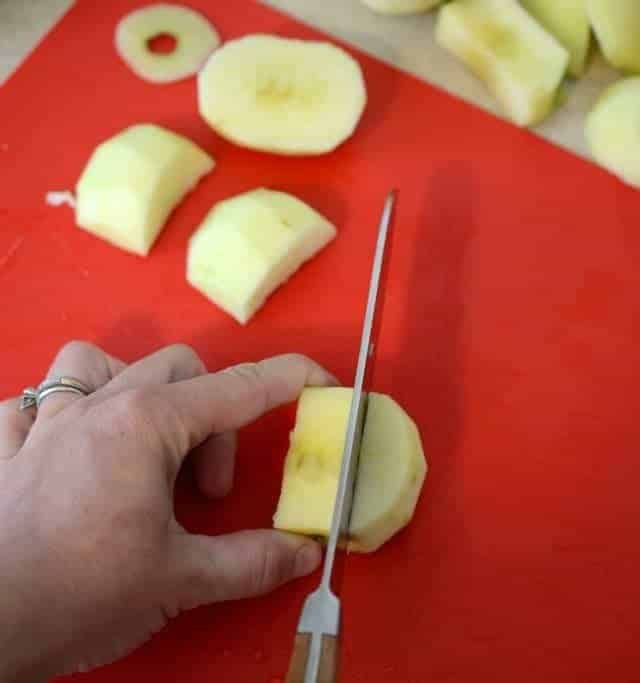 See! Now all you have is a square core and little bottom (the first cut) as scrap (or chicken food) and some apple pieces to work with.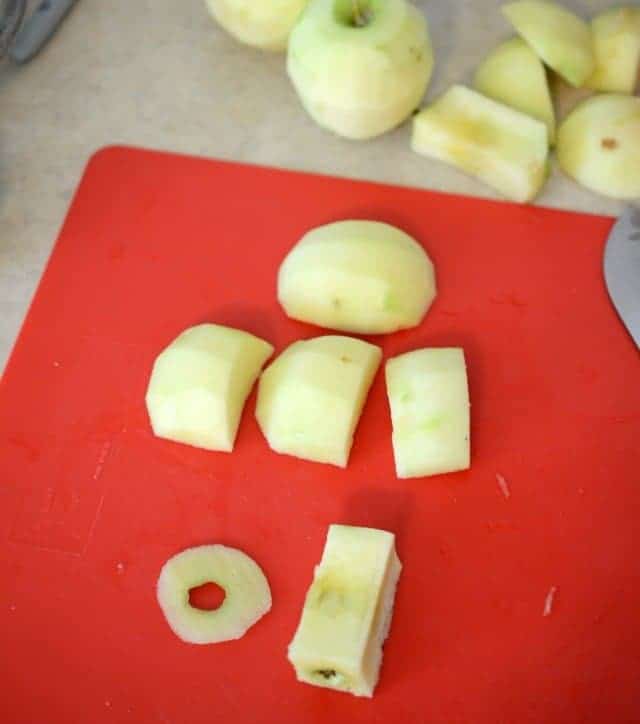 Step 4: Slice or chop the apples while they are flat side down and you are done! SO much easier (and I think safer) than trying to ninja your knife into the perfect curve to cut the core out of the apple quarter.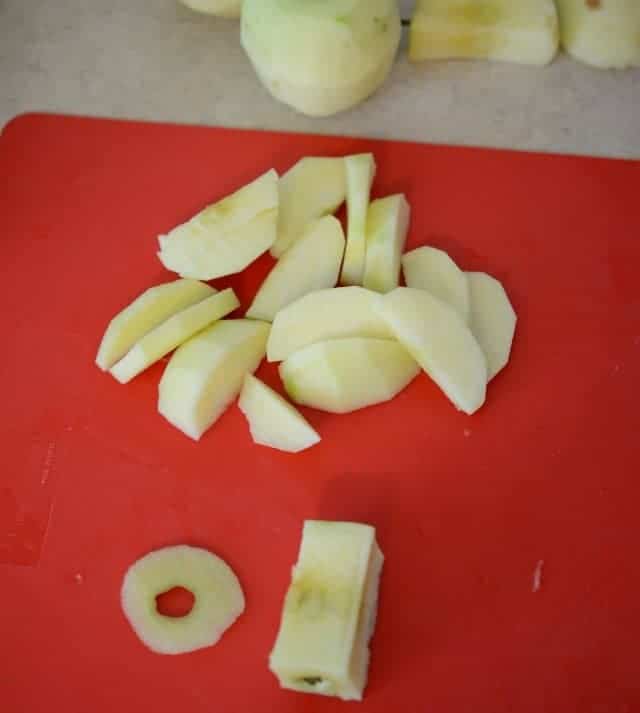 And just because I like to make pinterest happy, here's a big old picture, please use accordingly 😉



Do you already cut like this? If not, have I convinced you to try it?! Just be warned, that like anything else in life, trying this for the first time might feel a bit out of place or awkward. Do not lose faith! The more you cut your apples like this the more you will love it. I promise.
Fast, easy, and safe. What's not to love?
Now here are 10 amazing apple recipe for you to use your easily cut apples in.
Or just go for this caramel dip. It takes about 10 minutes to throw together and it's heaven. Heaven I tell you!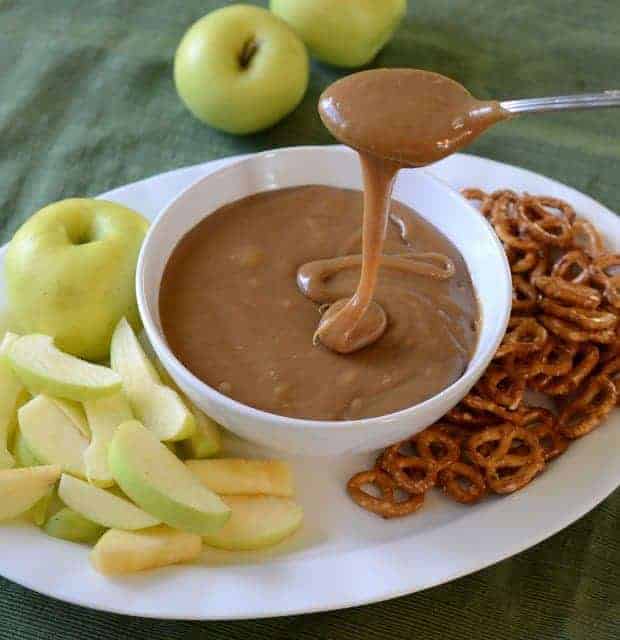 Happy cutting and thank for reading!