Here's a random story for you:
Once upon a time I had a friend help me buy a used camera on the internet (about 7 years ago). This spring, when I was in search of a new-to-me DSLR camera, I contacted this same friend. That friend talked to a friend of hers, Nanette, who was selling her Nikon to upgrade and so the original friend put Nanette and I in contact with each other. I had no idea that this connection, to buy a camera, would result in such fun in my life. I did buy Nanette's Nikon, but I had no idea that it would come with "tech support." Nanette is a camera wiz and an excellent teacher. I have spent hours on the phone chatting with her and I even got to meet her at her house where we stayed up until 3:30am talking! Not only is Nanette wonderful, but so is her sister Kate. I now have new friends, a new camera, and something else - party pictures! These women throw amazing parties and they have allowed me to share their hard work and talent here with you.
Did you follow me through that mess of a story?
This party was planned and done by my friend Kate, who was kind enough to let me use her pictures. I fell in love with the party as soon as I saw it and thought you'd like a little inspiration too.
Welcome to the Circus!
Elephant balancing a ball... cake! So fun and really set the stage for the party, made by Kate's sister-in-law.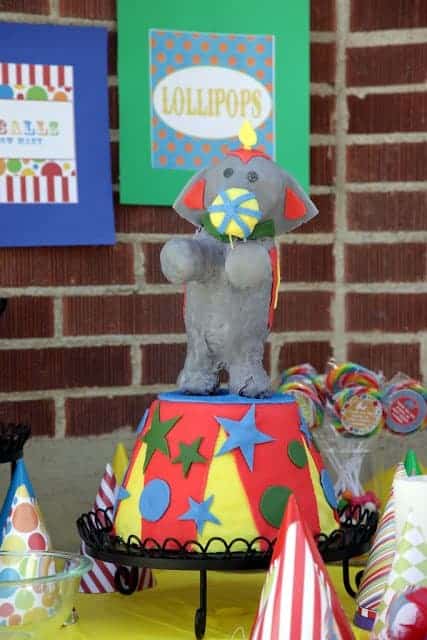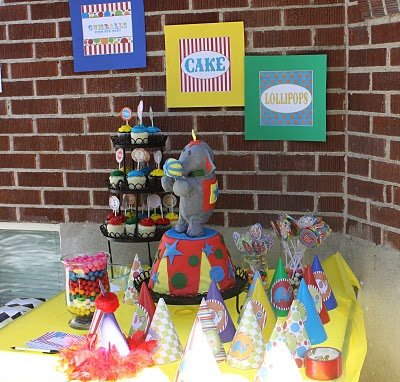 Decorations:
One of the things that I love about this party is how everything plays on the theme perfectly. The font and patterns for her signs and decorations were spot-on circus. Kate used a projector to blow up circus pictures and then copy them onto poster board which she colored.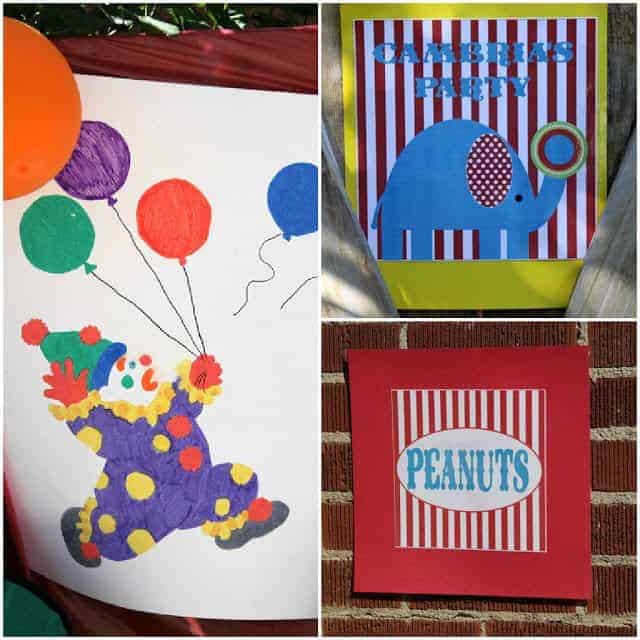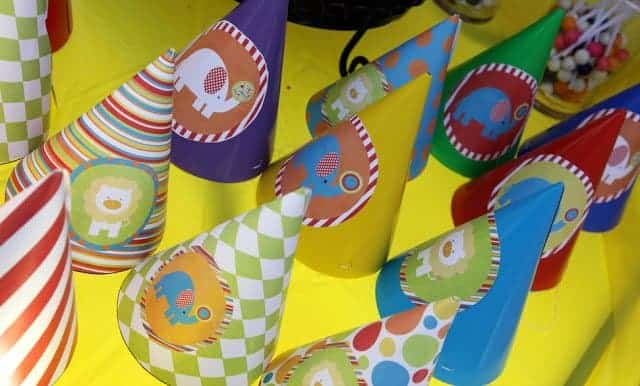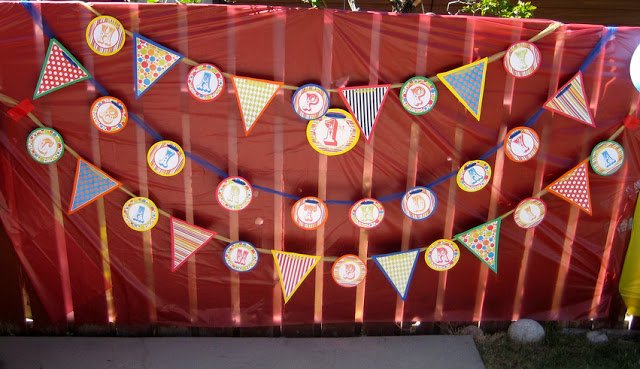 Things To Do:
Photo booth with props (hand painted!)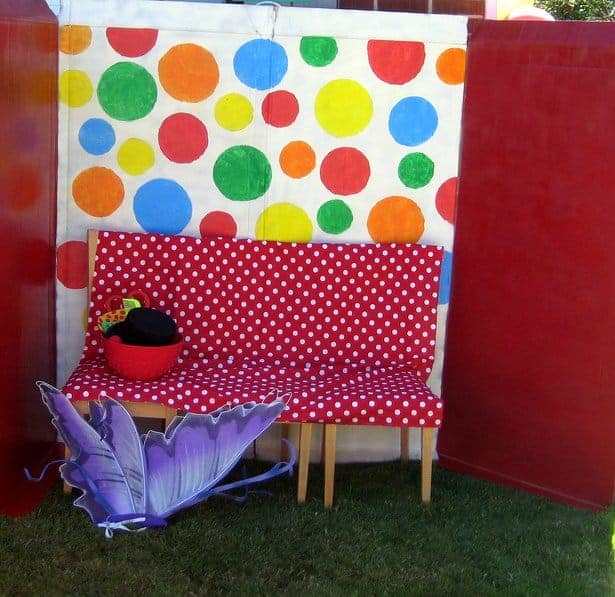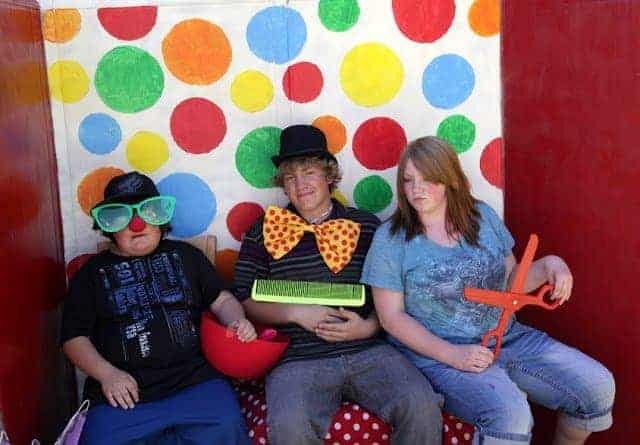 Uncle turned clown: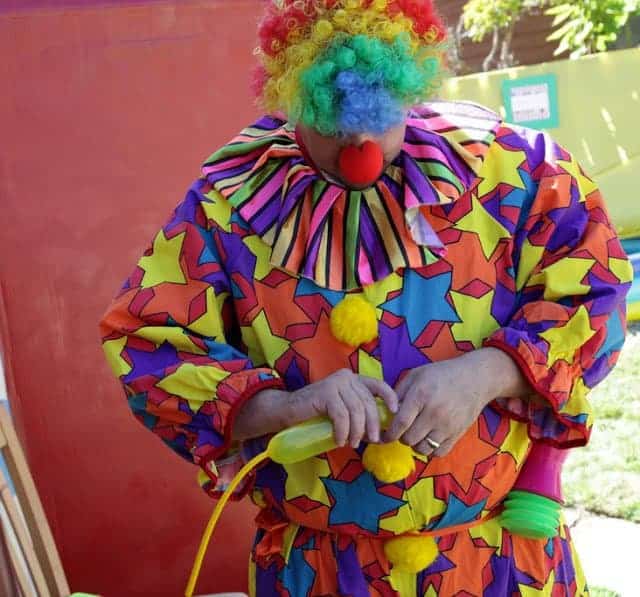 Face painting (with giant mirror to look into) and balloon everything (pretty handy uncle!):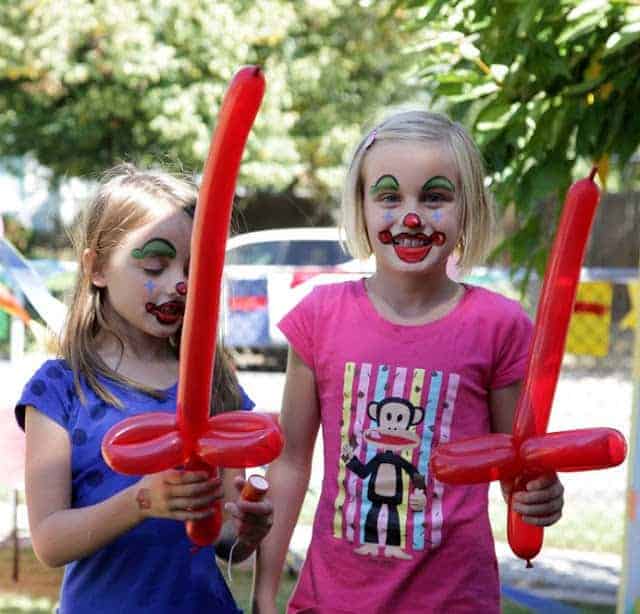 Guess how many: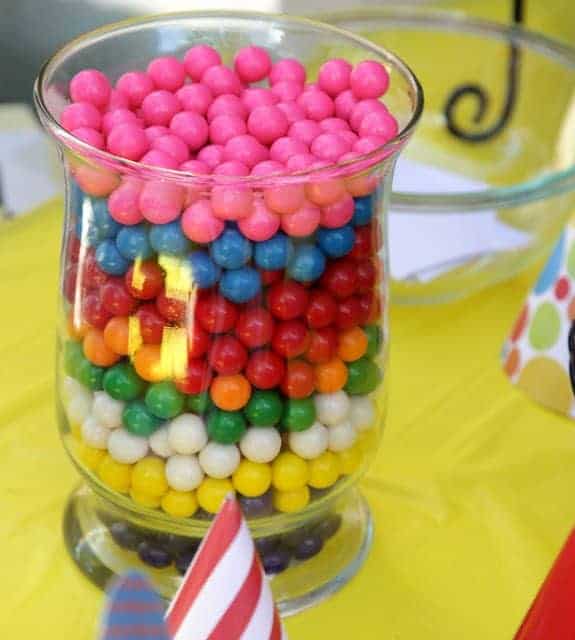 Kate truly brought the circus to her backyard with all of the games she hand-crafted!
Balloon darts, bounce house, box of curiosities (had creepy things in colored jars) look if you dare!, pin the tail on the monkey: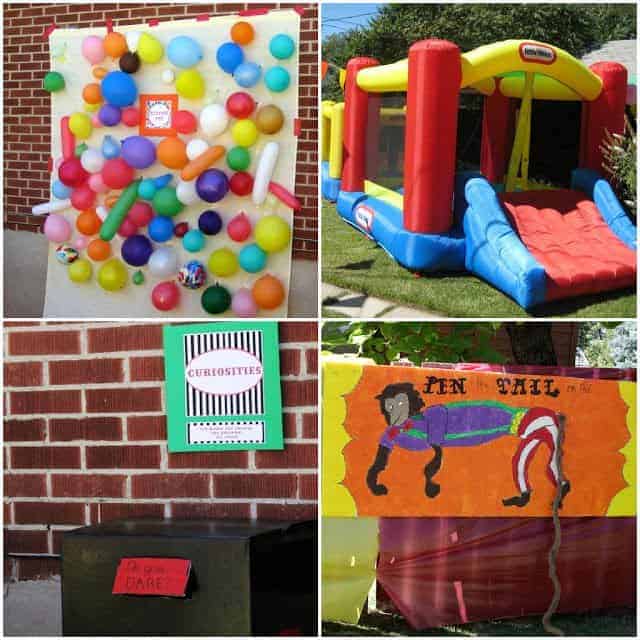 Ball Toss: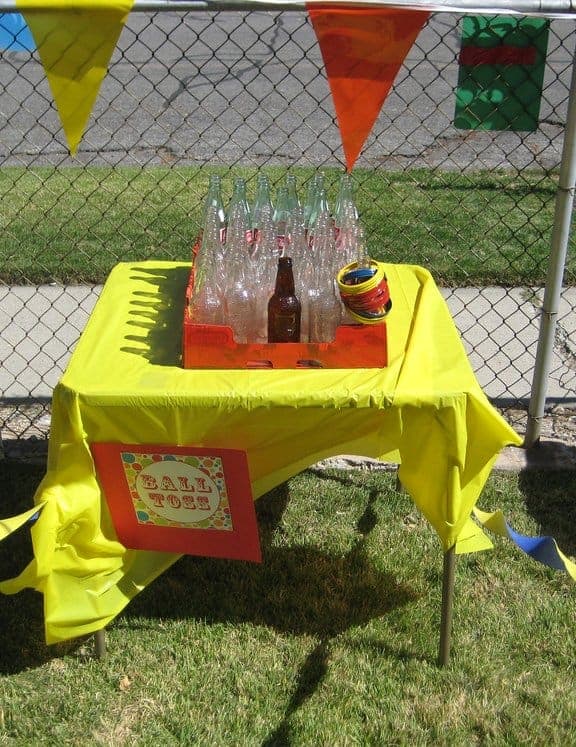 World's Strongest Man (Styrofoam on PVC pipe):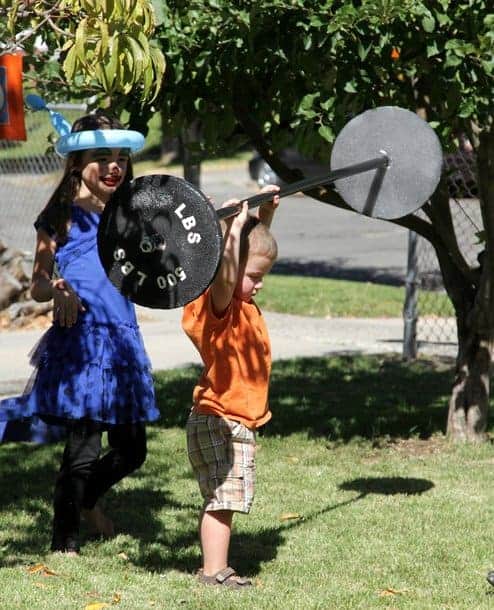 Prize Dive (shredded paper in a pool with Dollar Store prizes):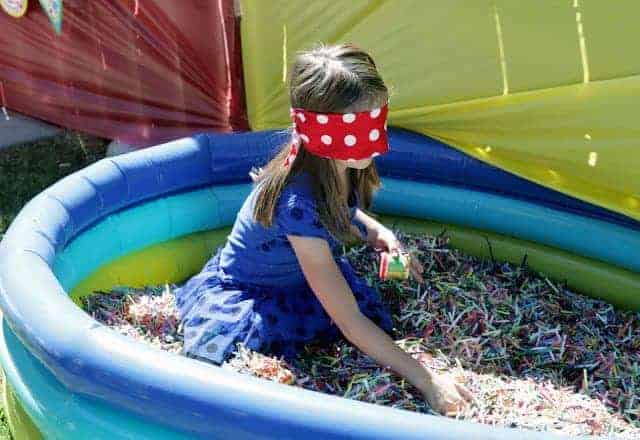 Food:
And, if you thought that was all she had to offer, no no, there's food! Kate went all out with the food. She had corn dogs, nachos, popcorn, Cracker Jacks, peanuts, cotton candy, and just about any other delicious treat that you can think of.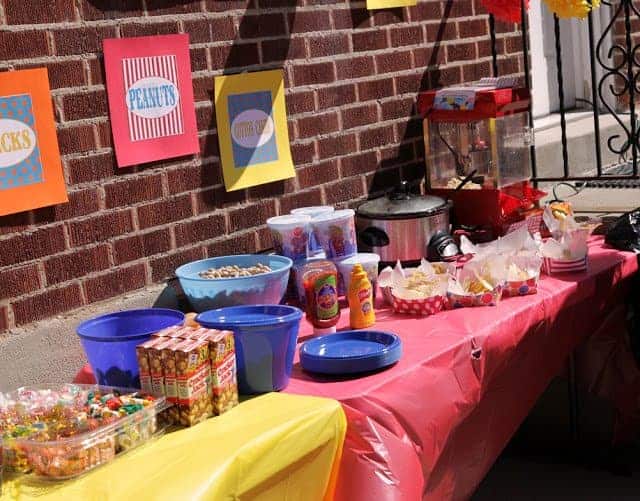 Bright cupcakes with adorable toppers that matched the party hats: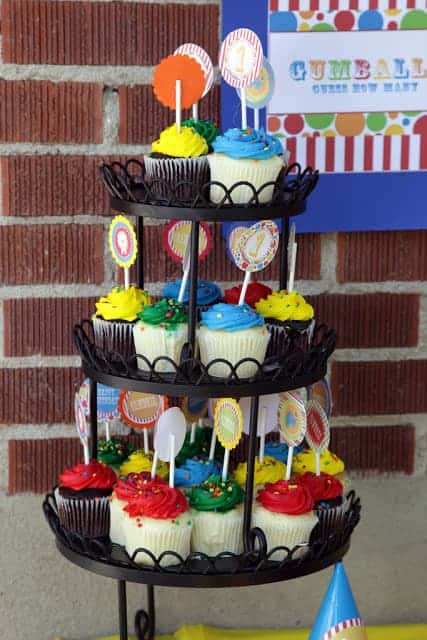 And of course, we can't forget the Birthday Girl! Kate designed her shirt in Photoshop and then printed it out on iron-on fabric. A cute tu-tu and a feathery birthday hat in just the right colors completed the outfit (of course the little lady didn't want to wear the hand-crafted birthday hat!)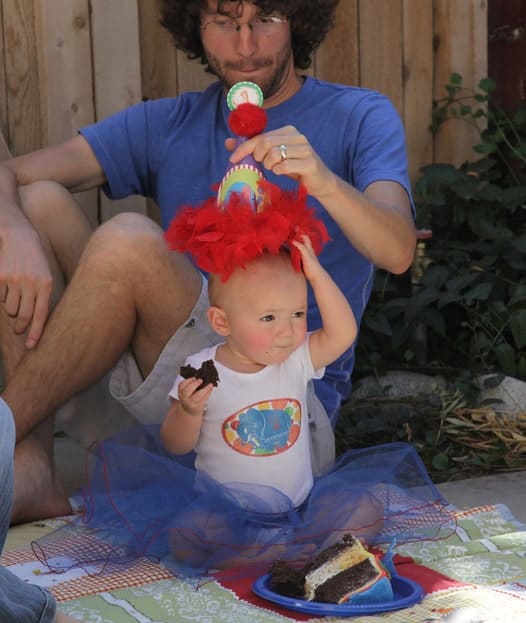 Amazing, right? I had hundreds of photos to choose from and these were just the tip of the iceberg. Serious planning and love went into this first birthday party and the outcome was fabulous.
Don't worry friends, these photos are old and I have this little girl's second birthday party to show you too! Be excited; it is the cutest party ever. My goal is to be invited to this year's shindig to witness it for myself *wink* *wink*. Thanks for all your hard work and for letting me share it, Kate.