I made this journal and several others a few years ago. It was a gift that I gave to friends that year. It is just a simple compositions-style notebook that I decoupaged brown paper and a few fabric embellishments on. Nothing fancy.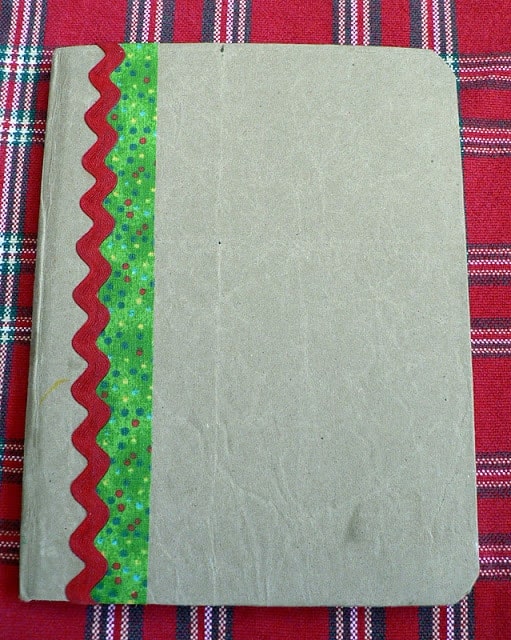 The inside front cover reads:
This book is to be left out on your coffee table throughout the holiday season. Leave a pen close by and encourage friends and family to write a note about the happenings of the day. Write your own Christmas traditions down and who you spent the holidays with. Pack the book back up with your decorations. Repeat the following year. Before you know it, this book will become a tradition - looking back and adding to.
Followed by our names and the year we gave the gift.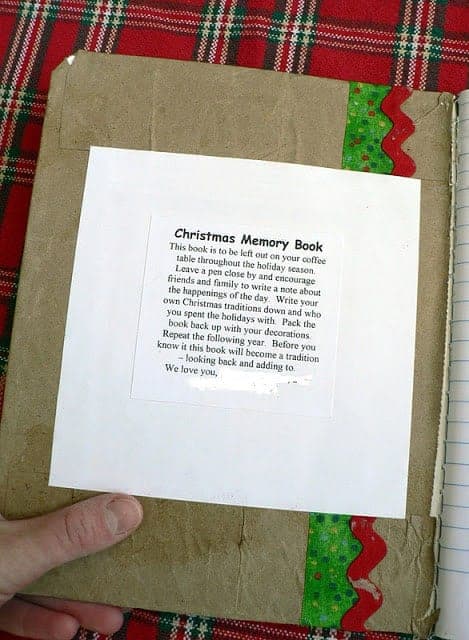 I have been writing in this simple journal at Christmas time for the past few years. I pulled it out earlier this week to take a look and fell in love all over. There is something magical about reading and reliving the past. It was fun to read about where we were, who we were with, and the things that we did. I even write down what we did at our church Christmas party, what I made for my neighbor/friend goodie plates and who I gave them to, and what our Christmas tree looked like. I am a dedicated journal keeper, but sometimes the small details can get over looked in my journal. It is wonderful to have a record of the details that only come once a year.
I even let my kids write and draw in it, making sure to write who and when next to their doodles.
Make a Christmas Journal this year. Decorate it however you'd like. You won't regret taking the time to make something meaningful that will last.