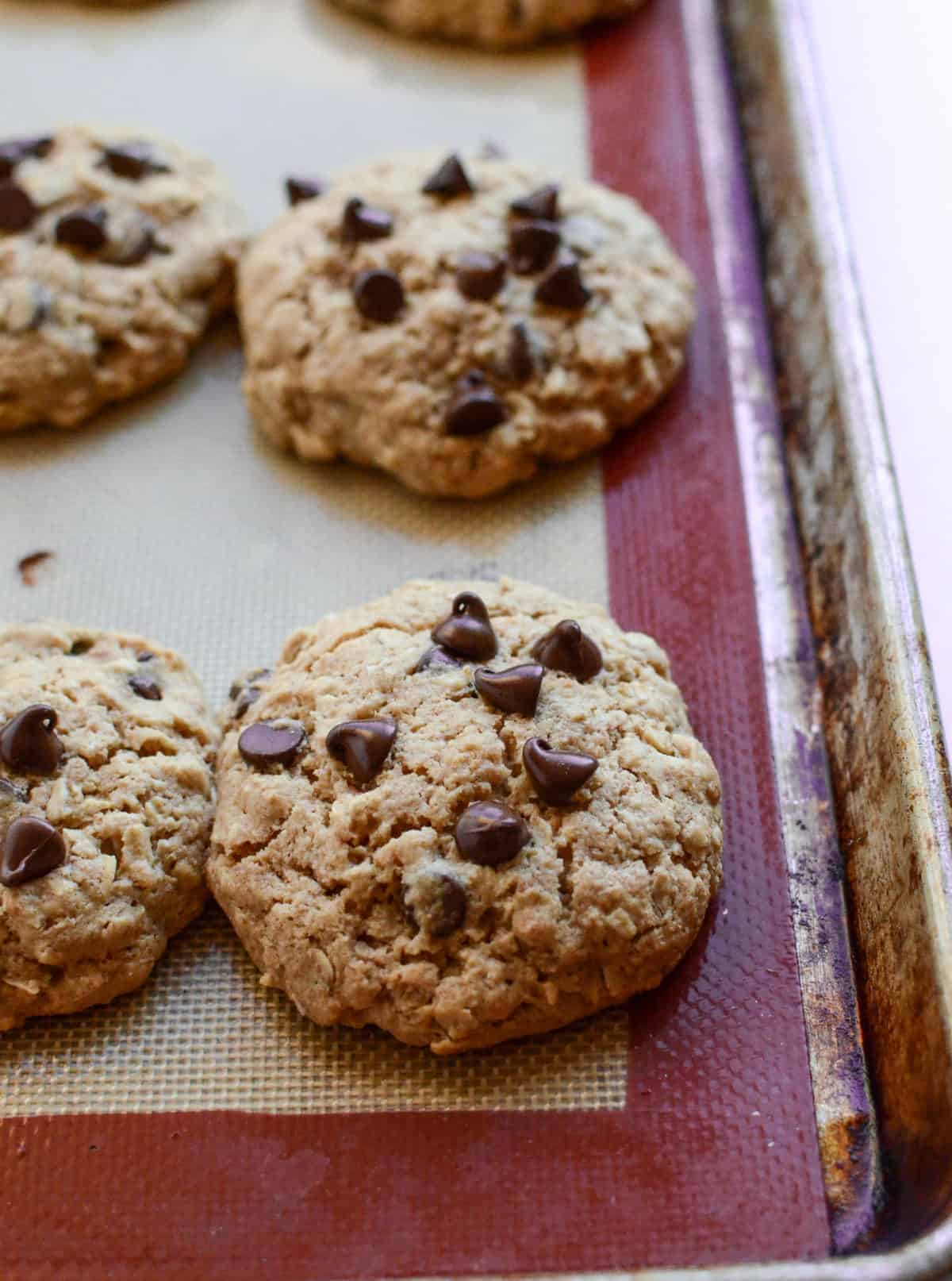 Welcome to real food dessert week! I've been working on all kinds of recipes of your favorite treats that feature whole grain flour (whole wheat and/or oats) and natural sweeteners (honey or real maple syrup). First up is this recipe for delicious chocolate chip cookies with honey and whole wheat flour. These cookies are thick, soft, and just sweet enough. They don't taste too strongly of honey and chocolate chips make everything better don't they?!
Now, I am a big believer in balance and my 80/20 approach when it comes to food is alive and well. Normally I enjoy a nice sugary sweet when I have a treat, but that being said, I also wanted to start making some "better for you" treats because I love to bake. I found myself finding plenty of excuses to eat sweets throughout the week and eat sweets we did. I'm trying to rein in our processed sugar consumption a bit and this is a great way for me to do that. My kids had no idea that any of the desserts that I'm going to share with you were "healthy". They enjoyed them like normal.
These cookies aren't low in calories, they still have some sugar (I used a high quality dark chocolate chips, but they still have sugar), and honey is a sugar even though it's more natural. They do have whole grains, more fiber, I replaced butter with coconut oil, and when it comes to the ingredients in them I know what they are, how they are made, and have a good idea of where they came from. You can't say that about every treat that makes it in to your kids hands (I'm looking at you Otter pops and fruit snacks). These are still a treat and you should approach them as such, but also applaud yourself a little for going with a healthier version of a traditional classic.
The more I have been making and eating treats and desserts made with more natural/whole food ingredients, the less I have been craving junk. I enjoy one or two, I get rid of my sugar craving, I enjoy the baking process, and I move on with my day. I can literally eat a dozen of my favorite traditional chocolate chip cookies without much thought. They are delicious but I never get tired of them. These are great, really great, but I find myself more satisfied with them and so I eat less of them. It could totally be a mental thing with me, and I'd love to hear if you have a similar experience.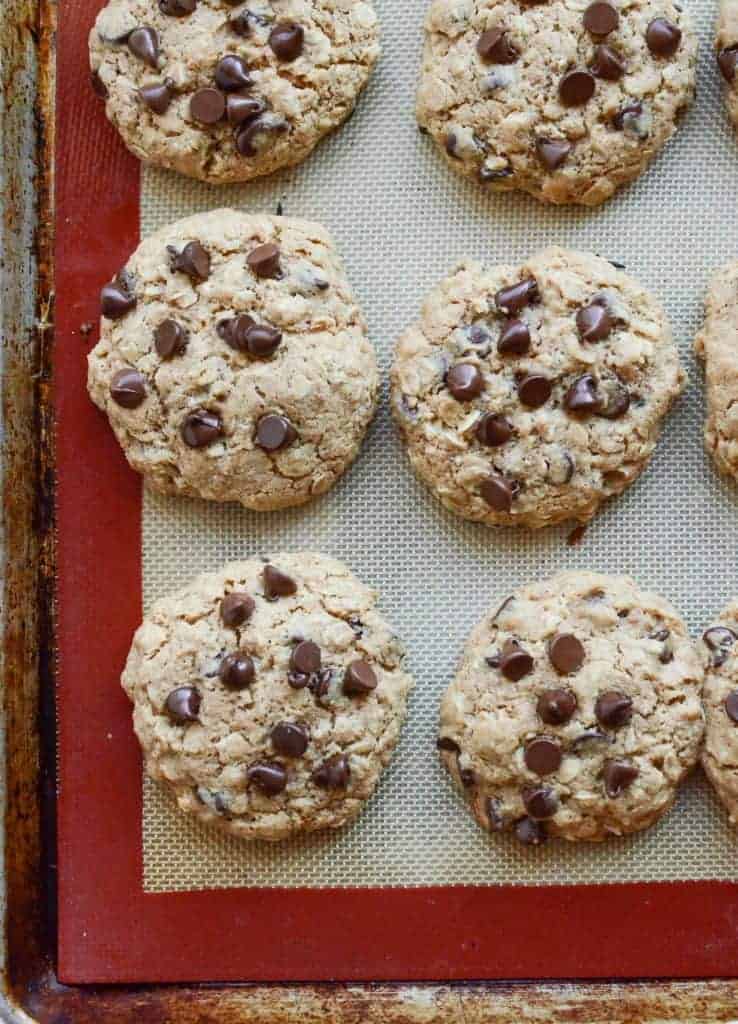 Chocolate Chip Cookies (made with honey and whole wheat flour)
Print
Oatmeal Chocolate Chip Cookies (made with honey and whole wheat flour)
---
Author:

Prep Time:

15 mins

Cook Time:

12 mins

Total Time:

27 minutes

Yield:

9 cookies
Ingredients
1 cup old fashioned oats
1 cup whole wheat flour
1 ½ teaspoon baking powder
½ teaspoon salt
1 tablespoon cornstarch
½ cup honey
¼ cup peanut butter
1 egg
4 tablespoons melted coconut oil
1 teaspoon vanilla
½ cup chocolate chips (plus more for placing on top)
---
Instructions
Preheat the oven to 325 degrees and line a baking sheet with parchment paper or a baking mat.
In a medium bowl add the oats, whole wheat flour, salt, and cornstarch. Stir to combine. Add the honey, peanut butter, egg, coconut oil, and vanilla. Stir until well combined. Add the chocolate chips and stir to combine.
Make a ball with 2 large tablespoons of dough in your hands then lightly flatten the dough and place it on the baking sheet. Repeat with remaining dough. Bake cookies for 12 to 14 minutes until the cookies are light brown and not soft in the center. Let cool on the baking sheet for 5 minutes before removing to finish cooling on a wire rack.
Notes: This recipe makes 9 large cookies or 12 average-sized cookies. If you make 12 cookies, bake 10-12 minutes.
Notes
You don't taste the peanut butter much, it's helps to make the cookies not taste too "honey-y". You can use other nut butters in place of peanut butter in this recipe.
If the dough is really sticky right after you stir it all together, let it rest for 5 minutes. The whole wheat flour will absorb some of the extra moisture.
For this recipe, I recommend:
[asa_collection btmp]cookies[/asa_collection]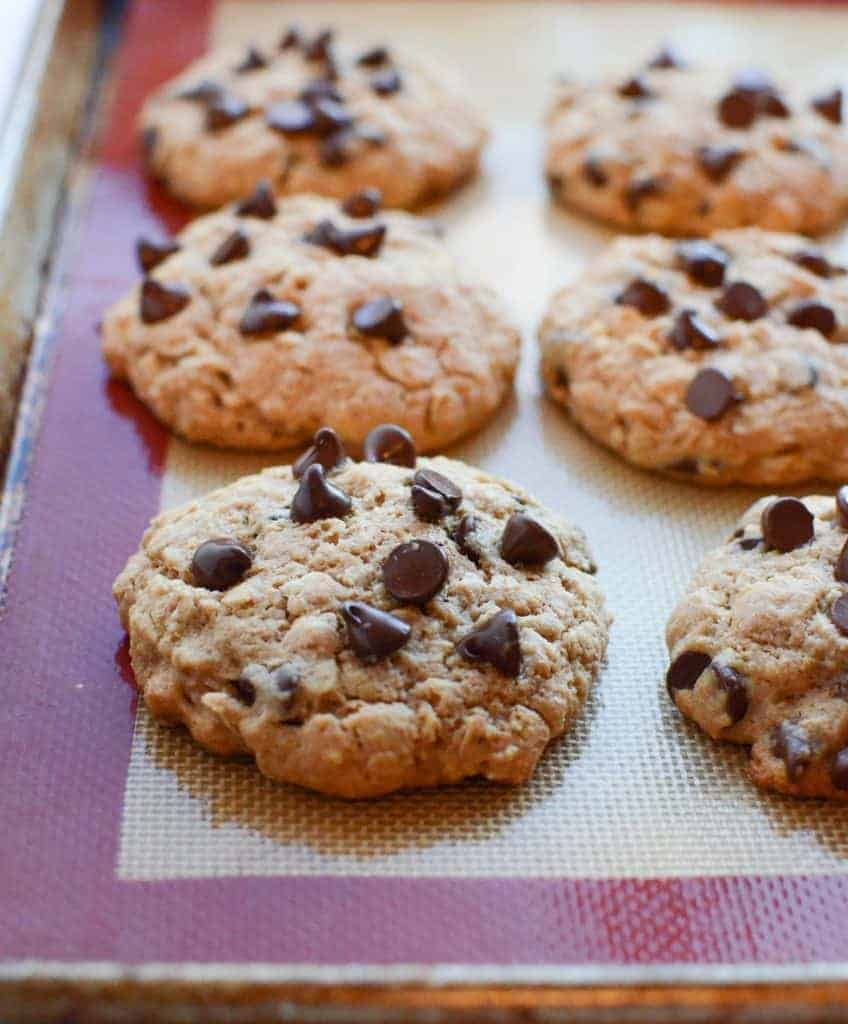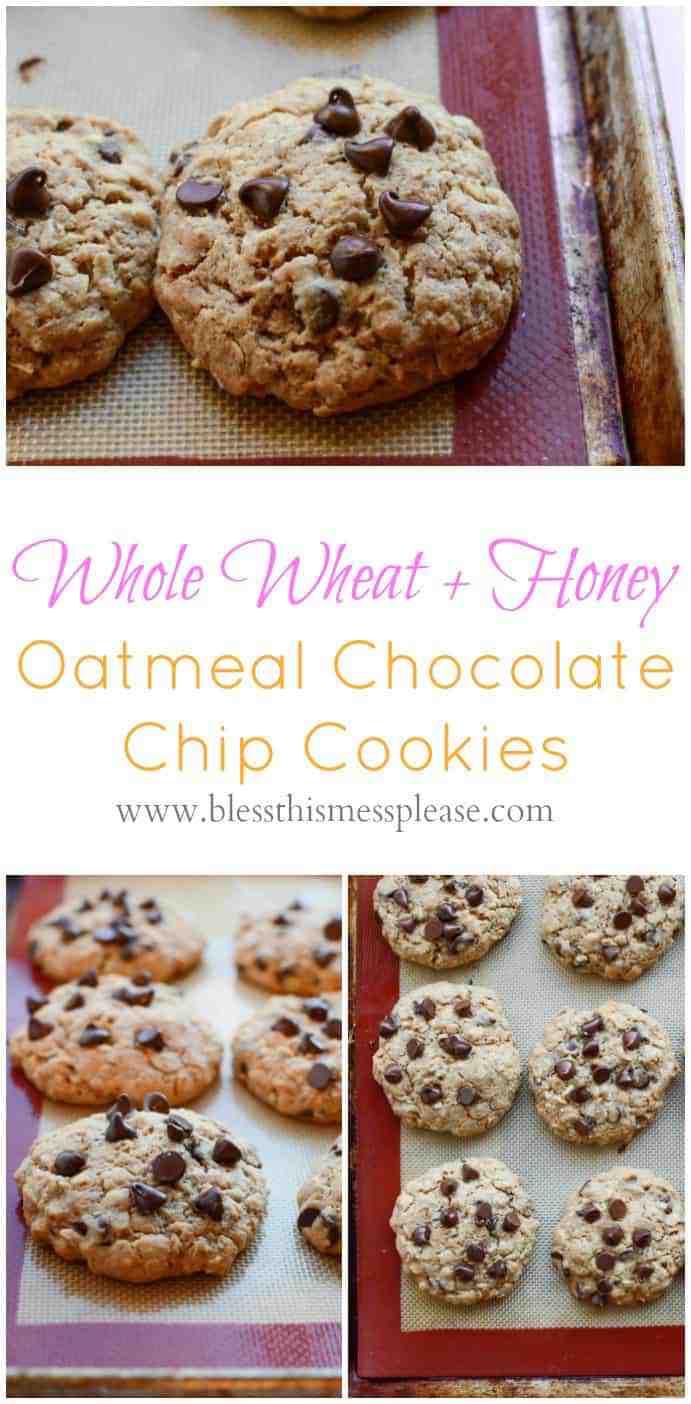 You are going to love these chocolate chip cookies with honey and whole wheat flour and you'll feel so good feeding this treat to your family. It's the little things! I'd love to know if you make any healthier sweets! If so, what are you making? I'd love more tried and true recipes for treats using wholesome ingredients.
Enjoy! Thank you so much for being here.