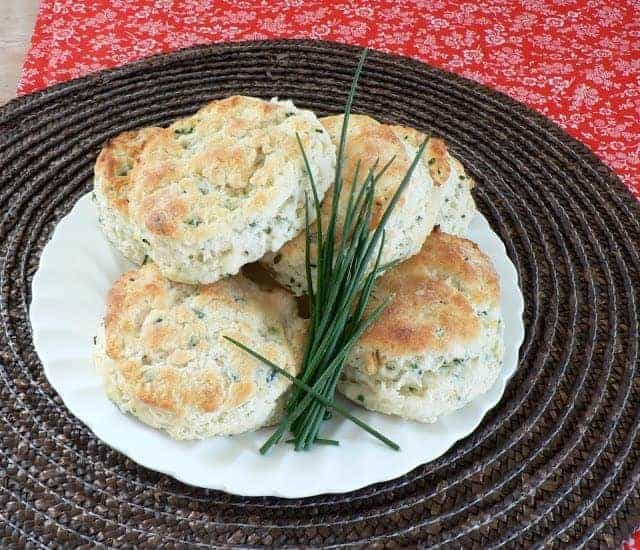 I stayed up late trying to figure out a furniture arraignment for the living room, pulling things out of the barn, washing my couch cover. I didn't cry when the kitchen was done, but I did shed a tear last night. The house now feels normal, comfortable, and homey. I can't wait to get it settled so you all can see it. I'm up for visitors now! Whose coming to see me?
I'll make you these.
These are some of my very favorite biscuits to eat. I wait all winter for my chives to pop out of the ground so that I can whip up a batch of these. The chives, when baked, create a mild onion flavor that is divine and the little flecks of green are gorgeous. They are a wonderful side to just about any meal. Seriously, sneak some chives from your neighbors lawn if you don't have your own.
Chive Biscuits
Printable Recipe
Inspired by Ina Garten on The Food Network
2 cups flour
4 tsp. baking powder
3 T. sugar
1/2 tsp. salt
1/2 tsp. cream of tartar
1/2 cup butter, frozen
1/4 cup finely chopped fresh chives
3/4 cup whole milk
Preheat oven to 475 degrees. In a medium bowl, whisk together the flour, baking powder, sugar, salt, and cream of tartar. Grate the butter into the bowl on the largest holes of your box grater. Add the chives and stir into flour mixture. Add the milk and stir until just combined – do not over mix. Pat dough on a floured surface until it's 3/4 inch thick. Cut into biscuits using a biscuit cutter, a metal canning ring, or a floured rim of a cup. Place on an ungreased cookie sheet or baking stone. Bake for 8 to 10 minutes until golden brown.
Makes 10 biscuits.