I love cheese almost as much as I love vegetables, so when you can combine the two I am a happy person. I got this recipe from my cousin. I thank her for this; my life has been changed. I'll be honest. I've never had fondue, but I knew I would like it. So I've been counting down the days until making this recipe! It was well worth the wait. You do need a fondue pot though to keep the cheese hot. If you don' t have one, bug your neighbor! That's how I got one to borrow 🙂 This recipe is good enough though, that buying a fondue set, just to try it would be well worth the pennies!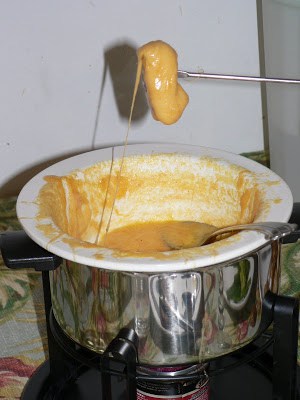 Cheese Fondue
⅓ cup apple juice
⅔ cup chicken broth
2 t. lemon Juice
2 ½ t. onion powder
2 1/1 t. garlic powder
½ to ¾ lbs. swiss cheese
¼ to ½ lbs. cheddar cheese
Mix in a separate bowl:
¼ cup apple juice
1 T. corn starch
2 t. flour
⅔ t. mustard powder
Mix the "mix in a separate bowl" ingredients together in a separate bowl. Combine first 5 ingredients in a medium stock pot. Bring to a simmer over medium heat. When mixture is hot, slowly add cheese while stirring to incorporate. When cheese is melted add the "separate" ingredients to the cheese mixture. Stir to combine. Transfer to a warm fondue pot.
I served tender crisp steamed asparagus, broccoli, fresh baguettes, and roasted potatoes with the fondue.
Here are some tips on the fondue from my cousin the fondue guru:
Ok, here's the deal with the cheese. Start with the lesser amount of each. Every time we make this it acts a little different. Sometimes it looks like we have a big mass of gooey cheese in the bottom of the pan surrounded by the juice that it just won't combine with. Don't give up. Try turning the heat up a little and things should smooth out. The lemon juice also helps to keep the cheese from clumping, so you could add more of that too if you need. If things are smooth but still too juicy, add more cheese until it looks right. Our first batch was too juicy and it still tasted way good. After a couple of times, you start to get the hang of it and it comes easier. Another important bit about cheese: the harder the better. Soft cheese melts into strings. Think 3 foot mozzarella bridge from your pizza to your face. Strings are not what you want in your fondue. Hard cheese melts smoothly and provides for a much more pleasant fondue experience. Go for sharp or medium cheddar over mild. Other cheeses work well too; gruyere cheese is super yummy. Try other cheeses too, just be sure to squeeze your cheese (triple word score for saying 'squeeze your cheese') to make sure it's hard.