Did you know that you can bake a soup? This Baked Potato Corn Chowder is easy, versatile, and comes with a heavy dose of vegetables.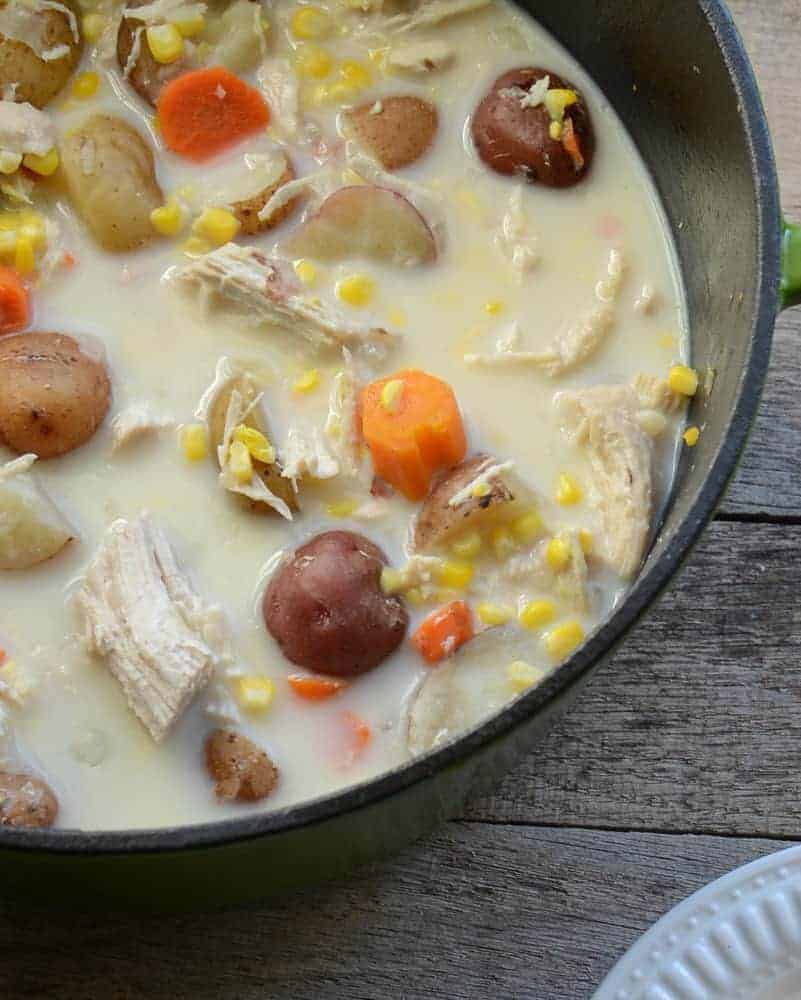 Did you know that you can bake a soup? I know it's kind of uncommon, but baking a soup in the oven is a little quicker than a slow cooker but slower than the stovetop. It's a nice middle when you have forgotten to get your slow cooker rolling at lunch time, the kid are almost home from school, and your evening is looking busy. That being said, this recipe translates well to the stovetop or the slow cooker. This is my go-to potato corn chowder recipe and I make it often! I'll tell you all my tips and tricks in the notes of the recipe.
I love this recipe because I generally have everything on hand, it's warm and comforting, and it's pretty healthy, thanks to a heavy hand of vegetables. I add a little cream at the end of cooking to make it extra delicious. I like to serve this soup with a side of cornbread or corn muffins and some fruit. It's kind of a meal in a bowl, which I love. Thomas often adds more sour cream to his bowl and I like to add hot sauce to mine. The kids eat it up just like this.
I love to bake this soup in my cast iron Dutch oven. Cast iron is great to use in the oven because it distributes heat well and the lids generally fit firmly (because they are heavy), trapping moisture and heat inside. I like to use cast iron Dutch ovens with lids to make a quicker version of my favorite slow-cooker recipes (like these chicken legs). They are great fix-it-and-forget-it meals for busy weeknights when you didn't remember to turn the slow cooker on.