You need something delicious to fill your favorite pie crust – so I've pulled together my 8 favorite pie recipes for you, all in one place!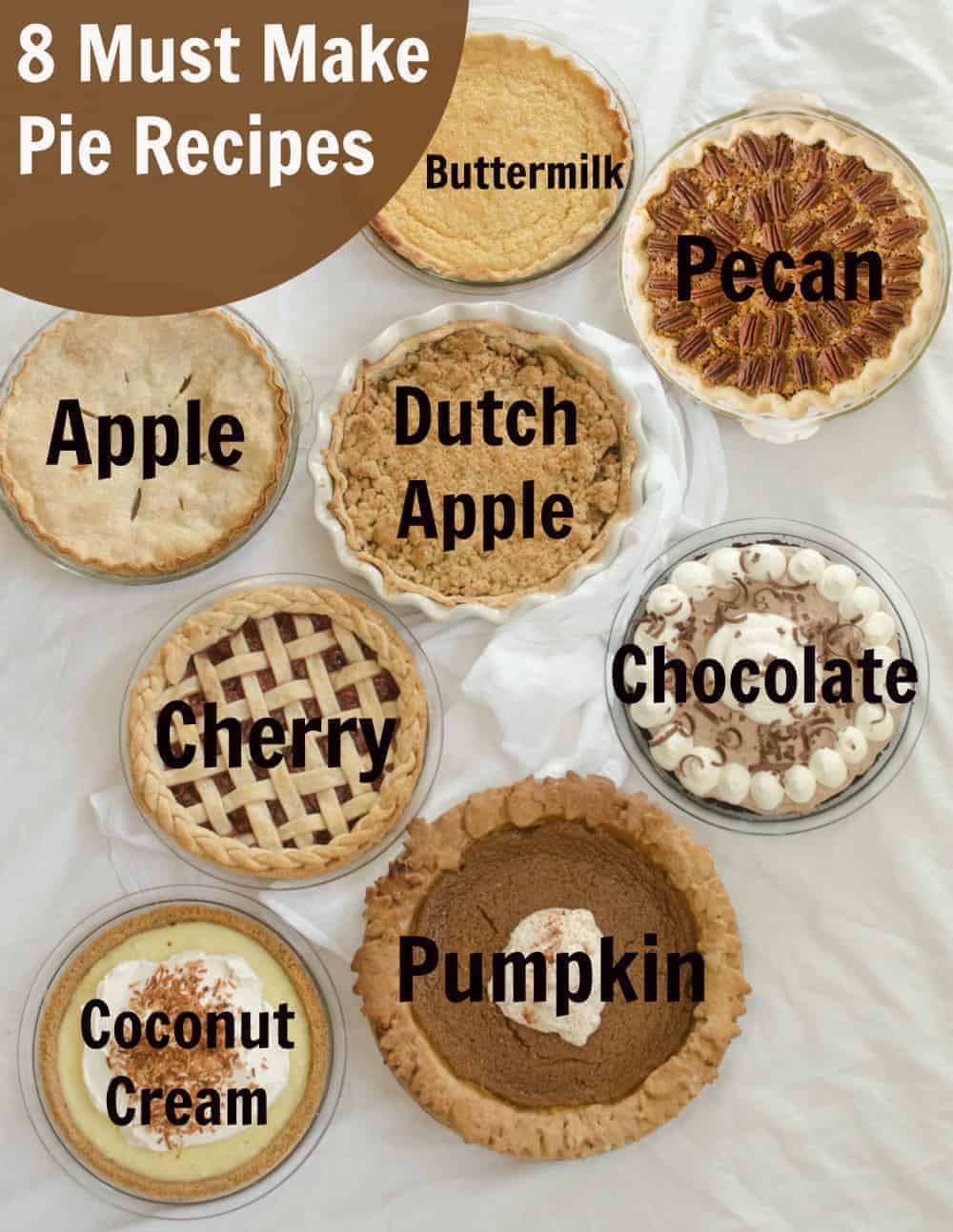 After writing a huge post all about pie crust, I wanted to share a few classic, simple, perfect-for-every-holiday pie recipes to go with it. You need something delicious to fill your favorite pie crust and this post is just that – all things pie! I decided I'd group 8 different traditional pie recipes together for you. This way, when you need a pie to try, you can just pop into this post and look around for what looks great. You are going to love how simple and delicious each recipe is. I have lots of variety, including two simple cream pies, and I know you'll make these over and over again. I can't wait for you to try them all.
There's something magical about pulling a pie made from scratch out of the oven. It seems to take you back to a time when life was simpler and homemade pie was standard fare in American kitchens. Today, amidst the hustle and bustle of everyday life, taking time to make pie is almost therapeutic. It's a slower process than opening a box of brownie mix, but there's so much satisfaction in it. Butter, flour, and sugar are the building blocks of all things good, and making a homemade pie is a pretty great way to use them. Plan to take an afternoon to bake and you just might love how grounding the whole process is for you. And you'll have a beautiful pie to enjoy after dinner or to share with friends – and that's a pretty great reward, too.
If this post about pie recipes is helpful to you, you think someone else might like it, or you want to save it for later, by all means, share it on your social media platforms. Pin it, Facebook it, throw a picture up on Instagram and tag me (#blessthismesseats). All of those things are incredibly helpful to me, and the more sharing that happens, the more I'm able to turn this hobby into a job that helps my family (and my house building project). There is so much power in your sharing – you literally have no idea how important that is for me.
Now, let's bake!