Life gets busy, but that doesn't mean that daily salads are out of your grasp – prep a salad in a jar in advance, and you'll eat well all week long!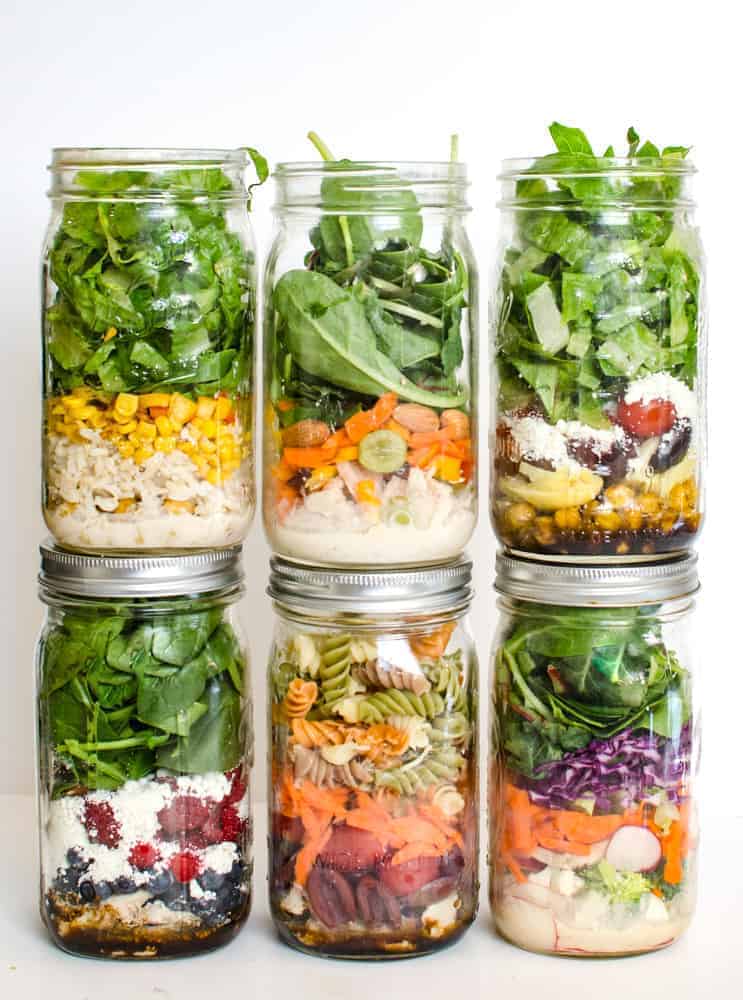 Salad in a jar is one of my favorite things, and I wanted to revisit them for you today. A few years ago, I wrote a big old post about how to make salad in a jar that contained all the basic how tos, tip, tricks, and recipes. Today I want to share some of those ideas again, along with some more recipes to add to our growing collection.
What is the appeal of having a salad in a jar you might ask? Well let me tell you, friends! Not only does it last forever (the lettuce literally stays nice and crisp for well over a week), but the prep work is done and you have healthy eating right at your fingertips. Prepping a bunch of these one day and eating on them all week long is the perfect little help you might need to eat well. Life gets busy, and taking time to eat something beyond the quick and easy can get pushed aside. BUT if all you have to do is unscrew a lid, find a fork, and give a little stir, then there's no reason to not be eating more salad. Plus, the jar is perfectly portable. Throw it in a lunchbox along with a boiled egg and an apple, and you have a delicious healthy lunch to go. Done.
This time instead of just normal green salads in a jar, I also added a tuna salad in a jar and a pasta salad in a jar to go along with all those leafy greens. You are going to love these!
Salad in a Jar Tips and Tricks
Put the salad dressing in first. Add your protein, add your "fixins," and then add your greens. No matter the recipe, placing your ingredients in the jar in this order is best. Keep the moisture of the dressing away from your lettuce and greens for best results.
Salad in a jar can last 3-10 days in the fridge. Three days for any salad in a jar that includes meat (eat those first) and up to 10 days for salads that have firm veggies and no meat. I like to keep things like eggs, cucumbers, and avocado out of my jar. I'll add them when I'm ready to eat if I want them. Those things tend to get old the fastest.
Homemade dressing is king. Don't get in a rut though! Here are 9 of my favorite homemade salad dressings. These recipes only make about a cup too, so you aren't stuck with tons and tons. Now you can try more kinds. I recommend the roasted garlic. It's my favorite!
The size of the jar will determine the servings. I like using wide mouth jars because they are easier to fill, eat from, and clean. Use a pint jar for a lunch/single serving and use a quart jar for large dinner servings or a side salad for a family meal. All of today's recipes are for a quart/large serving. You can see an example of two smaller servings salads in a jar here. If you are new to salad in a jar, try making 2-3 of each size and see how you quickly you go through them.
Now let's get to it!
Craving more? Subscribe to Bless this Mess to get new recipes, meal plans, and a newsletter delivered straight to your inbox! If you try this recipe, let me know what you think! Leave a comment, pin it, and don't forget to tag a picture #blessthismesseat on Instagram. I love to see your kitchen skills in action!