Caramel Apple Cake is something that I've been making for years. It's quick, easy, and is just plain good. I always make it with whole wheat flour too, so when I eat it for breakfast there's not as much guilt! I'm not the only one who eats cake for breakfast right?! It can't be that different than a bowl of sugar cereal 🙂
This cake has the texture of a quick bread (like banana or pumpkin) more than a cake. It's slightly dense, super moist, and those little bits of apple that are baked to tender perfection really make it delicious. And then you add a quick glaze to the cake while it is still warm and all that buttery-goodness starts to soak in. It is delightful and easy too!
One problem with this cake is that it can be hard to tell when it is done. Especially if you use whole wheat flour (which makes the cake darker in color to start with...).
Here are a few tips on how to tell when the cake is done:
1) Smell – when things start to smell good, you are getting close
2) Touch - When you think the cake is getting close to being done, touch it with your finger. If it springs back then it is done, if the indent stays, it needs more time.
3) Toothpick Test- When you insert a wooden tooth pick into the center of the cake, it should come out clean with nothing gummy on it.
That should help you get the perfect cake in the end. But even if you over-bake it just a hair, adding the glaze will save it. You can't really mess this cake up. Plan on making it for an after-school snack and your kids will cheer your name.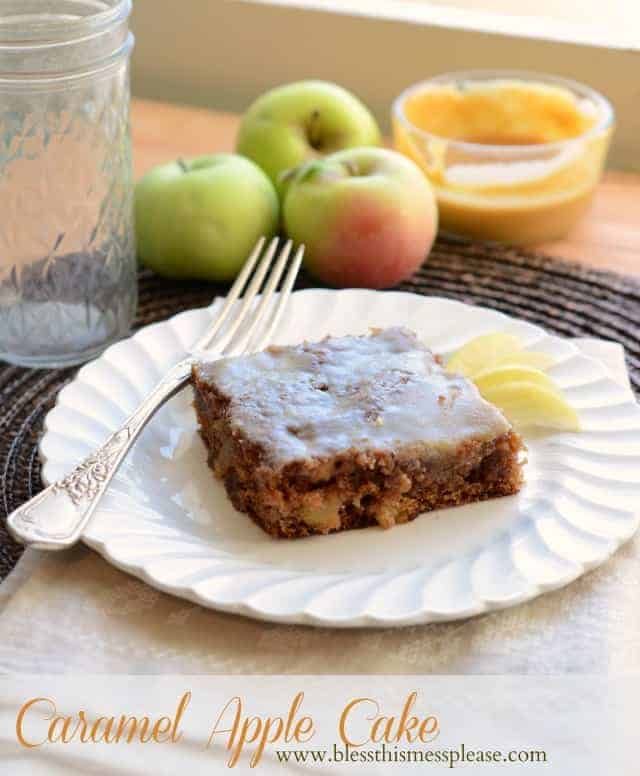 Print
For the Cake:
2

eggs

½ cup

oil

½ cup

unsweetened applesauce

1 ½ cups

sugar

1

t. vanilla

2

t. cinnamon

½

t. salt

1

t. baking soda

2 cups

whole wheat flour

3 cups

apples, peeled, cored, and diced
Glaze
½ cup

butter

½ cup

brown sugar

¼ cup

cream
---
Instructions
Preheat the oven to 350 degrees.
In a medium mixing bowl combine the eggs, oil, and apple sauce. Beat until foamy. Add the sugar and vanilla and stir to combine. Add the dry ingredients and stir just until wet all the way through. Fold in the apples.
Pour the batter into greased 9x13 inch baking dish and bake for 25-35 minutes.
While cake is cooking, make your glaze. In a medium sauce pan combine all 3 ingredients and bring to a boil over medium heat. Boil for 3 minutes. Pour over warm cake.
Enjoy the cake warm or let the glaze absorb into the cake overnight before serving and serve at room temperature. It's glorious both ways.
Notes
You can use white flour if you'd like... but why not go for the whole wheat?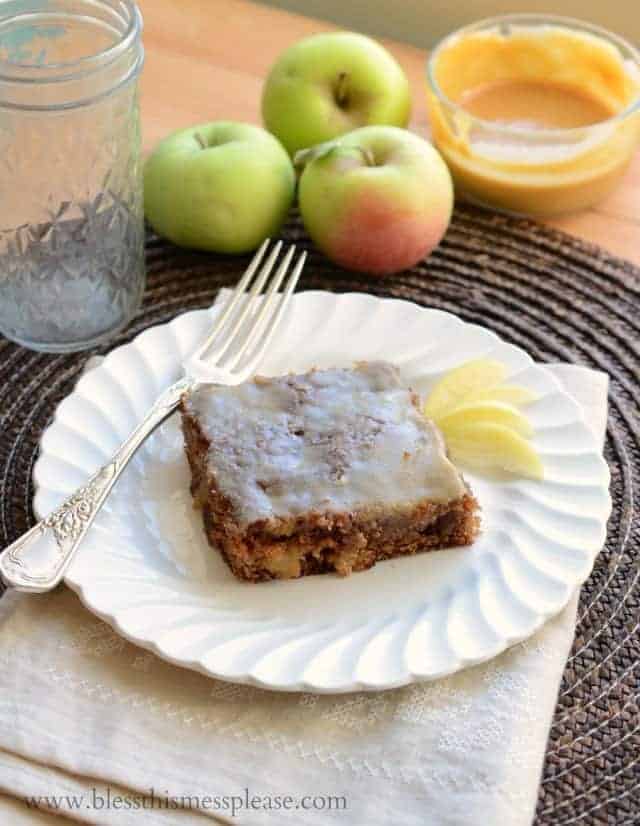 If you are in an apple or caramel mood you might also like:
The best caramel dip ever - perfect for apples and pretzels and easy too... no candy thermometer needed.
10 awesome apple recipes rounded up from my favorite bloggers - great collection!
You all are the best!