How is the new year treating you?! I assume you've made a few goals or resolutions and chances are pretty good that those include something along the lines of being healthy. I'm here to help you out with some of those goals with this awesome Butternut Squash Macaroni and Cheese recipe. I love this recipe! It's easy to make, you are sneaking in some fabulous vegetables, and this happens to be a little lower in calories than traditional macaroni and cheese (thanks to the vegetables). The flavor is awesome, it's creamy, it's rich, and it makes for a great meatless main dish that the whole family will enjoy. I didn't make any huge resolutions this year and I'm not doing any big fitness challenges (significant weight loss and keeping a healthy milk supply for the babe don't jive very well for me). So my general guideline for eating well is to increase the vegetable intake and decrease the sugar and white flour intake. Easy. It's amazing how just those short guiding principles can really make a difference. 2016 is all about eating the rainbow and enjoying all food in moderation.
I love using butternut squash in pasta dishes (remember this butternut squash lasagna roll-up recipe?! Still a favorite). It's beautiful in color (and deceptively cheesy looking), the texture when pureed is naturally creamy, and I really like hints of sweet in savory recipes.
Enjoy this healthy veggie filled pasta dish from my kitchen to yours.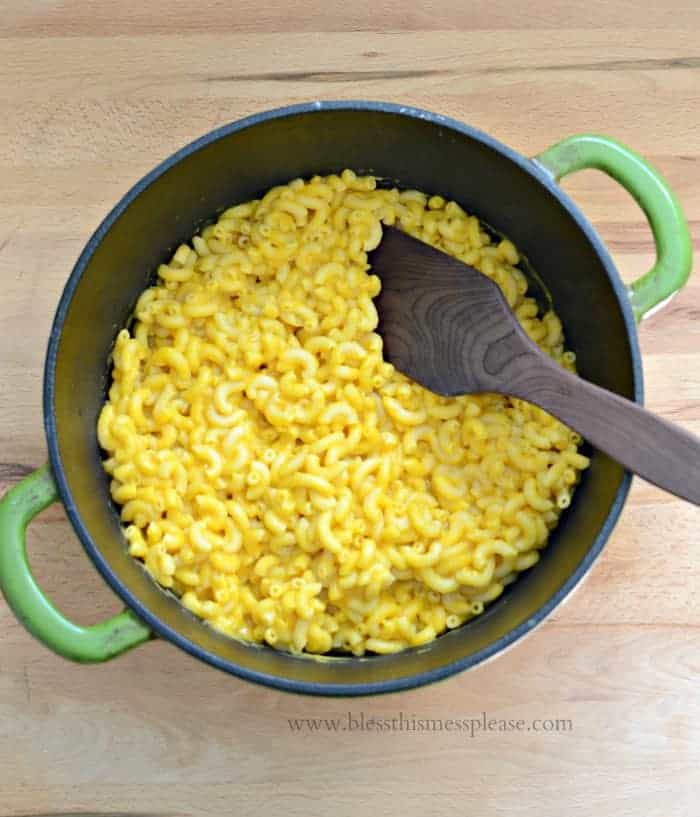 Homemade macaroni and cheese it totally my jam (check out my other macaroni and cheese recipes here). Some of the recipes get a little dry when you reheat leftovers, but this recipe did not have that problem. It stayed moist and delicious even after being reheated another day. It was easy to warm up in the mornings and pop in the kids' thermos for school lunch too.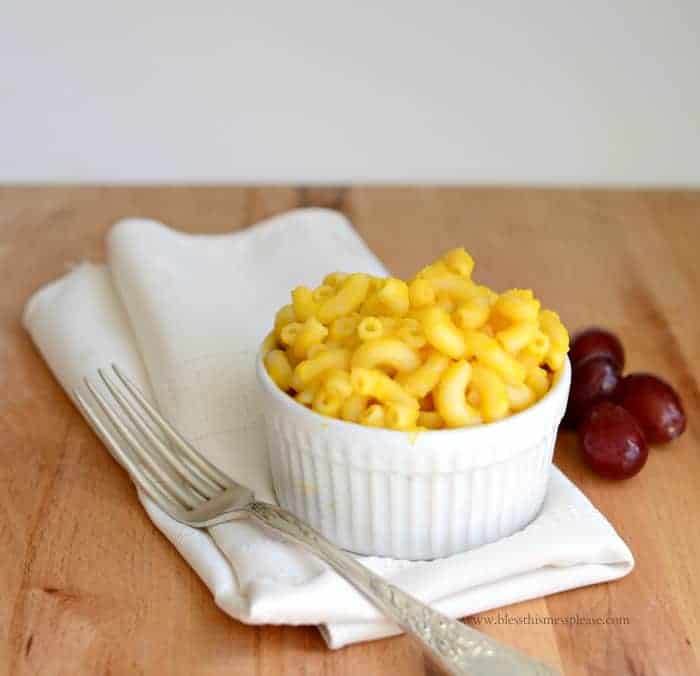 Print
Butternut Squash Macaroni and Cheese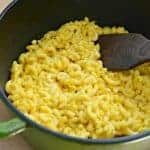 This easy butternut squash recipe is sure to be a hit with your family! Butternut squash & cheddar cheese make healthier mac n' cheese that tastes amazing.
Author:
Prep Time:

10 mins

Cook Time:

20 mins

Total Time:

30 minutes

Yield:

4-6

Category:

Dinner

Method:

Stovetop

Cuisine:

American
Ingredients
1 pound elbow macaroni (about 2 2/3 cups) traditional or whole wheat
1 medium butternut squash, seeded, peeled, and cubed (about 4 cups of cubed squash)
1/4 cup diced onion
4 cups chicken broth
1/4 teaspoon rubbed sage
1 teaspoon salt
1/2 teaspoon black pepper
1/4 teaspoon garlic powder
1 cup cream
1 cup sharp cheddar cheese
Instructions
Cook the noodles al dente according to package directions and set aside.
In a large sauce pot or dutch oven add the cubed butternut squash, onion, chicken broth, sage, salt and pepper. Bring the mixture to a boil and cook until the squash is fork tender, about 10 minutes. Drain the squash and reserve the cooking liquid. Add the cooked squash to a blender, add the garlic powder, and then add 1/2 cup of the cooking liquid. Process until smooth, adding a little bit of cooking liquid as needed. The smoother the better.
Return the squash puree to the pan you cooked it in. Over medium heat, add the cream and stir to combine. When the mixture starts to gentle bubble stir in the cheese. When the cheese is melted, remove from the heat and add the cooked pasta. Stir well to combine and serve hot with additional salt and pepper to taste.
Notes
I recommend using a high power blender, such as a Blendtec, to make the sauce very smooth. A food mill or food processor would also work.
The finished sauce should be the consistency of a thin batter, like a pancake batter. If it's too thick, add a bit more cream. If it's thin, let it sit with the pasta stirred in for 5 minutes before stirring and the pasta will absorb some of the moisture.
Keywords: healthy mac n cheese recipe, homemade macaroni and cheese recipe, butternut squash pasta, butternut squash mac n cheese, easy butternut squash recipe
For this recipe, I recommend:
[asa_collection btmp]one_pot_farm[/asa_collection]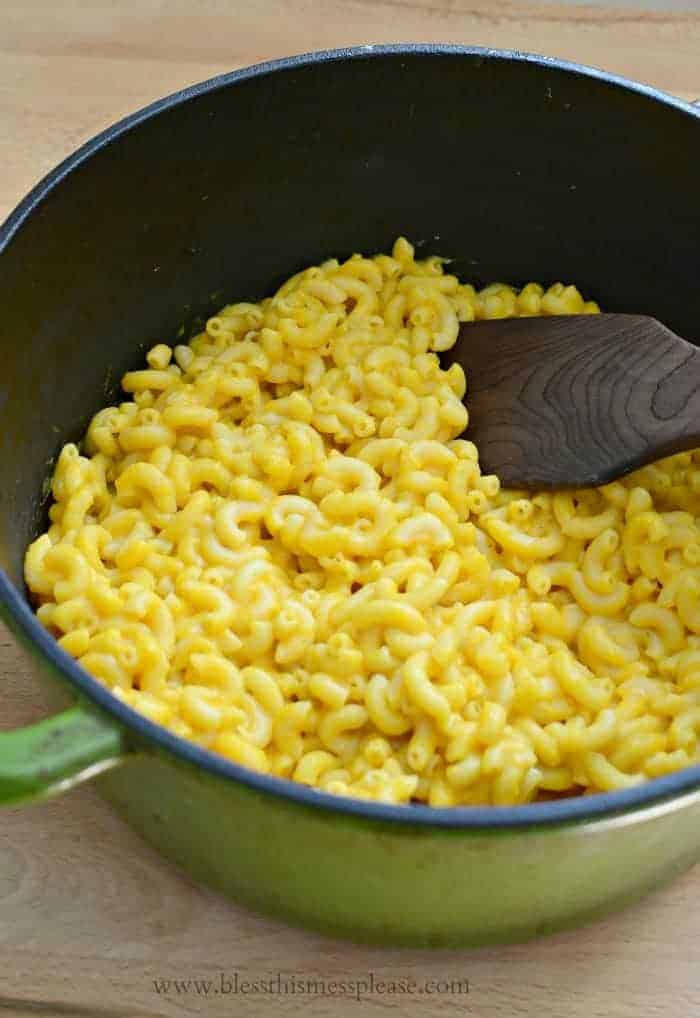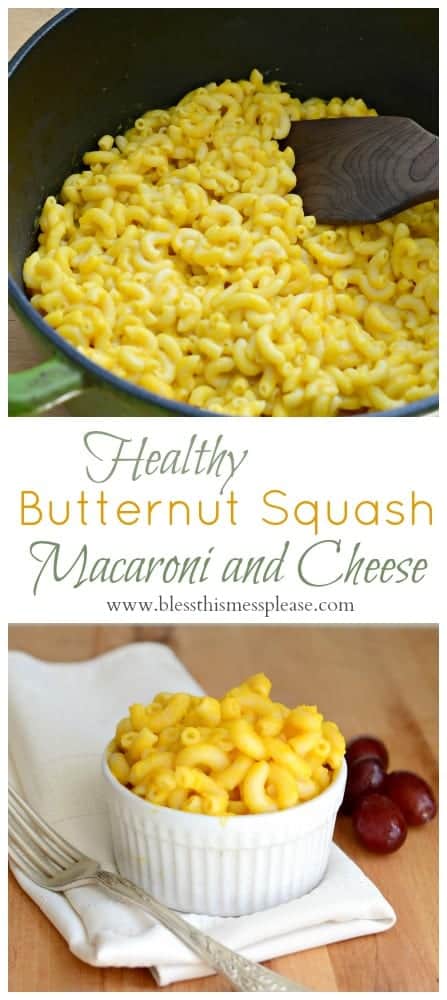 PS. Did you know that I have an ebook that is a 2 week healthy meal plan for families?! It's called Real Food for Real Families. If you are on the hunt for a go-to guide for feeding your family well this January, I highly recommend checking out the book. It's helped hundreds of people get into the cooking "real" food groove and it might just make your resolutions a reality. More details here. Enjoy!