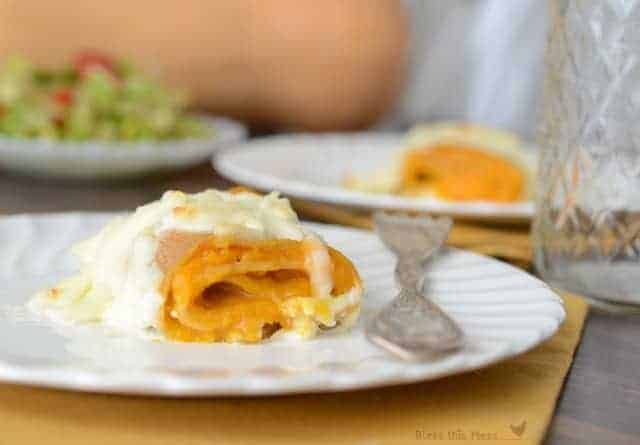 Remember when I confessed my displeasure for whole wheat lasagna noodles yesterday because they fall apart? Well this is the recipe that I made with those ugly noodles, and let's be honest, the pictures would be so much better with that little ruffled noodle edge still intact. That being said, don't let the picture fool you, this recipe is delicious.
I had never heard of butternut squash lasagna until a few years ago when Thomas' cousin Amy made it for us for dinner one night. It didn't sound all that great but I loved it once I tried it. The creamy squash, white bechamel sauce, and cheese all mixed with hearty noodles is just magic. I made the lasagna months ago to share with you but lost the pictures that I took somehow. I recreated this butternut squash lasagna roll-up version and liked it just as well.
Each ingredient is seemingly simple, which is it, so this isn't the time to skimp on quality. Good cheese, real butter in the sauce, and a fresh bottle of nutmeg really go a long way with this dish. This dish is light but filling and I know you'll like it as much as I do. You better hurry and make it though because winter is almost over!
Print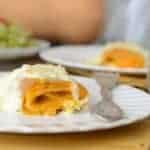 Butternut Squash Lasagna Roll-Ups
---
Author:

Prep Time:

20 minutes

Cook Time:

30 minutes

Total Time:

50 minutes

Yield:

Make 9-12 Lasagna Roll-ups

Category:

Dinner

Method:

Oven

Cuisine:

American
Description
Good cheese, real butter & fresh nutmeg make this easy butternut squash recipe extra comforting & delightful. A warming dish perfect for winter dinners.
---
Ingredients
3 T. butter
1/4 c. flour
2 cups whole milk
dash nutmeg
salt to taste
2 cups finely pureed cooked butternut squash, well salted
9-12 lasagna noodles, cooked
1/3 cup shredded Parmesan cheese
1 cup shredded mozzarella cheese
---
Instructions
Preheat your oven to 375 degrees and butter a baking dish (pie plate, cake pan… doesn't matter).
In a medium sauce pan melt the butter over medium heat. When the butter is melted add the flour and stir to combine. Let the butter and flour cook for 30 seconds. Slowly whisk the milk into the butter and flour mixture. Add the dash of nutmeg and salt to taste (you'll need quiet a bit of salt, around 1/2 tsp). Whisking often, cook over medium heat until the mixture starts to bubble. Allow the mixture to cook for 2 additional minutes and remove from the heat. Add more salt to taste.
To assemble the lasagna roll-ups, lay out the cooked lasagna noodles on your counter top. Spread around 2 tablespoons of the squash puree over the top the entire length of the lasagna noodles. You make have a little left over, feel free to distribute the remaining puree over the noodles or enjoy for a little pre-dinner snack. Sprinkle the Parmesan cheese all over the squash puree.
Starting at one end of the noodle roll it up like a cinnamon roll or jelly roll. Place the rolled noodle in the greased baking dish with the end of the noodle on the bottom so they don't flap open. Repeat with remaining noodles.
Once all of the noodles are in the baking dish pour the white sauce you made on the stove evenly over the top of all the lasagna roll-ups. Sprinkle the dish evenly with mozzarella cheese and bake for 20-30 minutes until the cheese is melted and everything is hot and bubble. Allow the dish to rest for 5 minutes before serving hot.
Notes
Salt is very important in this dish. The flavors are very mild and light, so under-salting will lend to a very bland dish.
This is a great way to use leftover or a partial squash. I like to remove the outside skin and inner seeds and then cube the squash. I'll cook it in a little bit of water on the stove until very soft and then run it through my food processor to get a very fine puree.
Keywords: butternut squash lasagna, butternut squash recipe, cozy winter meals, holiday dinner idea
Recipe from Cousin Amy who got it out of an old issue of Mother Earth News Magazine.
I was super disappointed with the whole wheat lasagna noodles that I bought. They fell apart during cooking and all of the pretty ruffled edges disintegrated… they would have been a lot prettier with that edge showing!
These are perfect for Meatless Monday or any night of the week. Serve with a loaf of Rustic Italian bread and a green salad and you'll really be in business.
Do you have any awesome meatless meals that I should know about? I'd love to hear about it!