Hello all! While I'm enjoying the newest (and teeniest) member of our family, I have asked some of my very favorite blogging friends to share some of their absolute favorite posts with you. Today's post is brought to you from Cassie over at Wholefully. Cassie is a fellow Hoosier, but lucky for her, she's still living in the grand state of Indiana, blogging about a healthy lifestyle and her newest adventures of moving to her childhood home in the middle of no where. She's is awesome! Her blog is real and honest and full of great recipes and inspiration for living a healthy life. You are going to love her. Take it away Cass!
Hi, guys! My name is Cassie, and I'm the blogger behind Wholefully (a whole food cooking blog) and half of the blogging team at The Broken Plow (a homesteading and gardening blog). I live on a small hobby farm in a tiny town you've never heard of in Southern Indiana with my husband, dog, cat and obnoxiously large garden. My day job is as a graphic designer and writer, and in my freetime, I'm obsessed with all things edible. I love chatting with folks about growing food, cooking food, and eating food.
I'm so honored that Melissa asked me to step in for a bit while she's out tending to her newest little mess. M and I have so much in common (Indiana roots, a love of gardening, a passion for self-sufficiency, a mild case of food obsession, a height surplus) that it seems only appropriate that I take the reigns of her blog for a day.
Today, I'm hear to chat a little bit about holiday food traditions. We all have 'em, right? Grandpa's hot cross buns at Thanksgiving. Aunt Millie's casserole at Christmas dinner. Mom's pumpkin pie. I love talking with people about food traditions because I think it is such a great way to connect us with our past. One of my general philosophies is that a lot of life's quandaries can be solved by peering into our history. By looking back to our roots, I feel we can answer so many questions about modern life—and the category of food is no exception. If we gardened, cooked and ate more like our grandparents and great-grandparents, I think we'd be a whole lot healthier (both physically and emotionally) as a society.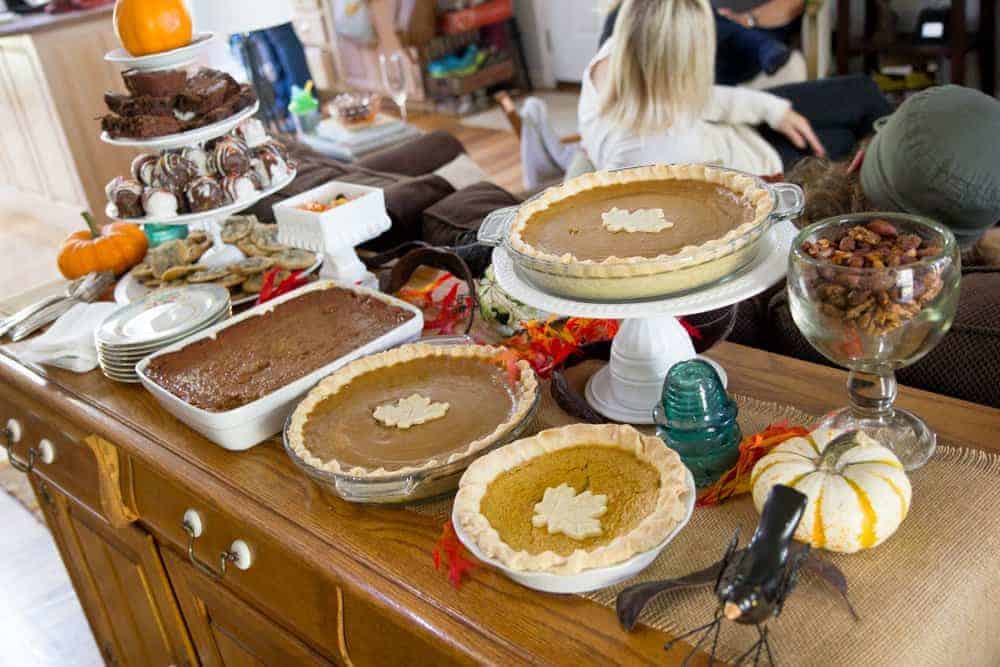 And while the holidays may be full of stress and obligations, it can also be an especially great time for some reflection. I think that the holiday season is the perfect time to peer back into the food traditions of your ancestors. Dust off those old recipe card boxes, pull out Grandma's cookbook with the notes in the margin and really become one with the food of your family.
For my family in particular, one of my favorite holiday traditions has nothing to do with Thanksgiving or Christmas itself—it's all about the day after. I know a lot of folks rush out to mall to hit up sales the day after Thanksgiving and Christmas, but for me, the breakfast after a big holiday is a not-to-be-missed event. I like to sleep in late (well, as late as my morning person internal alarm clock lets me), stay in my jammies, drink a cup of coffee by the fire and just…be. After so much hub-bub and fuss, it's nice to take a moment to just rest and relax.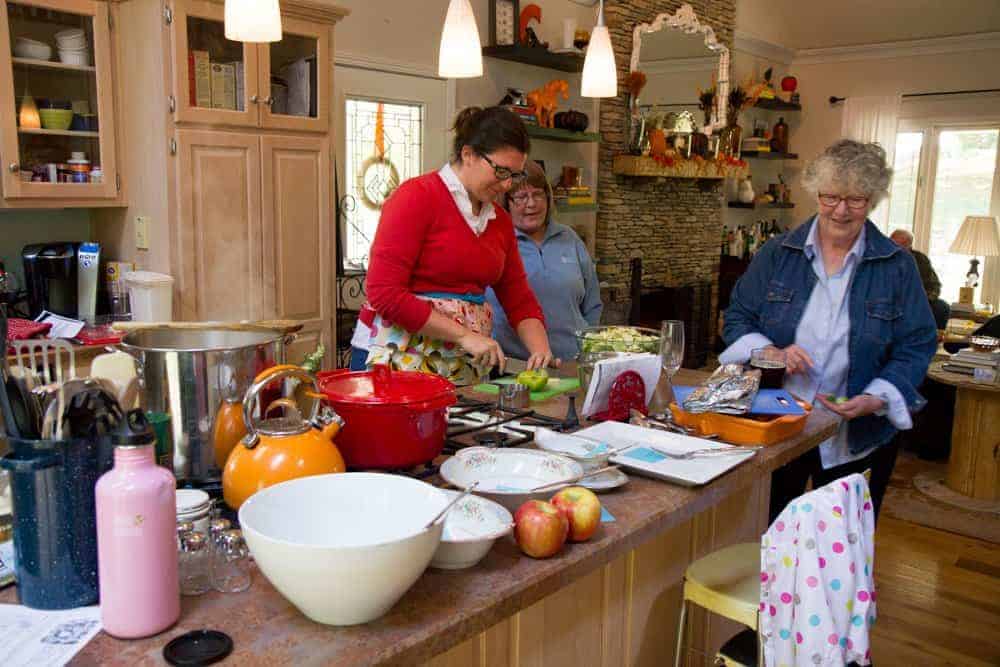 But what about breakfast? Well, I already took care of it a few days before.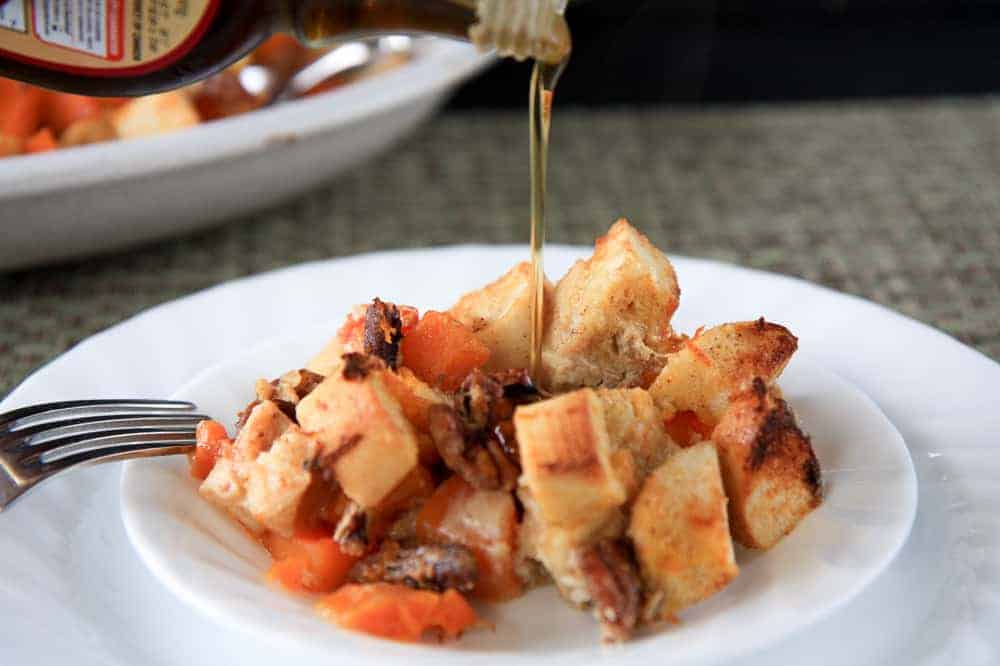 We always, always have bread pudding for breakfast after major holidays. I'm not sure where the tradition comes from, but I'm guessing it has something to do with the fact that the work to reward ratio for bread pudding isn't very even. It comes together a few days ahead of time, sit and marinates in the fridge while chaos ensues, and then the morning after, all you have to do is turn on the oven, pop the dish in and breakfast is done (well, after a cup of coffee or two). So easy, but still fancy enough to serve to any lingering house guests.
We alternate between lots of different recipes in my family, but this version with caramelized butternut squash and tangy ginger is my absolute favorite. It's sweet, but not too heavy (important after the previous day's gastric exercises) and it's got this incredible combination of textures. Soft, bready inside combined with crispy pieces of squash and pecans. Yum! We drizzle a little bit of our own maple syrup (harvested from trees right here on the property), and it's the perfect tummy-filling way to celebrate a holiday well-done.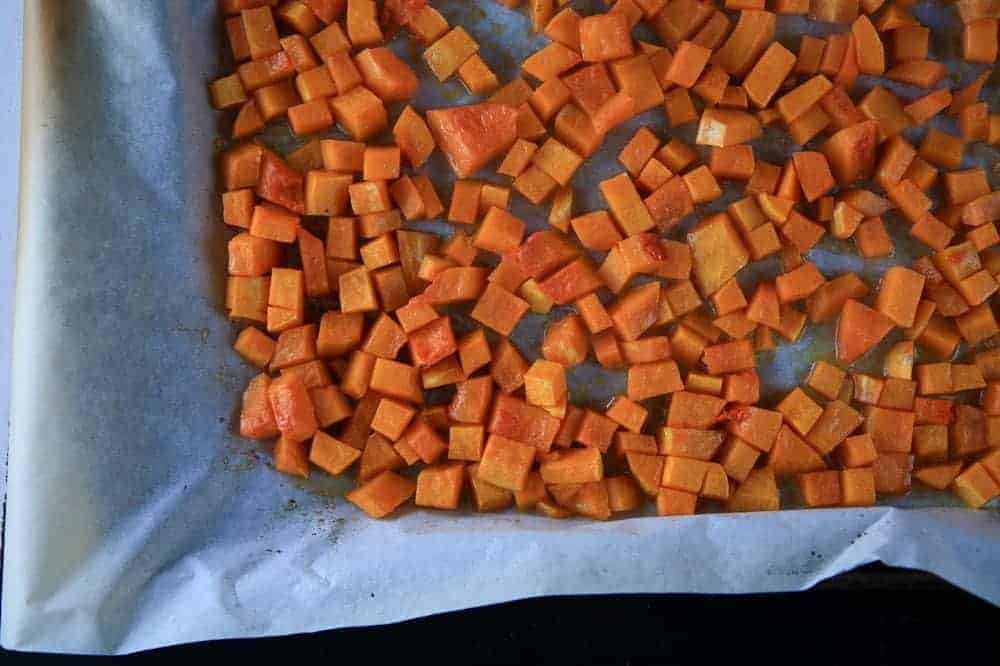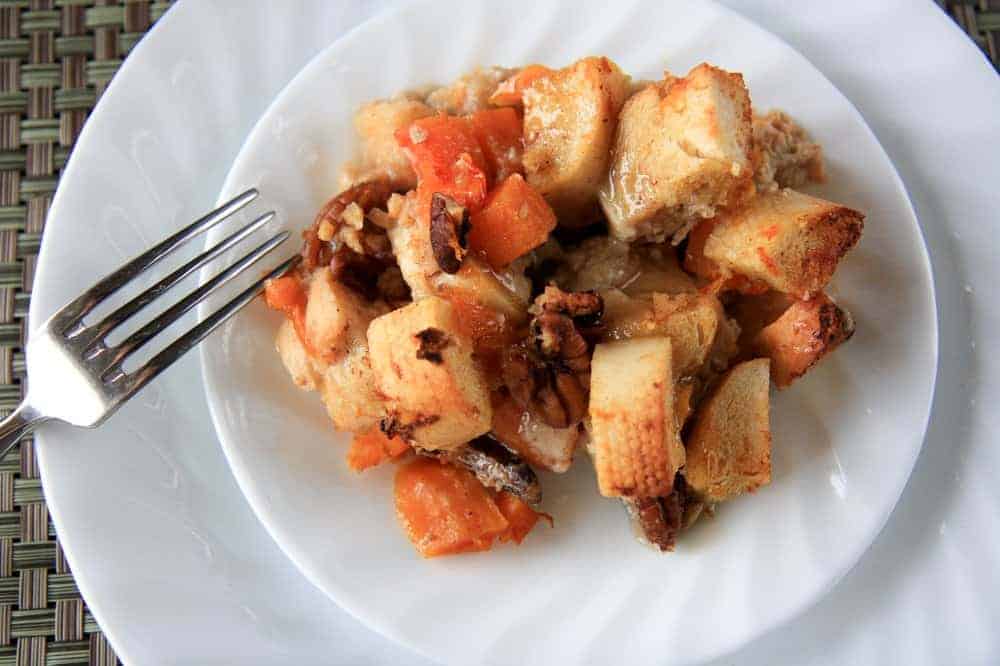 If I'm being totally honest, I might even enjoy the day after a big holiday more than the holidays itself. Sure Thanksgiving is nice and I do love a good Christmas Day, but the day after is so calm, cozy and comfortable. No stress, no pressure, no obligations. It's everything the actually holidays should be about (but usually aren't).
This holiday season, I encourage you to take some time and do some exploring into your family's food traditions. Dig through closets, find that long-lost recipe and revive the connection you have with your family's past. Or even if you don't come from a foodie family, try hitting up a local antique shop and finding an old cookbook or two and test some antique recipes. There is something very heart-warming about spending some time with a recipe that's seen a lot more generations than just yours.