Grilled brown sugar bacon wrapped chicken skewers is a recipe title that pretty much tells it all. But in case you have any questions, let me explain. Wrapping things in bacon is great, except for when it isn't. Bacon is meant to be crispy and delicious but way too often the wrap-job turns bacon into a chewy and overly flexible piece of salty fat. No thanks! But when you grill bacon, it crisps up nicely and keeps the chicken moist while giving it a just the right amount of bacon flavor. Add just a touch of brown sugar that caramelizes a bit when cooked and you have the perfect slightly sweet and salty main dish. And the best part? You didn't even have to heat up the kitchen to make it because you let the grill do the work.
Bacon isn't something that we buy a lot. We enjoy it on occasion, so I always have to put it on my shopping list when I'm planning meals because it isn't something I just have in the fridge. I think it's because it can be fairly expensive and if you are buying nitrate free bacon, it can be really expensive. But no fear fellow frugal friends, I was recently introduced to a pretty handy app that helps save money without spending hours cutting coupons (because ain't no body got time for that!).
Favado is the app and saving money while shopping locally is it's goal. You download the app and then you add the stores you shop at. So when you are searching by ingredient, say bacon, then it will compare the price of bacon at the stores you have entered and it will even let you know if there are any coupons available. Since I have to drive over an hour and a half to do major city-shopping this app is so handy. The kids have about a 4 store limit on our major shopping trips, so now it's easy for me to find out which store has the best prices on the majority of what I'm looking for and I head there.
Now let's take a look at those perfectly grilled chicken skewers, shall we?!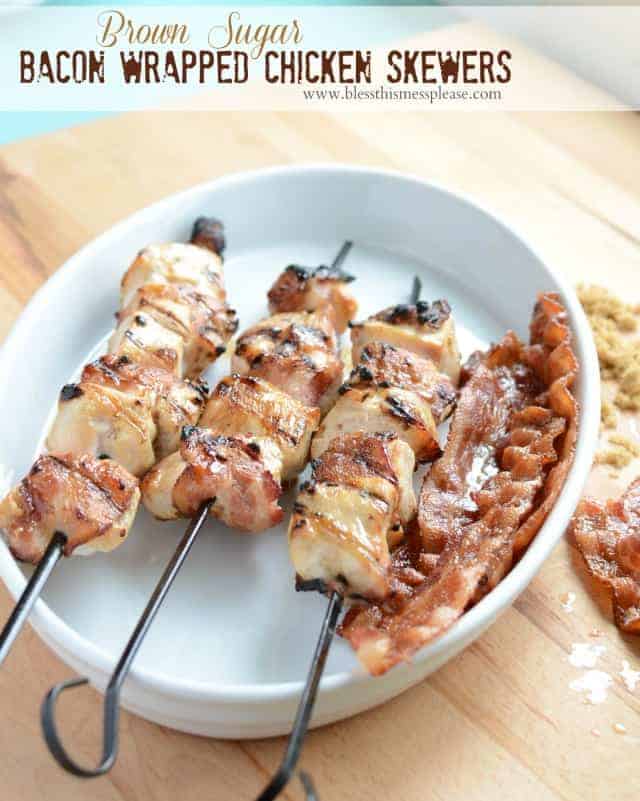 Print
Brown Sugar Bacon Wrapped Chicken Skewers
---
Prep Time:

10 minutes

Cook Time:

20 minutes

Total Time:

30 minutes

Yield:

4

to

5

skewers

1

x
Scale
Ingredients
2

to

2.5

pounds boneless skinless chicken breast

4

or

5

pieces raw bacon

3 tablespoon

s brown sugar
---
Instructions
Cut the chicken into 1.5 inch squares. Thread the bacon and chicken onto the skewers as illustrated below, working at the top of the skewer and pushing the meat down as you go. The recipes will make 4 or 5 skewers total.
Once you have all of the chicken and bacon onto the skewers sprinkle half of the brown sugar over one side of the raw meat.
Preheat your grill to medium-high. Carefully place the skewers on the grill, brown sugar side down. Sprinkle the remaining brown sugar over the skewers and cook for 6 to 8 minutes. Flip the skewers over and cook for an additional 6 to 10 minutes, until the chicken reaches 165 degrees on an instant read thermometer.
Remove the skewers from the grill when cooked and let them rest for 5 minutes. Serve right away while they are still hot.
---
Notes
I think adding a 1/2 teaspoon or so of cayenne pepper to the brown sugar before sprinkling it on would make for a nice little kick if you enjoy a little bit of spice.
Here's a pretty complicated diagram-a-rama on how to assemble the skewers if you are a visual learner like myself.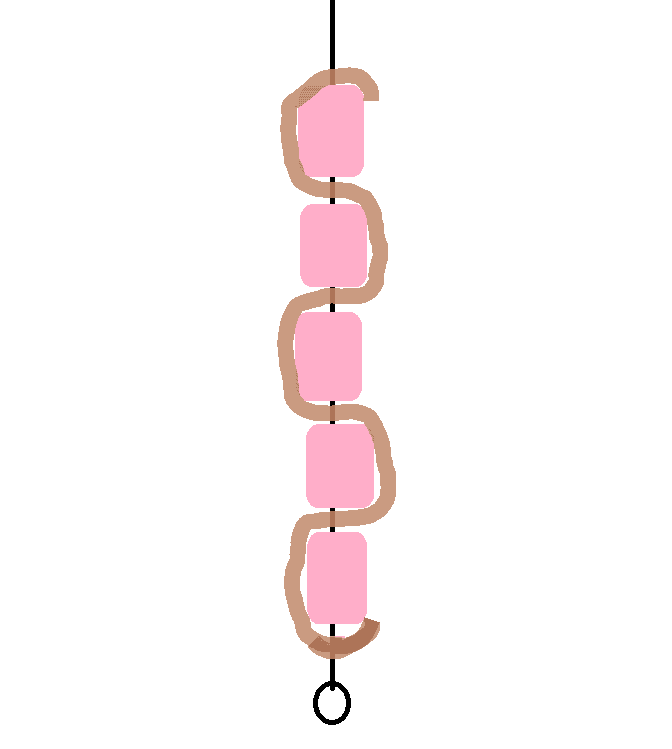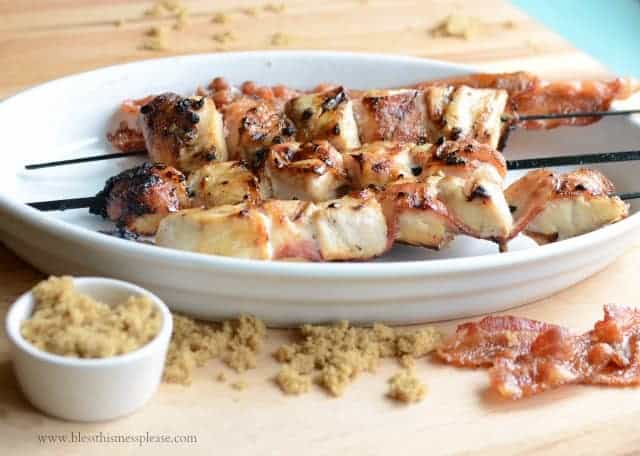 Now, before you go sign up for a Favado account and download the app, you might want to go and enter to win the $2,500 Summer BBQ Savings Sweepstakes. I would love if one of you won! There's a $2,500 grand prize, as well as other weekly prizes such as a grilling tool set, charcoal grill and gas grill. The sweepstakes begins May 27th and ends July 4th and you can get the details/enter here!
I'm on the hunt for some more great grill recipes! What's your favorite recipe for the grill?
Thanks for much for stopping in and have a great day.
Disclosure: This post is sponsored by Favado.