I missed posting my meal plan last week, but I didn't want to skip this week so here it is, my less than famous Bless this Mess Meal Plan!
This week is going to be just as tasty as the next. I love meal planning because it takes all of the thinking out of dinner. I swear that half the work is just deciding what to make. I hope this helps to take some of the guess-work out of what you are making too!
Here are the links to the other meal plans too incase you want to look around. I actually sat down and planned the whole month and have just been sharing the dishes in week chunks. But now you have a full 4 weeks of meals which should put you very close to a whole months worth of meals! Not too shabby!
Week 2
Week 3
On a side note - I'll be 15 weeks along this week and FINALLY headed to my midwife (which takes me over an hour and a half to drive to!), so I'm very excited to hear that little heartbeat. I'm hoping that that simple sound will help to put some of my suffering into perspective! I'm also looking forward to a day out alone 🙂
Any great plans for you this week or weekend?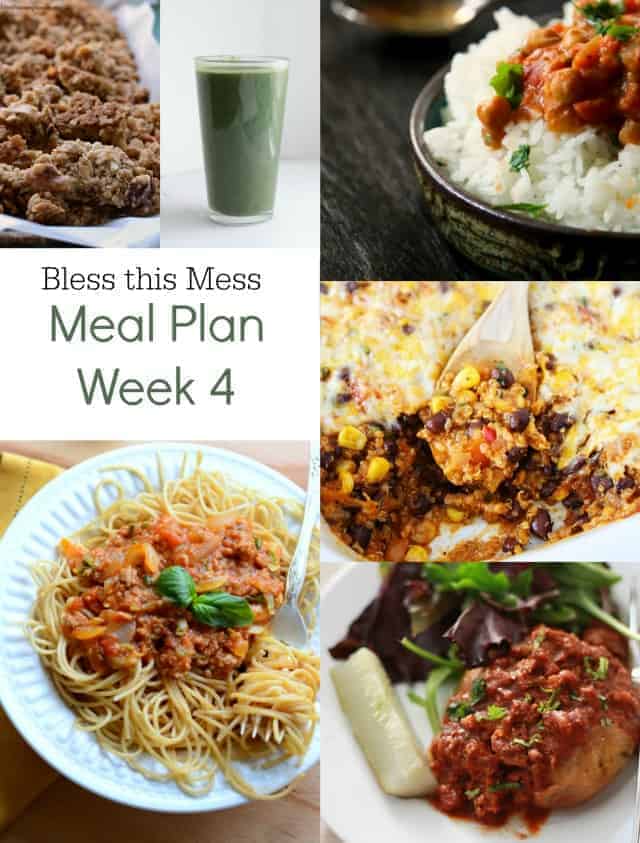 Breakfast:
Monday- Oatmeal
Tuesday- Eggs
Wednesday- Smoothie (+ toast for the kids)
Thursday- Oatmeal (probably steel-cut oats)
Friday- Eggs
Saturday- Whole Wheat Pancakes or Waffles
Sunday- Granola (cold cereal for the kids, we have early church this year so quick and easy is the go to!)
Note: I keep this the same every week for convenience
Lunch:
Leftovers
Open faced sandwiches with lots of veggies and spicy brown mustard
Busting out Salad in Jar again this week! Yum
Finger Food Platters - it's nice to just get out different fruits, veggies, cheese, crackers, and maybe a lunch meat or olives and have finger foods for lunch. My kids like this as much as I do. It's nice to pick and choose what tastes great and it is a nice way to use up odds and ends that are in the fridge.
Dinner:
Monday: Meatless Enchiladas or Creamy Chicken Enchiladas
I'm planning on making this black bean and quinoa enchilada bake from Two Peas and Their Pod. Maria is great at meatless meals and this one looks really good. If you aren't big on meatless Monday you could make these Creamy Chicken Enchiladas. I made them this past week and they were phenomenal! Make double of the sauce so that you can serve additional sauce on top once baked and use it as a salad dressing the rest of the week. So good!
Tuesday: Grilled Shrimp
Shrimp is one of my kids all time favorite foods so I planned on serving it once this month and they are excited! I'll serve this with some roasted green veggies and potatoes as well as a fruit salad.
Wednesday: Chickpea Tikki Masala
This recipe from Foodie with Family has been on my list for a long time. This meatless meal is easy on the budget and comes together quickly. I'm excited to try it! I'll serve it over brown rice with some kind of fruit side. My kids might not love it, but they'll fill up on rice and fruit. I'm curious to see how they like it.
Thursday: Slow Cooker Sloppy Joe Baked Potatoes
I love sloppy joes and I love baked potatoes. I was really excited when Emily from One Lovely Life posted this delicious Slow Cooker Sloppy Joe-tator recipe. You know what I love most, another reason to eat pickles with a meal!!! Yum. I'm making these. The only thing I'll change is to add maybe ¼ cup of brown sugar to the sloppy joe mixture because I love sloppy joes with a sweet note.
Friday: Meaty Pasta Sauce
I'll make a meaty pasta sauce, probably my Garden Veggie Pasta Sauce with the addition of a pound of ground sausage (thank you this summer's piggie!). I'll serve it with normal pasta for the family and I'll serve mine over sautéed zucchini. I've been eyeing those spiralizers forever to make zucchini noodles, or "zoodles" if you will, but for now just quartering and slicing a zucchini and sautéing it in a bit of olive oil works just as well.
Saturday: Ground Beef Tacos
Because it's Saturday and those are forever easy and delicious.
Sunday: Leftovers!
I do love a nice Sunday without a huge mess in the kitchen. If the kids don't want what is in the fridge we'll make simple nachos, popcorn, or PB&J - hold the PB. I'm all about keeping it simple on Mom's Day of Rest.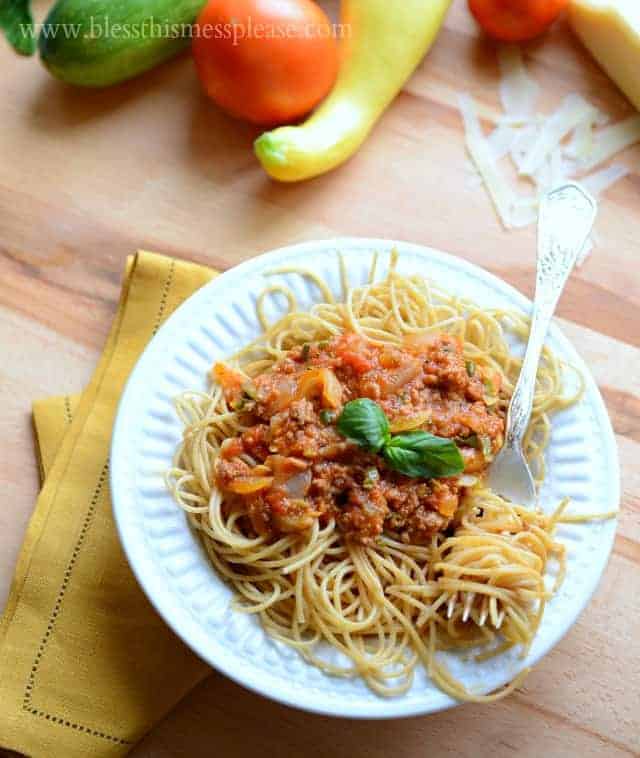 I sure hopes this help you plan meals for you family to enjoy together. Dinner is so important yet so easy to get bogged down by. Enjoy friends!