After fighting a bug in our house for the last few days I thought it appropriate to bust out a recipe that I've shared on another site, but don't have in my own archives yet. I shared this little gem on I heart nap time in January and thought it time to get it on here too. If this is a repeater for you then forgive me, and if it's new, enjoy!
BBQ Pork Quesadillas are tender meat swimming in BBQ sauce is paired with melty cheese in between two tortillas. Throw on some chopped pickles and you are really in business. I love reinventing classics or smashing two things I love together and this recipe is just that. Sometimes a little change from the norm is all I need to get out of a lunchtime rut. Plus this is a great way to use up any extra meat in the fridge that isn't quiet enough for another meal.
I made these for lunch but paired with sweet potato fries and a fruit salad you could serve them for dinner.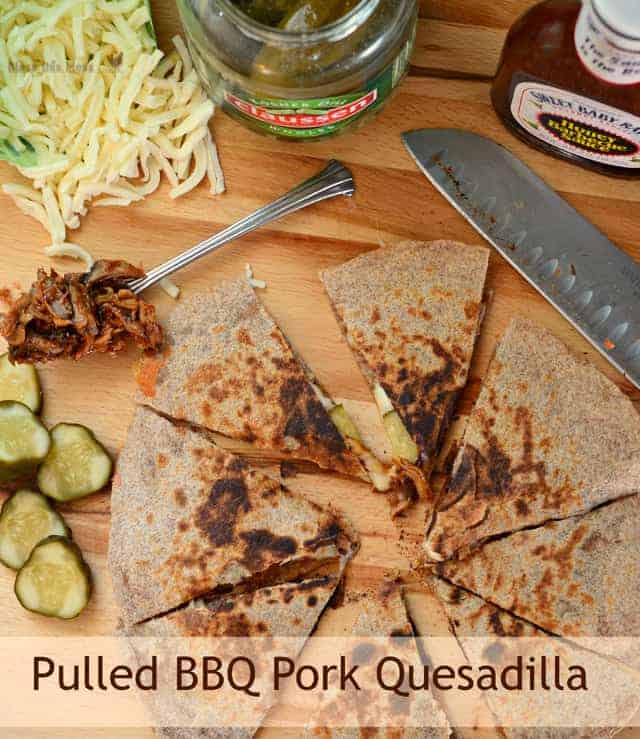 Print
Pulled BBQ Pork Quesadillas
---
Yield:

Makes 2 8-inch quesadillas
Ingredients
4 8-inch tortillas
1 cup shredded pork
1/3 cup barbecue sauce, plus more for dipping
2/3 cup shredded cheese
1/4 cup chopped or sliced dill pickles
---
Instructions
Heat a heavy bottomed skillet on the stove-top over medium heat. In a small bowl combine the shredded pork and barbecue sauce and stir to combine.
Place 1 tortilla on a plate or cutting board, spread half of the BBQ meat evenly over the tortilla, sprinkle half of the cheese evenly over the meat, and then sprinkle half of the pickles evenly over the cheese. Place a second tortilla over the pickles. Carry the quesadilla on the plate or cutting board over to the hot pan and carefully slide it onto the hot pan. Let the tortilla cook for a minute or so, until lightly browned, and then carefully flip it over and cook on the other side. The goal is to have warm meat and melted cheese without burning the tortillas, so keep an eye on things and lower the heat if the tortillas are cooking too fast.
Remove the warm quesadilla from the pan and transfer to a cutting board. Using a knife or pizza roller, cut the queadilla into 6 or 8 wedges. Serve right away with additional barbecue sauce for dipping
Notes
Whole wheat or white tortillas can be used, it's up to you.
Any shredded meat (beef, pork, chicken…) could be used here, so feel free to use what you have on hand.
I used Sweet Baby Ray's Honey BBQ Sauce and I really like the sweetness of it, use your favorite brand.
The type of cheese is up to you; mozzarella and pepper jack are great choices.
I am a pickle snob (it comes from years of working at a deli!) and I LOVE the Claussen pickles that you buy in the refrigerator section near the luncheon meats. I like to buy the whole dill pickles and slice or spear them myself. The whole pickles have a better texture than the already cut ones. The pickles add just the right amount of salt and contrast to the sweet barbecue sauce, so don't forget them.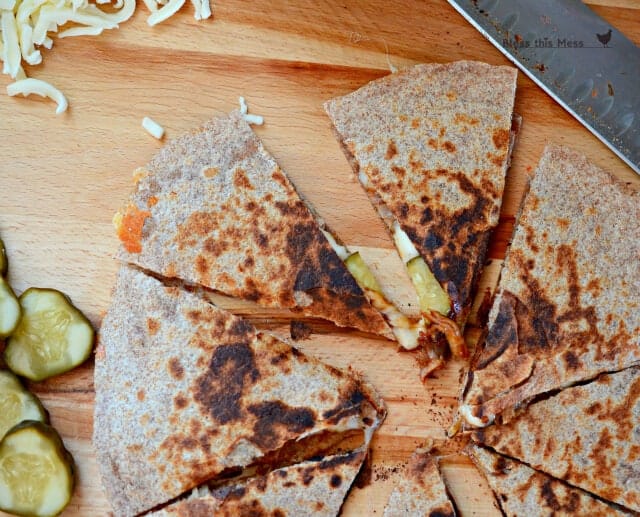 Thanks for stopping in!