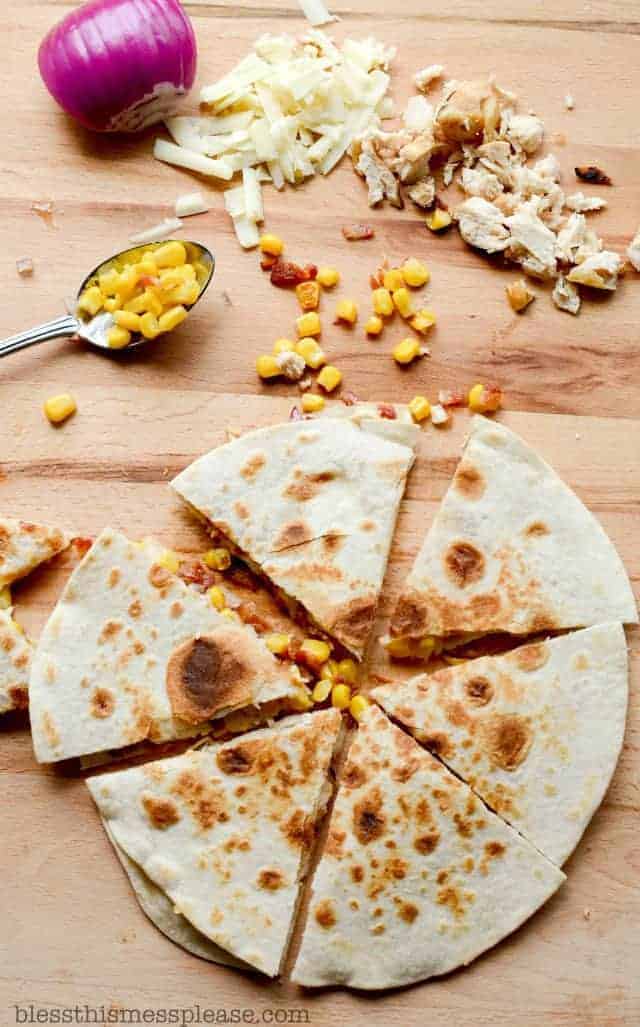 You guys! It's already JUNE. How did that happen?! Our weekend was busy at the farmer's market (I added rhubarb lemonade and raspberry lemonade to the line up this week and they were big hits), planting potatoes and pumpkins in the garden, and other general family work/fun (because work is fun!). A great weekend all together. Now that we've had 2 weeks of summer merriment and freedom I'm ready to figure out some kind of schedule. A very loose schedule, but something.
I need ideas on chore charts for young kids and I'm thinking about doing some kind of Mom and Me summer school/day camp one or two days a week with my kids. So if you have a minute this week and have any ideas for me, I'd love to hear them! I'm looking for chore charts, crafts, day camp/summer school themes/ideas, or anything else you think would be awesome. My kids are almost 7, 4, 3, and 7 months just FYI. Thanks! I'm looking forward to getting some ideas from you!
And now let's chat food. Simple meals on hot summer nights are my favorite! I had a few leftovers from those yummy bacon wrapped chicken skewers floating around in the fridge and that's where the idea for these amazing quesadillas came from. We don't eat a lot of just cheese and tortilla quesadillas, but fancy quesadillas that you can serve as a meal are one of our favorites summer meals.
These quesadillas are savory and just a little sweet, which is always a winning combo in my world. They were really delicious and a fun change from the run of the meal quesadilla. The best part is, if you meal plan, you can grill up the chicken and bake the bacon a day or two in advance for other recipes and just set aside enough for this meal. I had all of the meat already cooked and it only took me about 10 minutes to put this meal on the table. I served watermelon and sliced cucumbers on the side and we had a super easy and really tasty meal with practically no effort.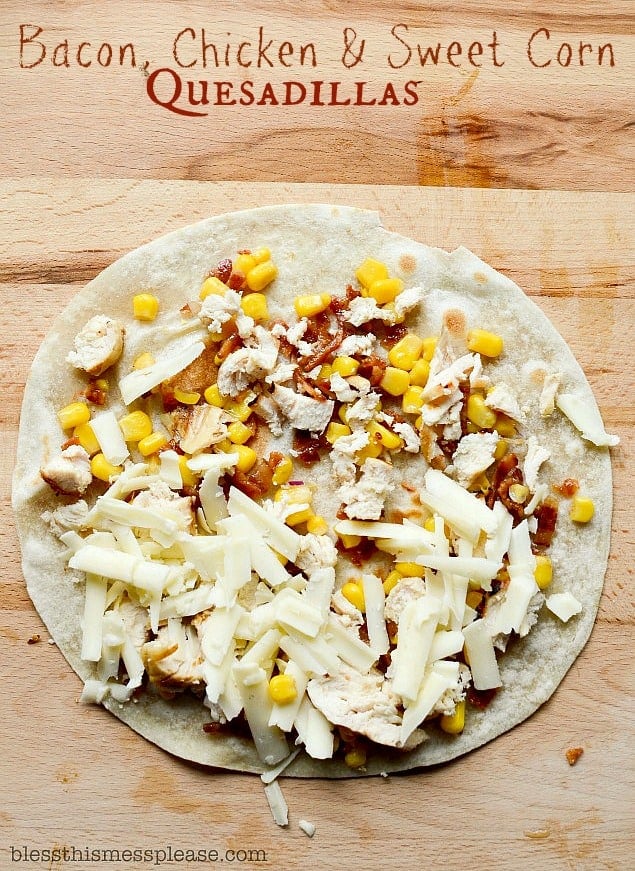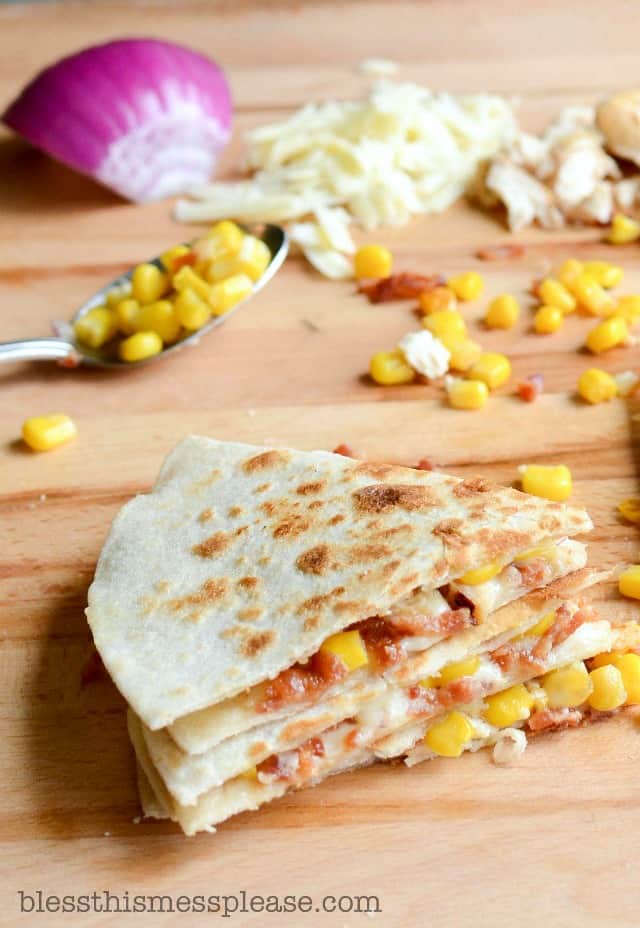 Print
Bacon, Grilled Chicken, and Sweet Corn Quesadillas
---
Scale
Ingredients
3

slices bacon, cooked crisp and crumbled

1/2 cup

shredded grilled chicken

1/2 cup

sweet corn kernels (cut fresh from the cob is best but canned works)

2 tablespoon

s finely chopped red onion

8 ounce

s Cabot Seriously Sharp Cheddar Cheese

8

8-inch flour tortillas
---
Instructions
Heat a large cast iron or other heavy bottomed skillet on the stove-top over medium heat.
While the skillet is warming up, combine the bacon, shredded chicken, sweet corn, and red onion in a small bowl and stir to combine. Shred the cheese.
Place 1 tortilla on a plate or cutting board, spread a 1/4 cup of the corn mixture and then 1/4 cup of shredded cheese evenly over the tortilla. Place a second tortilla on top. Carry the quesadilla on the plate or cutting board over to the hot pan and carefully slide it onto the hot pan.
Let the tortilla cook for a minute or so, until lightly browned, and then carefully flip it over and cook on the other side. The goal is to have warm filling and melted cheese without burning the tortillas, so keep an eye on things and lower the heat if the tortillas are cooking too fast, or if your stove tends to cook hot, start with a lower temperature.
Remove the warm quesadilla from the pan and transfer to a cutting board. Using a knife or pizza roller, cut the quesadilla into 6 or 8 wedges.
Serve right away salsa for dipping.
---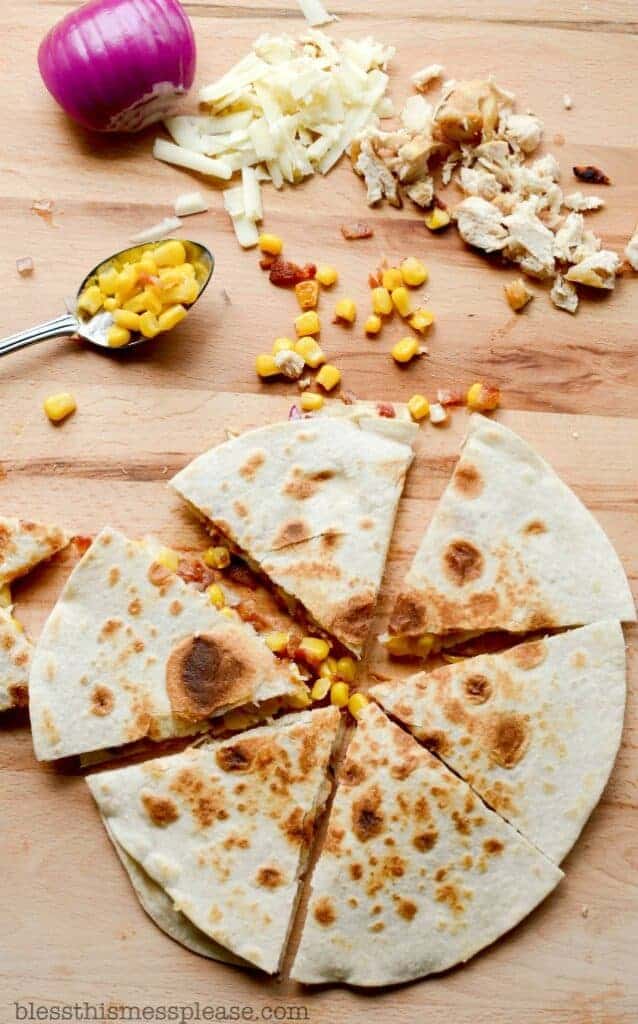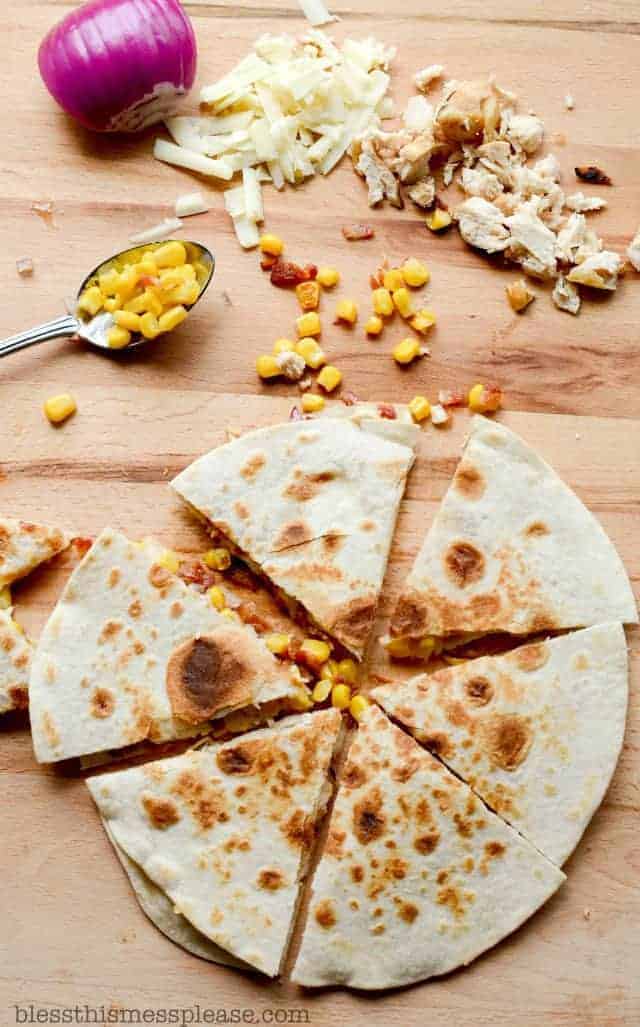 If you are liking these Bacon, Chicken, and Sweet Corn Quesadillas, you might also like these:
Ham and Bell Pepper Quesadillas
BBQ Pork Quesadillas
Caramelized Onion, Black Bean, and Mango Quesadillas from One Lovely Life
Thanks for stopping and I'm looking forward to your summery suggestions!