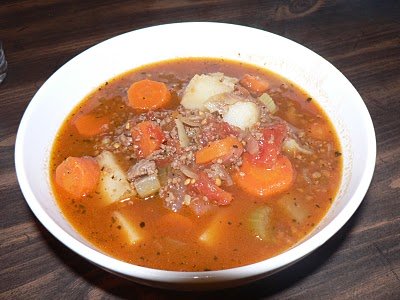 I love this soup. The Kitchen Bouquet is the secret ingredient that is so worth getting. You'll make this soup enough that you'll use the whole bottle, no problem. My friend Driel introduced me to this soup and I owe her one for it! You can find the Kitchen Bouquet on the same aisle as the BBQ sauce, near the liquid smoke. It was about $3.50 for the bottle and it will last a long time.
Here is the recipe straight out of the email she sent me:
Cook 1 1/2 lbs ground beef with 1 1/2 cups chopped onions over medium heat. Drain fat. Add 4 1/2 cup water.
Add 1 1/2 cups of each cut up: carrots, celery, potatoes
Add 1 1/2 t salt
Add 1 t pepper
Add 1 t basil
Add 1 1/2 t kitchen bouquet
When the vegetables are soft, add 3 cans diced tomatoes. Simmer until done
Easy huh. I got crazy and went for 2 t. of Kitchen Bouquet. Daring, I know.