It's been a long week and a half at our house and you can see the evidence of some of the stress in my eating.
I've been an emotional eater for as long as I can remember. I turn to sugar loaded carbs (cookies being my favorite) when things are hard and I need an emotional pick-me-up. Now I know that this doesn't work… I end up feeling worse later, the sugar makes my mood swing, and I have guilt about eating because I'm sad or stressed which makes me more sad and more stressed. Yet, it's still so easy to do!
Husband had a huge training course to prepare and then present in Virginia this week. He worked over 100 hours last week getting ready for the course and then left yesterday for the week. He stayed up until 3:50am and then woke up at 5am to drive to the airport yesterday morning! Him working constantly means that my load has been heavier than normal and that the kids (especially the older ones) are feeling more needy. We are all ready for things to calm down and get back to normal.
So this is what I ate yesterday while Thomas is out of town.
The kids wanted eggs for breakfast, and so egg it was. I always have plenty of eggs 🙂
I ate two fried eggs that were extra "gooey", just how I like them!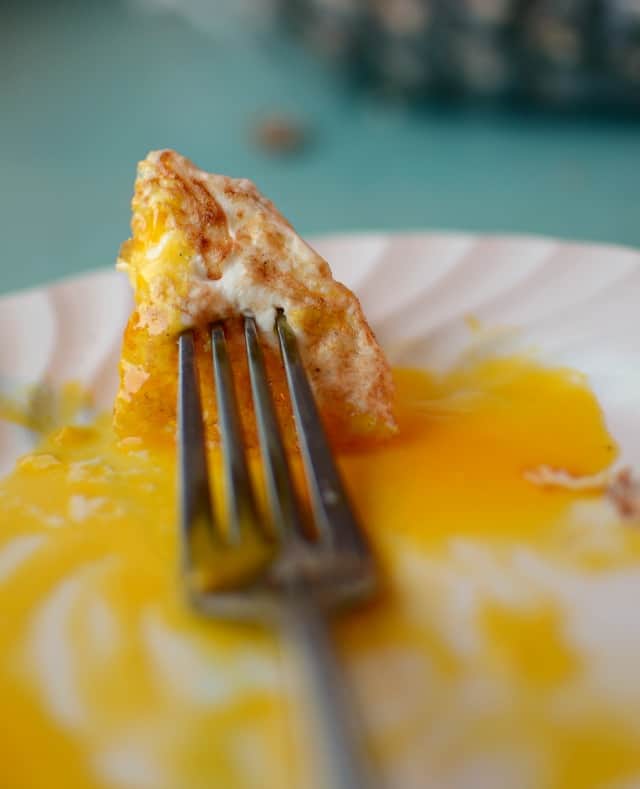 Snack: I found a magical bag of my favorite Christmas treat hiding in the cabinet. There were just a few left and I ate every single one. And then I ate some dirt dessert that my Mother-in-law sent home with us Sunday night after dinner at her house. The kids had pulled it out, I didn't say no, and then I ate some straight out of the pan. That's a perfect example of emotional eating… I didn't even think about it.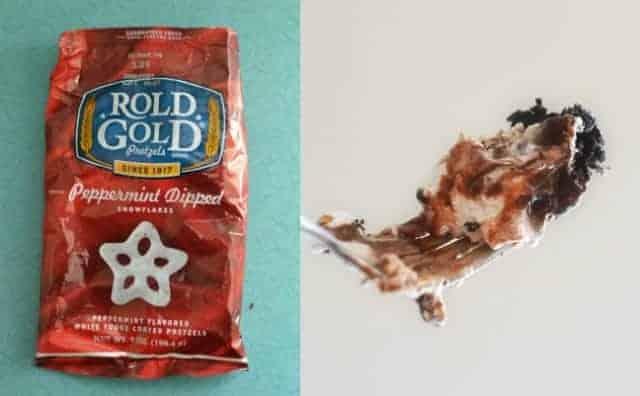 Lunch: Tuna on a whole wheat tortilla, pickles, spinach, and some fresh pineapple.
Can you see stray piece of Swiss chard that made it into my spinach bag (the stem is red)! I thought that it was so cute. On a less emotional day I would have had a salad since I hadn't had a single veggie today and it was already lunch, but that's not what I did.
Snack: Fruit Smoothie (frozen bananas, fresh pineapple, 2 whole peeled oranges, plain greek yogurt and water):
This was super sweet and delicious! The kids needed some more popsicles to munch on so most of the smoothie went into the popsicles molds for later and then we all had a cup outside on the trampoline. The weather has been gorgeous and that is such a blessing. Being able to play outside makes hard weeks so much better.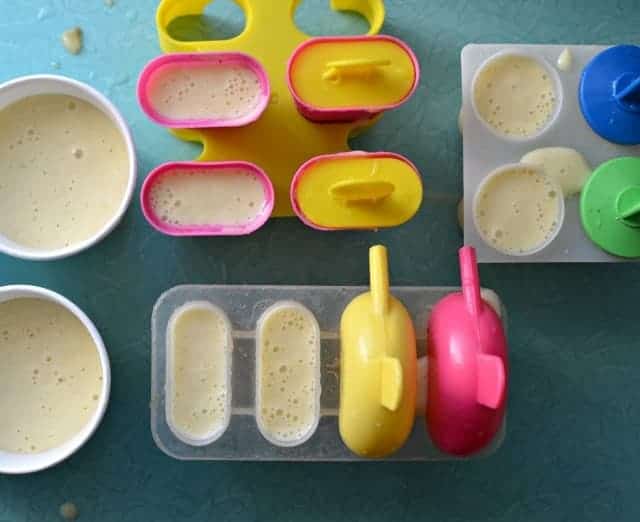 Dinner: Salad and some left over pizza
I was feeling the lack of veggie guilt and so I made a very boring salad. I need to go to the grocery store terribly but sometimes survival mode doesn't lend well to shopping for me. I'd just rather hunker down at home.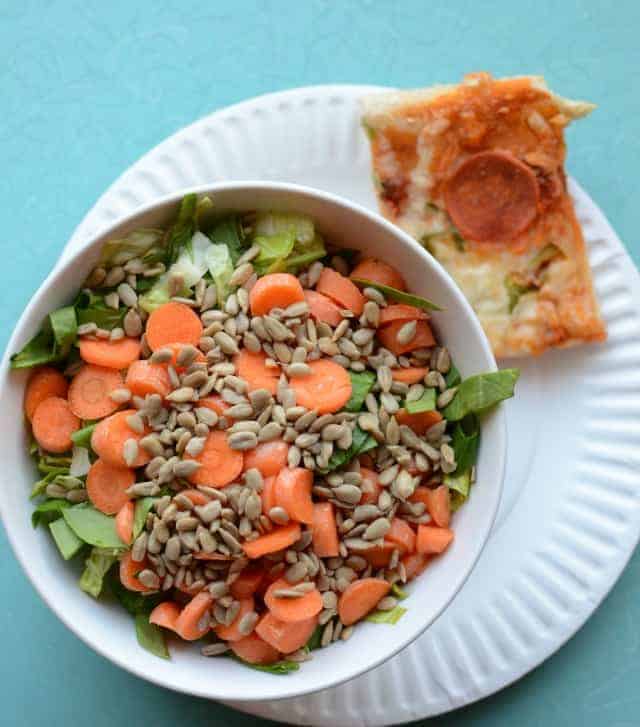 We really did have a great day. We played outside, read books, the baby napped pretty well, I cleaned up the winter trash that blew into the yard and collected along the fences (which had be driving me crazy for weeks), we played with my nephew and sister-in-law… it was fun! Dinner went well. The babies were so dirty that night; everyone is a little sick, so between the boogers, smoothie, and sand box they needed baths. Everyone was out and clean except for Kimball (the two-year-old) when Henry hollers, "KIMBALL POOPED IN THE TUB!" Oh heavens. So I look and there is all kind of nastiness in the tub with about 1,000 toys. I'm ashamed to admit that I yelled at him. I yelled that I was going to throw away all of his toys too. Now I'm not a yeller on a regular basis and so when I do it really upsets everyone. The big kids scattered, Kimball cried naked in the tub filled with nastiness, and then the guilt hit. Oh that mother guilt! I calmed down, paper toweled out what I could, turned on the shower, rewashed Kimball, and got him out. The I got everyone dressed, teeth brushes, story read, prayers said, and tucked into bed. I still had a whole tub of germy poopy toys to deal with. I washes, rinsed, bleached, and rinsed again all of those silly toys.
So between the guilt of yelling at a two-year-old and having more work after the babies were in bed then I wanted, I was grumpy. I sat down at my computer with some of the most delicious cookie chips and ate a whole bad. Yes. A whole bag.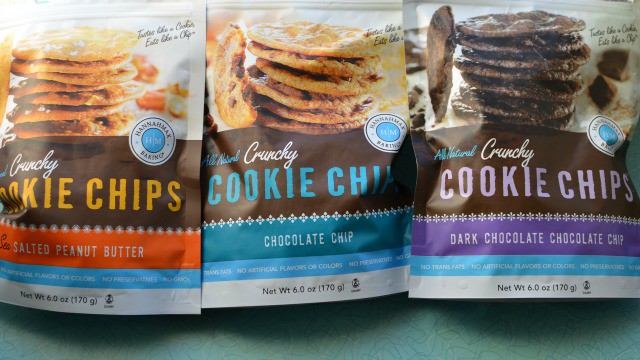 And there you have a little glimpse of my emotional eating at it's best… errr worst?
And I know I'm not alone…
Are you an emotional eater? What food do you typically grab on a hard day?
And on the opposite side… how do you control your emotional eating? Any tips and tricks?
Thanks for letting me be honest. You are some of the most supportive people that I know and I thank you for that.
Have a great day and lets enjoy the fact the it's Wednesday! Only 2 days left until Husband gets home 🙂
And the rest of the food lovin' party can be found here: