Wondering how to keep & cook asparagus? You can pickle it, eat it raw, roast it in the oven, add it to pasta and even make it into a tart. Enjoy these 7 Ways to Keep and Cook Asparagus.
Baked Bacon Wrapped Asparagus, Asparagus Recipes for Spring and Sausage Asparagus and Mushroom Risotto are some yummy and informative asparagus posts you need to check out.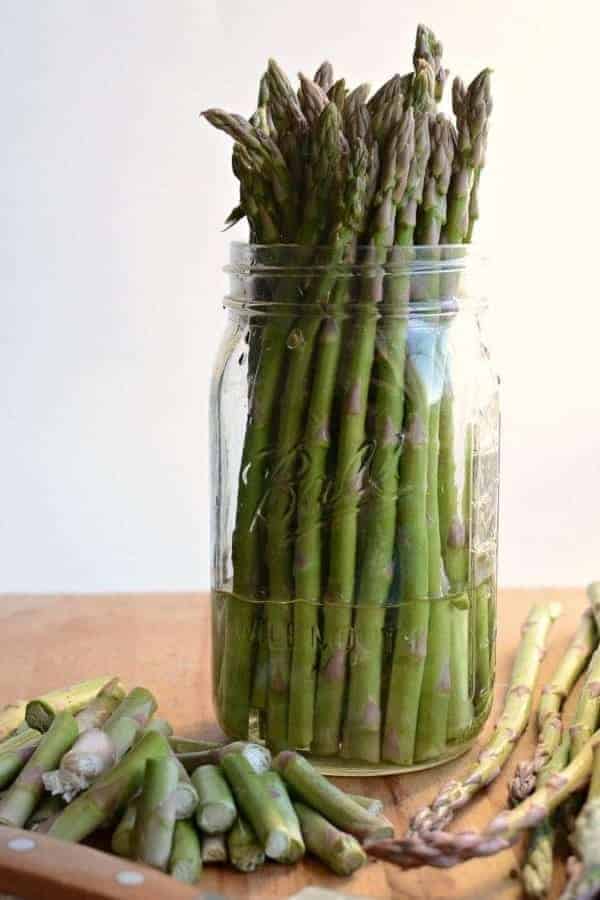 7 Ways to Keep and Cook Asparagus
We just found some asparagus ferns along our fence row! Do you know that that means? We have wild asparagus growing on our farm!!!
Nothing quite says spring like tender, crisp asparagus. In season during the spring and early summer, asparagus is easy to find at the farmers market, can be harvested wild if you know where to look (ask all your favorite older folks in town if they know where it grows), and can be grown at home. Bear in mind that it has a tendency to spread, so if you grow it on your farm, put it somewhere you don't mind it overtaking. It's also a good candidate for raised beds or large, deep containers, which will help curb its wild ways.
Asparagus doesn't need much more than some steam and a little butter to liven up any meal. If you find yourself with an expanding patch of your own that gives you more than you can handle at one time, here are some more ways to enjoy it throughout the spring and beyond.
1. Store Asparagus
Here's the secret to long-term asparagus storage: When you bring it inside from the garden, cut off about an inch from the bottom and stand the stalks upright in a container, such as a wide-mouth canning jar, with the cut ends in the bottom of the container. Add enough water to cover the ends about an inch, and place a plastic bag loosely over the top of the spears. Asparagus will stay fresh in the refrigerator like this for up to one week. If you plan on using the asparagus quickly, you can trim it, wrap the ends in a damp paper towel, and then store it in an open plastic bag in the fridge for a few days.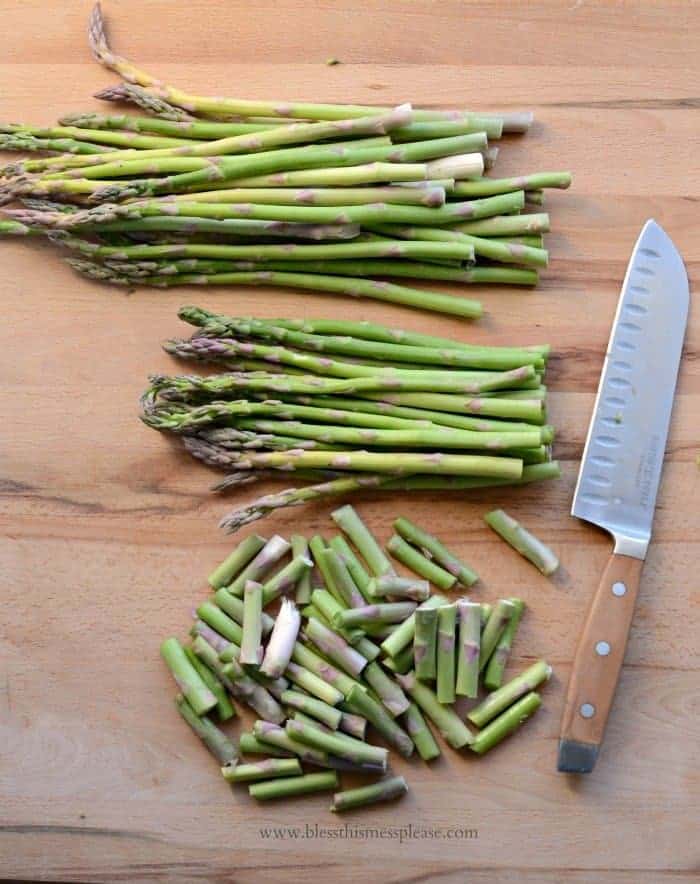 2. Freeze Asparagus
To freeze asparagus, wash it, trim the ends and then blanch for a few minutes: 2 minutes for smaller spears and up to 4 minutes for larger spears. After blanching, put the spears immediately in an ice-water bath, drain, and then store in zip-top bags in the freezer. Mark with the date and use within six months. Frozen asparagus cooks out slightly mushy, so it's best used in soups, curries or stir-fries.
3. Can and Pickle Asparagus
You can also can and pickle asparagus. Most canning books will advise you on recipes and instructions for both of these preserving methods. As with freezing, canning asparagus diminishes crispness, so you may want to use it in one of the ways listed above. Of course, if you enjoy other canned vegetables that soften when processed, like peas, then you may love canned asparagus just as well.
4. Eat It Raw
Most people tend to cook asparagus, which is delicious, but raw asparagus is perfect in its own way. Try using a mandoline or vegetable peeler to thinly shave asparagus on the bias, aka lengthwise. These thin strips of crunchy asparagus are excellent on salad greens, served with pickled beets and goat cheese for a simple spring salad, or stirred into cold pasta dishes. Don't forget to add thin asparagus spears to your next vegetable platter.
5. Roast Asparagus in the Oven
One of the easiest ways to cook asparagus, and my personal favorite, is to roast it in a very hot oven. This caramelizes its natural sugars and cooks them tender-crisp while keeping them from going soggy. Trim any woody ends and place your asparagus in a large bowl. Drizzle with olive oil and toss to combine. Lay the asparagus out in a single layer on a foil- or parchment-lined baking sheet, and sprinkle with a heavy hand of salt. Roast at 425 degrees F for about 10 minutes, until the asparagus is fork-tender and starts to char lightly. Serve immediately.
6. Asparagus and Bacon Pasta
Asparagus is a gorgeous side, but don't forget to let it stand as the star of the show! Asparagus sautéed in bacon grease, tossed with bacon, drenched in a simple cream sauce, and served over hot pasta is divine.
7. Make an Easy Asparagus Tart
Make an easy tart by brushing store-bought puff pastry with olive oil. Place uncooked asparagus on top; finish with Parmesan shavings, salt and pepper; and then bake until the pastry is cooked through.
Other Ways to Use Asparagus
Make a risotto with sausage, mushrooms and asparagus, or add asparagus to your favorite curries or stir-fry dishes. Another option is to add cut pieces of asparagus and cooked bacon to your favorite homemade macaroni and cheese recipe. It's such a versatile vegetable that it will turn just about any dish into something special.
Did You Know?
You can occasionally find white asparagus at the store. This asparagus is not a different variety, but instead, was grown under different circumstances. The emerging stalk is kept buried and deprived of light which means the plant doesn't produce chlorophyll, the natural compound that makes plants green. These more expensive counterparts are thought to be milder and more tender.
Here are a few other great asparagus posts:
This is an article that I originally wrote for Hobby Farms.com
I hope you learned something from these 7 Ways to Keep and Cook Asparagus.